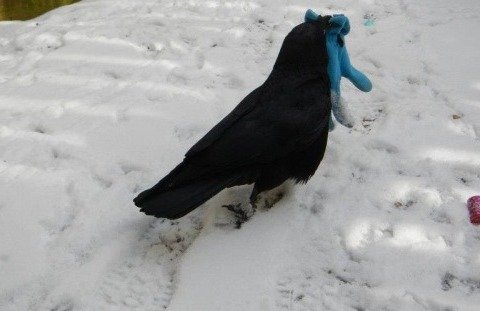 I don't mean people who steal birds. I mean birds who steal, sometimes from people.
It's a sad fact of life: sometimes birds take things that don't belong to them.
Raptors mug each other mid-air. Bowerbirds steal each other's nest decorations. Stellar's Jays take acorns from Clark's Nutcrackers. Gulls grab french fries from tourists, and occasionally descend into shoplifting. Crows, who are probably the most larcenous birds on earth, make off with anything they can get their beaks on.
The crow in the photograph above is unreleasable and lives at  Teatown Lake Reservation in New York. She is hurrying away with the glove she stole from Lisa Kelly, who had innocently entered her enclosure with food and cleaning supplies. The same crow lay in wait for Lisa's colleague Erin Smithies-Baker, then expertly pickpocketed Erin's debit card.
Evidently, it was not easy to get the card back. "I think she was aiming to buy herself some jewelry," said Erin.
Many rehabbers raise several crows together and release them on site. The crows are not friendly to humans, although they sometimes make an exception for the person who raised them. Jodi Swenson of Massachusett's Cape Ann Wildlife Inc. released a crow named Odin, who occasionally still appears at her open window.
"One day he tried to take my checkbook, and the next day it was a pen," she said. "Luckily he didn't get the checkbook, but he did get the pen."
"I'd check my bank statements anyway," cracked Michele Wellard, of Pennsylvania's Schuylkill Center Wildlife Rehabilitation Clinic, during one of our frequent Rehabber FaceBook Free-For-Alls.
It's not only crows who succumb to the lure of the pen. The Common Grackle pictured at left was a patient at Wildlife Care Alliance in Virginia. "I couldn't tell for sure," wrote Maureen Eiger, who discovered the potential perp. "I didn't know if he was after the pen, or just reading his chart."
Hats are a big draw. Eileen Wicker of Raptor Rehabilitation of Kentucky has an unreleasable Turkey Vulture who has a thing for hats. He doesn't care about gloves, scarves, or other accessories – just hats.
"Anything for a hat," she said. "He'll knock over people's cleaning buckets and run off with all their tools, then when they're distracted, he'll fly down and grab their hat."
The nighttime version of this occurred at Louise Shimmel's Cascades Raptor Center in Oregon, when her education director took their Barn Owl to the flight cage for some exercise. "Kit was wearing a headlamp covered with red cellophane," said Louise, "until she wasn't. All she could see was the lamp flying off her head, apparently by itself."
"I took in an imprinted Blue Jay one winter," wrote Kim Doner of Oklahoma's WING-IT. "While I was getting him acclimated to go in the outdoor flight, he had free range of my studio. Whenever I'd leave and forget to cover my computer keyboard, he'd fly down and steal the keys. I'd find these tiny plastic pieces wedged in between books, under canvases, and in the seams of the chair. BTW, I'm still missing F4."