It stood like a sentinel at the entrance, lonely, waiting. I was running late, and yet I slowed the car down, to catch as much of its cool beauty as I could. What was this solitary stranger greeting me at the edge of the John James Audubon Center in Mill Grove, Pa., the epicenter of U.S. birding?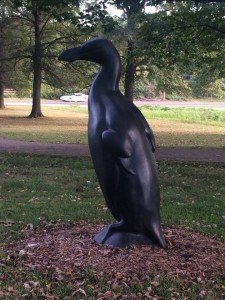 It turned out that I was gazing at a ghost. The smooth mass of bronze (photographed at right by Jordan Mann) was a stylized version of a Great Auk—a bird that no longer exists. Four more of its brethren could be spied haunting other areas of the Audubon estate.
These forlorn figures, I learned, are the work of The Lost Bird Project. Its mission: to educate about the tragedy of extinction by way of evocative, impossible-to-ignore sculptures. The birds on display at Audubon through next April are just one of a number of traveling sets; others can be seen at the Smithsonian Institution in Washington, DC, the Peggy Notebaert Nature Museum in Chicago, the Woodson Art Museum in Wausau, Wisc., and elsewhere.
And one set of the sculptures is broken up, scattered. Each bird has been placed at the spot associated with its extinction. Each stands alone as a permanent reminder of what was, and what will never again be.
These vestiges of forgotten species, some solitary, others joined in sad little troupes, are the work of sculptor Todd McGrain. Raised among birders, he was once sculpting an abstract duck figure when he happened upon Hope Is the Thing With Feathers, Christopher Cokinos' elegy for extinct birds. "After reading his captivating story of the Labrador Duck," McGrain tells 10,000 Birds, "I returned to the studio with the ambition to direct that work toward the the memory of that lost species."
Merely sculpting the bird wasn't enough to preserve its legacy, according to McGrain: "As I completed the Labrador Duck, it became clear to me that placing it at the site where it was last seen in the wild—at a site so significant to the story of its extinction—was essential to keeping the memory of the bird alive." The traveling editions, he adds, make the birds and their stories more accessible to people who might not otherwise visit far-flung places like Newfoundland, Canada (Great Auk) or Okeechobee, Fla. (Carolina Parakeet; image above courtesy of The Lost Bird Project).
One of the striking aspects of these sculptures is the many ways they can affect the viewer, from appreciation for their beauty to rue for what they represent. "Some people respond to the form's surface and material, while others are more drawn to the narrative they point to," says McGrain. That reflects the nature of the work, the most challenging part of which has been "creating forms that are descriptive and expressively appropriate to communicate some of the complex feelings I have about the tragedy of extinction."
With the bittersweet anniversary of the Passenger Pigeon's demise, McGrain believes it is vital for lost birds to literally look viewers in the eye and remind them. He professes, "There is a callousness to forgetting that dimishes us. With remembering lost species, comes a heightened awareness of the fragility of our natural environment."
The Lost Bird Project aims to spread this message to even more people by way of a documentary film, a forthcoming newly released book, and the Fold the Flock Passenger Pigeon Origami Project. McGrain is also hard at work on his next sculpture, the Eskimo Curlew. He hopes that the sculptures and ancillary projects "will help inspire not only an increased awareness but also a stronger committment to protect and preserve."
…
Extinction is forever. A species, wiped off the earth, never to exist again. What a horror! What a disaster! What a wrong!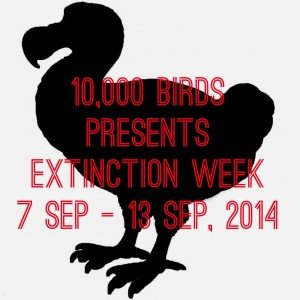 It is correct, of course, to think of extinction this way during the Holocene Extinction, which we are living through right now. After all, the extinctions have occurred, are occurring, and will occur because of us, people. We have so altered the earth – pumping pollution, moving species around, destroying ecosystems – that many species, dependent upon ecological niches or simply unprepared for an onslaught of unfamiliar organisms with which they did not evolve, have no chance. It is depressing and angering and just wrong.
But, in the wider view of things, extinction is necessary. It is what drives evolution. Extinction is what befalls the species that fails to adapt, to survive, to thrive. Most species go extinct. That is just the hard, cold reality of nature, red in tooth and claw.
This is not to say that we should sit back and let the Holocene Extinction continue. No! We must fight to save every species we can, every ecosystem, every niche.
It is the 100th anniversary of the extinction of the Passenger Pigeon, once one of the most abundant species in the world. In order to raise our awareness, to remind us of what we have lost, and to inspire us to fight for Every. Single. Species. we are hosting Extinction Week here on 10,000 Birds from 7 September to 13 September. Come back, click through, read, learn. And get angry and take action.
…