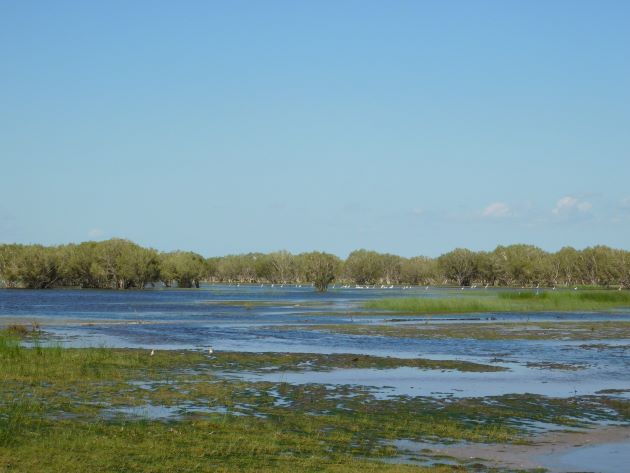 Once again last weekend we ventured out to drive very slowly across Roebuck Plains on the Great Northern Highway. Although the land is still very flooded there has been some easing of water flowing across the highway and it is open with caution to all traffic. Some of the potholes have been repaired now, but others remain until the water level drops a few more centimetres. There are also quite a few orange traffic cones to collect at some stage, which have floated away from the highway.
This section of the Great Northern Highway has an impressive list on eBird of 191 species along the length of highway that crosses Roebuck Plains. The list really varies on every trip you make, because the land varies from being completely flooded to being a dustbowl. For now we can expect it to stay flooded and then very green for a few more months and then unless we get some "dry season" rain it will once again become a dustbowl. In 2013 we had a very wet day in June. We then counted over 300 White-necked Herons feeding across the flooded landscape. How do they know to come here? This year it is flooded, but the White-necked Herons are scarce at this location.
At the moment we have an influx of Great Egrets, though. They have arrived in large numbers this time, but as with all of these bird species that arrive during flood events we don't know where they came from. Have they travelled north or south to us? There are so many mysteries in the birding world. We all know that bird guides and bird maps are not for the birds to follow, but as a "guide" for us!
The header photo shows some of the Great Egrets in the first area of water with a pair of Masked Lapwings in the foreground. There is ample food with tadpoles, frogs, dragonflies and other insects. There are thousands of Whiskered Terns and White-winged Black Terns and it is near impossible to take a photo of anything without having a tern photo-bomb the shot!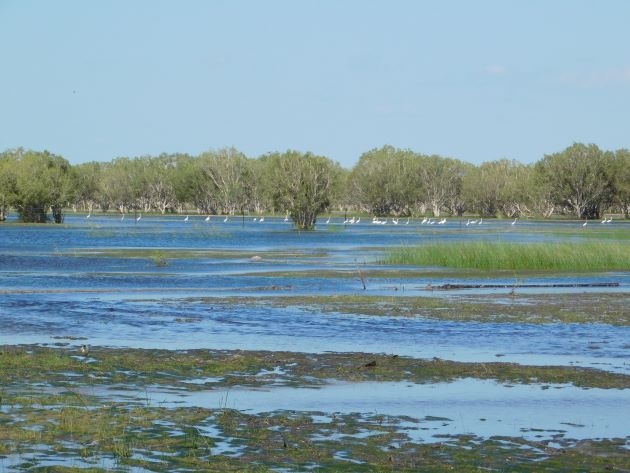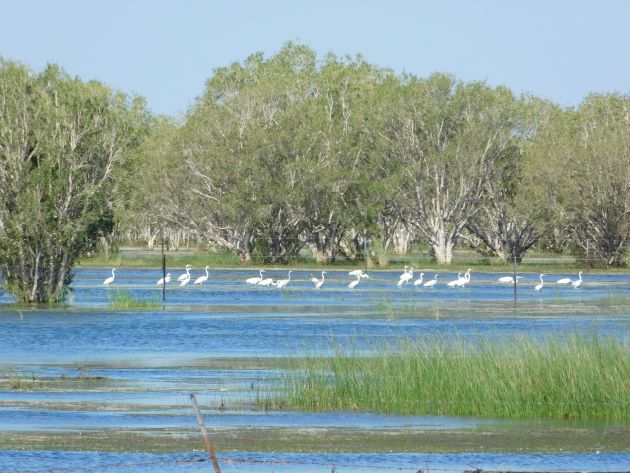 A few of the many Great Egrets
It is not just the water birds that arrive en masse, but also the birds of prey. There are currently several Swamp Harriers that are hunting across the floodplains and the other birds are nervous. It doesn't take much for the Great Egrets to take flight and move. You could drive across Roebuck Plains and not observe any Great Egrets if you time it wrong. They can easily disappear into the long grass, as many of the birds do at the moment. All of the surrounding trees are currently home to around 1000 Night-herons, but they only appear at dusk to feed. Different times of day or night show different bird species.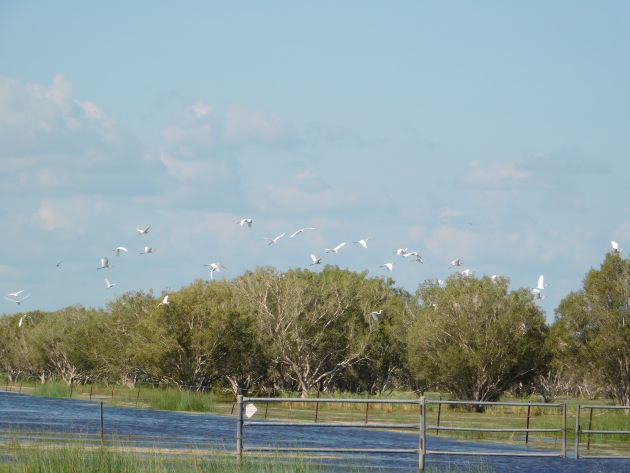 Great Egrets in flight
We are also encountering good numbers of goannas, although some are getting hit by traffic. The problem is that there is so much flooded land that they are walking along the highway. One solution is to literally hang out in a tree. This goanna below is quietly hanging out beside the highway and in the background on the right you can observe a rather vocal Red-backed Fairywren.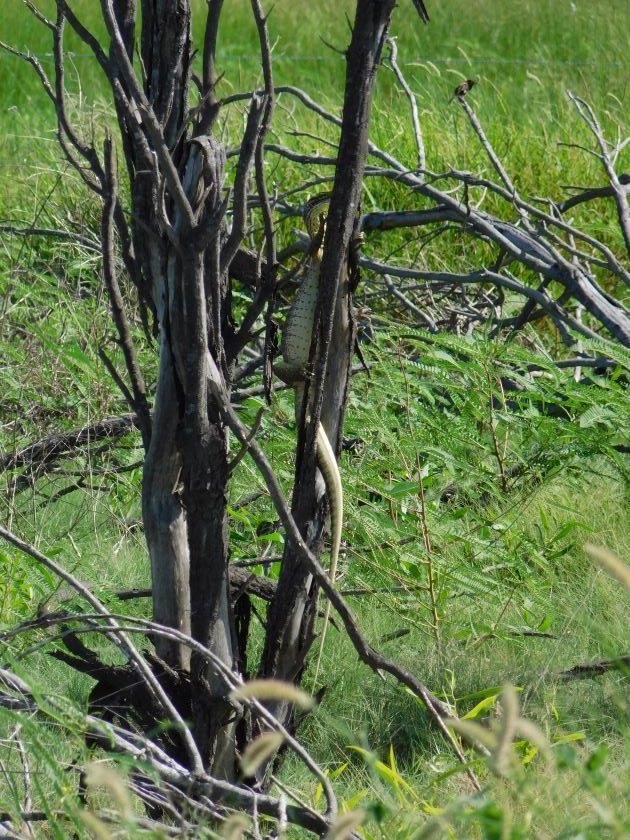 Goanna in a tree
We can expect further surprises throughout the year no doubt across this section of the Great Northern Highway. There will be species that we won't easily observe unless we go wading and flush them. Thankfully we don't have leeches here!