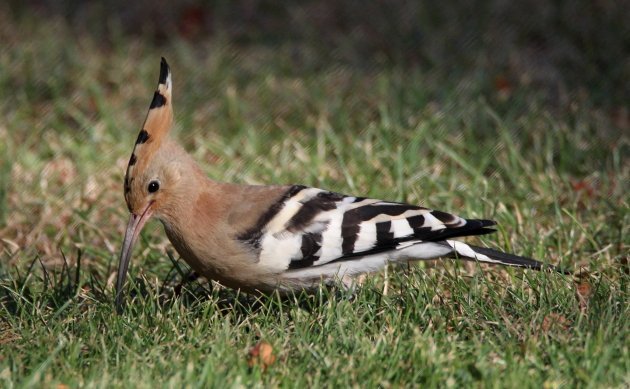 It's a rush any new birder experiences: that of every species being a lifer. But few new birders appreciate that rush, because they haven't known anything else… yet.
Once you've been around the birding block a few years, your appreciation for the lifer experience deepens greatly. But the opportunities to see new species become more difficult with each one seen. Even in my species-rich territory of central Mexico, I only average about one lifer each month now, after five years of birding the area.
Which is why we all eventually turn to the one way to combine old-birder experience with new-birder opportunities: travel. Go far enough, and every species, except for the cosmopolitans and world-wide invasives, will be a lifer. The rush returns, and now we know enough to appreciate it!
I had a work trip to southern Spain earlier this month. It was not my first time birding in Europe, and my work obligations only allowed me to get out four too-brief times in nine days. Even so, I was able to see 54 species, of which fully half were lifers.
A beginning birder can get excited to identify even the most common species. And when an American or Latin American birds Europe, what appear to be common species can still be lifers. Those Snowy Egrets? They are really Little Egrets. What seems to be a Great Blue Heron is a Gray Heron. The white-striped back of a Dowitcher belongs to a Common Redshank. That female Vermilion Flycatcher turns out to be a Spotted Flycatcher.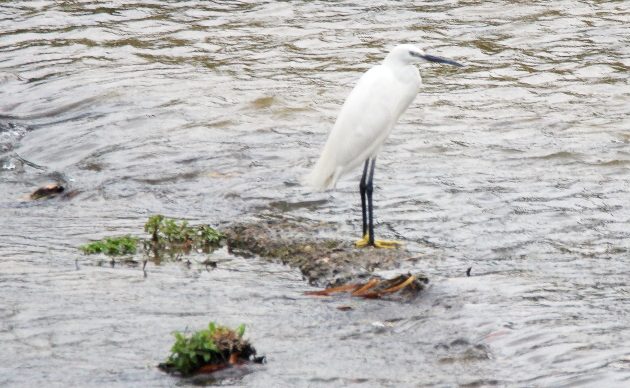 Little, not Snowy.
Of course, it can´t all be that easy. Mallards? They really are Mallards. Those Monk Parakeets you see are the same ones seen in cities the world over. But, amazingly, not all the "House Sparrows" I saw were House Sparrows; a large group in Algeciras, in southern Spain, were Spanish Sparrows, and a smaller group in Madrid were European Tree Sparrows. (In Rome, I saw one that turned out to be an Italian Sparrow. All four species look almost identical.) And not a single Starling I saw in Spain was European, as are the introduced Starlings in the Americas; they were Spotless Starlings, every one!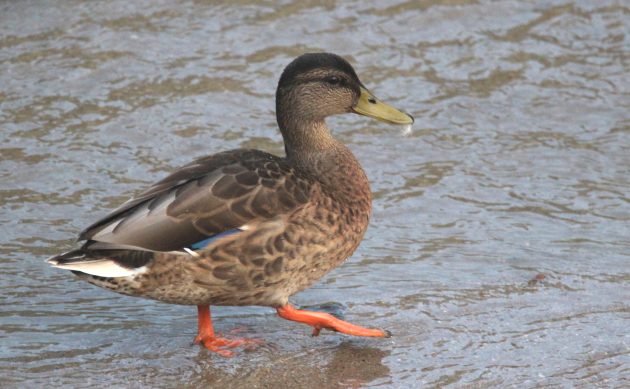 Yeah, I'm a Mallard. Got a problem with that?
This photo showed just enough detail to prove these were Spanish Sparrows…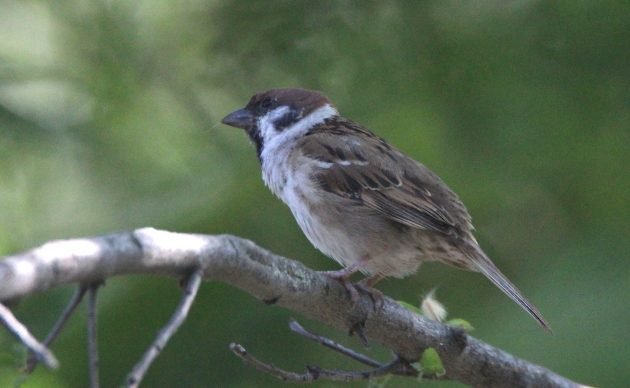 while this one is a European Tree Sparrow…
and this is an Italian Sparrow.
On a new continent, you also relive the beginning birder's experience of generalized ignorance. I know New World Warblers rather well, but the entirely separate family of Old World Warblers is a whole new problem. A Spanish ornithologist told me that Europe has some 40 warblers with olive/yellow colors and a lighter "eyebrow". Believe it or not, he says they are worse than our Empidonax flycatchers! Throw in Old World Buntings, Larks, Pipits, Leaf Warblers, Reed Warblers, Grassbirds, and Cisticolas, and you are facing some very serious beginners' confusion whenever you see an LBJ (Little Brown Job). I had to seek professional help to ID this trip's Melodious Warblers and Zitting Cisticola (no really, that is its name!).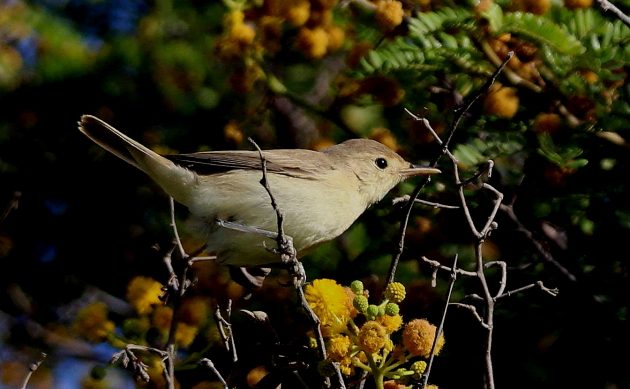 A Melodious Warbler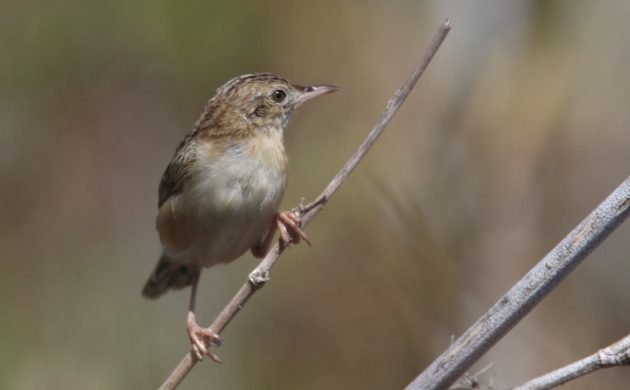 A Zitting Cisticola. Apparently, they say "zit".
But on a new continent, you also get to see birds that are neither almost-familiar nor confusing. I had a wish-list for my trip, and two of my greatest hopes came true. Not yet having seen a wild flamingo in Mexico, I was hoping I might see one in Europe, and I did — exactly one! But one Greater Flamingo in the Guadalhorce Delta of Málaga was all it took.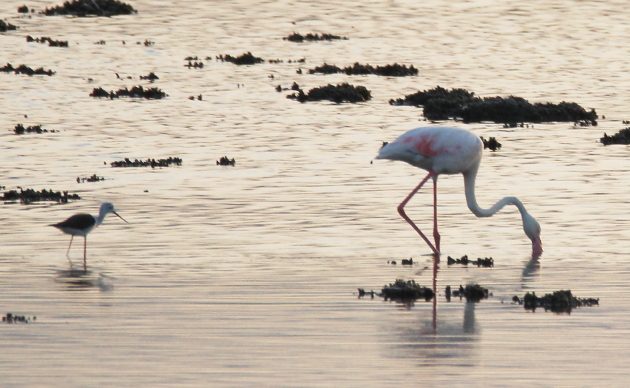 That's a real live flamingo to the right of the Black-winged Stilt.
And then there was my greatest hope of all for this trip: the Eurasian Hoopoe. Not only did one turn up, but it seemed determined to completely ignore me and my camera. Talk about a beginning birder rush!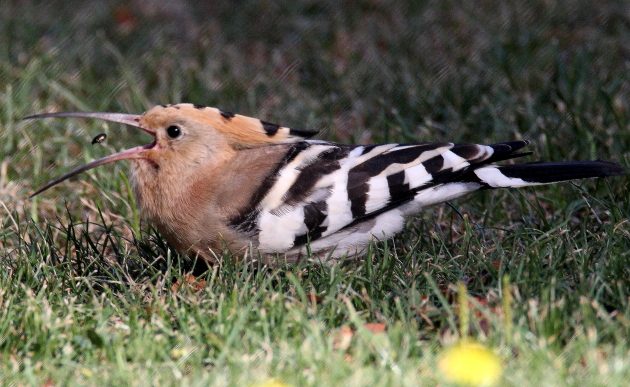 This Eurasian Hoopoe was literally tossing back his lunch…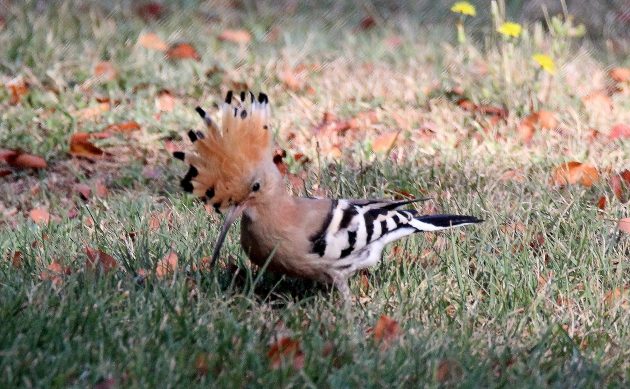 when he wasn't just plain showing off.
Of course, for this American birder who lives in Mexico, it takes a longer trip to find new species. For my U.S.-only counterparts, just a quick plane trip south to my territory would also work well — with little or no jet lag!