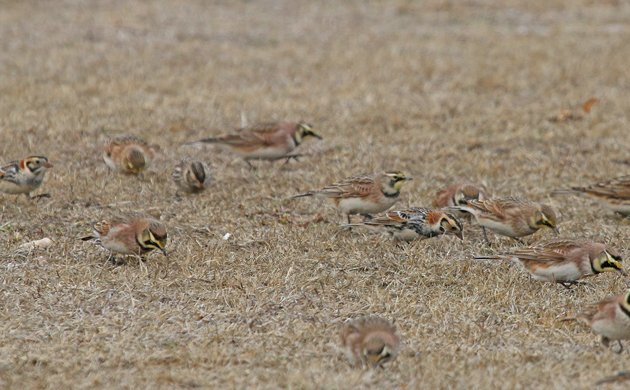 So many sexy snow birds pop up this time of year: Snow Buntings, Snow Geese, Snowy Owls… But if you're like me, you couldn't get out to see them this weekend. Why? Too much snow!
Between work and shoveling, I had no chance to get out birding. Fortunately, House Finches came to me, brightening up the feeder with their raspberry resplendence. Corey's Best Bird of the Weekend was a species that he only gets to see in winter and usually has to work for, sorting through flocks of Horned Larks. The two he saw in Queens were like that but the three he saw at Jones Beach State Park were much easier, as they were in a very small flock of Horned Larks that plopped down next to him in the grassy median. Can you find all three Lapland Longspurs in the photo above?
How about you? What was your best bird of the weekend? Tell us in the comments section about the rarest, loveliest, or most fascinating bird you observed. If you've blogged about your weekend experience, you should include a link in your comment.