May brings many of the best birds. Have you seen any good ones? One sure way to heighten the pleasure of a special bird sighting is to brag about it later. Step right up and share your best bird of the weekend.
I and my brother-in-law and birding partner Seth hit Firehouse Woods, the Rochester hotspot for spring migrants. We were not disappointed, as hordes of warblers and Red-eyed Vireos worked the woods. My best bird of the weekend was probably Canada Warbler, but Seth did me one better by spotting the Mourning Warbler that I'm still desperately seeking. Corey's best bird could have been the vagrant White-faced Ibis, and might have been after he dipped on the Wilson's Phalarope on Saturday at Jamaica Bay's West Pond. However, another report, Daisy's generosity, a borrowed car, and the cooperation of the birds themselves made the pair of Wilson's Phalaropes on Sunday his best bird(s) of the weekend. Charlie left Great Chalfield for the chalk grassland of Salisbury Plain and reports that a pair of Stone Curlews was probably the best of a very interesting bunch.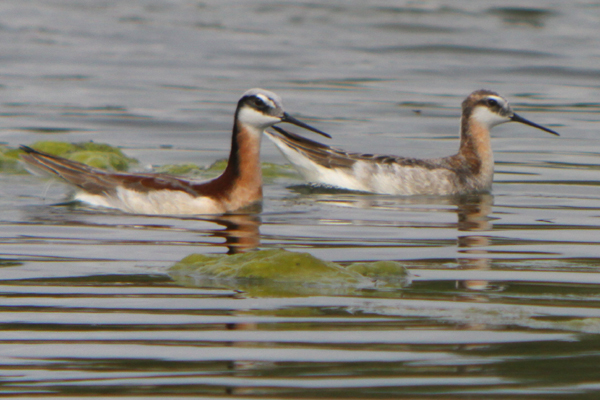 Breeding-plumaged phalaropes!!!
What was your best bird of the weekend? Tell us in the comments section about the rarest, loveliest, or most fascinating bird you observed.  If you've blogged about your weekend experience, you should include a link in your comment.