In the United States, so much seems to be happening towards the end of October. Not only is baseball hitting the very apex of what excitement it arouses, but the storylines in the National Football League are just beginning to manifest in reality rather than in the empty space between commentators. Kids can't help but work themselves into a multi-week Halloween frenzy. And we still get to enjoy fall migrants knowing well that the birds of winter aren't far away. Good times!
Corey and I could both say that the best bird of the weekend was a mighty, mighty Cardinal, but that would be too easy. Anyway, I was more partial to the few Turkey Vultures still sticking with us up here as temperatures drop along the shores of Lake Ontario; in no time at all, even these birds will be making their tippy way down south. Corey had an abundance of awesome birds to choose from, but none could hold the proverbial candle to his life Brown Booby in Jarvis Sound at Cape May. Mega!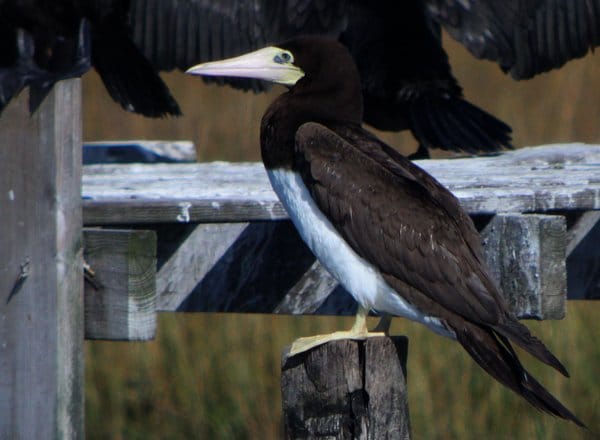 What was your best bird of the weekend? Tell us in the comments section about the rarest, loveliest, or most fascinating bird you observed. If you've blogged about your weekend experience, you should include a link in your comment.