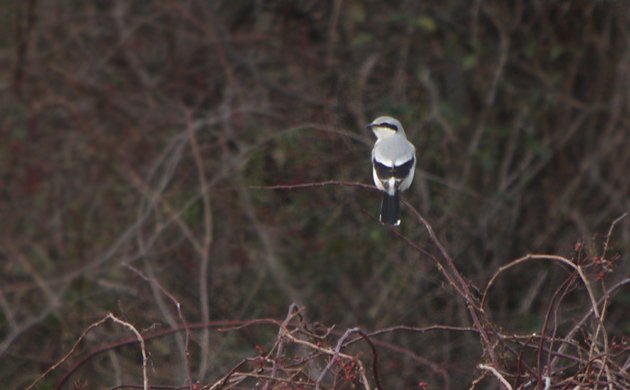 Now that Thanksgiving is over, we can ease up on the turkey talk. I do regret that I saw no Wild Turkeys this weekend, only subdued, succulently prepared ones.  How about you?
Corey had way too many birds to choose from for his Best Bird of the Weekend, with exactly 100 species for the four-day weeekend. Nonetheless, he had to choose one, so he went with Boreal Chickadee, of which he saw two in the Adirondacks on Friday. On Saturday, Corey and I searched Jones Beach for rarities, walking away with both a Snowy Owl and a Northern Shrike. The owl wasn't really that rare, considering how many have been seen in New York over this past weekend. The shrike, on the other hand, is a species I've seen only a few times and thus earns the honor of my Best Bird of the Weekend.
How about you? What was your best bird of the weekend? Tell us in the comments section about the rarest, loveliest, or most fascinating bird you observed. If you've blogged about your weekend experience, you should include a link in your comment.