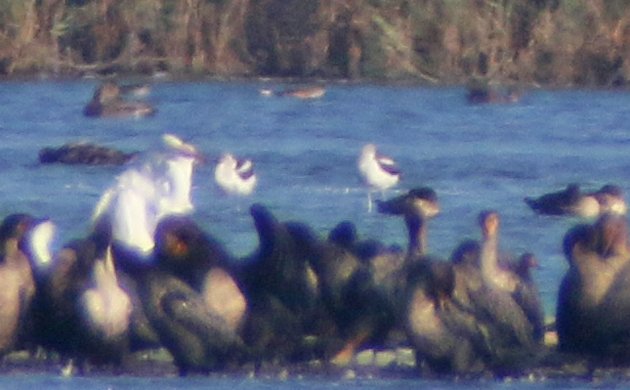 While some birding runs work well solo, most are greatly improved by good company. I haven't always acted in accordance with this philosophy, but those avian observation excursions undertaken with friends or family loom larger in mind than the ones I took alone. In many ways, birding can be so much more than just looking at birds.
This uncharacteristic sentimentality probably results from the morning of birding I enjoyed this weekend with both my daughter and my close friend, two people that have never gone birding together. Corey, Ivy, and I traveled far and wide to make the most of a beautiful but less birdy that expected Sunday morning in Queens. We nailed down a few lifers for Ivy, the best of which was Yellow-crowned Night-heron at Big Egg Marsh, which we don't ever see upstate. Saturday morning, Corey got out birding at Jamaica Bay without me and Ivy and was very pleased to find a pair of American Avocets at the north end of the East Pond there. The only unfortunate thing was that Corey was not even halfway up the pond and had to content himself with distant scope looks at the avocets from the Raunt. Either of the two was his Best Bird of the Weekend though he wishes he had closer looks!
How about you? What was your best bird of the weekend? Tell us in the comments section about the rarest, loveliest, or most fascinating bird you observed. If you've blogged about your weekend experience, you should include a link in your comment.