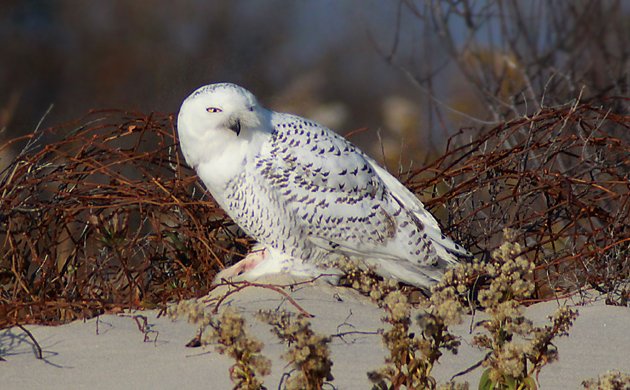 The New York Powerball Jackpot has ballooned to an estimated $1.3 billion, but playing will almost certainly be a waste of money. That's actually the better alternative, since winning such a grotesque amount of wealth would likely wreck anybody's life. Birding, on the other hand, costs nothing to play and contributes to lifelong happiness. Make smart choices, people!
I was smart enough to chase a Snowy Owl at Sodus Point. The very handsome bird wasn't hanging out where expected, but I was lucky enough to spy it chilling (literally) on an ice-encrusted pier, unperturbed by the duck hunters that chased everything else away! Corey did not get much birding in this weekend but the Eastern Bluebirds he showed his nephew, Timothy, in their hometown of Saugerties, New York, were easily his Best Bird of the Weekend.
How about you? What was your best bird of the weekend? Tell us in the comments section about the rarest, loveliest, or most fascinating bird you observed. If you've blogged about your weekend experience, you should include a link in your comment.