How was your weekend? Any good birds? Tell us about your best bird.
My best sighting was a Carolina Wren in my backyard, a species I've previously seen only in my neighbors' yards. Corey was pleased with a male Scarlet Tanager still in breeding plumage anting or otherwise eating bugs next to nearby Chipping Sparrows. Charlie had a few days in Australia before jetting back to horribly humid (his words) Singapore. He's been busy revitalizing our Conservation HQ page but left his hotel long enough to photograph the very showy (but not for long) Buff-banded Rail below at the Sydney Botanical Gardens, though some very close Sulphur-crested Cockatoos almost took the crown for his best bird of the weekend.
What was your best bird of the weekend? Tell us about the rarest, loveliest, or most interesting bird you observed in the comments section. Plus, if you've blogged about your weekend experience, I invite you to include the link in your comment.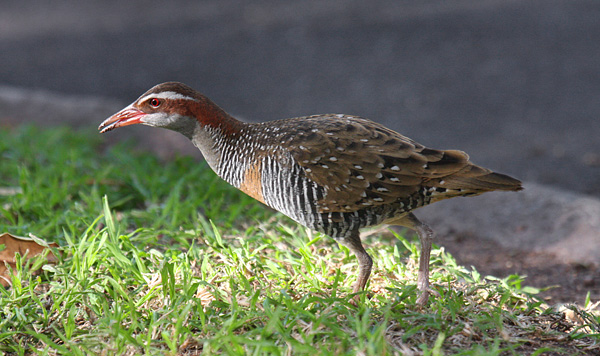 Buff-banded Rail by Charlie Moores