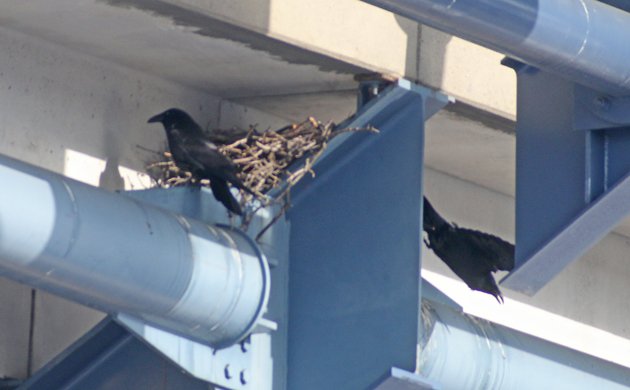 With another St. Patrick's Day in the books, we can say farewell at last to a winter that, at least in my part of the world, won't let go. Or if you're on the meridional portion of the globe, summer ebbs for a more clement season. So long extremes, hello migration!
Of course, snow and cold still dominate upstate New York, but beautiful, belligerent Blue Jays don't much care; some have lingered throughout the dark months, but fresh reinforcements have arrived to stake out territory. Speaking of corvids, Corey's Best Bird of the the Weekend was actually his best birds of the weekend, a pair of Common Ravens attempting breeding for the second year in a row on Arthur Ashe Stadium in Flushing Meadows-Corona Park. Maybe they like tennis?
How about you? What was your best bird of the weekend? Tell us in the comments section about the rarest, loveliest, or most fascinating bird you observed. If you've blogged about your weekend experience, you should include a link in your comment.