It was a gusty weekend in New York City and environs, with fall finally feeling like fall is supposed to feel.  Sparrows have almost completely taken over for wood-warblers and temperatures are finally waning as is only proper.  How was your weekend?
Mike was in Costa Rica this weekend after what felt like an interminable delay at the airport in Atlanta where he had to change planes.  He lost nearly a day off of his trip but I am sure that he managed to see some birds once he arrived.  Let's assume that he saw something delightful and tropical like, say, the national bird of Costa Rica.
I, on the other hand, had a very busy weekend that included seeing The Big Year (look for a review soon), joining the huge Occupy Wall Street rally in Times Square, taking Desi to the Queens Zoo, and driving upstate to visit the newest addition to the family, my nephew, Andrew Peter (Congrats Jonathan and Shannon!).  I still managed to get to Jones Beach and see some birds and while I could choose Marbled Godwit, American Golden Plover, or Rusty Blackbird as my Best Bird of the Weekend I think I will choose the hordes of American Oystercatchers that are so fun to see.  And, no, I am not at all bitter about the fact that someone found what would have been a lifer for me – a Gray Kingbird – at Jones Beach less than an hour after I left.  No, not bitter at all, thanks for asking!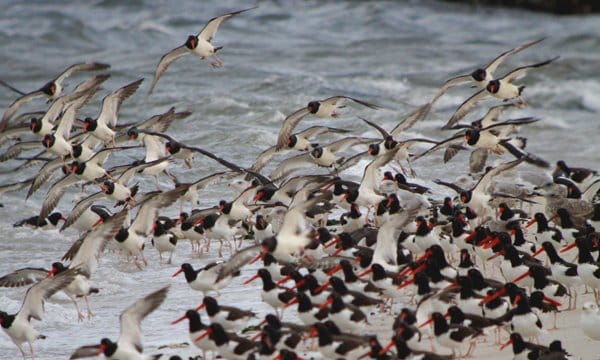 American Oystercatchers on the sandbar at the Jones Beach State Park Coast Guard Station
What was your best bird of the weekend? Tell us in the comments section about the rarest, loveliest, or most fascinating bird you observed. If you've blogged about your weekend experience, you should include a link in your comment.