After an outstanding circuit of San Joaquin Wildlife Sanctuary, the intrepid Amy Hooper introduced me to the manifold wonders of the Bolsa Chica Ecological Reserve. This swath of coastal wetland off the shore of Huntington Beach is like no other place I've seen. Bolsa Chica is, at least in midsummer, all about terns. Thousands of lithe white larids filled the skies, teeming throngs of terns courting, nesting, foraging, and feeding. These aren't quiet birds either; a group of terns this massive is attended by a veritable cacophony of clicks and calls. The bulk of Bolsa Chica's terns seemed evenly split between Common and Least, but small cliques of shaggy Elegant Terns stood out from the smaller birds (and fluffy chicks!) while the occasional Caspian, even larger than the others, cruised through the crowds. Black Skimmers flocked in impressive numbers as well. In fact, I've never enjoyed better looks at these unique ebon-ivory marvels performing their notorious surface water scrape.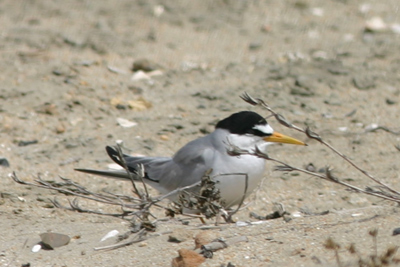 Least Tern
And since one good tern deserves another…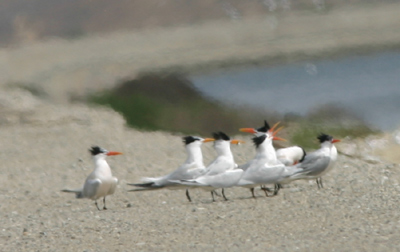 Elegant Terns
Terns were the unmistakable masters of this domain, but far from the only avifauna of note. Western Gulls and Double-crested Cormorants held court on distant mudflats while solitary Brown Pelicans soared steady and strong like cargo planes towards the sea. While the fracas above was fascinating, some incredible shorebirds and waders occupied shallow pools quite close to our path. The smallest ones were Western Sandpipers in impressive numbers. Try as I might, I couldn't place any other peeps among them, not even Least. Anyway, the big birds were the wonders here. Western Willets were an obvious attendee to this party and, as expected, it didn't take long to pull out Marbled Godwit, pink bill upturned saucily. Speaking of notable bills, I was able to place a couple of Whimbrel amidst the Willets, but that sickle-billed shorebird fell to second place once Amy pointed out, of all things, a Long-billed Curlew. If you've never seen one of these preposterous shorebirds, North America's largest, before, take a look. I've never seen a probiscous quite as prodigious in a shorebird as the yardarm attached to that curlew's face. Wow!
Black-necked Stilts and Snowy Egrets also made the scene, as did Song Sparrow, the only passerine that seemed entirely comfortable in this wondrous wetland. A couple of Black-bellied Plovers could be seen out at the edge of my optics' range, but they were not the plovers on my mind. One of the banner species of Bolsa Chica in summer is Snowy Plover, a dainty, pale, partial band plover found in most of the warmer, wetter parts of the world. Visitors to this refuge are faced with a tall fence protecting tern breeding habitat and it is behind this barrier that Snowy Plovers are said to abide. A pod of plovers didn't rush to greet me as I had hoped, but some careful searching turned up one adorable juvenile. This guileless youngster eventually meandered right over to us, as fine a welcoming commitee as one could hope for and an apt punctuation to the perfection of the vibrant coastal wetland community that is Bolsa Chica.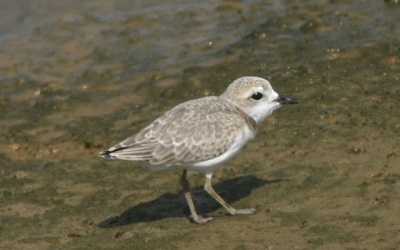 Snowy Plover