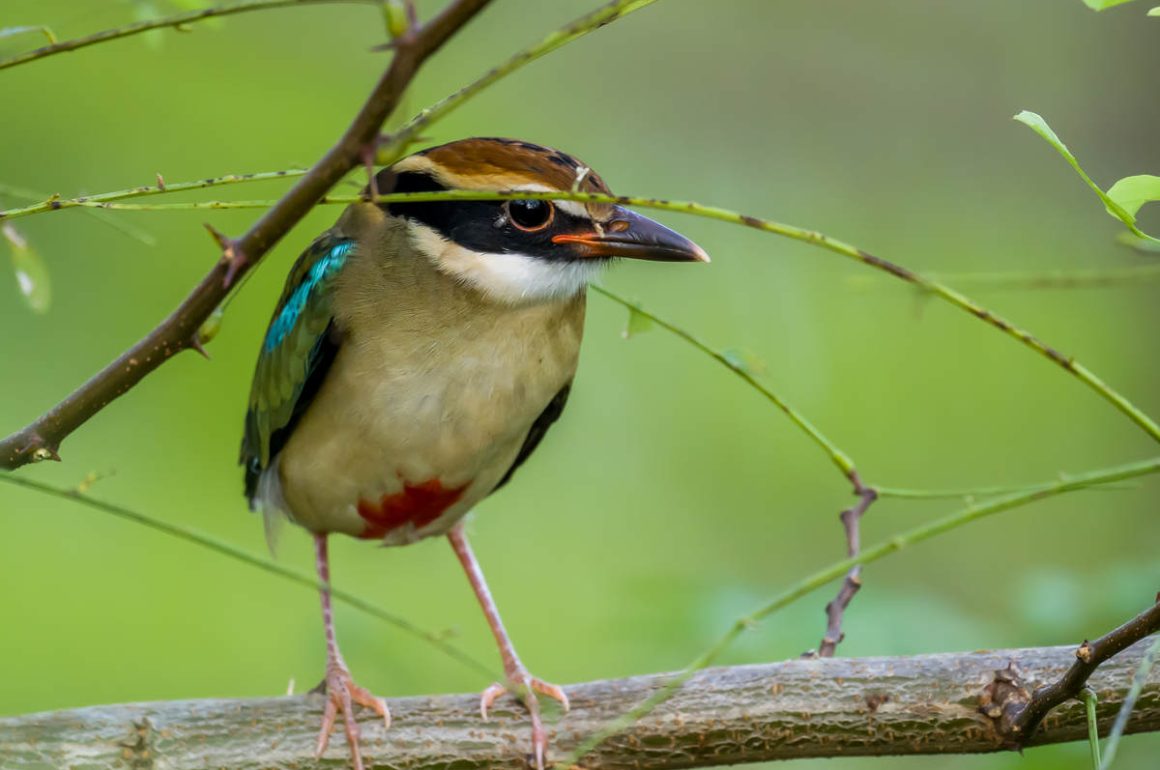 In some months, I don't get to see too many exciting birds in Shanghai – so, as the end of the month draws closer, I start wondering what to write about in my monthly post (my contract with 10,000Birds states that I need to have some birding-related information in each of my posts, even though I am sometimes tempted to ignore the relevant clauses). However, this September, a friend alarmed me to the presence of a Fairy Pitta a little bit past 6 a.m. on September 01, so these concerns ended very early in the month.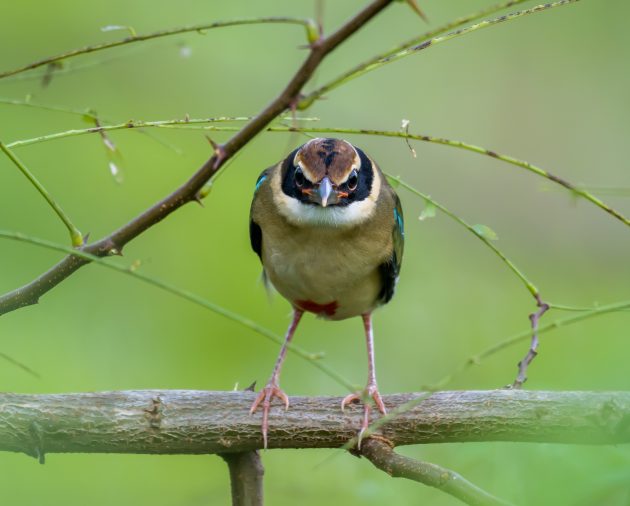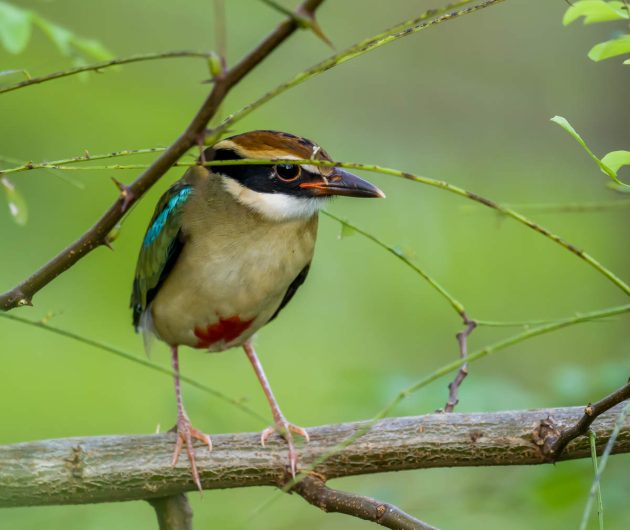 A few days later, another one showed up – as usual in the autumn season, the more visible ones all are juveniles.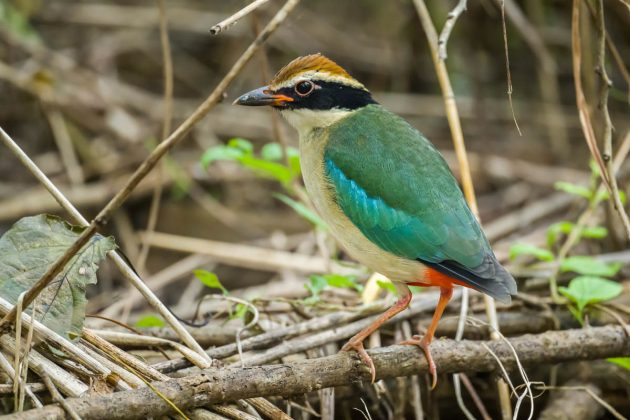 The adults presumably have already learned that humans are not usually good news even if not named Donald Trump.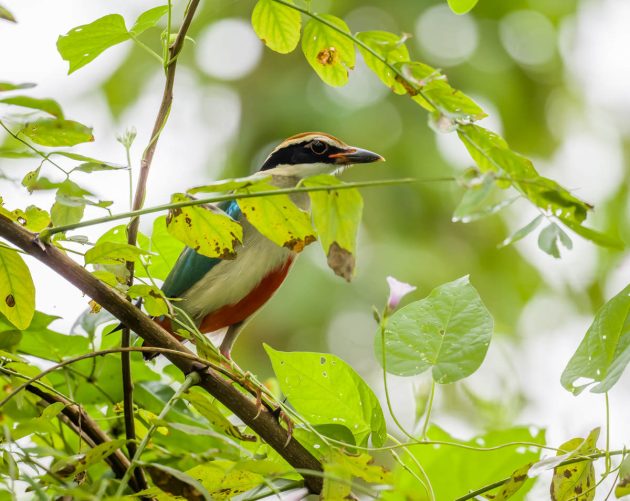 While studies report that Fairy Pittas mainly feed on earthworms, at Nanhui they also seem to eat these weird-looking green caterpillars (if that is what these things are) that are the main food of cuckoos. I guess you cannot be too choosy while traveling, as I have learned when on trips in Ecuador and other places.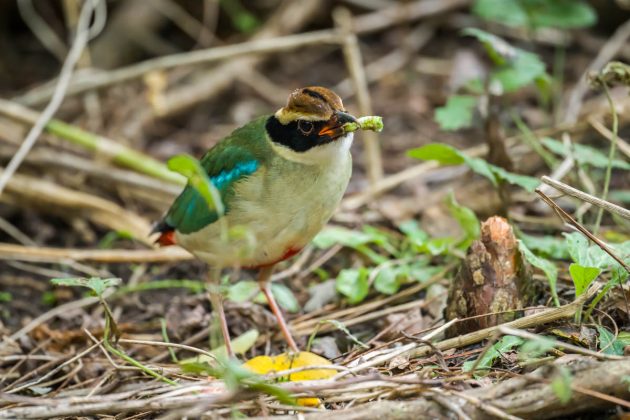 The White-shouldered Starling is not very common in Shanghai or even in China in general, despite its species name sinensis.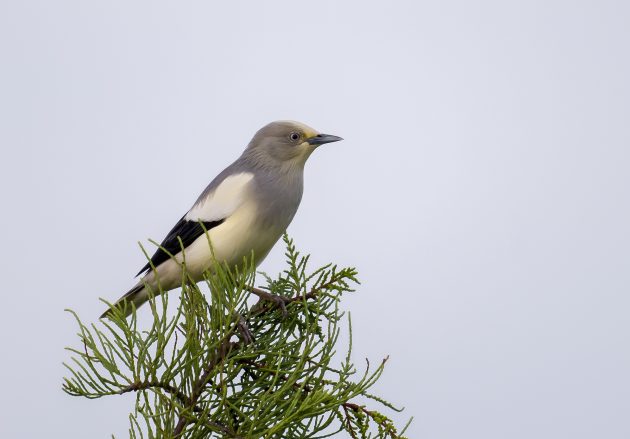 It is another species on which limited information is available – there is still work left for ornithologists outside of the determination of mitochondrial DNA.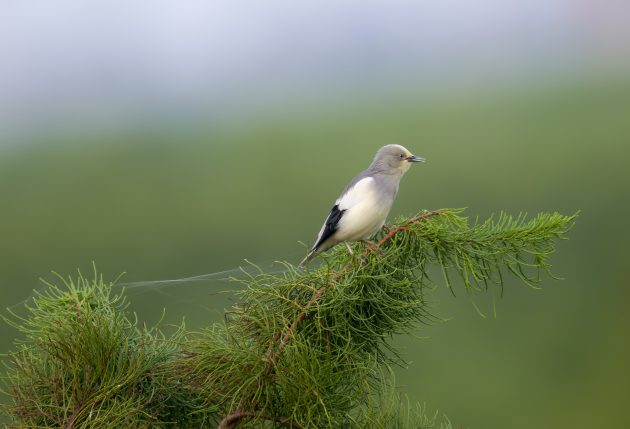 In contrast, the Black-collared Starling is getting more and more common in Shanghai.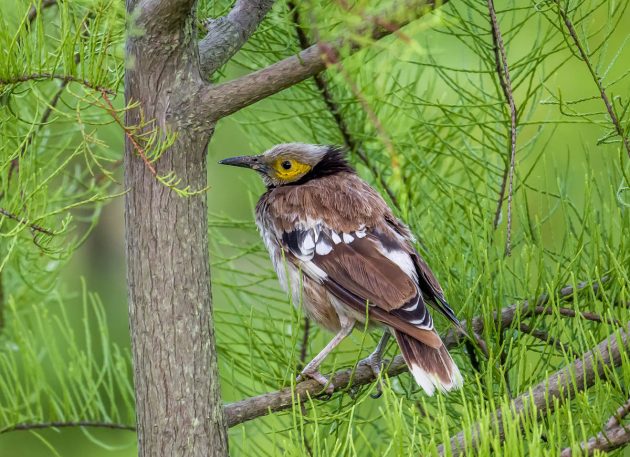 In fact, there is already a huge difference between the range map shown in the HBW (which shows the Northern end of the range to be a few hundred kilometers south of Shanghai) and the eBird distribution maps shown a bit further down on the HBW page (which covers areas quite a bit north of Shanghai). As suggested before, it might be time to get somebody with at least a vague interest in birds involved in working on the online edition of the HBW.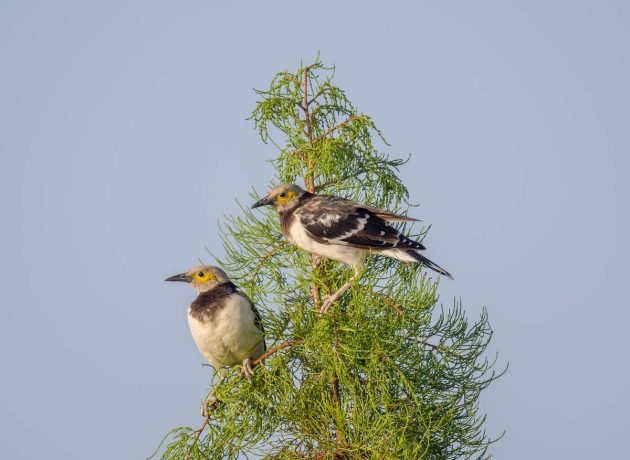 Of course, the White-cheeked Starling is even more common in Shanghai and can sometimes be seen in flocks of 20 or more birds.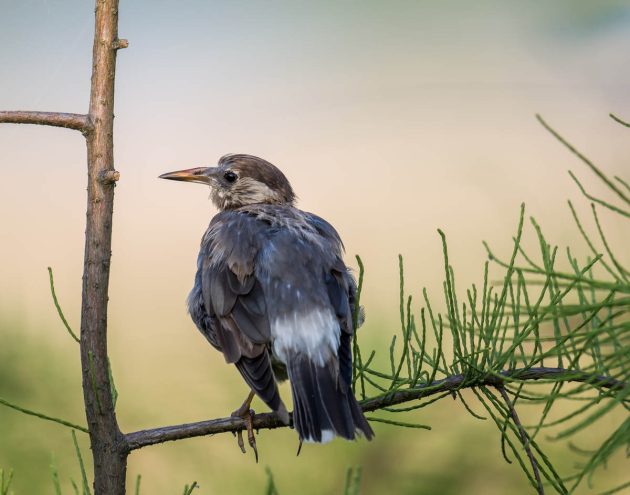 For some reason, I am never very excited about photos of raptors in flight. It might be a natural defense mechanism as I am not good at taking such photos anyway (the grapes are sour etc.). But raptors on the ground or in a tree look very attractive to me, like this Eastern Marsh Harrier.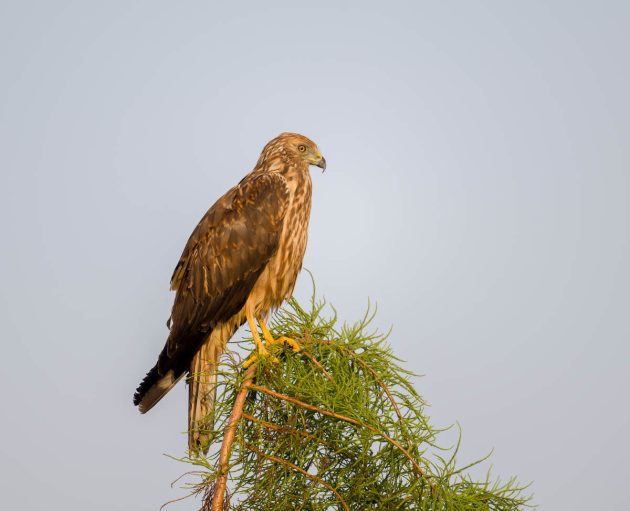 This should be an adult female …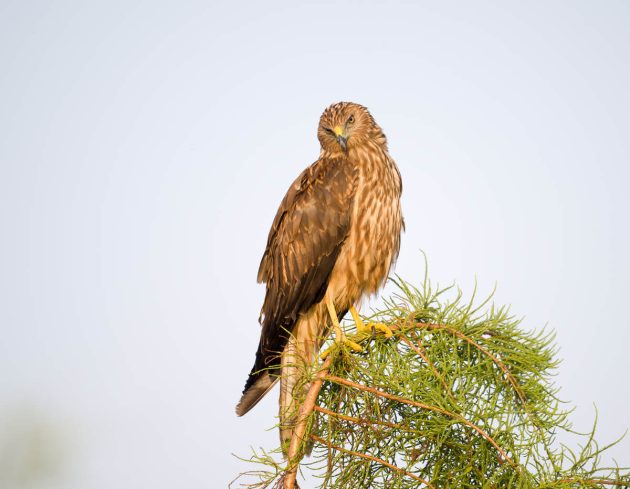 … and this a juvenile.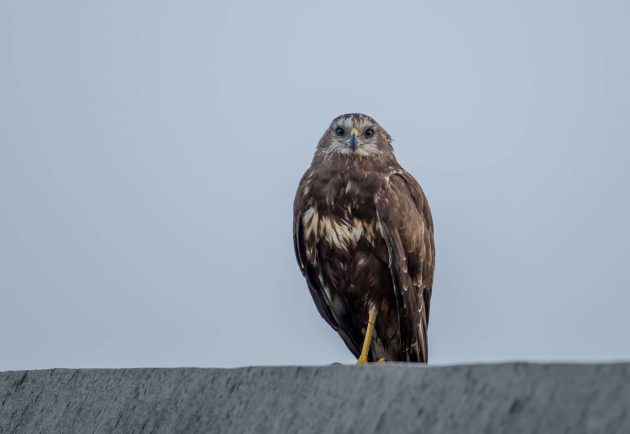 I was a bit surprised to see a juvenile Grey Treepie in Shanghai – it seems too young to already be on migration, and there was an adult nearby, so most likely the species is breeding in Shanghai, along with approximately 24 million humans.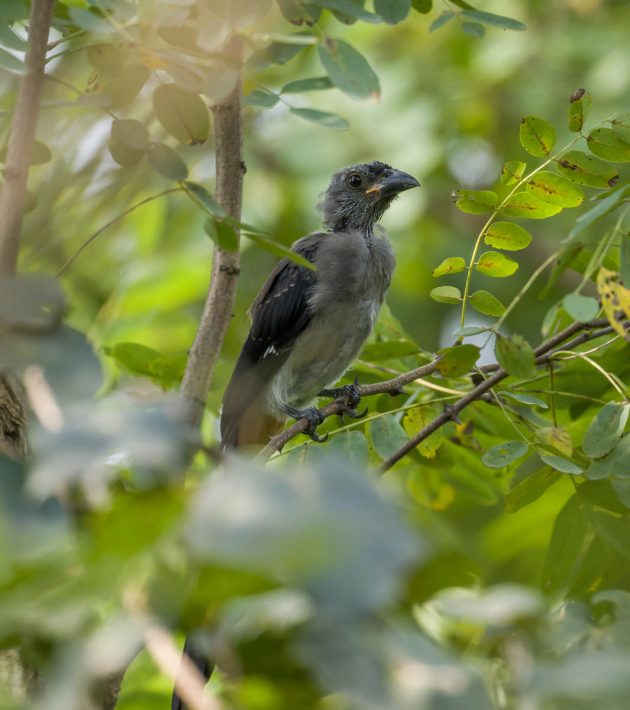 The excitingly named Journal "Mitochondrial DNA Part B" has a paper on – wait for it – the complete mitochondrial DNA of the Grey Treepie. I am sure you are as excited about it as I am.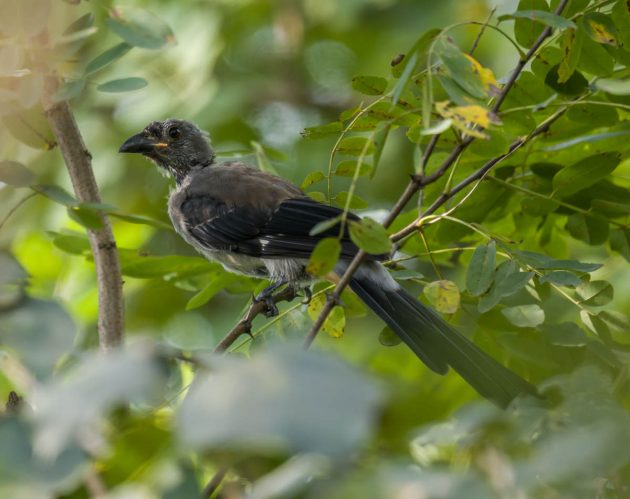 Roughly once or twice on any birding trip to Nanhui, I stop somewhere and closely look at something that then turns out to be a rock or a somewhat thickened part of wood rather than a Grey Nightjar. It is still worth the effort for very occasionally seeing one of these birds. Also, I learn a lot about different rocks and pieces of wood.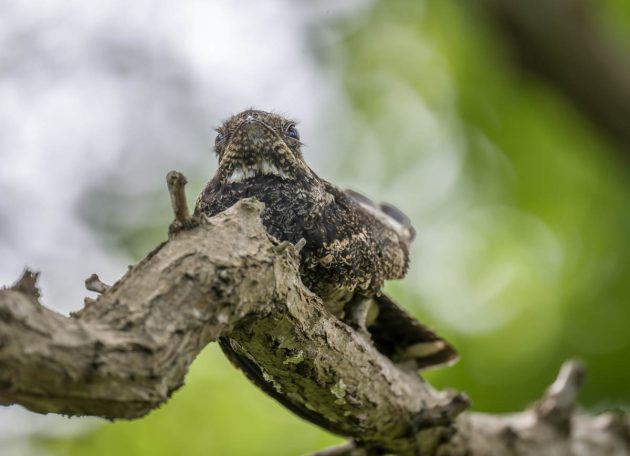 A paper mentioning the Grey Nightjar is not really much about the species but gives an interesting insight into how scientific data can be fabricated, or bad data hidden – something the authors call "scientific data laundering". Specifically, the paper describes how an analysis of the mitochondrial genome of a bird species was fabricated, concluding "The evidence indicates that Liu et al. (2017) published phylogenies that were not based on existing data but were fabricated to reflect preconceived ideas about phylogenetic relationships".
The unfortunate Brown Shrike shares its color with that of rather detestable German Nazi party.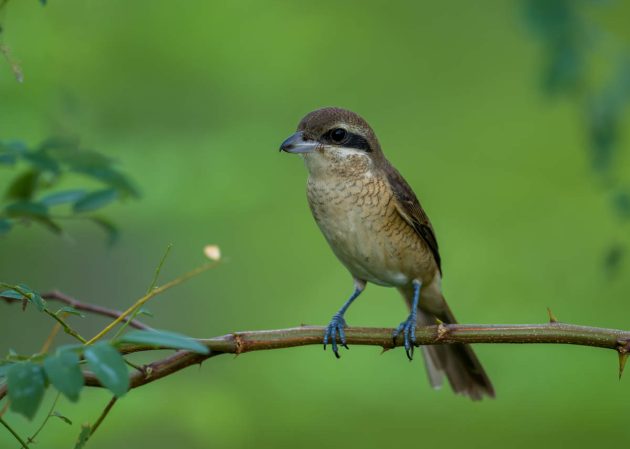 Apparently, the color brown was picked by the party for a number of reasons (esthetics presumably not one of them), including practicality (cheap to produce, easy to clean) and the need for a distinctive and uniform identity. I am not sure whether these reasons are also the ones that made evolution push the Brown Shrike in the same direction.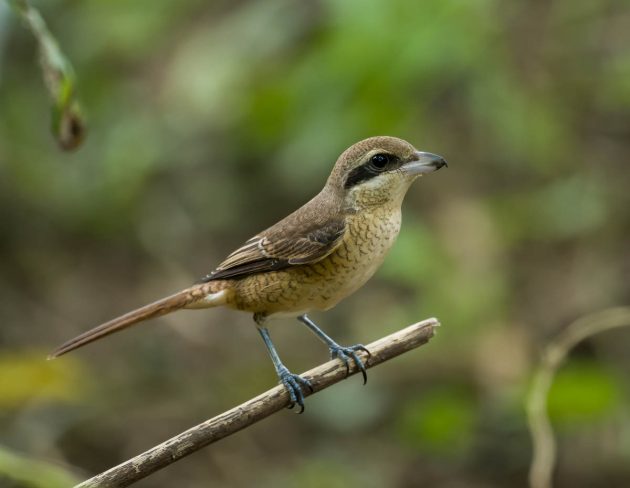 (The Chinese Postal service has a signature color – a dull darkish green. I once asked my then-girlfriend whether this color was in any way protected for use by the postal service only – as the color yellow is to some extent associated with the German mail service. She said no, it was just that nobody else ever wanted to use that color).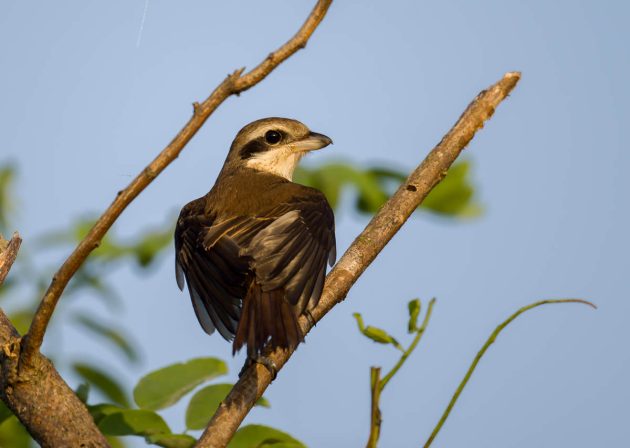 Despite claims to the contrary, the Tiger Shrike was not named after a German tank.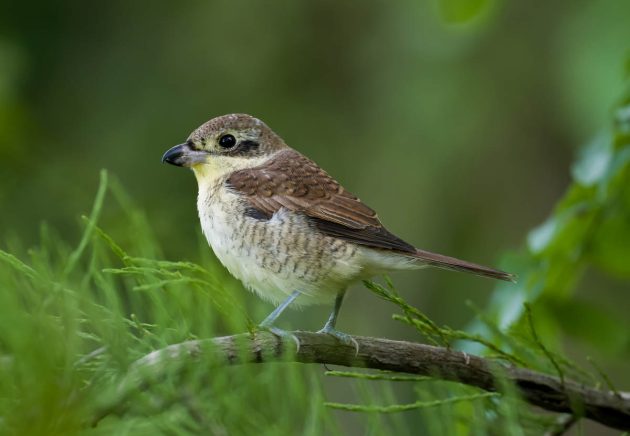 Not many people may know this, but there is a feline related to the domestic cat that is also named tiger – that one is the namesake of the Tiger Shrike. Who would have thought.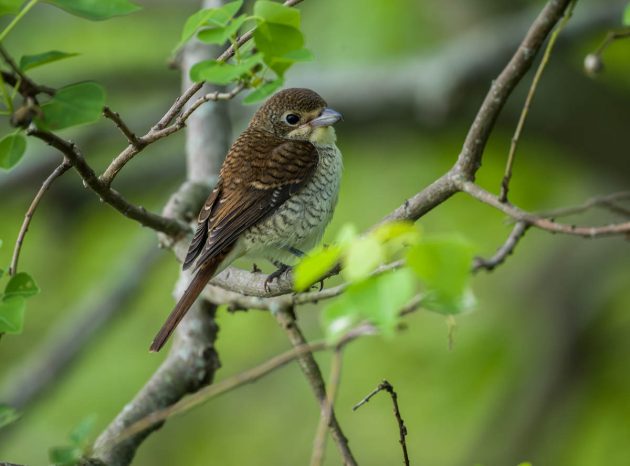 Meanwhile, a Long-tailed Shrike cursed the weather report that had predicted a dry morning.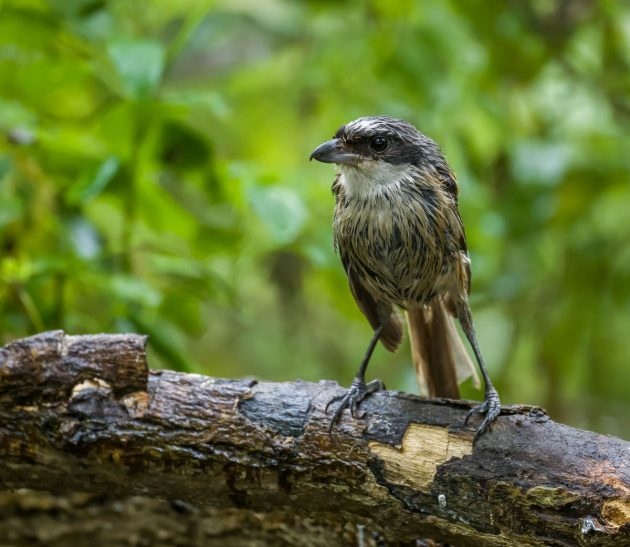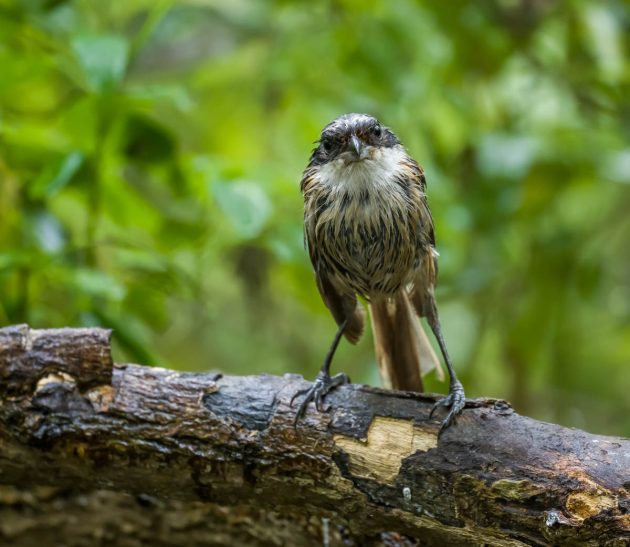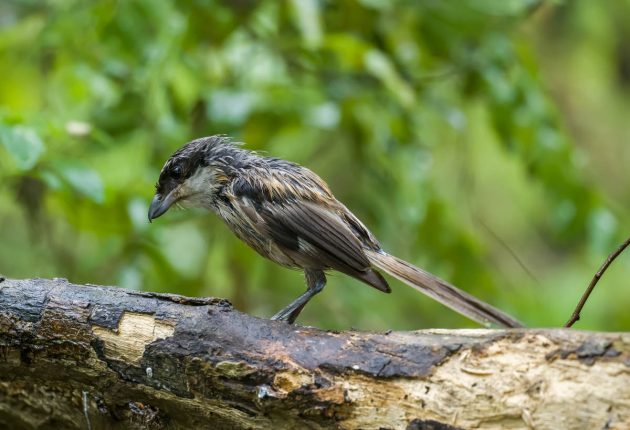 Juvenile Black-naped Orioles are not particularly black-naped despite their name. The theory behind this is that if you give a young bird a name like this, it will be inspirational for them.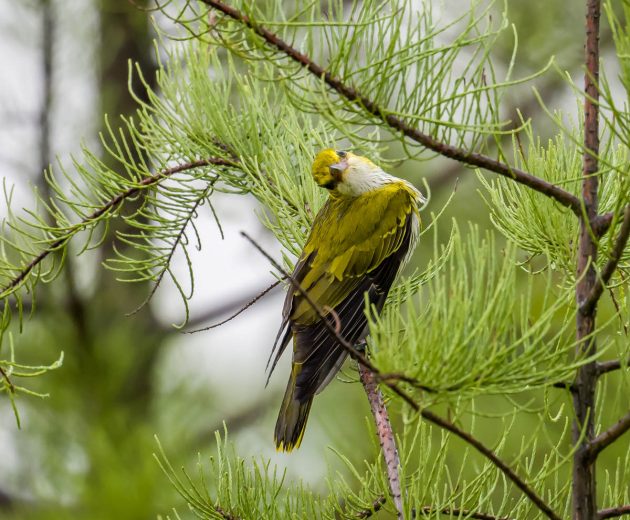 The Oriental Scops Owl may well be my favorite species passing through Nanhui, Shanghai during migration.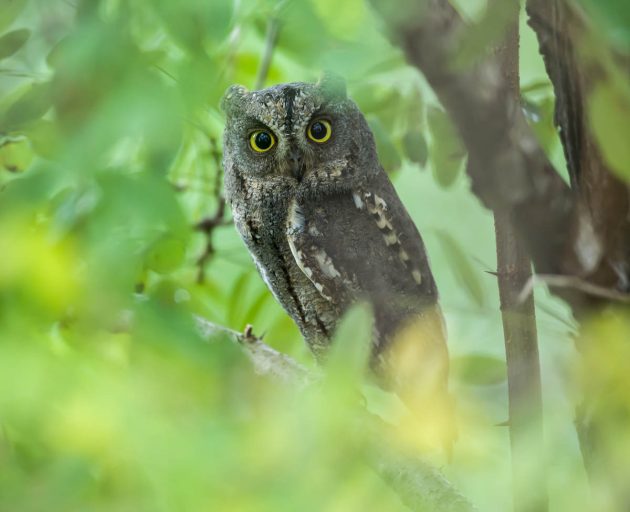 Soldiers could probably learn a lot about camouflage from this species.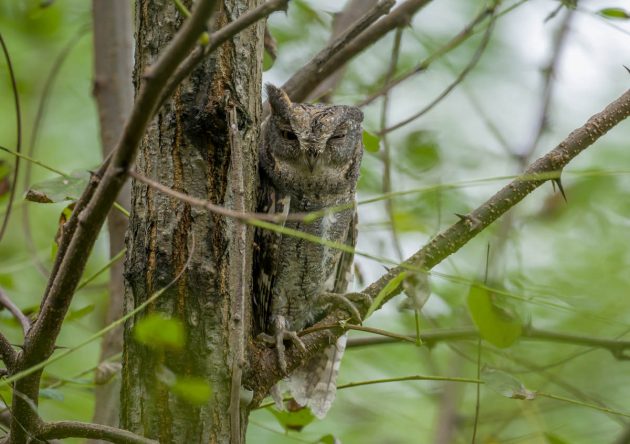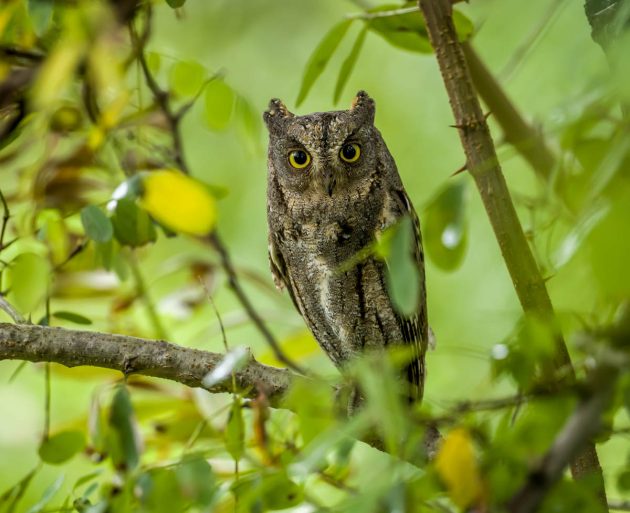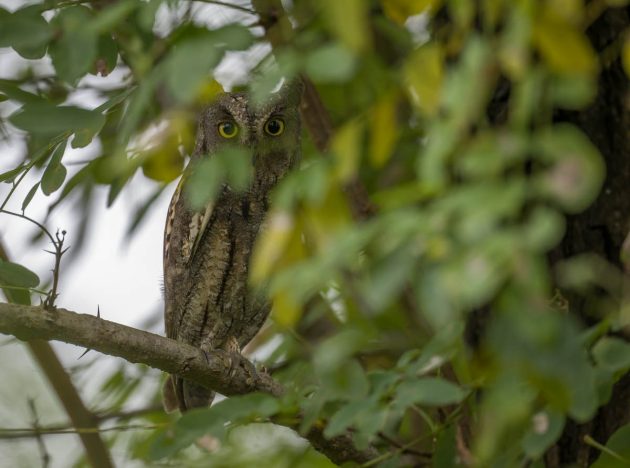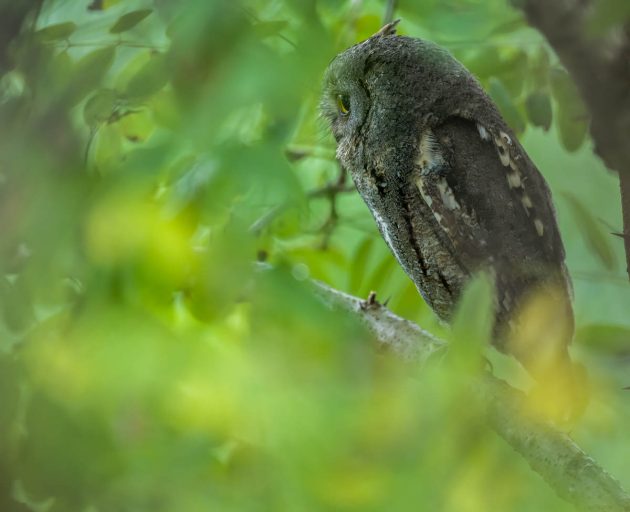 A Lesser Cuckoo stayed in one of the Nanhui microforests for a few days, not being afraid of humans at all. Maybe it was raised by some caged birds in close proximity to humans, though I lack any proof of this theory whatsoever.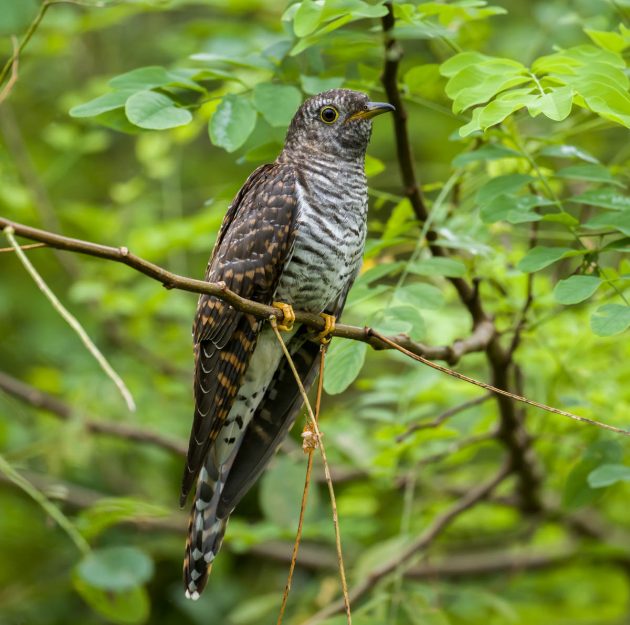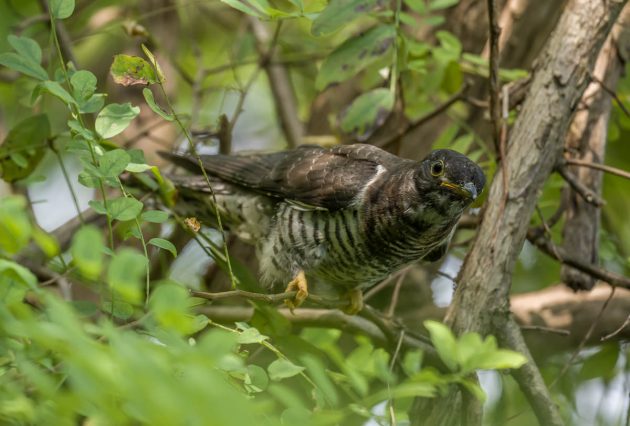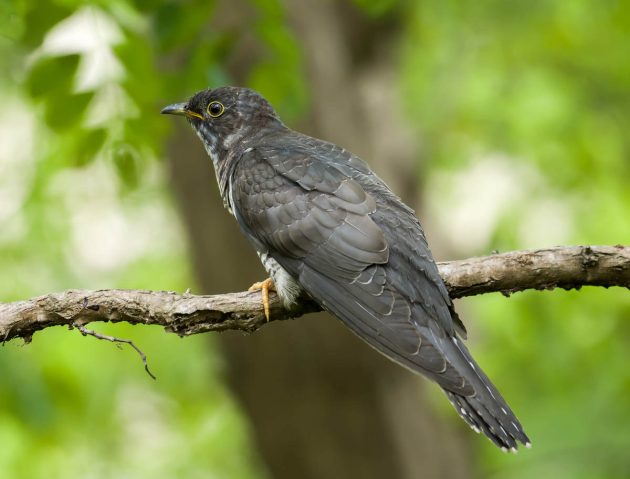 I cannot guarantee that this is indeed a Swinhoe's Snipe.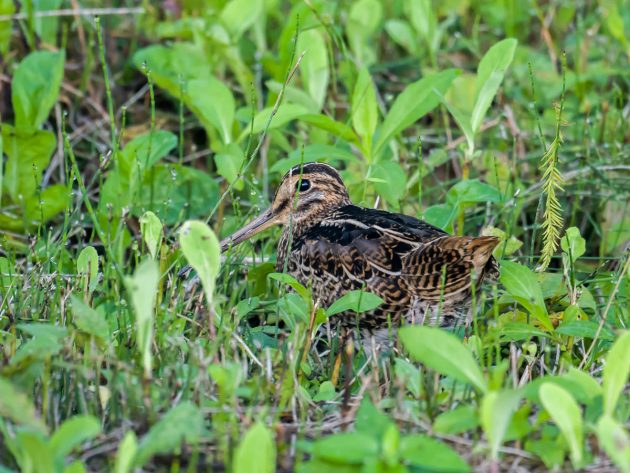 The HBW has a nice description of the movement of the Crested Myna: "Takes long strides when walking, often hops or 'gallops'"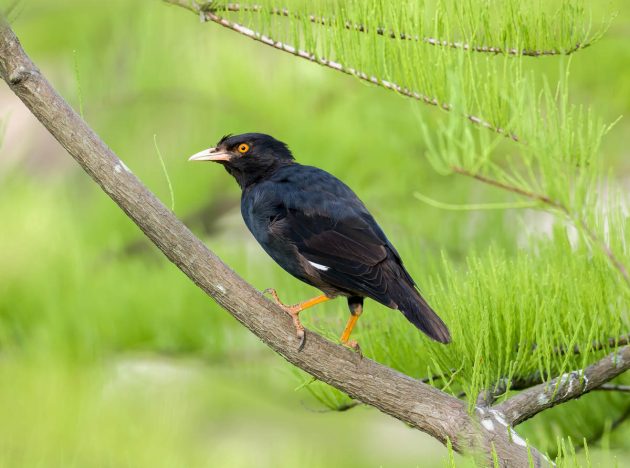 The juveniles have not learned yet to avoid the unfortunate color brown.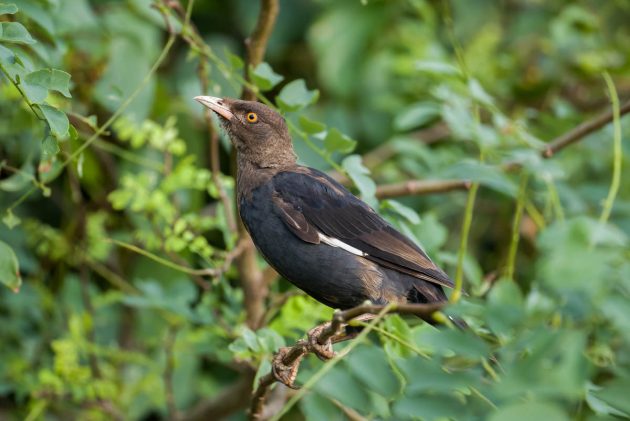 The Eurasian Wryneck also struggles a bit with regard to colors – it still looks like an experiment in different, not quite matching patterns of various shades of brown.
Nanhui is also a good place to see the Eurasian Hoopoe (actually, once, my apartment was too – a hoopoe had somehow got in and had to be rescued by me from my excited cats – but that was more of a one-off event. Going to Nanhui is more reliable).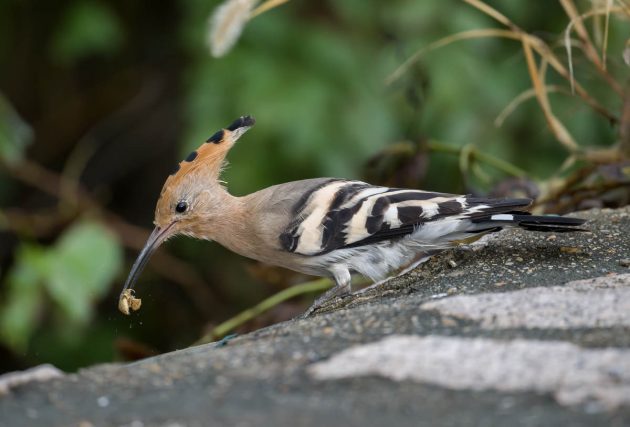 "Kai, why do yo always have to post photos of us eating weird things?"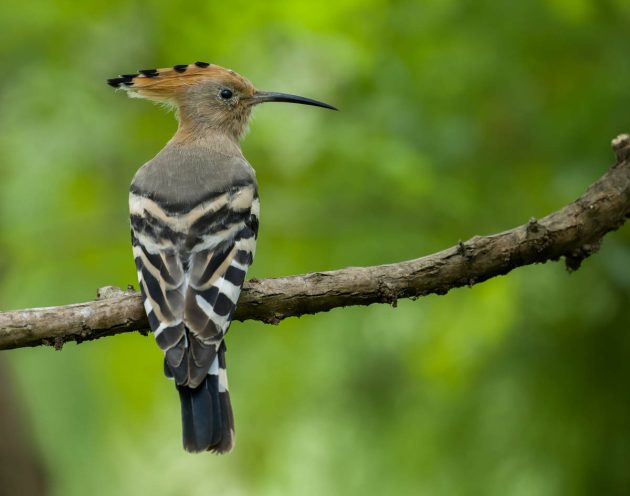 "I also post photos of you looking nice and with a nice background, ok?"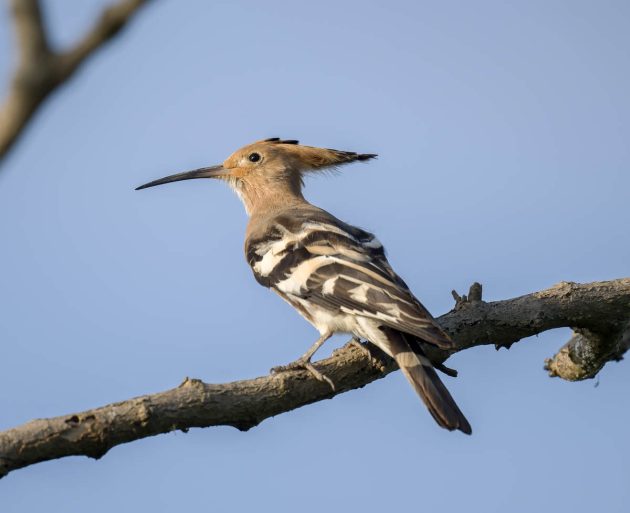 A few waders: a probably Far-Eastern Curlew (to be honest, I thought it was a whimbrel but got corrected by a more knowledgeable reader) (and yes, I have photos without plastic trash in the background, but unfortunately, this photo shows a more realistic environment of the bird) …
(below is the proof)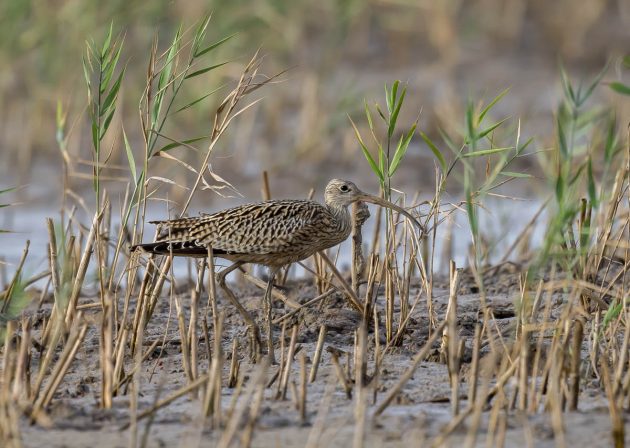 a Red-necked Stint …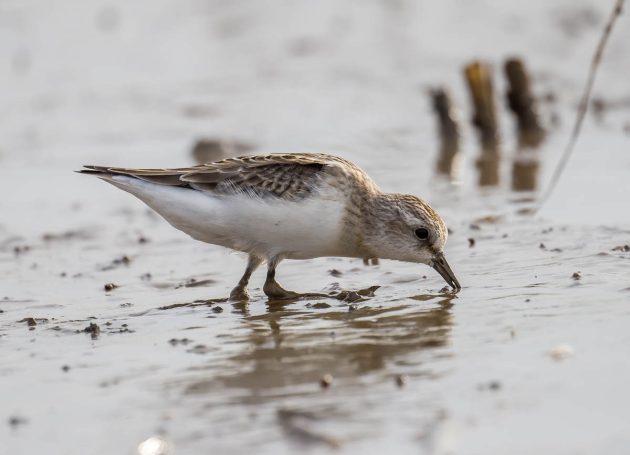 … the unavoidable (avoidless?) Dunlins …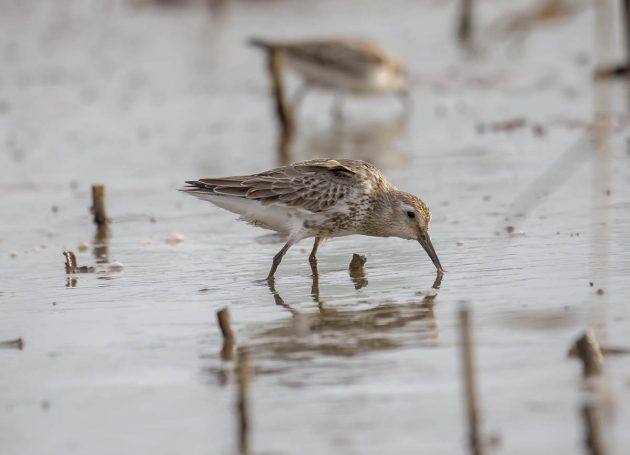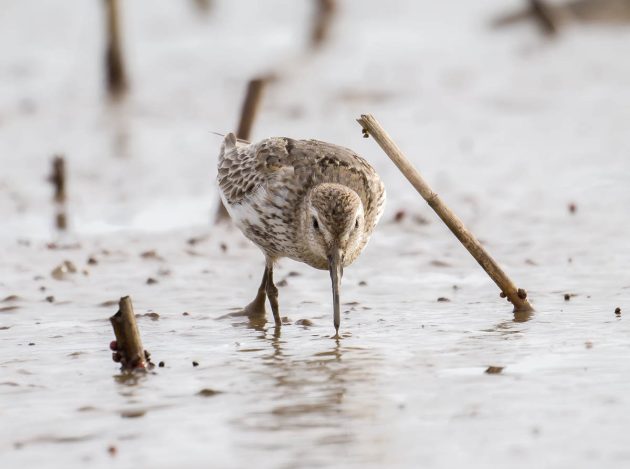 … Little Ringed Plover (interestingly, in an area where it seems they are trying to grow some mangrove seedlings – rewilding in Shanghai?) …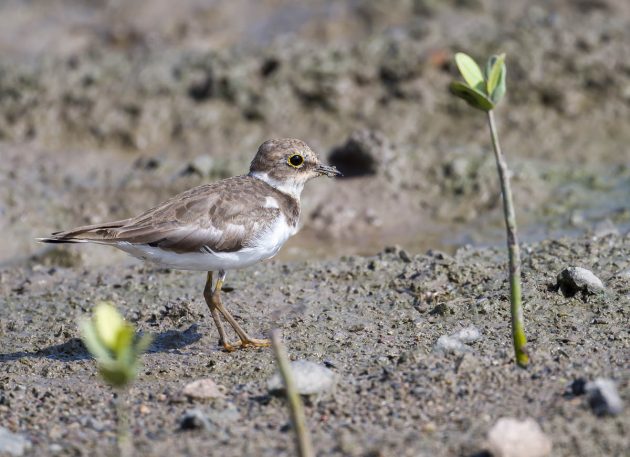 … and the Grey-tailed Tattler, a species I can identify relatively easily despite my limited wader ID skills as it does not seem to have any characteristics whatsoever.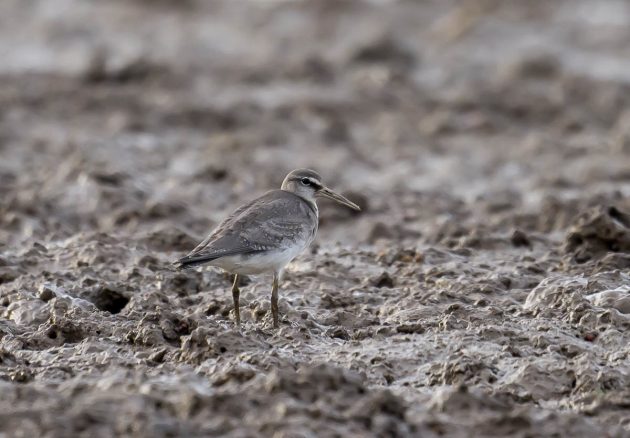 And for those who are bored of reading but like to look at photos of colorful birds, this post covers the Siberian Blue Robin …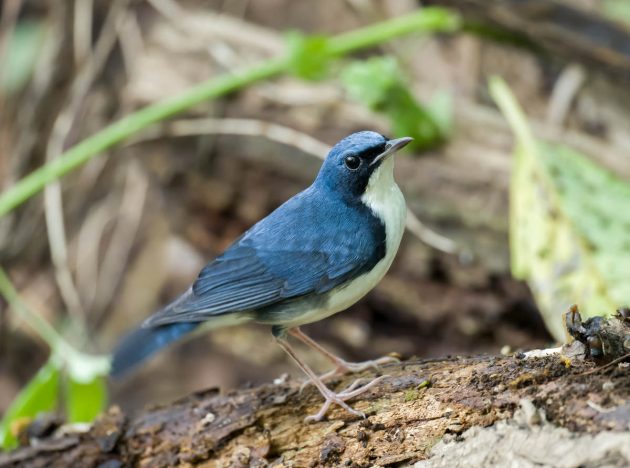 … Yellow-rumped Flycatcher …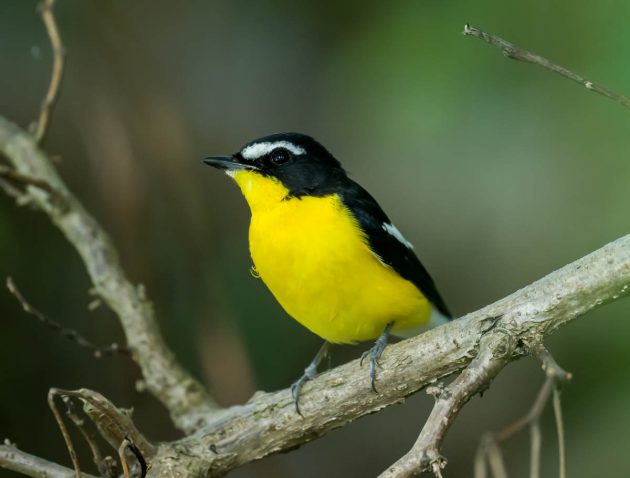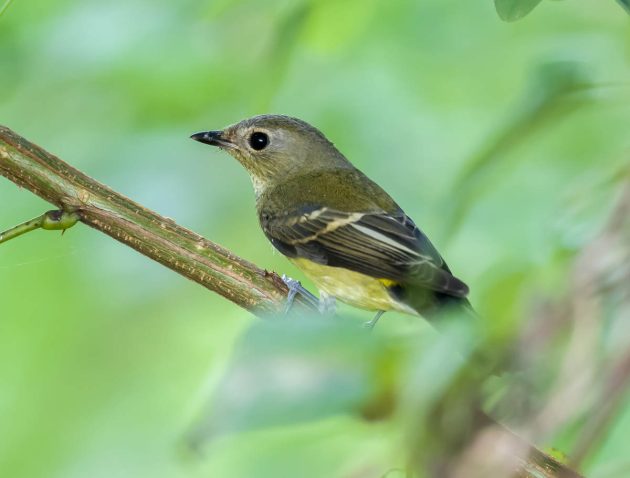 … Japanese Paradise Flycatcher …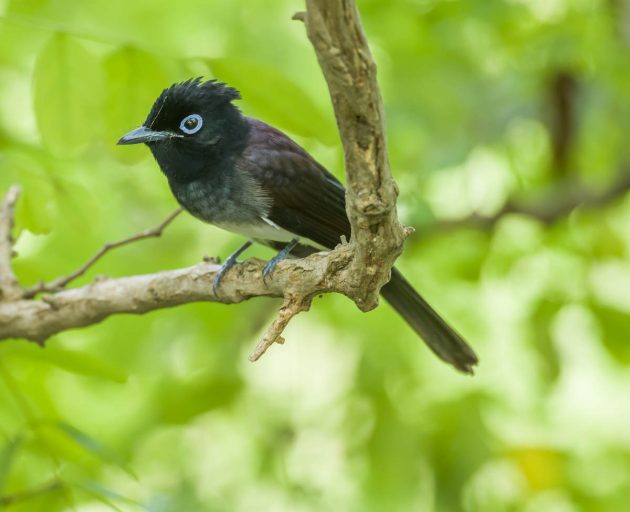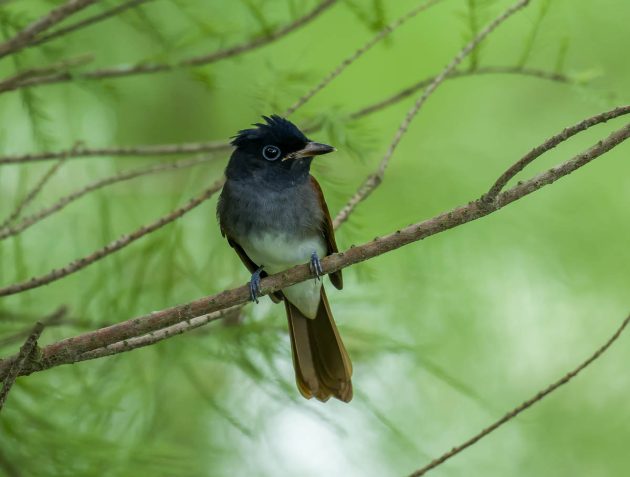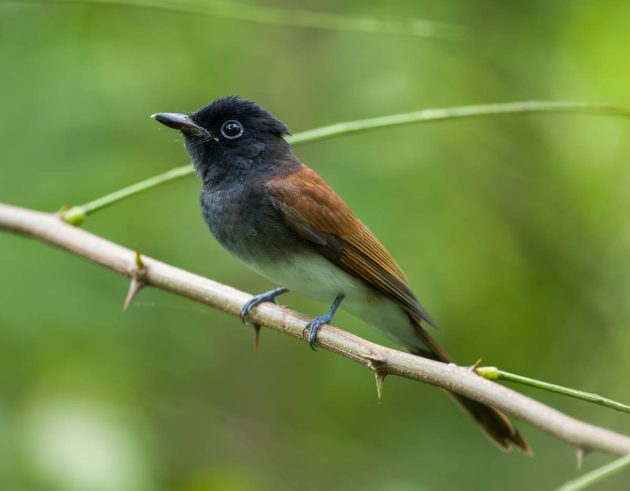 … Blue-and-white Flycatcher …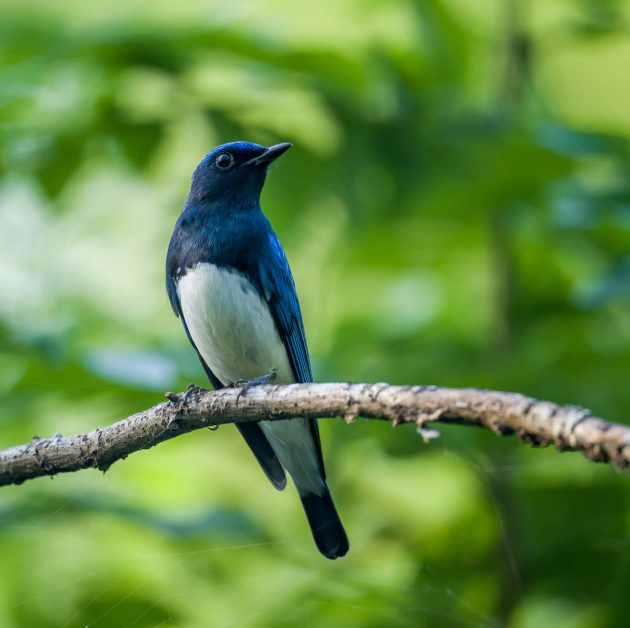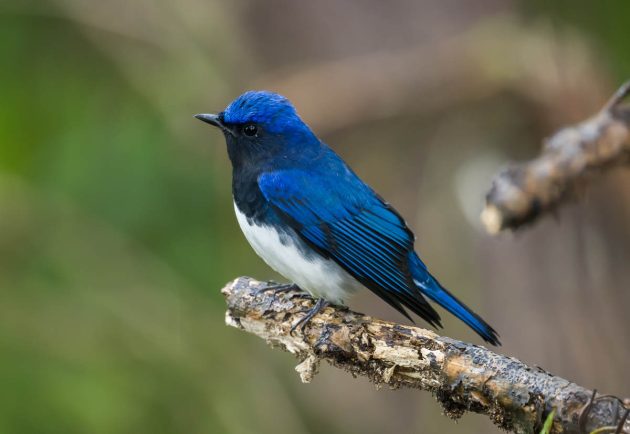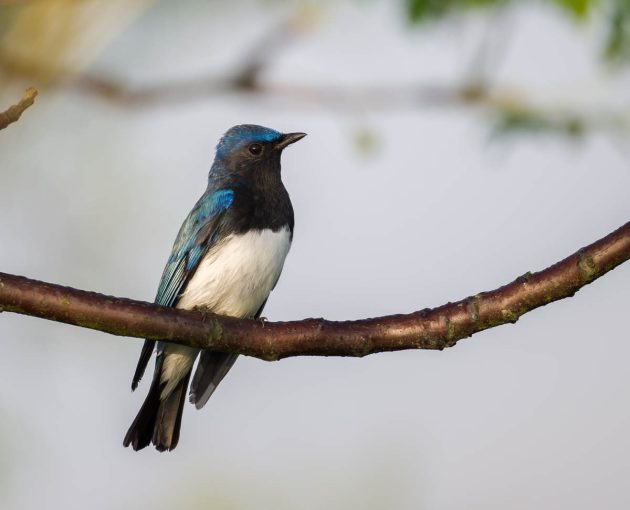 … Grey Heron …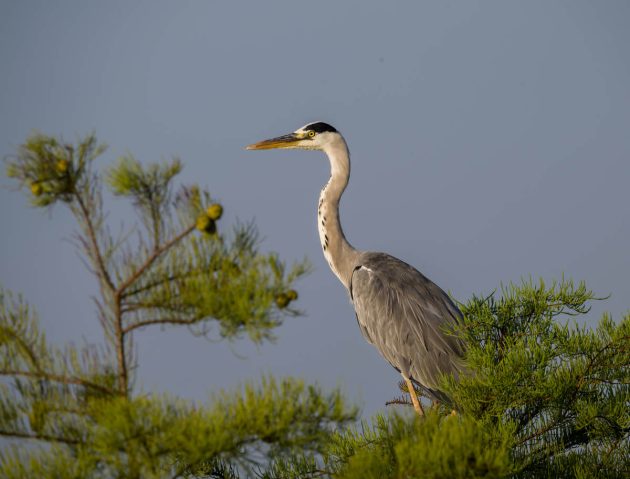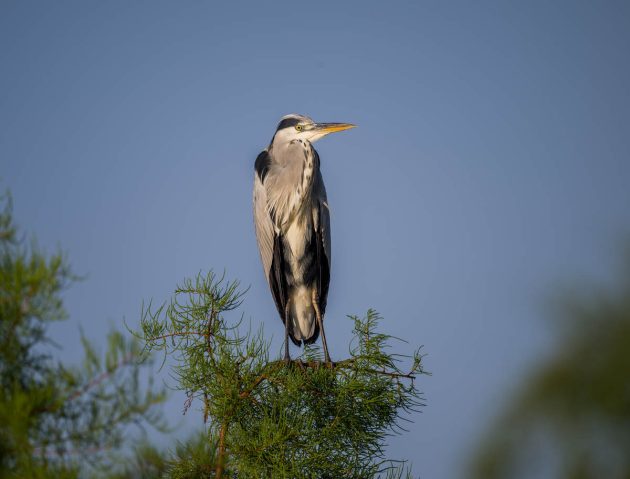 and the Oriental Dollarbird.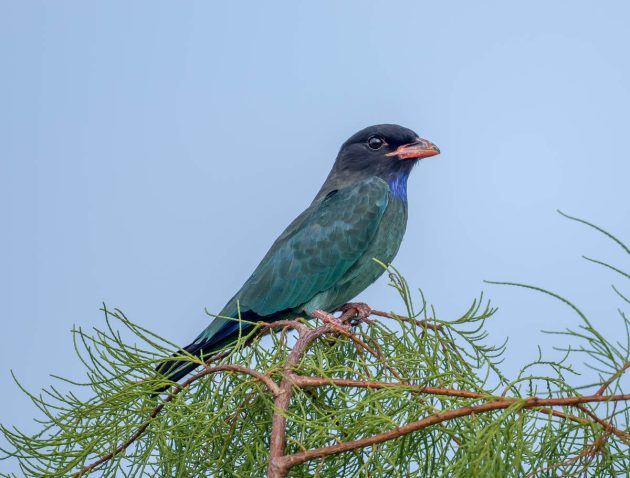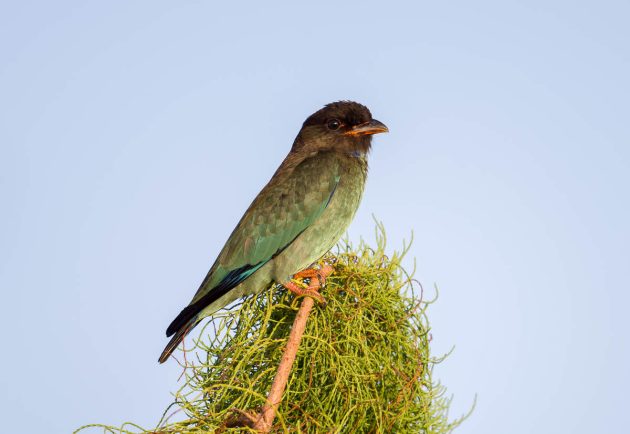 Somehow I cannot think of a good ending to this month's post – I already wrote two different paragraphs (one on a song by AC Acoustics, "She kills for kicks", and one on an Ernest Hemingway story, "Indian Camp") but was not happy with either one of them, and that was not even because neither had any plausible connection to birds and birding (that has never kept me away from any topics in the past). Call it Writer's Block, though it was not really an issue of being blocked but rather of only producing very mediocre writing.