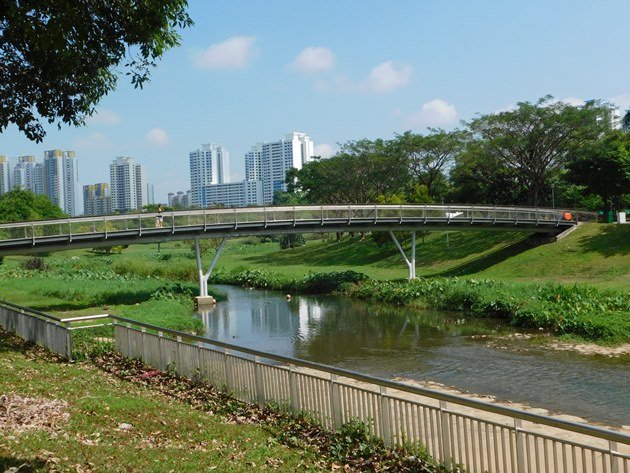 During our three week visit to Singapore in March we spent a good part of each day walking and birding. By 17th March we were not expecting to find too many more new birds to add to our list. We decided it was time to visit Bishan-Ang Mo Kio Park and see what we could observe there. We also decided to combine the walk there with the trail at Lower Peirce Reservoir Park and make a "day of it". By combining these two parks we could take the MRT to Bishan on either the Circle Line or North South Line and walk to the entrance of Bishan-Ang Mo Kio Park. We could then continue through the park and cross Upper Thomson Road and enter Lower Peirce Reservoir Park and do the trails there. We were then able to walk down Upper Thomson Road and get public transport back to our hotel.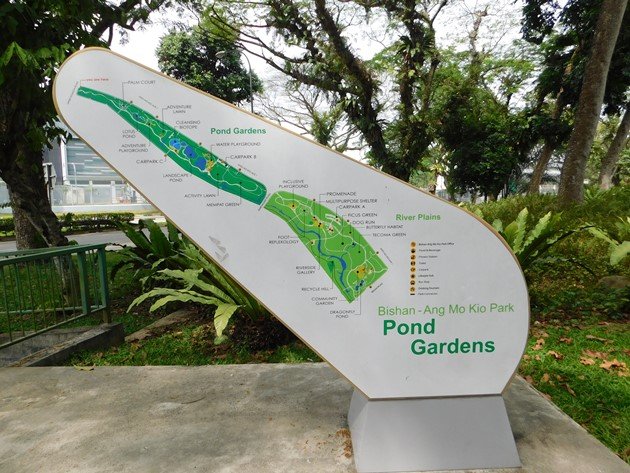 Sign for Bishan-Ang Mo Kio Park
From Bishan MRT Station it is only 100 metres to the entrance of Bishan-Ang Mo Kio Park where we could follow the trails. Even before we entered the park we had seen Black-naped Orioles, Tree Sparrows, Large-billed Crow, Javan Myna, Orange-bellied Flowerpecker, Olive-backed Sunbird and an Oriental Dollarbird. Despite it being a Sunday the park was not crowded at all and it was very enjoyable to stroll through the park bird-watching and stopping at the many benches in the shade when we found a "hotspot". Striated Herons, Spotted Doves, Asian Glossy Starlings, Zebra Doves, Chinese Pond Herons, Blue-tailed Bee-eaters, Long-tailed Shrike, Asian Brown Flycatcher and Common Iora were soon on our list. We were surprised that it had taken until this day to find Coconut Lorikeets. They looked similar to our Red-collared Lorikeets at home in Broome, but did not sound anything like them.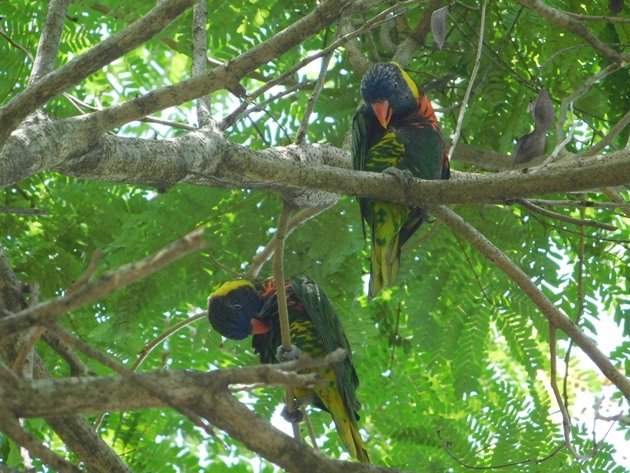 Coconut Lorikeets
We encountered Scaly-breasted Munia, Yellow Bittern, Pink-necked Green Pigeons, Collared Kingfishers, Pied Triller, Asian Koel, Plaintive Cuckoo, White-breasted Waterhens, Grey Herons, Red Junglefowl, Oriental White-eyes and Fork-tailed Swifts as we slowly meandered through the park. About halfway between Marymount Road and Upper Thomson Road we had the pleasure of sitting and observing Blue-crowned Hanging Parrots.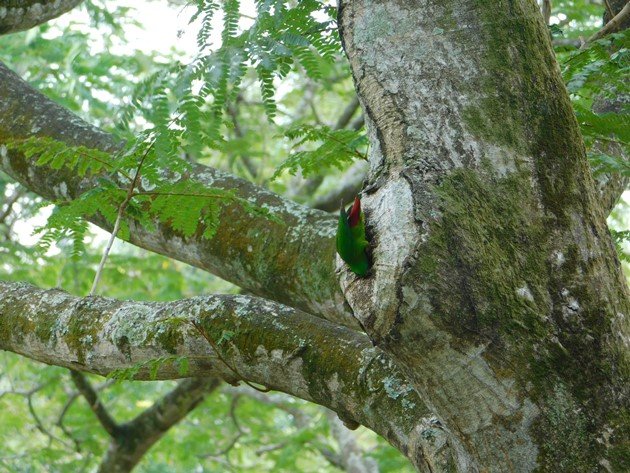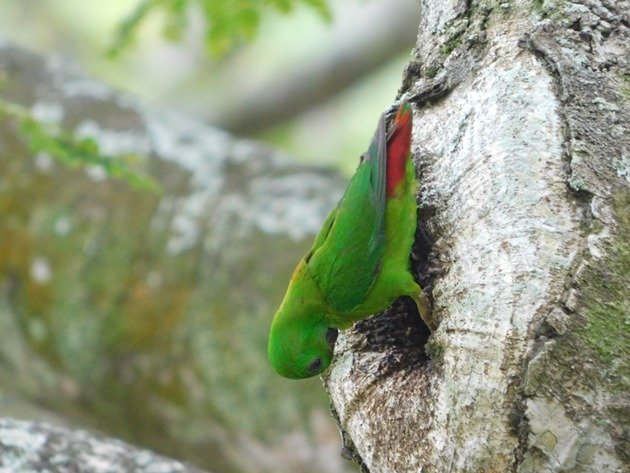 Blue-crowned Hanging Parrot
The previous day in the Southern Ridges we had an odd encounter with what initially appeared to be a small bird flying through the trees. In fact it was not a bird at all, but a Common Gliding Lizard. We encountered another one of these Common Gliding Lizards flying through the trees at Bishan-Ang Mo Kio Park and I was able to photograph it on this occasion. No doubt they are often overlooked or mistaken for a small bird if you observe them in the distance flying through the dense canopy in Singapore.
Common Gliding Lizard
By the time we reached the Upper Thomson Road we had a spent three hours sauntering through the park and had a list of over forty bird species. We then crossed the road to walk the trails in Lower Peirce Reservoir Park. We were surprised to see a sign warning of sting rays in the reservoir! We had learnt from signs over the days we had been in Singapore that they have a problem with people dumping unwanted pets and we presume this to be the case in the reservoir. The walk trail at Lower Peirce Reservoir is only 900 metres long and it is a boardwalk. We had not expected to see too many bird species on this short walk, but sometimes these short walks can have a surprise or two. There were wild boars and monitors rustling through the leaves as well as the plantain squirrels that we had become so accustomed to.
As we went along the trail it appeared to be fairly quiet and then we started to find a few birds. Asian Glossy Starlings, Javan Mynas, Spotted Doves, Common Flameback, Pacific Swallows, Yellow-vented Bulbuls, Common Kingfisher, White-bellied Sea Eagle and Red Junglefowl were soon on the list. We then found a "hotspot" and waited to see what was in the canopy apart from the Pink-necked Green Pigeons, Greater Racket-tailed Drongos and a pair of Chestnut Bellied Malkoha. We discovered Olive-winged Bulbuls and then suddenly there was a blur of bright red across the boardwalk in front of us. We had not been expecting to see a Banded Woodpecker and there we had one right in front of us. It landed in a tree close to the boardwalk and started hammering away, but there was absolutely no sound! It was clear from the tree trunk that the Banded Woodpecker most likely stopped by this tree on a regular basis to look for food. Photography was problematic in such dense dark forest and also the decision to choose photography over observation can be a hard one to make. However, I do have some photographs of the Banded Woodpecker! It does not show the brightness of the red feathers at all, but you can see it is a beautiful bird and there are "redder" photos here. Singapore is a great place to enjoy the woodpecker family.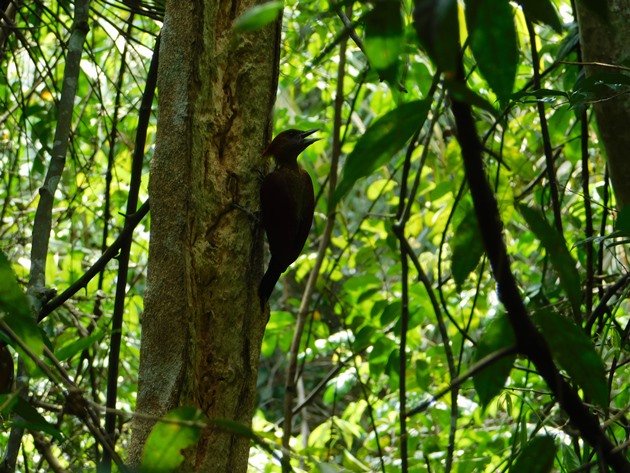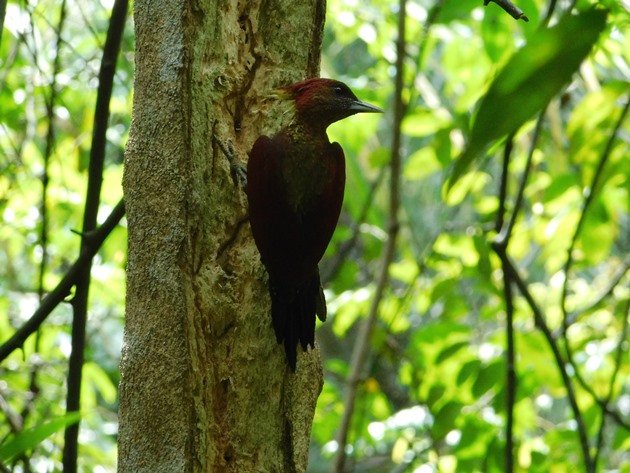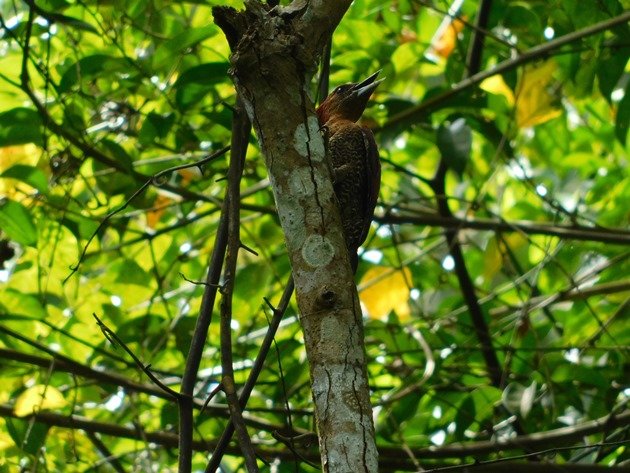 Banded Woodpecker
Our final bird for the day was an Arctic Warbler. We had spent a leisurely few hours walking through Bishan-Ang Mo Kio Park and Lower Peirce Reservoir Park. Both parks can be joined together to make a day of it or just head to one or the other park to enjoy some nature and see what you can see!