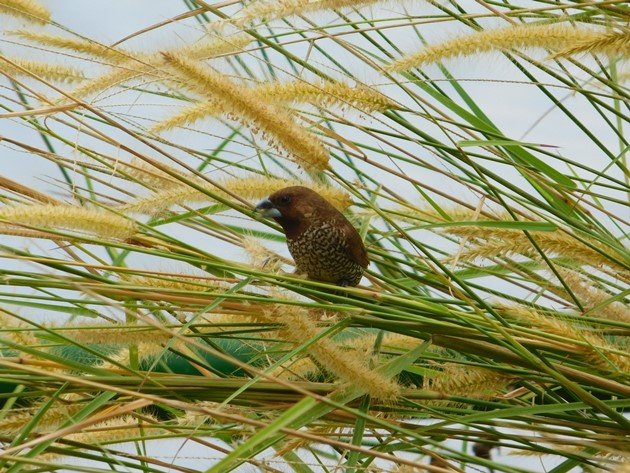 During our three weeks of birding in a variety of habitats around Singapore we encountered three species of Munia. We are very familiar with the finches and mannikins in Australia with Double-barred Finches visiting our garden every day. We also have the occasional visit from Long-tailed Finch and Zebra Finch and these two species are easily found around the Broome area. Further afield in Australia we have Pictorella Mannikins, Chestnut-breasted Mannikins, Crimson Finch and the rarer Gouldian Finch.
The Munia in Singapore are also seed eaters like our finches and mannikins in Australia. The most common of these species was the Scaly-breasted Munia and they were easily observed near Satay By The Bay in the Gardens By The Bay area. The area is popular with birders and photographers and most tourists will visit the gardens during their visit to Singapore. We also encountered a nice flock of Scaly-breasted Munia in Coney Island Park feasting on the grass seeds on the western side of the island.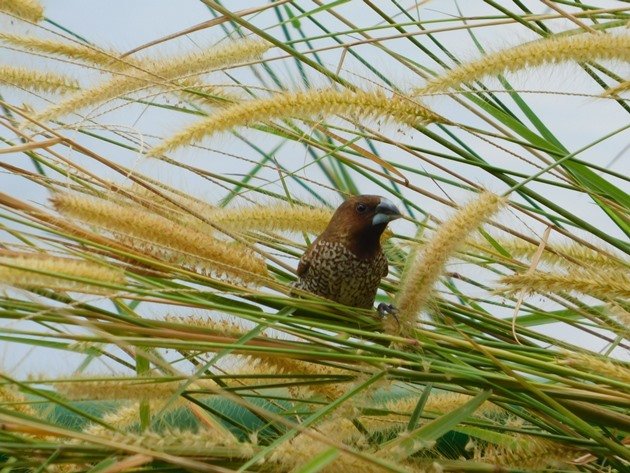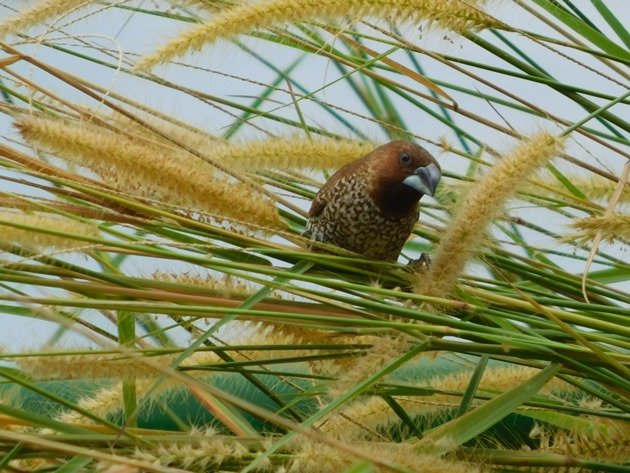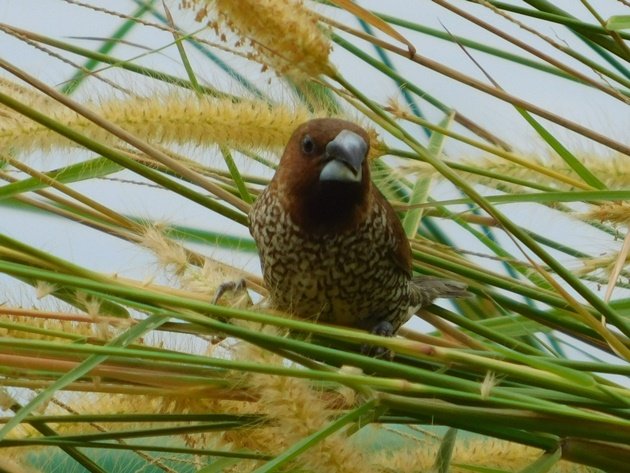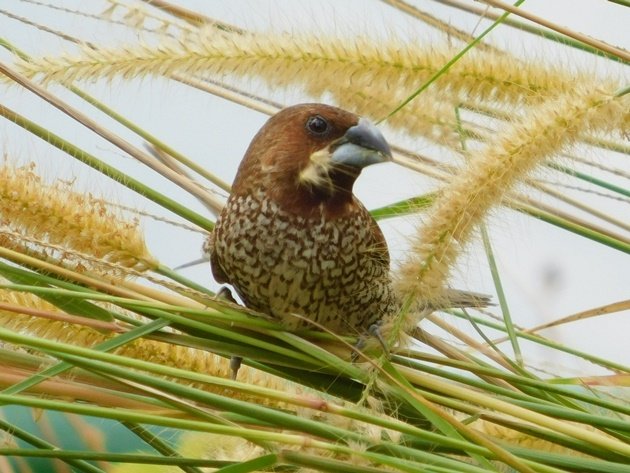 Scaly-breasted Munia eating grass seeds
The Chestnut Munia were also observed at Gardens By The Bay, but they were a lot more active than the Scaly-breasted Munia. They nipped around the reeds and grasses close to one of the water bodies. The Chestnut Munia were challenging as far as photography goes.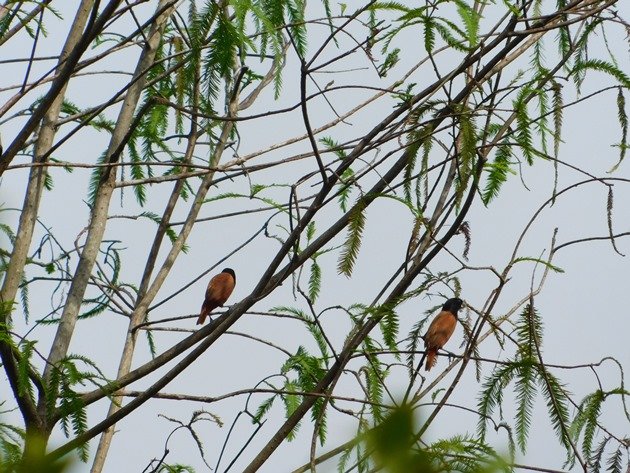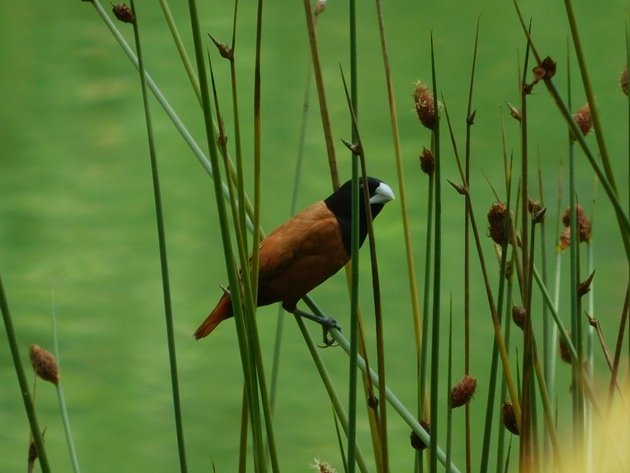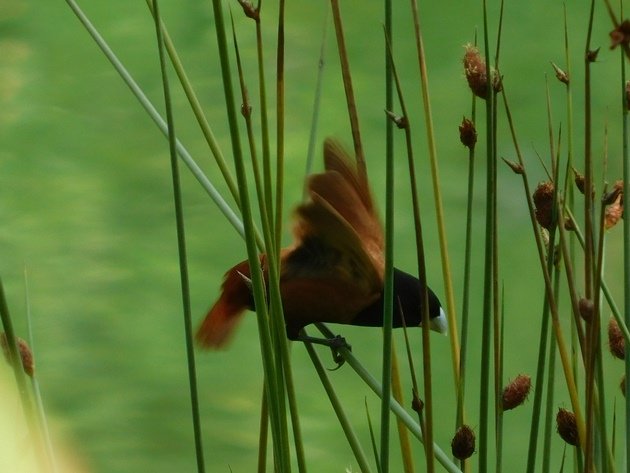 Chestnut Munia
The final and third of the Munia species that we observed in Singapore were the White-headed Munia. It was in close association with Scaly-breasted Munia on the Green Corridor near King Albert Park. The birds were not very obliging for photography at all, because they were behind an open-link fence.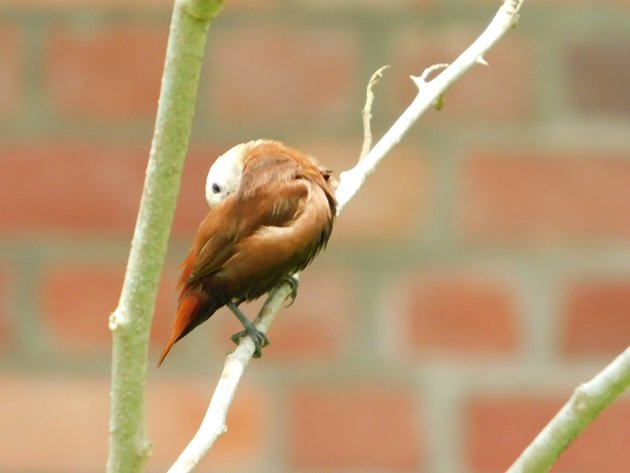 White-headed Munia
During our three weeks of birding in Singapore we encountered a huge variety of bird species. They varied in size from the large Oriental Pied Hornbill to the tiny Sunda Pygmy Woodpecker and many birds in between! Unlike many other birds in Singapore these birds were almost familiar! The Scaly-breasted Munia, Chestnut Munia and White-headed Munia added nicely to our 2019 Year List!