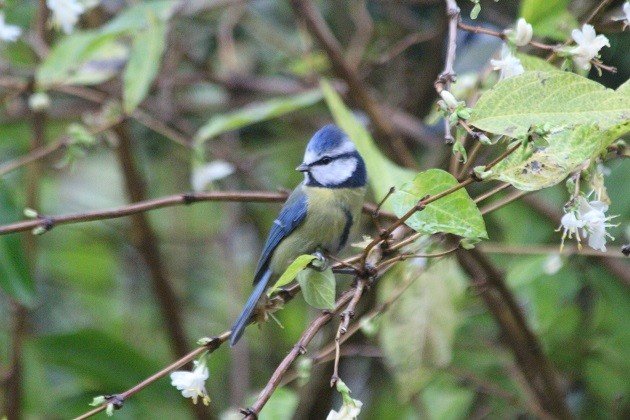 I'm a long-time champion of the IOC World Bird List as a standard for bird names. I pushed for Wikipedia to adopt them, and then to follow the taxonomy, and given the dominance of Wikipedia in Google search results, this is no small thing. I'm not blind to the list's faults, though. They give short shrift to New Zealand's birds, lumping them with odd names no one here uses because the names are shared elsewhere and God knows America isn't going to take a hit for us.
But if the list has one real problem, it's a tendency towards verbosity. If there's a choice between a simple name and a long one you can almost always rely on them to plumb for the long one. It's particularly obnoxious on the, let's see, let's call them mono-nomic bird types. There is only one type of bird in the world called a donacobius. So why on earth is it necessary to call it a Black-capped Donacobius? What other kind is there that the black-capped distinguishes it from? Similarly the Sapayoa was the Broad-billed Sapayoa until it was saved from its verbal name by the other authorities deciding that there weren't any narrow-billed kinds.
But still, it's a good list in the main. And it's influence means its important, so that's a good thing. But a split has annoyed me. A nice, compact, descriptive and above all long standing and widely known name has been… complicated.  The noble Blue Tit once ranged from Iran through Turkey and Europe to the Canary Islands (the Spanish Islands off North Africa – the other bird was named for the islands incidentally) and North Africa. A good, solid Palearctic range that any respectable Paratactic bird would be proud of. Then someone decided that the Canary Island birds were a separate species. Later, the North African ones were moved to the Canarian species. All good and un-notable in the world of ornithology, were species are lumped and split so often that publishers no longer pretend their latest guide book is up to date. But the name… oh god the name. The Blue Tit, the common garden staple of Europe, was now the Eurasian Blue Tit.
Now, I get that splits sometimes have to share. The Barn Owl was a cosmopolitan species, so as it is split the name has to be shared (American, western and eastern). Similarly when the Hoopoe and Cattle Egret were split, these are widespread birds with huge ranges even after the split. But the Blue Tit was different. The majority of the species stayed with the nominate, and the name should have stayed with the nominate too. The new species could have been named the North African Tit or Canarian Tit – it isn't always necessary to add extra words to distinguish a split!
There is, I acknowledge, a certain conservativism to my plea (small C, obviously). But it doesn't pit one group of birders against another, and there is value in keeping common names consistent over time, especially in a species as widespread and well known as this. So, down with the Eurasian Blue Tit, bring back the Blue Tit!
…..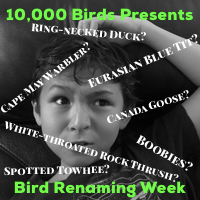 Most birds were named by now dead white men who didn't appreciate that most of the species they were "discovering" had already been discovered and had names. Most of the birds so named were named by men with the dead remnants of a bird in their hand and often the men doing the naming had never seen the bird in life. Geographic, honorific, horrific, and overly specific names abound much to the detriment of those who would like names to actually fit the creatures being described. And we poor birders have to use those names because otherwise no one will know what bird we are checking off our list and bragging about having spotted to fellow birders, bored families, and unimpressed romantic interests. Well, no more! We here at 10,000 Birds have decided to right some wrongs and improve the birding world by renaming birds the way they should have been named from Linnaeus to the present. (Or, at least, pointing out some names that suck.) Welcome to Bird Renaming Week, our week-long exploration of the names we put to birds and how they can be improved!
…..