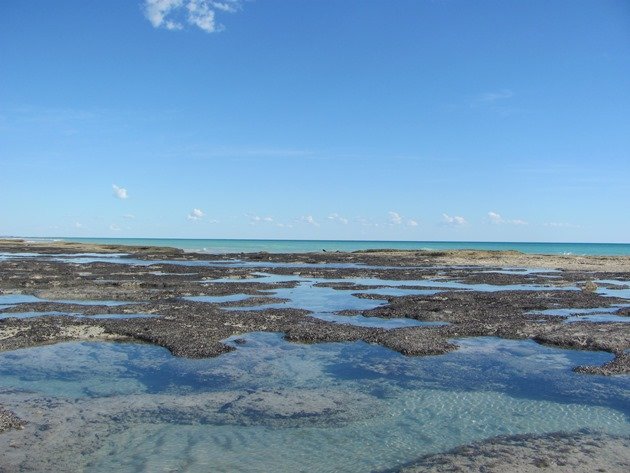 Life in Broome evolves around the tides and it does not matter if you are interested in shorebirds, fishing or the creatures of the reef, because you are in some way reliant on the tide chart. With the full moon this past week we were taking note of the bigger tide and therefore the lower tide to follow. The tidal range in Broome is one of the largest in Australia and offers excellent reef walking at low tide. We had already been for a walk at one of the higher tides two weeks ago, because that is the ideal time to find the remaining shorebirds and check on our resident pairs of Pied Oystercatchers. The Pied Oystercatcher pairs are all in their breeding territories and we can expect to find eggs laid in the first week of July along the coast here. We are looking forward to hopefully seeing some successful Pied Oystercatcher parenting again this breeding season. On a low tide the shorebirds wait out on the edge of the reef for the first sight of the exposed outer reef and fly out there to check the depth of water as the tide drops and then remain there feeding until the tide pushes them off once more. The tiny black dots in the photograph above are a pair of Pied Oystercatchers that we know well.
Not all of the migratory shorebirds have left Broome at this time of year, though the numbers are greatly diminished. We observed six Ruddy Turnstone, three Whimbrel, four Bar-tailed Godwit and greater numbers of Red-necked Stint and Grey-tailed Tattlers on the reef feeding as the tide fell. They were well camouflaged and often were not seen until they flew ahead. In the months from October to April the reef is a lot busier with the shorebirds feeding and then they migrate north to breed in the northern hemisphere. The resident Red-capped Plovers were soon off the reef and feeding on the soft silty sand and they will also soon be nesting along the Broome coastline. They are a lot more successful than the Pied Oystercatchers at breeding, but their eggs and chicks are somewhat smaller and appear to be less attractive to predators.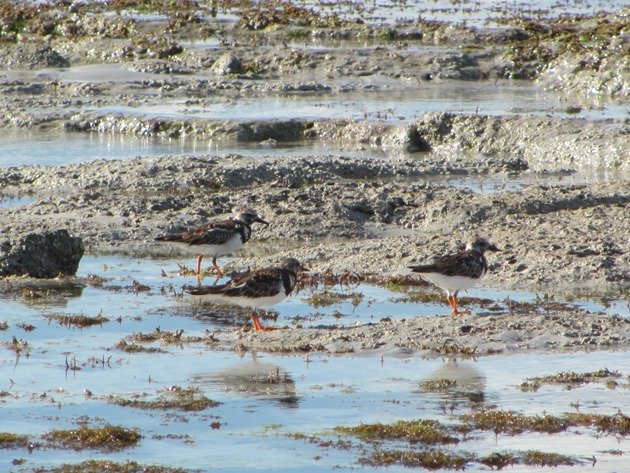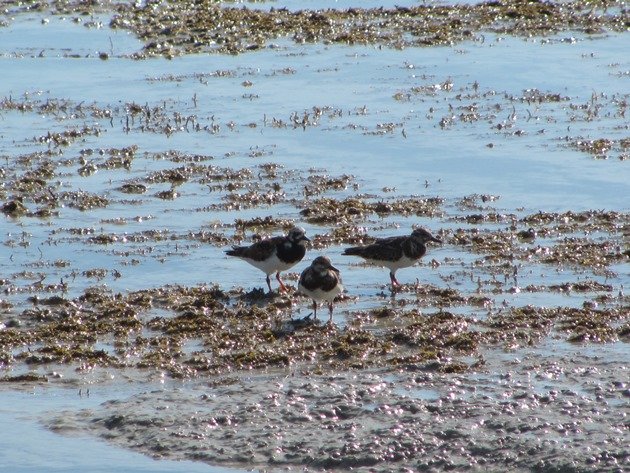 Ruddy Turnstones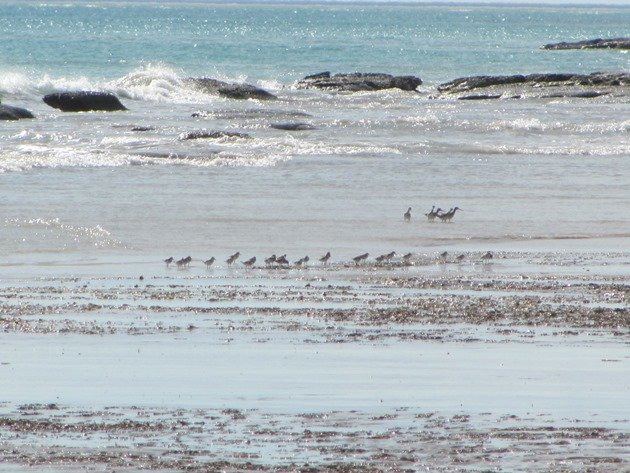 Red-necked Stint and Grey-tailed Tattlers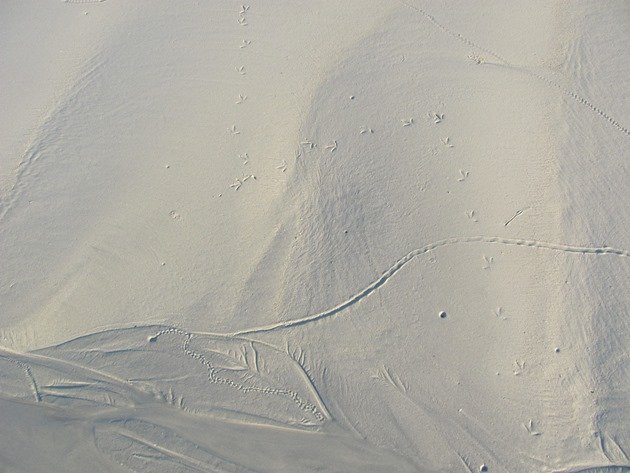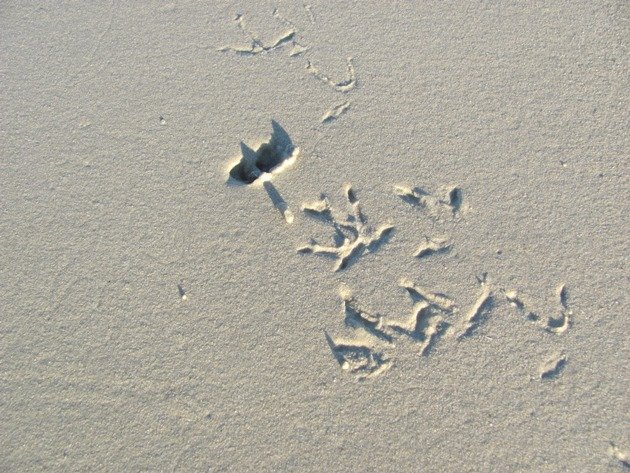 Red-capped Plover prints
The big appeal to us on these low tides is the easy access to so much of the reef that becomes exposed and the huge variety of sea creatures that we can encounter in a few hours of walking. We would never venture onto the reef during an incoming tide, because the water races in so fast it would be extremely risky and you could easily end up swimming. The shorebirds can fly and escape the incoming tide and young Pied Oystercatchers are excellent swimmers on an incoming tide, but we prefer the less stressful wandering as the tide drops. The creatures we encounter are also well camouflaged and often it is only when they change colour that you notice them. Octopus are excellent at disguising themselves and often your shadow over a pool is enough to make them change colour and they then become apparent.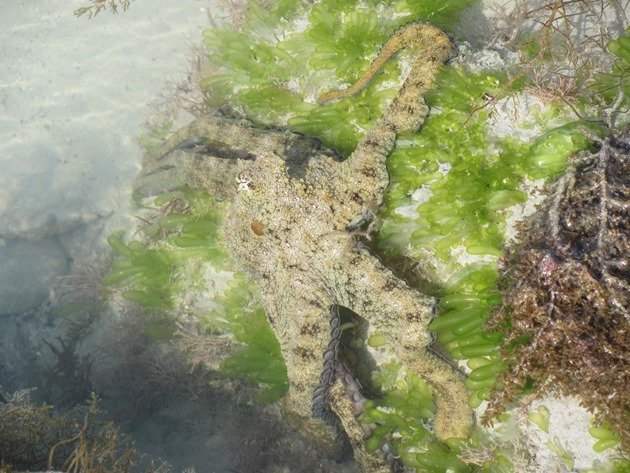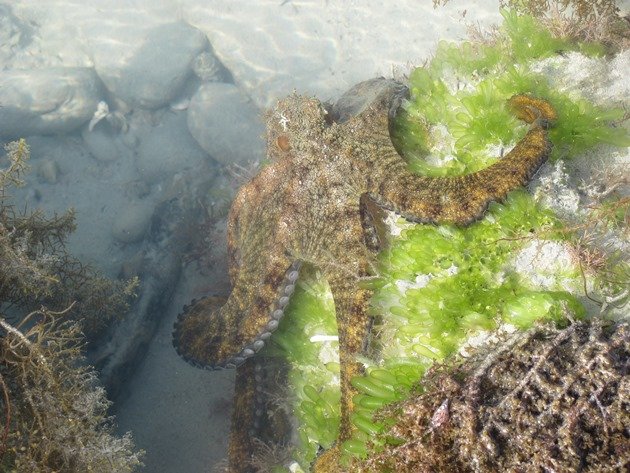 Octopus
The edges of pools are lined with Brittle Stars and then are often observed moving around quite rapidly when the tide is out. Other small sea squirts shut as you walk by.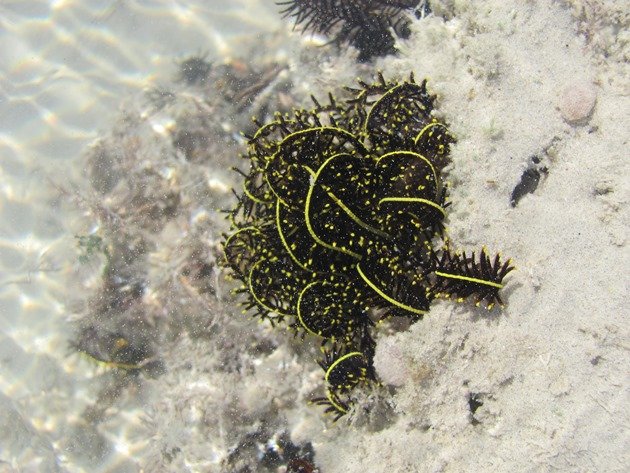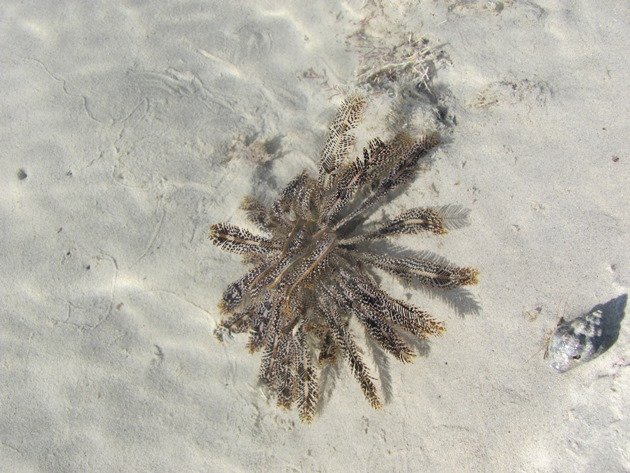 Brittle Stars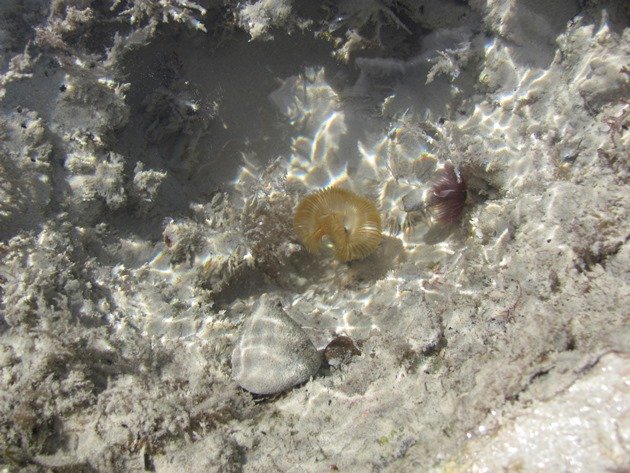 Sea Squirts
Sea Hares are a strange creature that we either encounter in large numbers or barely at all. Often they are well camouflaged and if you happen to knock one by accident the water suddenly becomes a deep magenta as they extrude an inky substance.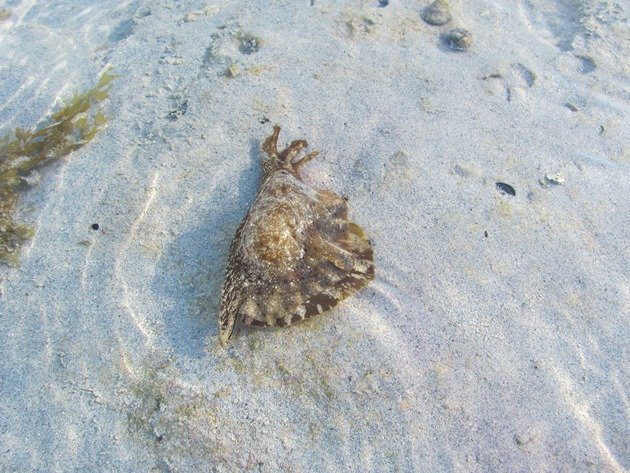 Sea Hare
A heavily disguised fish that appeared to be some sort of "walking fish" was an odd find for us and the first we had seen on the reef in all of our visits. It is not unusual to find a new creature that we have not seen before and this fish lay on its side as its defence against predators.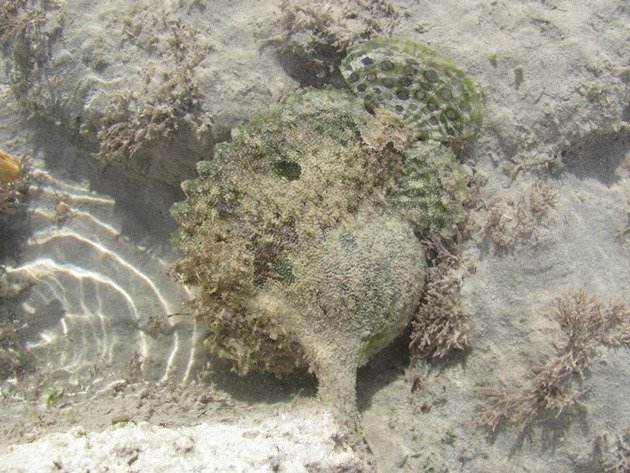 Odd fish that appeared to "walk"
Often we encounter Hawksbill Turtles in the reef and we found a rather large specimen resting out the low tide in a rock-pool. The Hawksbill Turtle was well camouflaged, but its shape gave it away!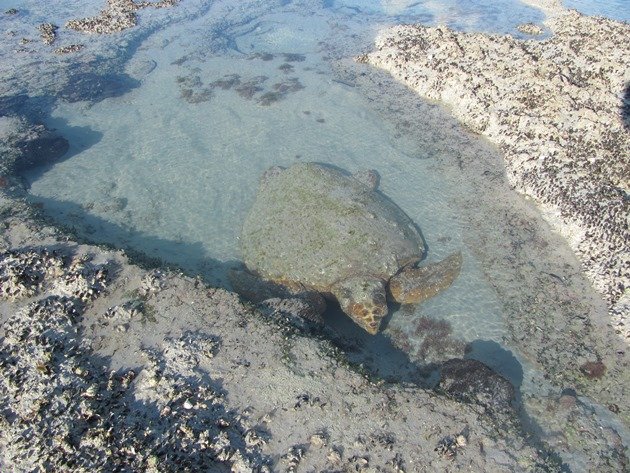 Hawksbill Turtle
The deeper pools are home to some good areas covered in clams and the sea cucumbers are particularly numerous at the moment. Less well camouflaged are the Starfish, though some are better disguised than others.
Clams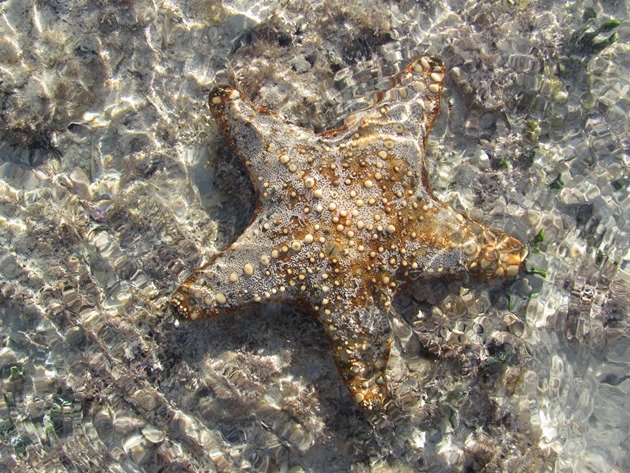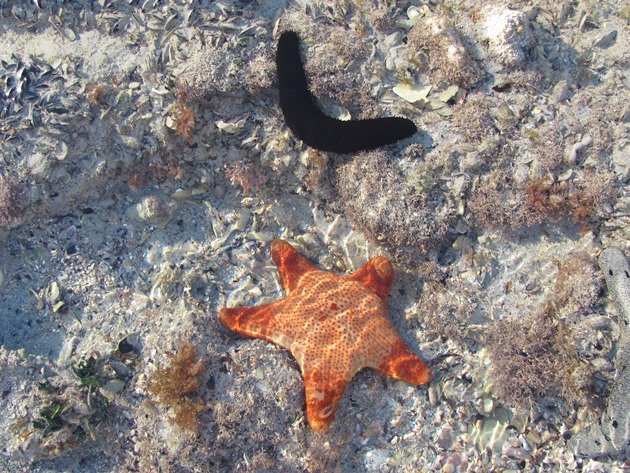 Starfish and Sea Cucumber
Even areas that appear to not have much life often produce good numbers of Cowrie shells and there is quite a variety and some large specimens.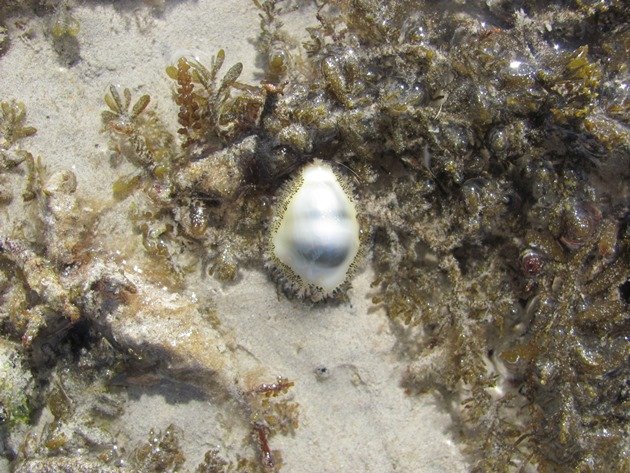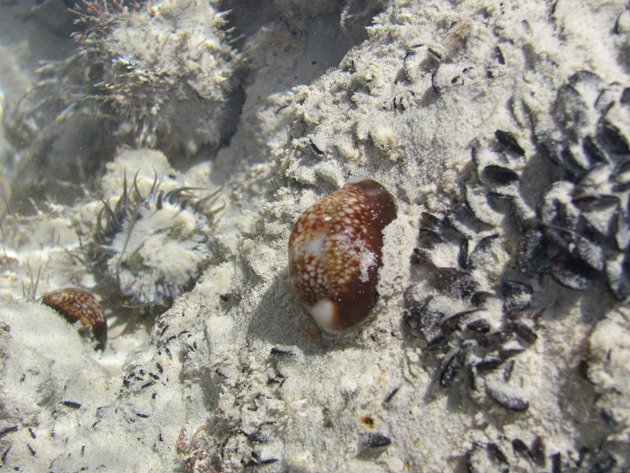 Cowries
Some of the tiniest creatures are extremely brightly coloured and what may in fact look like a small leaf that has fallen into the sea is in fact a nudibranch.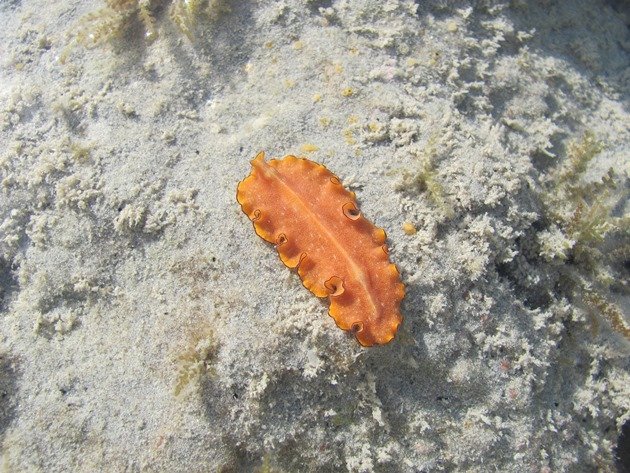 Nudibranch
The reef is a great place to find Eastern Reef Egrets and both the grey and white morph are often found feeding on the reef as the tide drops. Little Pied Cormorants sit waiting for fish to appear close to the surface and dive into the larger pools. Ospreys were finding some good fish in the remaining rock-pools and feasting on them while the tide was low. This is an all-round great place to explore all year, but check the tide chart before you head out! As you can see, there are a lot of distractions that are not birds at this time of year along our coastline! Without this reef and all of its resources we would not have such a wide variety of birds along our shoreline. We don't know exactly what eats what, but we have fun exploring what is in the clear water around our feet as we wander in our dive boots. I hope you don't mind me showing you some of the other amazing wildlife around Broome!