After my trip to Van Cortlandt Park early Sunday morning I decided to hit up Central Park on my way home in the hopes of checking a couple more birds off of my Anti-Global Warming Big Year list. I was successful in doing so, spotting both a Fox Sparrow and a small flock of Cedar Waxwings near the feeders in the Ramble. Overall, my walk through the park was enjoyable and birdy (or is that redundant?), with a large flock of Common Grackles that had a couple Rusty Blackbirds along, a bunch of common waterfowl on the reservoir including a couple of American Coots, and lots of the usual suspects like Downy Woodpeckers, Northern Cardinals, and Mourning Doves.
But one bird in particular stood out, the White-throated Sparrow below that decided to hop along the edge of a puddle five feet in front of me with the sun at my back. I'm pretty happy with this shot which, cigarette butt and all, certainly rises above the level of a record shot.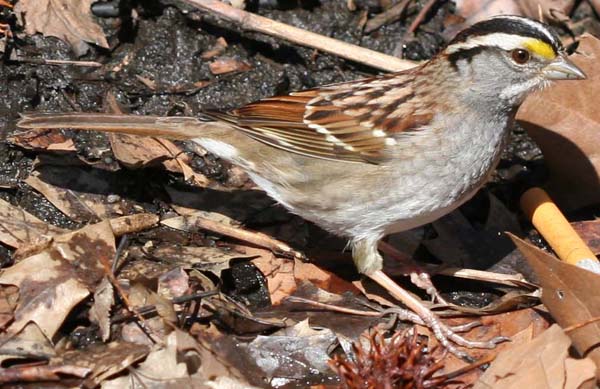 And for lots more good White-throated Sparrow pics that were also taken in Central Park, check out Charlie's gallery.