Some names conjure visions of such reckless tropical adventure that one might grow dizzy just to hear, let alone speak them. Ixpanpajul. Swinging through dense, steamy jungles. Ixpanpajul. Traversing swaying, sun-drenched spans high above mouldering ruins. Ixpanpajul! Drums beating, heart thumping, manakins, motmots, cassowaries curassows… Ixpanpajul!!!
Parque Natural Ixpanpajul is an action-packed slice of lowland rainforest located in the Peten. Attractions like a network of canopy walkways and a zipline Tarzan Tour through the trees should appeal to ectourists and adventurers alike while the rich resident avifauna add extra spice for birdwatchers. Our veritable army of avian observers arrived at Ixpanpajul too late in the day to take advantage of the former, but we indulged aggressively in the latter. With 168 species identified on the park's impressive Listado de Aves including three species of tinamou, four trogons, and a heck of a lot of flycatchers, Ixpanpajul offers much to admire.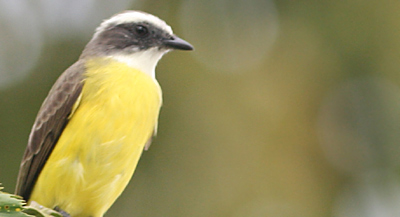 Social Flycatcher
A raucous chorus of Brown Jays, Plain Chachalacas, and Howler Monkeys accompanied our circuit of the lower portions of the park. At first, the birds were scarce with a Hooded Warbler here or a Magnolia Warbler there. As usual, we heard much more than we saw, but we saw some thrillers. First was a wood-warbler new to me, the Golden-crowned Warbler. This Middle American parulid may not be as flamboyant as some other warblers, but it has neotropical cache. So do woodcreepers, which is why encountering one of the Wedge-billed variety was so pleasant. Still, when it comes to this part of the world, one of the most charismatic, not to mention highly sought after, bird families is the manakins. These vibrant little moonwalking maniacs have enchanted birders and YouTube fans alike with their antics and extremely attractive coloration. So, when our group realized a manakin had sauntered within snapping distance, we set to work throwing out all manner of auditory enticements in the hope that one would bring it in. Wouldn't you know it, a Red-capped male crowned with the most luminous crimson came close enough to become my first manakin ever, one I'll never forget.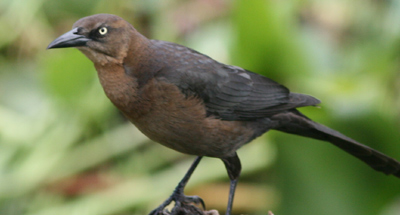 Great-tailed Grackle
Gloom set it swiftly so we returned to the lodge for dinner, though not before a Slaty-tailed Trogon was found hiding within a dense bush. Perhaps it sensed the coming deluge which turned the ground to a sodden mess while we enjoyed the kind hospitality of our hosts. I should come as no surprise that the beer was flowing, which might explain why I wasn't quite sure what to make of it at first when daring digiscoper Jeff Bouton sidled up to me, inquiring discreetly, "Got Great Curassow?" Catchy slogan, no? Anyway, the answer was no, never have I laid eyes on that great beast of the forest, a feathery brute as close to a Capercaillie or devil we'll ever find in the tropics. Apparently, I was not the only one; within moments, a midnight train, guided by flashlights, stalked through the muck towards a tree known to shelter a roosting curassow. A line formed, the searchlight went up, and suddenly there it was, a black, brooding shape in darkness, cruel beak shining like gold, snapping in mute confusion. Considering the conditions, I'd say we got outstanding looks, but only for a moment. Why risk the ire of the largest member of the family Cracidae, particularly one trying to catch a little shut-eye? As we withdrew to prepare for the next day's festivities, I took stock of the day's gains. Not only was I many new birds the richer, but I'd learned a lesson you'd do well to heed: if Jeff Bouton offers you a bird, however improbable, take him up on it!