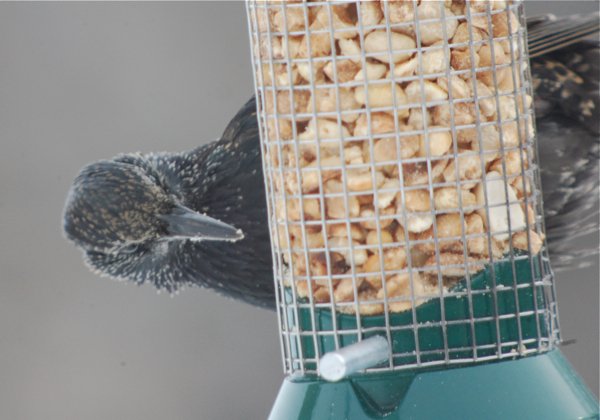 The city of Evanston, a suburb just outside Chicago, is sometimes known for its fractious civic engagement. To wit, this is the place that has on the books (and threatens to enforce) a law forbidding more than three unrelated people from living together, a measure derided by off-campus Northwestern University students as the "brothel law." It is also home to a sizable community of birders, including the very active Evanston North Shore Bird Club.
So feathers are flying (figuratively, of course) as the Evanston City Council considers a bill to regulate bird feeders. As written, the proposed law would require feeders to be licensed (for a fee, naturally) and inspected. (Feeders which fail to deter squirrels will incur fines; left unspecified is how the law would treat those which attract undocumented, er, nonnative birds, like the European Starling above that visited Birdchick's feeder.)
Is this proposal truly for the birds? Or just plain bird-brained? Find out the scoop on this burgeoning controversy here!