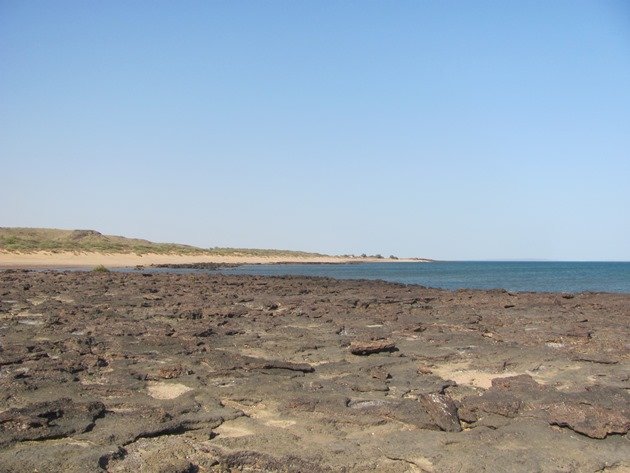 Over the past week we have noticed the occasional caravan being towed by a four wheel drive and it is a reminder to us all in the north that the tourist season will soon be upon us! The weather has not cooled down at all, but some people are constantly on the road when they retire. They are affectionately known as "Grey Nomads" as they wander the highways and occasionally leave the bitumen in search of warm weather and new experiences. We tend to wander the country in the off season and take the road less travelled at all times! Without a caravan we are only restricted by the capabilities of our four wheel drive and being without electricity or phone coverage is not of great concern! We always carry a lot more water than we need, because that is the most important item of survival anywhere in the world.
Cleaverville Beach is 20 minutes north-west of Karratha and a popular place for caravans in the tourist season. There are a few other locations where you can camp along the coast near Karratha and they are listed here. There is a small fee to stay there from May 1st until September 30th and outside of those dates it is free to stay, but they ask that you stay no more than three days per twenty eight. The information on the facilities at Cleaverville Beach includes the fact that there is no potable water at all and you need to be self-sufficient.
We had already experienced plenty of hot days before we reached Karratha on 21st November last year and the maximum of 41c (106f) was a lot cooler than we had experienced in Marble Bar! There were plenty of shorebirds along the coast at Cleaverville Beach and terns feeding out at sea and thankfully a substantial sea breeze when we arrived! It had been a good location for Oriental Pratincoles in other years, but there had been no rain and none were present.
We soon settled ourselves in and due to the extreme weather we pretty much had the whole place to ourselves! Flatback Turtles were nesting on the beach, shorebirds were roosting around the rocky outcrops, terns were feeding at sea and there was some rumbling out the back as the rain fell inland. There was very little shade, but we managed to position ourselves under a tamarisk tree for a little bit of relief from the heat. We were soon aware of s small group of Zebra Finch in the tree and although we have seen them drink from the sea in the past we thought some fresh water would be much appreciated! After encountering literally thousands of Budgerigars flocking to water only a few days before the least we could do was give the Zebra Finch some fresh water. Checking the rubbish bin for a suitable receptacle we discovered a plastic container that was easily cleaned and a rock and stick added to make it easier for the Zebra Finch.
Within minutes the Zebra Finch were at the water and they were soon drinking and bathing in it!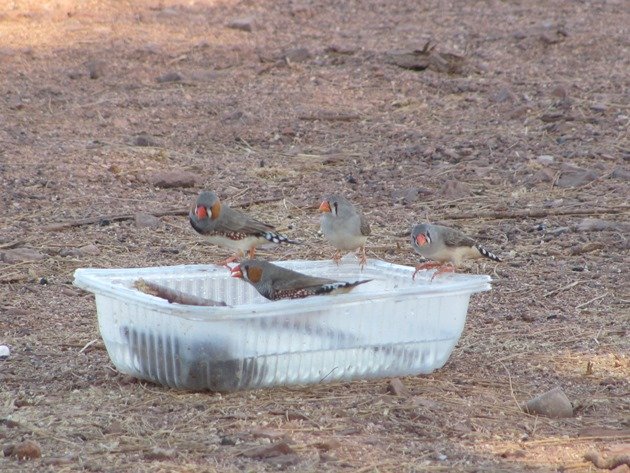 Zebra Finch drinking and bathing
We had not seen any other "bush birds" until this point and it did not take long and we had interest in the fresh water from other species. A Willie Wagtail was soon at the water and taking advantage of the treat.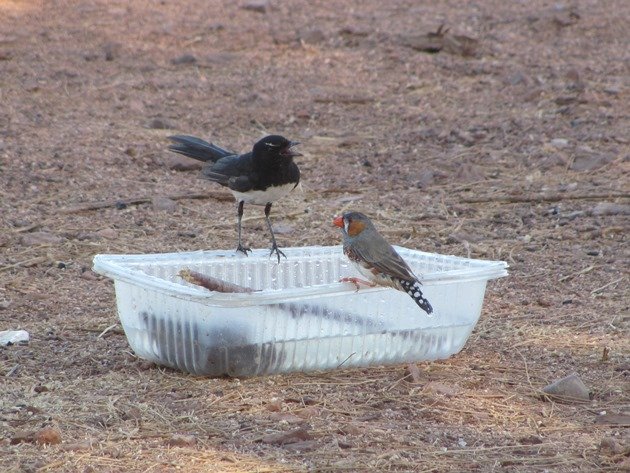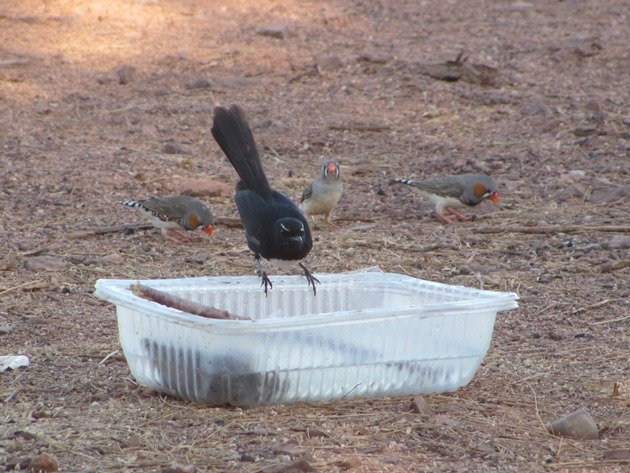 Willie Wagtail and Zebra Finch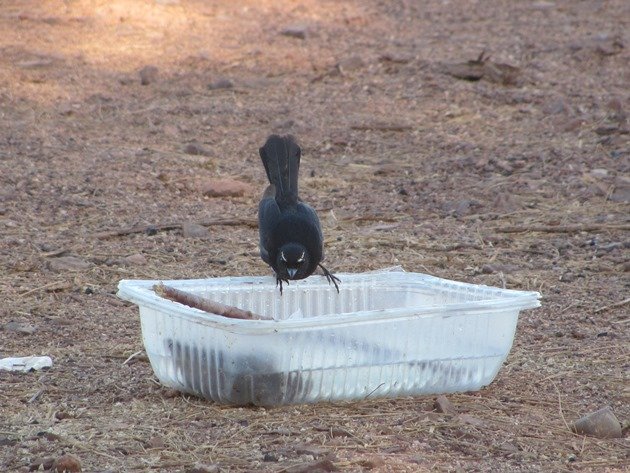 Willie Wagtail
A Singing Honeyeater then appeared on the scene and also took advantage of the water and drank and bathed.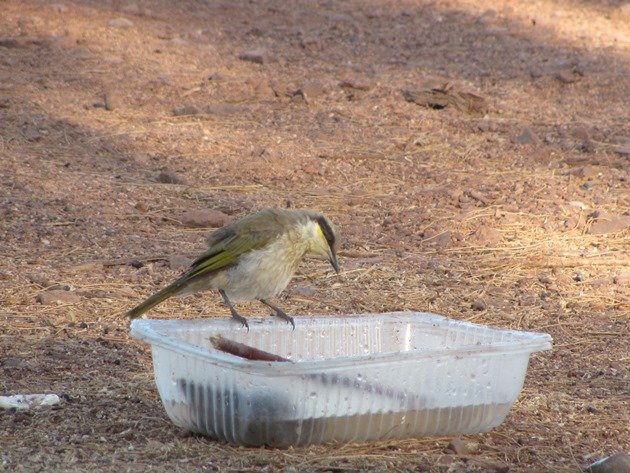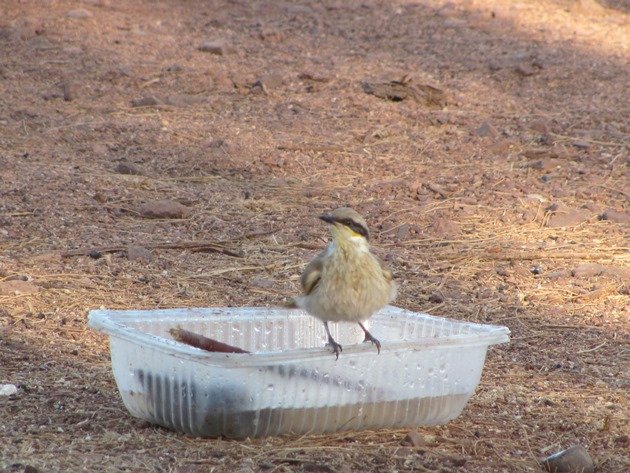 Singing Honeyeater
The next surprise was an Australian Pipit that walked in and investigated. It watched the other birds for some time and then jumped in! It then walked round and took a drink from the edge of the container!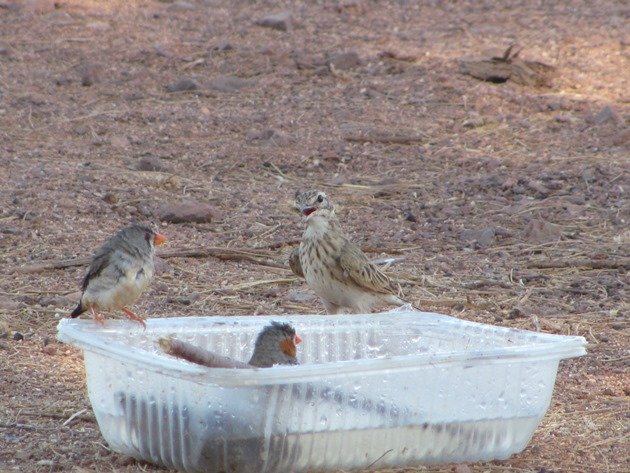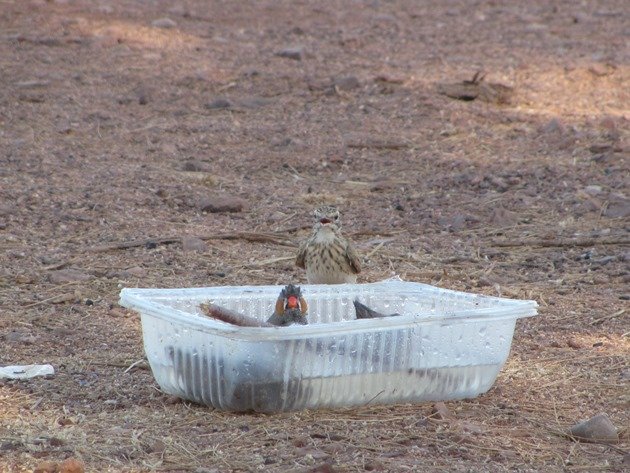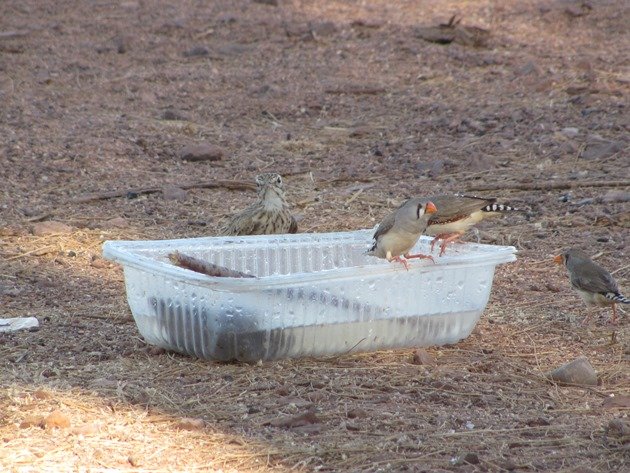 Australian Pipit and Zebra Finch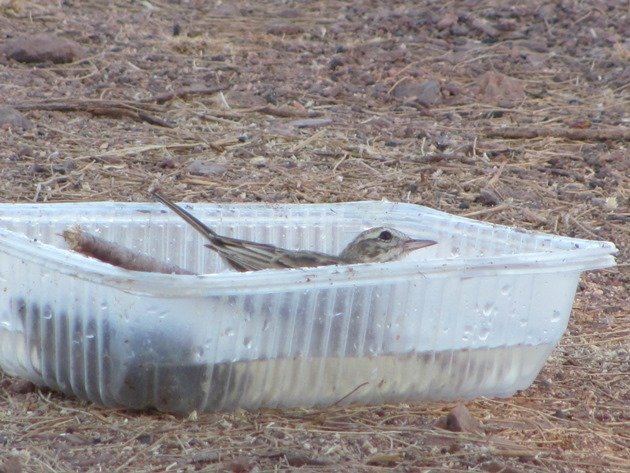 Australian Pipit bathing!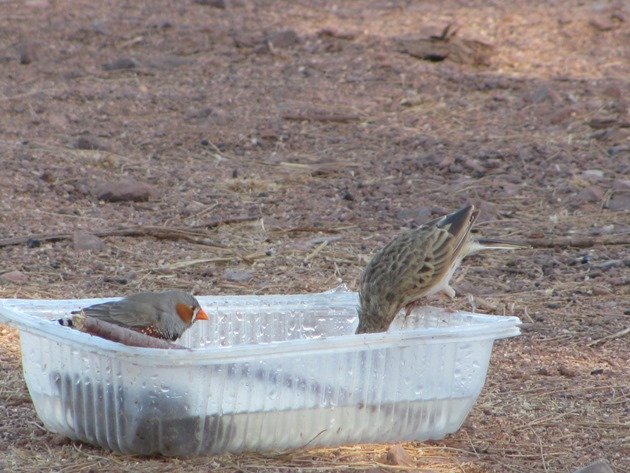 Australian Pipit drinking with Zebra Finch
This continued all evening and into the next morning and more species appeared to investigate and check out the new feature at Cleaverville Beach! Brown Honeyeaters joined the Zebra Finch and then a Yellow-throated Miner came in to take advantage of the situation.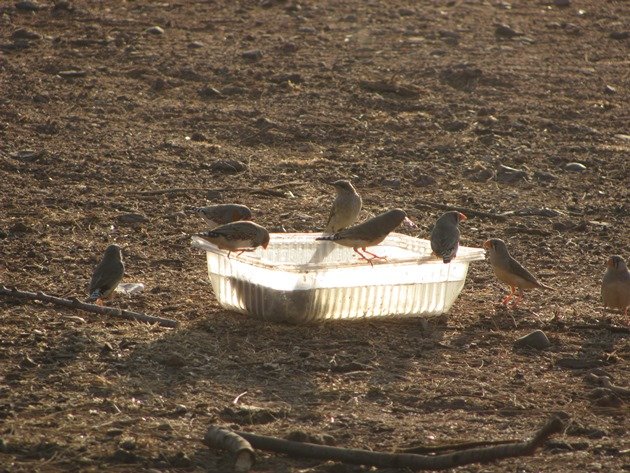 Brown Honeyeater and Zebra Finch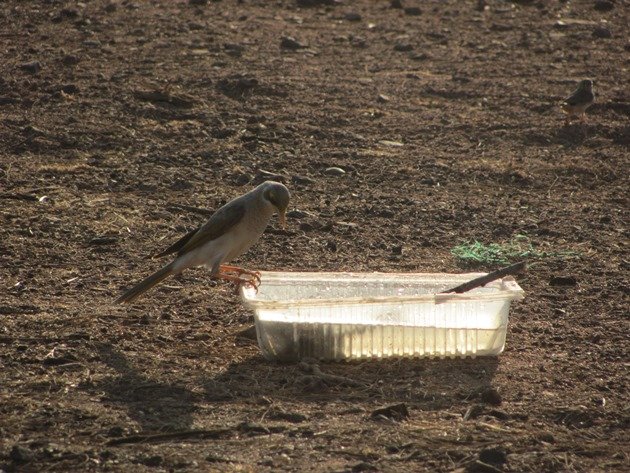 Yellow-throated Miner
A Silver Gull came in for a look and decided it was not of interest and wandered off again!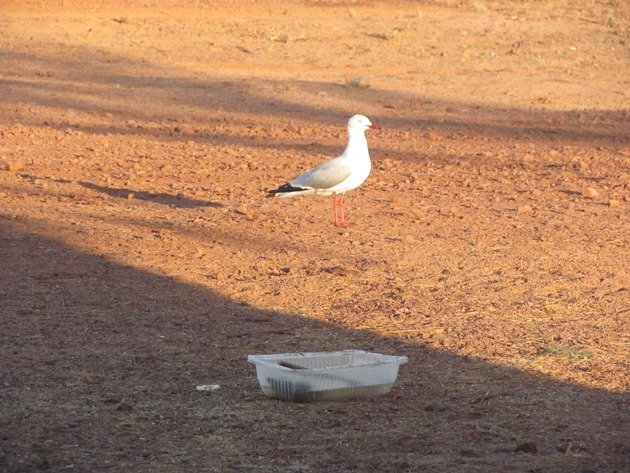 Silver Gull
The temperature did drop to 29c (84f) that night, so there was a little relief! It is not much different at Cleaverville Beach right now as far as temperature goes, so if you are there and you can spare some fresh water for the birds they will appreciate it! It is enjoyable to watch birds have so much fun and if you want to see more than shorebirds and terns then it is highly recommended to add fresh water to add to the variety!