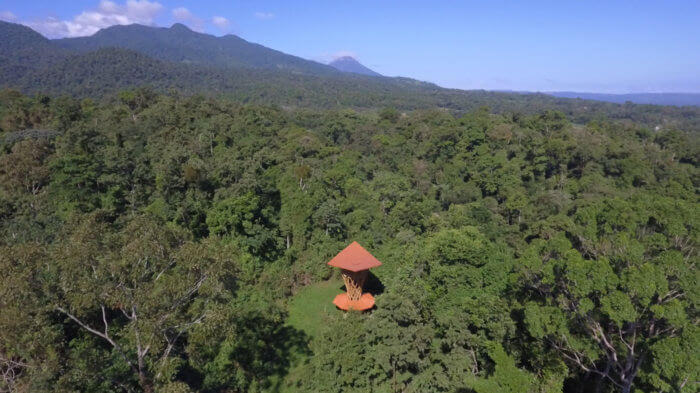 10,000 Birds is running a series of articles by and about tour guides, tour companies, eco-lodges, and other birding travel organizations. We want to help the birding tourism industry come back strong from the COVID pandemic. Please consider using the services described in this post or any of the other posts we are sharing this February.
Welcome back to the paradise of birding in the Arenal region of Costa Rica!  We at Finca Luna Nueva Lodge are thrilled to once again be hosting birding in one of the most biologically abundant regions of the world.  We are located in the mountainous rainforest on the Caribbean slope, approximately  25 kilometers east of the continental divide in Monteverde.
Our elevation (1080 to 1150 feet) places us in what is called seasonal rainforest, but we are contiguous to the higher elevation Children's Eternal Rainforest and connected reserves, comprising almost 250,000 acres of protected habitat from our farm to the top of the cloud forest. Our estate includes a primary rainforest of 126 acres, 82 acres of secondary forest, fields, and gardens, and trails throughout our property allowing you to explore and bird on your own or with a professional guide. More than 450 species have been recorded within the Arenal area, and over 250 bird species have been recorded on our private reserve alone.  A Luna Nueva bird list has been developed by Juan Diego Vargas & Mirna Salas, both professional birding guides, which describes where you can find species of interest on the property.  This bird list is regularly updated by resident naturalist Royvin Guttierez and our great birding specialist Alberto Palma.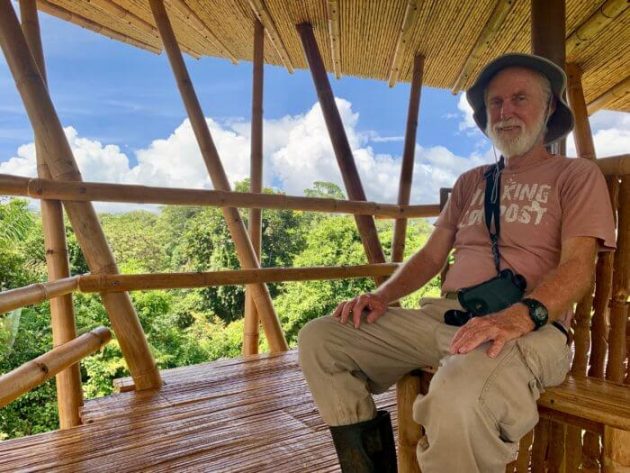 We are proud to work with many of Costa Rica's great birders like Juan Diego Vargas (Country Coordinator, eBird;  Bird Guide, Lifer Nature Tours) and Patrick O'Donnell (renowned birder associated with 10,000 Birds) . Juan Diego says this about our lodge:
Finca Luna Nueva combines perfectly a well-thought process of forest restoration with an absolutely wonderful gastronomy using local organic products. The edge effect of their organic farm provides nice and easy birdwatching in the gardens and the decent-size private reserve gives a nice challenge if you want to try for more secretive species. This is also a great lodge to use as a strategic location to birdwatch the Pocosol Station of the Children's Eternal Rainforest and many of the main hotspots of Arenal Volcano area.
Patrick is similarly supportive of our birding mission, saying of us that we're…
…Birdy as always. During the [2018 Christmas] count, we kept on seeing and hearing more birds at this excellent organic farm/ecolodge. This site truly shows how we should be using the land in sustainable fashion and it shows with the numbers of birds that live there including many migrants.
Getting to our lodge is easy from either San Jose or Liberia, and once here you can take advantage of our extensive trails, multiple birding observation platforms, two feeding stations, and a 35-foot high bamboo canopy tower (seen above), where you can easily observe and photograph colorful toucans, euphonias, honeycreepers, and hundreds more.
Native flowering plants attract 20 different hummingbird species, including the famous Black-crested Coquette.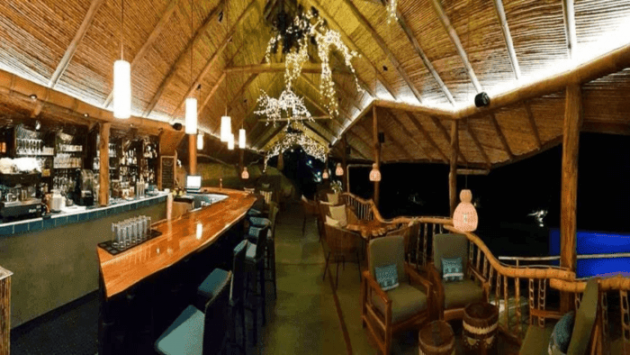 And after long day of birding, come back to our glorious pool, restaurant, and bar.  We like to take very good care of our birders at Finca Luna Nueva Lodge!
(EDITOR: Mike and Corey love Finca Luna Nueva as well!)