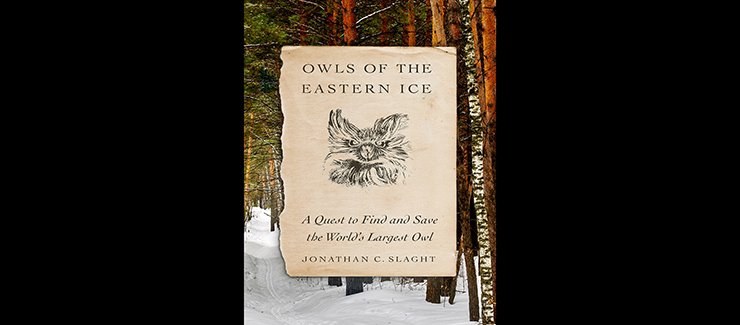 Here are some of the questions that were running through my mind as I read Owls of the Eastern Ice: A Quest to Find and Save the World's Largest Owl: (a) Is ornithological research always this dangerous? (b) Who will play author Jonathan C. Slaght in the film version? (because, if the film rights to this book have not been snapped up yet, Hollywood is making a huge mistake) (c) Will I ever see a Blakiston's Fish Owl?
Let's talk about the first question, because it strikes to the core of what transforms a book essentially about five years of field research into a dramatic tale of adventure, a series of hazardous journeys into an icy wilderness populated by Amur Tiger; mystic hermits; massive, one-armed hunters; violent poachers; taciturn loggers; Siberian Musk Deer; Brown Bear, and, of course, the largest owl in the world, the Blakiston's Fish Owl, Bubo blakistoni. The fish owl is Jonathan Slaght's grail and also, more prosaically, his dissertation topic. This book is the story of his search for his grail and what he does with it and why, a quest that took place from 2005 to 2010 in the Russian province of Primorye.
Primorye is officially part of Russia's Far Eastern Federal District. Most of the area is forested mountains, cut into sections by rivers and large brooks. It is a place of great, majestic natural beauty, as Slaght makes clear throughout his story. But, I can't help wondering, as I look out my window and see the snow of the great Nor'easter of 2021, why anyone would choose to do research in conditions governed by snow, ice, and supreme cold? Winter temperatures average from 17.6° F to  -0.4° F on the coast, colder with the wind and humidity, and inland as low as -36.4°F .* Slaght is casual about the weather, at least in the beginning. And, it is this spirit of acceptance, an embrace of this pristine wilderness and its inhabitants–even when he's fording a river in icy slush up to his waist or waiting in bitter cold for a fish owl to come into a trap or getting lost in the middle of a snowy nowhere—that informs this book and brings us totally into his world. He's also a very good writer.
Slaght summarizes background and basics in the Introduction. Briefly, we learn how he fell in love with Primorye on a trip with his father when he was 19 years old, how he continued to explore it as a student and a Peace Corps volunteer. How when he needed a dissertation topic in 2005 (studying at the University of Minnesota), it was either Hooded Crane or Blakiston's Fish Owl, both iconic birds of the area. He wanted to do research that would have a conservation impact. And he hated being in larch bogs, the habitat of the Hooded Crane. So, Blakiston's Fish Owl it was. The fish owl is an endangered species, and before Slaght's work, very little was known about it, especially in Russia. (It is also native to Japan, where it is protected and protectively studied to the point where Slaght had trouble getting any information.)
He sets up a partnership with Sergey Surmach, an experienced field biologist headquartered in Vladivostok, who supplies equipment and field assistants. Slaght provides funding from research grants. The research is outlined as a three-step process, also utilized as the structure for the book: (1) Baptism by Ice: learning the techniques needed to locate the owls; (2) Fish Owls of the Sikhote-Alin: identifying a study population; (3) Captures: capturing fish owls, tagging them with radio transmitters, and collecting data. Slaght's goals are simple: learn how to find Blakiston's Fish Owls, find them, attach transmitters, track them, collect data, use the data to map out which parts of Primorye are most important to their feeding and breeding, develop a conservation plan. This wouldn't just be a conservation plan for fish owls. His research would optimally provide a basis "for better management of the landscape [that] could help safeguard the entire ecosystem" (Introduction).
He then goes as quickly as he can to the real fun. We are immediately dropped into the action as he boards a helicopter for Agzu, a small town in the north that wouldn't be out of place in an old-time Western film if cowboys used snowmobiles, to meet up with his field team. They have already been delayed a week by a storm, and this first section ultimately becomes a contest with the elements–can they accomplish their mission before the ice melts? Because in this world, the ice is the road in and the road out. We are introduced to the three team members, all Russian, all incredibly competent though they don't have advanced degrees, and it's off for adventure with fish owls.
Or rather, the repetitive work of looking for fish owls, because we actually don't see much of them in the first two sections. We share Slaght's learning curve as he learns from his comrades, especially the experienced Sergey Avdeyuk, how to look for evidence of their existence–a feather on a bush, tracks in the snow by the river. We learn about their unique vocalizations, a duet in which they are in such harmony they sound like one bird. We find out so much about the huge trees in which they nest, that I feel like I could pick one out immediately if I were ever to travel there.
But, mostly, we get to know the people on Slaght's team and the people of the villages and the wilderness–fisherman, loggers, a secretive yet friendly hermit who sleeps inside a pyramid, and my favorites, Vova and Alla, a couple who live in the village of Amgu and who share their home with the team during the second phase. "The Volkovs took their food seriously and once they began cooking were a near-unstoppable force" (chapter 13). Slaght has a wonderful talent for depicting people. Even the most 'ordinary'–the field coordinator for the Wildlife Conservation Society's Siberian Tiger Project, the villagers who stop by for vodka–become fully dimensional in just a few sentences. And the most outlandish–Anayoliy, the sweet, strange hermit and Katkov, possibly the most bizarre, annoying field assistant of all time–are drawn with empathy and an urge to understand, an emphasis on the human and not the caricature.
Slaght is also excellent at creating excitement and tension out of the mundane field life. Well, the snowmobile ride back to civilization at the end of phase one, zooming over slush as ice breaks behind them, is understandably exciting, as is the burning field outside their camp in the middle of the night, and the herd of stampeding boar that narrowly misses Slaght one evening. And, then there is the almost slapstick trip across the flooded Amgu River, during which Vova and Sergey somehow navigate a Toyota Hilux with hand signals and Russian swear words. But who would expect that the most exciting part of this book would be the section on using radio transmitters? Figuring out how to trap the owls, how to attach the transmitters to the owls, and, mysteriously, why the first set of transmitters goes silent after a year–these become burning, page-turning questions, enhanced by Slaght's confusion over whether they were tagging males or females. So little was known about Blakiston's Fish Owls, they didn't even know how to tell one sex from the other!
It's refreshing to read a nature book that is about nature and people and fieldwork, that doesn't use birds as a trigger for philosophy or soul searching. There is little to distract from the search for the owls and the ice; Slaght periodically goes back to the U.S. and at one point he tells us that he is getting married, but this relationship is 'off-screen.' The last chapter is different, though. Here, Slaght presents his data analysis and his conservation plan for Blakiston's Fish Owl. Amazingly, all of this adventure had significant consequences. Not only did Slaght and his team publish papers containing new information about fish owl behavior, the data from the radio transmitters enabled Slaght to figure out what geographical and landscape features the fish owls needed and what areas of eastern Russia needed to be protected. And the research also had implications for fish owl research in general, which has been applied to research projects in Japan. It's really the scoop of chocolate ice cream on the cake, the feel-good ending of my hoped-for film only it's real life. Of course, there is that twist that comes at the end of the film–in real life it was Lionrock, a typhoon that destroyed groves where Blakiston's Fish Owls nested. There is a survival lesson here to, for both owls and humans, and I'll leave that vague, so you won't be 'spoiled.'
I still have two questions to answer. Who will play Slaght in the film? I'm thinking Michiel Huisman, but I'm open to other possibilities. Slaght, by the way, currently works for the Wildlife Conservation Society as their Russia & Northeast Asia Coordinator, and although his job involves more than fish owls, he is still determined to keep an eye on them, along with the two Sergeys. He has a wonderful website, where you can donate to these efforts through the WCS or link to some of his presentations, including this talk to NYC Linnaean this past October.
Owls of the Eastern Ice: A Quest to Find and Save the World's Largest Owl is the nature book success of 2020; it has won numerous awards and was placed on many Best of 2020 lists, including the one Nate Swick, Frank Izaguirre, and I put together for the American Birding Association Podcast. In fact, it's so successful, it's out of stock at Amazon and Barnes & Noble! This is why they made digital books (and, in fact, this is what I read for my review). Don't read it because of all this, read it because it's a great story by an ornithologist who knows how to communicate the magic of a primitive place and a magnificent bird without forgetting the humor and vitality of the humans who live there too
And, oh, I may see a Blakiston's Fish Owl in the wild someday. I just need to get me to Japan. In winter. Not Eastern Russia, a bit too icy and primitive for me, as I sit here recovering from a bad fall in the ice. It's something to aspire to. Good health, travel, an amazing owl.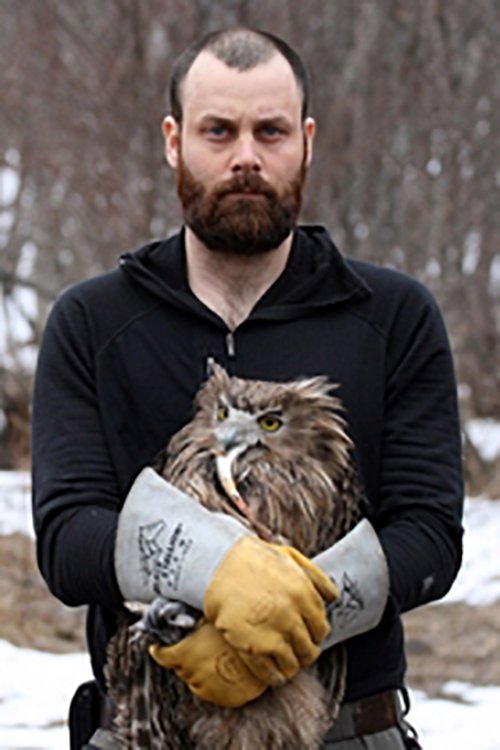 *  Geography of Primorsky Krai, https://en.wikipedia.org/wiki/Geography_of_Primorsky_Krai; Feb. 01, 2021.
---
Owls of the Eastern Ice:  A Quest to Find and Save the World's Largest Owl
by Jonathan C. Slaght
Farrar, Straus and Giroux, August 2020, 368 pages
ISBN:  0374228485; 978-0374228484
hardcover: $28; paperback due out June 2021; also available in Kindle, Nook, Google Play and other electronic formats.