Can you believe that it hasn't even been a year since Richard Crossley and Princeton University Press unleashed The Crossley ID Guide: Eastern Birds on the birding public? Actually, a fair accounting of this innovative book's already storied history must include many months of fervent speculation. I recall the words "game-changer" and "unprecedented" bandied about as enthusiasts across North America pondered where to place their Sibley Guides to make room for the new ruling reference guide.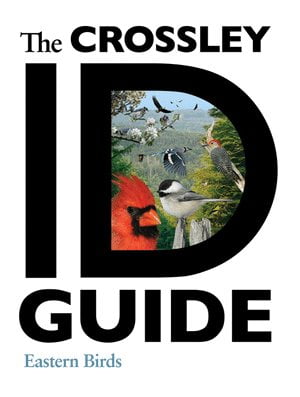 But the bird watching world still seems to spin along the same axis as it did last year, and we in the States still seem to turn to the same birding bibles we did before. The game didn't change. Few others online, including Corey, were as enamored with The Crossley ID Guide as I was when the book initially came out. But has time vindicated Crossley's bold vision? A birder I respect recently asked on Facebook whether the Crossley Guide fizzled out. Fizzled? The question itself surprised me so much that I wanted to share my own feelings about this book.
Simply put, I genuinely love The Crossley ID Guide. Its premise enchanted me before its publication and its kaleidoscopic execution continues to dazzle and inspire every time I browse the plates.  While other guides tend to present their revered subjects with sobriety and economy of expression, the Crossley Guide goes way over the top in delivering fantasies of flight, surreal landscapes where single species flourish in impossible assemblages of seasonal plumage. Any excellent reference guide, painted or photographed, may fairly be described as art, but how many edge into the abstract?
I applaud Crossley and Princeton for releasing a reference guide that excites the imagination, but I also appreciate the educational value of their unlikely approach. Back in September, a friend and colleague who teaches at SUNY Geneseo brought his Vertebrate Biology class to the Braddock Bay Bird Observatory to observe some master bird banders at work. I participated mostly as color commentary, but I was also interested in finding out which students were genuinely interested in or knowledgeable about birds or could become so. Since I didn't dare rely on either my own knowledge of birds or personal charisma, I brought a secret weapon:  The Crossley ID Guide.
Let me further set the stage by explaining that the predominant species in the nets that day was Blackpoll Warbler, record waves of which were passing through the area. Fall Blackpoll Warblers, as you undoubtedly realize, are not only terribly drab but are also virtually impossible for the uninitiated to separate from many other fall warblers. Frankly, fall warblers may be one of the main arguments against bird watching. But imagine how educational the experience became once I passed out the Crossley Guide, which depicts the entire life cycle of Setophaga striata on one magical plate.  On face after face, indifference was replaced with interest, if not wonder. Students browsed the book, sharing different pages and pointing out the birds they knew or wanted to know more about. At least a couple seemed interested in taking it home!
Like it or not, The Crossley ID Guide is still a novelty. Experienced field ornithologists can argue where this book deserves to be placed in the pantheon of  reference and field guides. Others can judge exactly which level of birder best benefits from those rich, cluttered plates. I still see this book as something very special, an ambassador piece that might inspire many an avian obsession. After living for nearly a year with the Crossley Guide, what do you think?