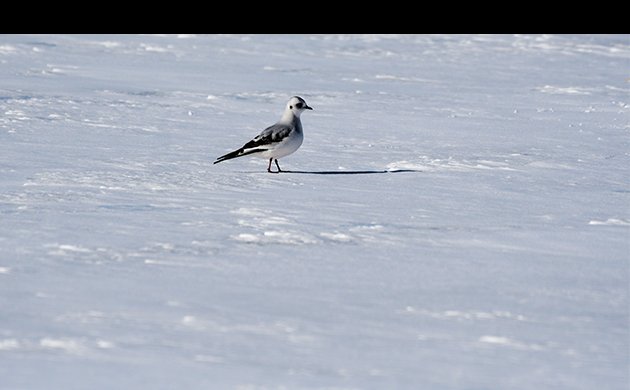 I started 2017 at dawn on the Morgan Mudflats in central New Jersey on a Christmas Bird Count, almost too distracted by the rising sun to count the 200 Brant, 300 Greater Scaup, and 700 Herring Gulls. CBCs don't allow a birder the flexibility to tote up a large number of birds on the First Day of a new birding year, but it's the perfect way to remember that you are part of a birding community and to celebrate the importance of birding as Science.
O.k., I'll be honest. Writing this in early February, I've already spent many hours not thinking about science or community, but simply birding. I've chased too–Lucy's Warbler at the Cheriton Landfill on the DelMarVa Peninsula and Ross's Gull in Tupper Lake, N.Y. (the bird above) were particularly gratifying chases. (We won't talk about the Anis of Florida, who clearly do not like me, neither Smooth-billed nor Groove-billed.) I love and fear the excitement of the chase. My goal for 2017 is, as it ever was, to find balance between thoughtful birding–noting arrivals at my patch, observing bird behavior, trying to find a way to capture a moment in a photograph–and the kind of birding that causes my mother to say, "Are you insane?" (Of course, my mother thinks I'm insane when I wake up before 8:00am on a non-work day, so that's a pretty low bar.)
2016 was an exceptional birding year for me. I traveled through India, I did my first pelagic in 9 years (and probably for the next 9 years till the misery wears off), and, thanks to family and friends, I had wonderful birding experiences in California, Florida, and Georgia as well as in my usual haunts of Queens, Long Island, and central New Jersey. It was cool to get over 700 birds, it's cooler still to review the list and recall so many different birding experiences.
There are trips in the future for 2017. I'm not going to say what they are, keep tuned.
As in years past, life birds on my year list are bolded, ABA birds are astericked, and non-countable birds (exotics) are listed separately. Photos may not be of the first bird of the year, but were taken of the species in 2017.
Several of my fellow and sister beats have also started their year lists and I love perusing them. Clare, I keep your advice in mind always–Enjoy the birds, enjoy the birding!

Greater Rhea – Rhea americana; Pantanal — Pousada Piuval BR-MT 10-Sep-17
Undulated Tinamou – Crypturellus undulatus; Cristalino Lodge–Tower 1 BR-MT 07-Sep-17
Southern Screamer – Chauna torquata; Pantanal — Pousada Piuval BR-MT 10-Sep-17
White-faced Whistling-Duck – Dendrocygna viduata; Pantanal BR-MT 11-Sep-17
Black-bellied Whistling-Duck – Dendrocygna autumnalis; Sweetwater Wetlands Park US-FL, 26-Jan-17
West Indian Whistling-Duck – Dendrocygna arborea; Hotel Sol Cayo Coco CU-CA 27-Mar-17
Pink-footed Goose – Anser brachyrhynchus; Arthur J. Hendrickson Park US-NY, 3-Feb-17
Snow Goose – Chen caerulescens; Lake Como US-NJ 4-Jan-17
Brant – Branta bernicla; Morgan Avenue Mudflats US-NJ 1-Jan-17
Barnacle Goose – Branta leucopsis; Herbert Road sod farm, US-NJ 22-Feb-17
Cackling Goose – Branta hutchinsii; E.J. Breneman Quarry US-PA 8-Feb-17
Canada Goose – Branta canadensis Morgan Avenue Mudflats US-NJ 1-Jan-17
Mute Swan – Cygnus olor; Cammanns Pond Park US-NY 3-Jan-17
Trumpeter Swan – Cygnus buccinator; Assunpink WMA, US-NJ, 7-Mar-17
Tundra Swan – Cygnus columbianus; Belle Haven Park–Picnic Area US-VA 29-Jan-17
Egyptian Goose – Alopochen aegyptiaca; Joan's Yard Davie FL US-FL 11-Jan-17 11
Muscovy Duck – Cairina moschata; Evergreen Cemetery (Broward Co.) US-FL 12-Jan-17 (also, real Muscovy Duck, Rio Cristalino BR-MT 06-Sep-17)
Wood Duck – Aix sponsa; Assunpink WMA, US-NJ, 7-Mar-17
Brazilian Teal – Amazonetta brasiliensis; Pantanal — Pousada Piuval BR-MT 10-Sep-17
Gadwall – Anas strepera; Morgan Avenue Mudflats US-NJ 1-Jan-17
Eurasian Wigeon – Anas penelope; Richard DeKorte Park US-NJ 17-Apr-17
American Wigeon – Anas americana; Silver Lake and Ferruggiaro Park US-NJ 4-Jan-17
American Black Duck – Anas rubripes; Tennent Pond US-NJ 1-Jan-17
Mallard – Anas platyrhynchos; Morgan Avenue Mudflats US-NJ 1-Jan-17
Mottled Duck – Anas fulvigula; Merritt Island NWR–Black Point Wildlife Dr. US-FL 8-Jan-17
Blue-winged Teal – Anas discors; Savannah NWR US-SC 7-Jan-17
Northern Shoveler – Anas clypeata; Morgan Avenue Mudflats US-NJ 1-Jan-17
Northern Pintail – Anas acuta; Merritt Island NWR–Black Point Wildlife Dr. US-FL 8-Jan-17
Green-winged Teal – Anas crecca; Merritt Island NWR–Black Point Wildlife Dr. US-FL 8-Jan-17
Canvasback – Aythya valisineria; Merritt Island NWR–Black Point Wildlife Dr. US-FL 8-Jan-17
Redhead – Aythya americana; Lake Mayer (Savannah) US-GA 27-Jan-17
Ring-necked Duck – Aythya collaris; Majors Pond US-NJ 1-Jan-17 24
Greater Scaup – Aythya marila; Morgan Avenue Mudflats US-NJ 1-Jan-17
Lesser Scaup – Aythya affinis; Pelham Bay Park US-NY 5-Feb-17
Harlequin Duck – Histrionicus histrionicus; Barnegat Lighthouse SP US-NJ 11-Feb-17
Common Eider – Somateria mollissima; CBBT–South Thimble Island (#1) US-VA 6-Jan-17
Surf Scoter – Melanitta perspicillata Morgan Avenue Mudflats US-NJ 1-Jan-17
White-winged Scoter – Melanitta fusca; Monmouth Cultural Center, beach access US-NJ 11-Feb-17
Black Scoter – Melanitta americana; Seven Presidents Park US-NJ 11-Feb-17
Long-tailed Duck – Clangula hyemalis; Pelham Bay Park US-NY 05-Feb-17< /li>
Bufflehead – Bucephala albeola Morgan Avenue Mudflats US-NJ 1-Jan-17 29
Common Goldeneye – Bucephala clangula Pelham Bay Park US-NY 5-Feb-17
Hooded Merganser – Lophodytes cucullatus Majors Pond US-NJ 1-Jan-17

Common Merganser – Mergus merganser; Julian L. Capik Nature Preserve US-NJ 1-Jan-17 32
Red-breasted Merganser – Mergus serrator; Morgan Avenue Mudflats US-NJ 1-Jan-17 33
Ruddy Duck – Oxyura jamaicensis; Lake Como US-NJ 4-Jan-17
Chaco Chachalaca – Ortalis canicollis; Pantanal — Pousada Piuval BR-MT 10-Sep-17
Chestnut-bellied Guan – Penelope ochrogaster; Pantanal–Rio Pixaim vicinity BR-MT 13-Sep-17
Blue-throated Piping-Guan – Pipile cumanensis; Pantanal — Pousada Piuval BR-MT 11-Sep-17
Red-throated Piping-Guan – Pipile cujubi; Rio Cristalino upstream BR-MT 06-Sep-17
Razor-billed Curassow – Mitu tuberosum; Rio Cristalino upstream BR-MT 06-Sep-17
Bare-faced Curassow – Crax fasciolata; Rio Cristalino upstream BR-MT 06-Sep-17
Northern Bobwhite – Colinus virginianus; road stop, CU-CM 26-Mar-17 (heard only)
Scaled Quail – Callipepla squamata; Stateline Rd., Hidaldo Co., US-NM 02-Aug-17
Gambel's Quail – Callipepla gambelii; Desert Botanical Garden, US-AZ 29-Jul-17
Montezuma Quail – Cyrtonyx montezumae; Ramsey Canyon Preserve US-AZ 31-Jul-17
Ring-necked Pheasant – Phasianus colchicus; Kissena Park, US-NY 11-Apr-17
Ruffed Grouse – Bonasa umbellus; Blue Ridge Road (Adirondack SP) US-NY 18-Feb-17
Wild Turkey – Meleagris gallopavo; Sabbatis Road, US-NY 18-Feb-17
Red-throated Loon – Gavia stellata; Seven Presidents Park US-NJ 11-Feb-17
Common Loon – Gavia immer; Shark River Inlet US-NJ 4-Jan-17
Least Grebe – Tachybaptus dominicus; Cayo Coco sewage ponds CU-CA 27-Mar-17
Pied-billed Grebe – Podilymbus podiceps; Savannah NWR US-SC 7-Jan-17
Horned Grebe – Podiceps auritus; Skidaway Island US-GA 27-Jan-17
Red-necked Grebe – Podiceps grisegena; CBBT–South Thimble Island (#1) US-VA 6-Jan-17
Eared Grebe – Podiceps nigricollis; Benson STP US-AZ 10-Aug-17
American Flamingo – Phoenicopterus ruber; PN Cienaga de Zapata–Las Salinas CU-MA 24-Mar-17
Wood Stork – Mycteria americana; Merritt Island NWR–Black Point Wildlife Dr. US-FL 8-Jan-17

Magnificent Frigatebird – Fregata magnificens; Hollywood Beach US-FL 10-Jan-17
Brown Booby – Sula leucogaster; John U. Lloyd Beach SP US-FL 11-Jan-17
Northern Gannet – Morus bassanus CBBT–South Thimble Island (#1); US-VA 6-Jan-17
Great Cormorant – Phalacrocorax carbo Pelham Bay Park US-NY 5-Feb-17
Neotropic Cormorant – Phalacrocorax brasilianus; Niña Bonita Resevoir CU-CH 22-Mar-17
Double-crested Cormorant – Phalacrocorax auritus; Morgan Avenue Mudflats US-NJ 1-Jan-17
Anhinga – Anhinga anhinga; Hy 17 below spoil site US-SC 7-Jan-17
American White Pelican – Pelecanus erythrorhynchos Merritt Island NWR–Black Point Wildlife Dr. US-FL 8-Jan-17
Brown Pelican – Pelecanus occidentalis; Fort Pierce Inlet South Jetty US-FL 9-Jan-17

American Bittern – Botaurus lentiginosus Green Cay Wetlands & Nature Center US-FL 19-Jan-17
Zigzag Heron – Zebrilus undulatus; Pantanal–Rio Pixaim vicinity BR-MT 13-Sep-17
Rufescent Tiger-Heron – Tigrisoma lineatum; Rio Cristalino upstream BR-MT 06-Sep-17
Great Blue Heron – Ardea herodias Old Spye Road US-NJ 1-Jan-17
Cocoi Heron – Ardea cocoi; Rio Cristalino BR-MT 04-Sep-17
Great Egret – Ardea alba; Savannah NWR US-SC 7-Jan-17
Snowy Egret – Egretta thula; Hy 17 below spoil site US-SC 7-Jan-17
Little Blue Heron – Egretta caerulea; Savannah NWR US-SC 7-Jan-17
Tricolored Heron – Egretta tricolor; Merritt Island NWR–Black Point Wildlife Dr. US-FL 8-Jan-17
Reddish Egret – Egretta rufescens; Merritt Island NWR–Black Point Wildlife Dr. US-FL 8-Jan-17
Cattle Egret – Bubulcus ibis; Savannah NWR US-SC 7-Jan-17
Green Heron – Butorides virescens Merritt Island NWR–Black Point Wildlife Dr. US-FL 8-Jan-17
Striated Heron – Butorides striata; Rio Cristalino upstream BR-MT 06-Sep-17
Whistling Heron – Syrigma sibilatrix; Pantanal — Pousada Piuval BR-MT 10-Sep-17
Capped Heron – Pilherodius pileatus; Rio Cristalino BR-MT 04-Sep-17

Black-crowned Night-Heron – Nycticorax nycticorax Cammanns Pond Park US-NY 3-Jan-17
Yellow-crowned Night-Heron – Nyctanassa violacea Richardson Historic Park and Nature Preserve US-FL 12-Jan-17
Boat-billed Heron – Cochlearius cochlearius; Rio Cristalino upstream BR-MT 06-Sep-17
White Ibis – Eudocimus albus Hy 17 below spoil site US-SC 7-Jan-17

Glossy Ibis – Plegadis falcinellus Merritt Island NWR–Black Point Wildlife Dr. US-FL 8-Jan-17
White-faced Ibis – Plegadis chihi; Benson STP US-AZ 10-Aug-17
Green Ibis – Mesembrinibis cayennensis; Cristalino Lodge BR-MT 05-Sep-17
Bare-faced Ibis – Phimosus infuscatus; Cuiaba–Parque Mae Bonifacia, Brazil BR-MT 04-Sep-17
Buff-necked Ibis – Theristicus caudatus; 
Roseate Spoonbill – Platalea ajaja Merritt Island NWR–Black Point Wildlife Dr. US-FL 8-Jan-17
Black Vulture – Coragyps atratus Price Street US-NJ 1-Jan-17
Turkey Vulture – Cathartes aura Price Street US-NJ 1-Jan-17
Lesser Yellow-headed Vulture – Cathartes burrovianus; Pantanal — Pousada Piuval BR-MT 10-Sep-17
Greater Yellow-headed Vulture – Cathartes melambrotus; Cristalino Lodge BR-MT 05-Sep-17
King Vulture – Sarcoramphus papa; Cristalino Lodge–Tower 1 BR-MT 07-Sep-17
Osprey – Pandion haliaetus; Parrish Park/Max Brewer Causeway US-FL 8-Jan-17
White-tailed Kite – Elanus leucurus; SW 136th St – 25.6406x-80.4478 US-FL 14-Jan-17
Hook-billed Kite – Chondrohierax uncinatus; Cuiaba–Parque Mae Bonifacia, Brazil BR-MT 04-Sep-17
Gray-headed Kite – Leptodon cayanensis; Rio Cristalino upstream BR-MT 06-Sep-17
Swallow-tailed Kite – Elanoides forficatus; Las Terrazas CU-AR 21-Mar-17
Snail Kite – Rostrhamus sociabilis; Harns Marsh US-FL 24-Jan-17
Black-collared Hawk – Busarellus nigricollis; Pantanal — Pousada Piuval BR-MT 10-Sep-17
Double-toothed Kite – Harpagus bidentatus; Rio Cristalino — Lagoa Cigana BR-MT 08-Sep-17
Plumbeous Kite – Ictinia plumbea; Cristalino Lodge BR-MT 05-Sep-17
Northern Harrier – Circus cyaneus; US-NJ-Sayreville-2-198 Zaunerowicz Dr – 40.4566x-74.2690 US-NJ 1-Jan-17
Sharp-shinned Hawk – Accipiter striatus; My yard US-NJ 2-Jan-17
Cooper's Hawk – Accipiter cooperii; Arthur J. Hendrickson Park US-NY 3-Jan-17
Gundlach's Hawk – Accipiter gundlachi; PN Ciénaga de Zapata–San Tomas CU-MA 24-Mar-17
Bald Eagle – Haliaeetus leucocephalus; Old Spye Road US-NJ 1-Jan-17
Crane Hawk – Geranospiza caerulescens; Pantanal–Porto Jofre vicinity BR-MT 12-Sep-17
Common Black Hawk – Buteogallus anthracinus; Panama City PA-PN 18-Sep-17
Cuban Black Hawk – Buteogallus gundlachii; rest stop CU-MA 23-Mar-17
Savanna Hawk – Buteogallus meridionalis; Pantanal — Pousada Piuval BR-MT 10-Sep-17
Great Black Hawk – Buteogallus urubitinga; Rio Cristalino upstream BR-MT 06-Sep-17
Chaco Eagle – Buteogallus coronatus;PN Chapada dos Guimarães–Pousada do Parque BR-MT 16-Sep-17
Roadside Hawk – Rupornis magnirostris; Pantanal — Pousada Piuval BR-MT 10-Sep-17
White-tailed Hawk – Geranoaetus albicaudatus; Chapada dos Guimarães–Estrada da Geladeira BR-MT 16-Sep-17
White-browed Hawk – Leucopternis kuhli; Cristalino Lodge–Tower 1 BR-MT 07-Sep-17
Gray Hawk – Buteo plagiatus; Cave Creek Canyon Visitor's Center, US-AZ 02-Aug-17
Gray-lined Hawk – Buteo nitidus; Cristalino Lodge–Serra Trail BR-MT 06-Sep-17
Red-shouldered Hawk – Buteo lineatus; Merritt Island NWR–Vistor Information Center US-FL 8-Jan-17
Broad-winged Hawk – Buteo platypterus; Road stop CU-CM 27-Mar-17
Short-tailed Hawk – Buteo brachyurus; Cutler Wetlands US-FL 17-Jan-17
Swainson's Hawk – Buteo swainsoni; Rte 80, Cochise County US-AZ 31-Jul-17
Zone-tailed Hawk – Buteo albonotatus; Mt. Lemmon US-AZ 04-Aug-17
Red-tailed Hawk – Buteo jamaicensis; Majors Pond US-NJ 1-Jan-17
Rough-legged Hawk – Buteo lagopus; US-NY-Goshen-Iris Rd – 41.3473x-74.4417 US-NY 4-Feb-17
Sunbittern – Eurypyga helias; Rio Cristalino BR-MT 04-Sep-17
Gray-breasted Crake – Laterallus exilis; Cristalino Lodge — Limão BR-MT 08-Sep-17
Corn Crake – Crex crex; Cedar Beach Marina US-NY 07-Nov-17
King Rail – Rallus elegans; Allentown-Mercer Corporate Park US-NJ 23-May-17 (heard only)
Clapper Rail (Caribbean) – Rallus crepitans; PN Cienaga de Zapata–Las Salinas CU-MA 24-Mar-17
Virginia Rail – Rallus limicola; Edwin B. Forsythe NWR US-NJ 29-Apr-17
Gray-cowled Wood-Rail – Aramides cajaneus; Pantanal — Pousada Piuval BR-MT 10-Sep-17
Russet-crowned Crake – Anurolimnas viridis; Cuiaba–Parque Mae Bonifacia, Brazil BR-MT 04-Sep-17
Sora – Porzana carolina; Merritt Island NWR–Black Point Wildlife Dr. US-FL 8-Jan-17
Ash-throated Crake – Mustelirallus albicollis; Fazenda Campo Largo BR-MT 14-Sep-17 (heard only)
Purple Gallinule – Porphyrio martinicus; Francis S. Taylor WMA–Everglades Pkwy Rest Area US-FL 24-Jan-17
Gray-headed Swamphen – Porphyrio poliocephalus; Markham Park US-FL 12-Jan-17
Common Gallinule – Gallinula galeatal Savannah NWR US-SC 7-Jan-17
American Coot – Fulica americana; Majors Pond US-NJ 1-Jan-17
Sungrebe – Heliornis fulica; Pantanal–Porto Jofre vicinity BR-MT 12-Sep-17
Limpkin – Aramus guarauna; Viera Wetlands US-FL 9-Jan-17
Sandhill Crane – Antigone canadensis; Viera Wetlands US-FL 9-Jan-17

Black-necked Stilt – Himantopus mexicanus; Los Palacios fish ponds CU-PR 21-Mar-17
American Avocet – Recurvirostra; americana Merritt Island NWR–Black Point Wildlife Dr. US-FL 8-Jan-17
American Oystercatcher – Haematopus palliatus; Jamaica Bay NWR West Pond, US-NY, 12-Apr-17
Black-bellied Plover – Pluvialis squatarola; Merritt Island NWR–Black Point Wildlife Dr. US-FL 8-Jan-17
American Golden-Plover – Pluvialis dominica; Reed's Sod Farm US-NJ 27-Aug-17
Pied Lapwing – Vanellus cayanus; Rio Teles Pires–islands on lower Teles Pires BR-MT 07-Sep-17
Southern Lapwing – Vanellus chilensis; Pantanal — Pousada Piuval BR-MT 10-Sep-17
Wilson's Plover – Charadrius wilsonia; San Carlos Bay/Bunche Beach Preserve US-FL 25-Jan-17
Semipalmated Plover – Charadrius semipalmatus; Merritt Island NWR–Black Point Wildlife Dr. US-FL 8-Jan-17
Piping Plover – Charadrius melodus; San Carlos Bay/Bunche Beach Preserve US-FL 25-Jan-17
Killdeer – Charadrius vociferus; Merritt Island NWR–Black Point Wildlife Dr. US-FL 8-Jan-17
Northern Jacana – Jacana spinosa; road stop CU-PR 21-Mar-17
Wattled Jacana – Jacana jacana; Pantanal — Pousada Piuval BR-MT 10-Sep-17
Whimbrel – Numenius phaeopus; Higbee Beach US-NJ 29-Apr-17
Marbled Godwit – Limosa fedoa; San Carlos Bay/Bunche Beach Preserve US-FL 25-Jan-17
Ruddy Turnstone – Arenaria interpres; CBBT–South Thimble Island (#1) US-VA 6-Jan-17
Red Knot – Calidris canutus; Big Egg Marsh US-NY 17-May-17
Stilt Sandpiper – Calidris himantopus; Cayo Coco ponds CU-CA 27-Mar-17
Sanderling – Calidris alba; Shark River Inlet US-NJ 4-Jan-17
Dunlin – Calidris alpina; San Carlos Bay/Bunche Beach Preserve US-FL 25-Jan-17
Purple Sandpiper – Calidris maritima; Barnegat Lighthouse SP US-NJ 11-Feb-17
Least Sandpiper – Calidris minutilla; Merritt Island NWR–Black Point Wildlife Dr. US-FL 8-Jan-17
White-rumped Sandpiper – Calidris fuscicollis; Mecox Inlet US-NY 15-Oct-17
Buff-breasted Sandpiper – Calidris subruficollis; Reed's Sod Farm US-NJ 27-Aug-17
Semipalmated Sandpiper – Calidris pusilla; Edwin B. Forsythe NWR US-NJ 29-Apr-17
Western Sandpiper – Calidris mauri; San Carlos Bay/Bunche Beach Preserve US-FL 25-Jan-17
Short-billed Dowitcher – Limnodromus griseus; San Carlos Bay/Bunche Beach Preserve US-FL 25-Jan-17
Long-billed Dowitcher – Limnodromus scolopaceus; Merritt Island NWR–Black Point Wildlife Dr. US-FL 8-Jan-17
Wilson's Snipe – Gallinago delicata; Savannah NWR US-SC 7-Jan-17
American Woodcock – Scolopax minor; Assunpink WMA US-NJ 22-Feb-17
Spotted Sandpiper – Actitis macularius; SW 173rd St Canoe Launch US-FL 17-Jan-17
Solitary Sandpiper – Tringa solitaria; road stop CU-VC 25-Mar-17
Greater Yellowlegs – Tringa melanoleuca; Merritt Island NWR–Black Point Wildlife Dr. US-FL 8-Jan-17
Common Greenshank – Tringa nebularia; Edwin B. Forsythe NWR US-NJ 27-Oct-17
Willet – Tringa semipalmata; Merritt Island NWR–Black Point Wildlife Dr. US-FL 8-Jan-17
Lesser Yellowlegs – Tringa flavipes; PN Cienaga de Zapata–Las Salinas CU-MA 24-Mar-17
Bonaparte's Gull – Chroicocephalus philadelphia; Sandy Hook US-NJ 06-May-17
Black-headed Gull – Chroicocephalus ridibundus; Cammanns Pond Park US-NY 3-Jan-17
Ross's Gull – Rhodostethia; rosea; Tupper Lake US-NY 31-Jan-17
Laughing Gull – Leucophaeus atricilla; Merritt Island NWR–Black Point Wildlife Dr. US-FL 8-Jan-17
Ring-billed Gull – Larus delawarensis; Old Spye Road US-NJ 1-Jan-17

Herring Gull – Larus argentatus; Morgan Avenue Mudflats US-NJ 1-Jan-17
Iceland Gull – Larus glaucoides; Monmouth Cultural Center, beach access US-NJ 11-Feb-17
Lesser Black-backed Gull – Larus fuscus; Hollywood Beach US-FL 22-Jan-17
Glaucous Gull – Larus hyperboreus; Mecox Inlet US-NY 27-May-17
Great Black-backed Gull – Larus marinus; Morgan Avenue Mudflats US-NJ 1-Jan-17
Least Tern – Sternula antillarum; Mecox Inlet US-NY 27-May-17
Yellow-billed Tern – Sternula superciliaris; Rio Cristalino BR-MT 04-Sep-17
Large-billed Tern – Phaetusa simplex; Pantanal — Pousada Piuval BR-MT 10-Sep-17
Gull-billed Tern – Gelochelidon nilotica; road stop CU-PR 21-Mar-17
Caspian Tern – Hydroprogne caspia; Merritt Island NWR–Black Point Wildlife Dr. US-FL 8-Jan-17
Black Tern – Chlidonias niger; Nickerson Beach; US-NY 12-June-17
Roseate Tern – Sterna dougallii; Nickerson Beach; US-NY 12-June-17

Common Tern – Sterna hirundo; Higbee Beach US-NJ 29-Apr-17
Forster's Tern – Sterna forsteri; Merritt Island NWR–Black Point Wildlife Dr. US-FL 8-Jan-17
Royal Tern – Thalasseus maximus; Fort Pierce Inlet South Jetty US-FL 9-Jan-17
Sandwich Tern – Thalasseus sandvicensis; PN Cienaga de Zapata–Las Salinas CU-MA 24-Mar-17
Black Skimmer – Rynchops niger; Merritt Island NWR–Black Point Wildlife Dr. US-FL 8-Jan-17
Rock Pigeon – Columba livia; Old Spye Road US-NJ 1-Jan-17
Pale-vented Pigeon – Patagioenas cayennensis; Rio Teles Pires — Ilha Ariosto BR-MT 09-Sep-17
Scaled Pigeon – Patagioenas speciosa; Várzea Grande, Brazil, BR-MT 03-Sep-17
Scaly-naped Pigeon – Patagioenas squamosa; Hotel Rancho San Vicente, Ancón CU-PR 21-Mar-17
Picazuro Pigeon – Patagioenas picazuro; Rio Cristalino–between Teles Pires and Cristalino Lodge BR-MT 09-Sep-17
White-crowned Pigeon – Patagioenas leucocephala; Campismo La Chorrera CU-AP 21-Mar-17
Plain Pigeon – Patagioenas inornata; road stop CU-CM 26 Mar 2017
Ruddy Pigeon – Patagioenas subvinacea; Rio Teles Pires–islands on lower Teles Pires BR-MT 07-Sep-17
Short-billed Pigeon – Patagioenas nigrirostris; Panama City PA-PN 18-Sep-17
Eurasian Collared-Dove – Streptopelia decaocto; I95 Florida Welcome Centre US-FL 7-Jan-17
Inca Dove – Columbina inca; Desert Botanical Garden, Phoenix, US-AZ 28-Jul-17
Common Ground-Dove – Columbina passerina; Frog Pond WMA–Lucky Hammock US-FL 17-Jan-17
Ruddy Ground-Dove – Columbina talpacoti; Várzea Grande, Brazil, BR-MT 03-Sep-17
Scaled Dove – Columbina squammata; Várzea Grande, Brazil, BR-MT 03-Sep-17
Picui Ground-Dove – Columbina picui; Várzea Grande, Brazil, BR-MT 03-Sep-17
Blue Ground-Dove – Claravis pretiosa; Rio Cristalino upstream BR-MT 06-Sep-17
Long-tailed Ground-Dove – Uropelia campestris; Fazenda Campo Largo BR-MT 14-Sep-17
Blue-headed Quail-Dove – Starnoenas cyanocephala; Refugio de Fauna Bermeja CU-MA 23-Mar-17
Ruddy Quail-Dove – Geotrygon montana; road stop, CU-CM 27-Mar-17
Gray-fronted Quail-Dove – Geotrygon caniceps; Refugio de Fauna Bermeja CU-MA 23-Mar-17
Key West Quail-Dove – Geotrygon chrysia; Cayo Coco–Cueva del Jabali CU-CA 29-Mar-17
White-tipped Dove – Leptotila verreauxi; Pantanal — Pousada Piuval BR-MT 10-Sep-17
White-winged Dove – Zenaida asiatica; Green Cay Wetlands & Nature Center US-FL 19-Jan-17
Zenaida Dove – Zenaida aurita; Refugio de Fauna Bermeja CU-MA 23-Mar-17
Mourning Dove – Zenaida macroura; Old Spye Road US-NJ 1-Jan-17
Hoatzin – Opisthocomus hoazin; Rio Cristalino — Lagoa Cigana BR-MT 08-Sep-17
Greater Ani – Crotophaga major; Rio Cristalino BR-MT 04-Sep-17
Smooth-billed Ani – Crotophaga ani; road stop CU-AR 21-Mar-17
Greater Roadrunner – Geococcyx californianus; Sierra Vista US-AZ 29-Jul-17
Little Cuckoo – Coccycua minuta; Pantanal — Pousada Piuval BR-MT 10-Sep-17
Squirrel Cuckoo – Piaya cayana; Cuiaba–Parque Mae Bonifacia, Brazil BR-MT 04-Sep-17
Black-bellied Cuckoo – Piaya melanogaster; Cristalino Lodge–Tower 1 BR-MT 07-Sep-17
Yellow-billed Cuckoo – Coccyzus americanus; Doodletown US-NY 20-May-17

Black-billed Cuckoo – Coccyzus erythropthalmus; Sandy Hook US-NJ 17-May-17
Great Lizard-Cuckoo – Coccyzus merlini; CU-MA 23-Mar-17
Barn Owl – Tyto alba; Hotel Sol Cayo Coco CU-CA 27-Mar-17
Eastern Screech-Owl – Megascops asio; Roxanne's house US-FL 17-Jan-17
Tawny-bellied Screech-Owl – Megascops watsonii; Cristalino Lodge–lodge grounds BR-MT 08-Sep-17
Bare-legged Owl – Margarobyas lawrencii; Hotel Rancho San Vicente, Ancón CU-PR 21-Mar-17
Great Horned Owl – Bubo virginianus; Pelham Bay Park US-NY 5-Feb-17
Snowy Owl – Bubo scandiacus; Jones Beach US-NY 24-Dec-17

Ferruginous Pygmy-Owl – Glaucidium brasilianum;Pantanal — Pousada Piuval BR-MT 10-Sep-17
Cuban Pygmy-Owl – Glaucidium siju; Hotel Rancho San Vicente, Ancón CU-PR 21-Mar-17
Burrowing Owl – Athene cunicularia; Davie US-FL 13-Jan-17
Mottled Owl – Ciccaba virgata; Cristalino Lodge–grounds BR-MT 05-Sep-17
Great Gray Owl – Strix nebulosa; Robert Moses SP (Massina) US-NY 17-Feb-17
Barred Owl – Strix varia; Harns Marsh US-FL 24-Jan-17 (heard only)

Short-eared Owl – Asio flammeus; US-NY  4-Feb-17
Northern Saw-whet Owl – Aegolius acadicus; Pelham Bay Park US-NY 5-Feb-17
Nacunda Nighthawk – Chordeiles nacunda; Pantanal–Porto Jofre vicinity BR-MT 12-Sep-17
Lesser Nighthawk – Chordeiles acutipennis; Lord Stirling Park US-NJ 30-May-17
Common Nighthawk – Chordeiles minor; Sandy Hook NWR US-NJ 17-May-17
Band-tailed Nighthawk – Nyctiprogne leucopyga; Pantanal–Rio Pixaim vicinity BR-MT 13-Sep-17
Blackish Nightjar – Nyctipolus nigrescens; Cristalino Lodge–grounds BR-MT 05-Sep-17
Common Pauraque – Nyctidromus albicollis; Cristalino Lodge–grounds BR-MT 05-Sep-17
Spot-tailed Nightjar – Hydropsalis maculicaudus; Pantanal–Rio Pixaim vicinity BR-MT 14-Sep-17
Ladder-tailed Nightjar – Hydropsalis climacocerca; Rio Teles Pires–islands on lower Teles Pires BR-MT 07-Sep-17
Chuck-will's-widow – Antrostomus carolinensis; Soplillar CU-MA 23-Mar-17
Greater Antillean Nightjar (Cuban) – Antrostomus cubanensis; Playa Larga CU-MA 24-Mar-17 (heard only)
Great Potoo – Nyctibius grandis; Pantanal–Porto Jofre vicinity BR-MT 12-Sep-17
White-collared Swift – Streptoprocne zonaris; Road stop CU-VC 25-Mar-17
Chimney Swift – Chaetura pelagica; Sandy Hook US-NJ 03-May-17
Amazonian Swift – Chaetura viridipennis; Cristalino Lodge BR-MT 05-Sep-17
Short-tailed Swift – Chaetura brachyura; islands
Gray-rumped Swift – Chaetura cinereiventris; Cristalino Lodge BR-MT 05-Sep-17
Antillean Palm-Swift – Tachornis phoenicobia; Campismo La Chorrera CU-AR 21-Mar-17
Fork-tailed Palm-Swift – Tachornis squamata; Rio Cristalino — Lagoa Cigana BR-MT 08-Sep-17
White-necked Jacobin – Florisuga mellivora; Cristalino Lodge BR-MT 05-Sep-17
Buff-bellied Hermit – Phaethornis subochraceus; Pantanal–Rio Pixaim vicinity BR-MT 15-Sep-17
Planalto Hermit – Phaethornis pretrei; PN Chapada dos Guimarães–Pousada do Parque BR-MT 15-Sep-17
White-vented Violetear – Colibri serrirostris; PN Chapada dos Guimarães–Pousada do Parque BR-MT 15-Sep-17
Black-throated Mango – Anthracothorax nigricollis; Cristalino Lodge–Serra Trail BR-MT 06-Sep-17
Rivoli's Hummingbird – Eugenes fulgens; Ramsey Canyon Inn US-AZ 29-Jul-17
Long-billed Starthroat – Heliomaster longirostris; Cristalino Lodge–Serra Trail BR-MT 06-Sep-17
Blue-throated Hummingbird – Lampornis clemenciae; Cave Creek Canyon South Ford 01-Aug-17
Lucifer Hummingbird – Calothorax lucifer; Ash Canyon B&B US-AZ 30-Jul-17
Ruby-throated Hummingbird – Archilochus colubris; Castellow Hammock Park US-FL 14-Jan-17
Black-chinned Hummingbird – Archilochus alexandri; Ash Canyon B&B US-AZ 30-Jul-17
Bee Hummingbird – Mellisuga helenae; CU-MA 23-Mar-17
Anna's Hummingbird – Calypte anna: Desert Botanical Garden, Phoenix US-AZ, 28-Jul-17
Costa's Hummingbird – Calypte costae; Ash Canyon B&B US-AZ, 30-Jul-17
Broad-tailed Hummingbird – Selasphorus platycercus; Ramsey Canyon Inn US-AZ, 29-Jul-17
Rufous Hummingbird – Selasphorus rufus; Ash Canyon B&B US-AZ, 30-Jul-17
Calliope Hummingbird – Selasphorus calliope; Casa de Conrad US-AZ 31-Jul-17
Cuban Emerald – Chlorostilbon ricordii; Hotel Rancho San Vicente, Ancón CU-PR 21-Mar-17
Glittering-bellied Emerald – Chlorostilbon lucidus; Cuiaba–Parque Mae Bonifacia, Brazil BR-MT 04-Sep-17
Broad-billed Hummingbird – Cynanthus latirostris; Ramsey Canyon Inn US-AZ, 29-Jul-17
Swallow-tailed Hummingbird – Eupetomena macroura;Chapada dos Guimarães–Estrada da Geladeira BR-MT 16-Sep-17
Fork-tailed Woodnymph – Thalurania furcata; Rio Teles Pires–islands on lower Teles Pires BR-MT 07-Sep-17
Glittering-throated Emerald – Amazilia fimbriata; Pantanal — Pousada Piuval BR-MT 10-Sep-17
Buff-bellied Hummingbird – Amazilia yucatanensis; Castellow Hammock Park US-FL 14-Jan-17
Violet-crowned Hummingbird – Amazilia violiceps; Ramsey Canyon Inn US-AZ, 29-Jul-17
Gilded Hummingbird – Hylocharis chrysura; Pantanal — Campos do Jofre BR-MT 13-Sep-17
Cuban Trogon – Priotelus temnurus; Las Terrazas CU-AR 21-Mar-17
Green-backed Trogon – Trogon viridis; Cristalino Lodge–Serra Trail BR-MT 06-Sep-17
Blue-crowned Trogon – Trogon curucui; Cuiaba–Parque Mae Bonifacia, Brazil BR-MT 04-Sep-17
Elegant Trogon – Trogon elegan; Huachuca Canyon US-AZ 09-Aug-17
Amazonian Motmot – Momotus momota; PN Chapada dos Guimarães–Pousada do Parque BR-MT 17-Sep-17
Ringed Kingfisher – Megaceryle torquata; Cristalino Lodge–upstream BR-MT 06-Sep-17
Belted Kingfisher – Megaceryle alcyon; Merritt Island NWR–Black Point Wildlife Dr. US-FL 8-Jan-17
Amazon Kingfisher – Chloroceryle amazona; Rio Cristalino BR-MT 04-Sep-17
Green Kingfisher – Chloroceryle americana; Rio Cristalino upstream BR-MT 06-Sep-17
Green-and-rufous Kingfisher – Chloroceryle inda; Rio Cristalino upstream BR-MT 06-Sep-17
American Pygmy Kingfisher – Chloroceryle aenea; Rio Cristalino — Lagoa Cigana BR-MT 08-Sep-17
White-necked Puffbird – Notharchus hyperrhynchus; Cristalino Lodge–Tower 1 BR-MT 07-Sep-17
Brown-banded Puffbird – Notharchus ordii; Cristalino Lodge–Tower 1 BR-MT 07-Sep-17
Pied Puffbird – Notharchus tectus; Cristalino Lodge–Serra Trail BR-MT 06-Sep-17
White-eared Puffbird – Nystalus chacuru; PN Chapada dos Guimarães–Pousada do Parque BR-MT 15 Sep 17
Black-fronted Nunbird – Monasa nigrifrons; Rio Teles Pires–islands on lower Teles Pires BR-MT 07-Sep-17
White-fronted Nunbird – Monasa morphoeus; Cristalino Lodge–Tower 1 BR-MT 07-Sep-17
Swallow-winged Puffbird – Chelidoptera tenebrosa; Rio Cristalino BR-MT 04-Sep-17
Blue-cheeked Jacamar – Galbula cyanicollis; Cristalino Jungle Lodge — Borboletas trail BR-MT 09-Sep-17
Rufous-tailed Jacamar – Galbula ruficauda; Cuiaba–Parque Mae Bonifacia, Brazil BR-MT 04-Sep-17
Bronzy Jacamar – Galbula leucogastra; Rio Cristalino upstream BR-MT 06-Sep-17
Paradise Jacamar – Galbula dea; Rio Cristalino upstream BR-MT 06-Sep-17
Lettered Aracari – Pteroglossus inscriptus; Cristalino Lodge–Tower 1 BR-MT 07-Sep-17
Chestnut-eared Aracari – Pteroglossus castanotis; Cristalino Lodge BR-MT 05-Sep-17
Curl-crested Aracari – Pteroglossus beauharnaesii; Cristalino Lodge–Tower 1 BR-MT 07-Sep-17
Red-necked Aracari – Pteroglossus bitorquatus; Cristalino Lodge–Tower 1 BR-MT 07-Sep-17
White-throated Toucan – Ramphastos tucanus; Cristalino Lodge BR-MT 05-Sep-17
Channel-billed Toucan – Ramphastos vitellinus; Cristalino Lodge–Tower 1 BR-MT 07-Sep-17
White Woodpecker – Melanerpes candidus; Pantanal — Pousada Piuval BR-MT 11-Sep-17
Red-headed Woodpecker – Melanerpes erythrocephalus; Magnolia Parke US-FL 26-Jan-17
Acorn Woodpecker – Melanerpes formicivorus; Ash Canyon B&B US-AZ 30-Jul-17
Yellow-tufted Woodpecker – Melanerpes cruentatus; Cristalino Lodge BR-MT 05-Sep-17
White-fronted Woodpecker – Melanerpes cactorum; Pantanal — Pousada Piuval BR-MT 10-Sep-17
Gila Woodpecker – Melanerpes uropygialis; Encanto Park, Phoenix US-AZ 28-Jul-19
Red-bellied Woodpecker – Melanerpes carolinus; Arthur J. Hendrickson Park US-NY 3-Jan-17
West Indian Woodpecker – Melanerpes superciliaris; Campismo La Chorrera CU-AR 21-Mar-17
Yellow-bellied Sapsucker – Sphyrapicus varius; Evergreen Cemetery (Broward) US-FL 17-Mar-17
Ladder-backed Woodpecker – Picoides scalaris; Sierra Vista US-AZ 29-Jul-17
Downy Woodpecker – Picoides pubescens; Morgan Avenue Mudflats US-NJ 1-Jan-17
Hairy Woodpecker – Picoides villosus; Newcomb US-NY 31-Jan-17
Arizona Woodpecker – Picoides arizonae; Cave Creek Canyon–South Fork US-AZ; 01-Aug-17
Black-backed Woodpecker – Picoides arcticus; Bloomingdale Bog US-NY 17-Jun-17
Little Woodpecker – Veniliornis passerinus; Cuiaba–Parque Mae Bonifacia, Brazil BR-MT 04-Sep-17
Red-stained Woodpecker – Veniliornis affinis; Cristalino Lodge–Tower 1 BR-MT 07-Sep-17
Golden-green Woodpecker – Piculus chrysochloros; Pantanal–Rio Pixaim vicinity BR-MT 15-Sep-17
Green-barred Woodpecker – Colaptes melanochloros; PN Chapada dos Guimarães–Pousada do Parque BR-MT 15-Sep-17
Northern Flicker – Colaptes auratus; Franklin Township US-NJ 2-Jan-17
Fernandina's Flicker – Colaptes fernandinae; Refugio de Fauna Bermeja CU-MA 23-Mar-17
Ringed Woodpecker – Celeus torquatus; Rio Cristalino–between Teles Pires and Cristalino Lodge BR-MT 09-Sep-17
Cream-colored Woodpecker – Celeus flavus; Pantanal–Rio Pixaim vicinity BR-MT 14-Sep-17
Lineated Woodpecker – Dryocopus lineatus; PN Chapada dos Guimarães–Pousada do Parque BR-MT 17-Sep-17
Pileated Woodpecker – Dryocopus pileatus Tupper Lake residential area US-NY 1-Feb-17
Crimson-crested Woodpecker – Campephilus melanoleucos; PN Chapada dos Guimarães–Pousada do Parque BR-MT 17-Sep-17
Collared Forest-Falcon – Micrastur semitorquatus; Pantanal — Pousada Piuval BR-MT 10-Sep-17
Black Caracara – Daptrius ater; Rio Teles Pires–islands on lower Teles Pires BR-MT 07-Sep-17
Red-throated Caracara – Ibycter americanus; Cristalino Lodge — Limão BR-MT 08-Sep-17
Crested Caracara – Caracara cheriway; Government Rd. (Broward Co.) US-FL 24-Jan-17
Southern Caracara – Caracara plancus; Várzea Grande, Brazil, BR-MT 03-Sep-17
American Kestrel – Falco sparverius; Savannah NWR US-SC 7-Jan-17
Merlin – Falco columbarius; Savannah NWR US-SC 7-Jan-17
Aplomado Falcon – Falco femoralis; Pantanal — Pousada Piuval BR-MT 11-Sep-17
Bat Falcon – Falco rufigularis; Rio Cristolino upstream BR-MT 06-Sep-17
Peregrine Falcon – Falco peregrinus; Pelham Bay Park–Orchard Beach US-NY 6-Feb-17
Monk Parakeet – Myiopsitta monachus; Markham Park US-FL 12-Jan-17
White-winged Parakeet – Brotogeris versicolurus; Broward County, 17-Mar-17
Yellow-chevroned Parakeet – Brotogeris chiriri; Cuiaba–Parque Mae Bonifacia, Brazil BR-MT 04-Sep-17
Orange-chinned Parakeet – Brotogeris jugularis; Panama City PA-PN 18-Sep-17
Golden-winged Parakeet – Brotogeris chrysoptera; Várzea Grande, Brazil, BR-MT 03-Sep-17
Blue-headed Parrot – Pionus menstruus; Rio Cristalino BR-MT 04-Sep-17
Yellow-crowned Parrot – Amazona ochrocephala; Rio Cristalino — Lagoa Cigana BR-MT 08-Sep-17
Turquoise-fronted Parrot – Amazona aestiva; Pantanal — Pousada Piuval BR-MT 10-Sep-17
Orange-winged Parrot – Amazona amazonica; Rio Cristalino BR-MT 04-Sep-17
White-bellied Parrot – Pionites leucogaster; Cristalino Lodge BR-MT 05-Sep-17
Red-fan Parrot – Deroptyus accipitrinus; Rio Cristalino upstream BR-MT 06-Sep-17
Crimson-bellied Parakeet – Pyrrhura perlata; Rio Cristalino upstream BR-MT 06-Sep-17
Santarem Parakeet – Pyrrhura amazonum; Cristalino Lodge — Limão BR-MT 08-Sep-17
Nanday Parakeet – Aratinga nenday; Pantanal–Rio Pixaim vicinity BR-MT 14-Sep-17
Red-bellied Macaw – Orthopsittaca manilatus; Cristalino Lodge–Tower 1 BR-MT 07-Sep-17
Blue-winged Macaw – Primolius maracana; Chapada dos Guimarães–Véu da Noiva Falls BR-MT 15-Sep-17
Blue-and-yellow Macaw – Ara ararauna; Rio Cristalino BR-MT 04-Sep-17
Scarlet Macaw – Ara macao; Cristalino Lodge BR-MT 05-Sep-17
Red-and-green Macaw – Ara chloropterus; Cristalino Lodge–Tower 1 BR-MT 07-Sep-17
Chestnut-fronted Macaw – Ara severus; Cristalino Lodge BR-MT 05-Sep-17
Blue-crowned Parakeet – Thectocercus acuticaudatus; Rio Cristalino BR-MT 04-Sep-17
Red-shouldered Macaw – Diopsittaca nobilis; Várzea Grande, Brazil, BR-MT 03-Sep-17
White-eyed Parakeet – Psittacara leucophthalmus; Rio Cristalino BR-MT 04-Sep-17
Cuban Parakeet – Psittacara euops; Refugio de Fauna Bermeja CU-MA 23-Mar-17
Great Antshrike – Taraba major; Cuiaba–Parque Mae Bonifacia, Brazil BR-MT 04-Sep-17
Glossy Antshrike – Sakesphorus luctuosus; Cristalino Lodge–grounds BR-MT 05-Sep-17
Barred Antshrike – Thamnophilus doliatus; Várzea Grande, Brazil, BR-MT 03-Sep-17
Rufous-winged Antshrike – Thamnophilus torquatus; Rb
Chestnut-backed Antshrike – Thamnophilus palliatus; Rio Teles Pires–islands on lower Teles Pires BR-MT 07-Sep-17
Planalto Slaty-Antshrike – Thamnophilus pelzelni; Pantanal — Pousada Piuval BR-MT 11-Sep-17
Amazonian Antshrike – Thamnophilus amazonicus; Rio Teles Pires–islands on lower Teles Pires BR-MT 07-Sep-17
Saturnine Antshrike – Thamnomanes saturninus; Pocinha Francisco, Brazil BR-MT 05-Sep-17
Cinereous Antshrike – Thamnomanes caesius; Pocinha Francisco, Brazil BR-MT 05-Sep-17
Amazonian Streaked-Antwren – Myrmotherula multostriata; Cristalino Lodge, Brazil, BR-MT 05-Sep-17
White-flanked Antwren – Myrmotherula axillaris; Pocinha Francisco, Brazil BR-MT 05-Sep-17
Large-billed Antwren – Herpsilochmus longirostris; Pantanal–Rio Pixaim vicinity BR-MT 14-Sep-17
White-fringed Antwren – Formicivora grisea; Cristalino Lodge–Serra Trail BR-MT 06-Sep-17
Black-bellied Antwren – Formicivora melanogaster; Pantanal — Pousada Piuval BR-MT 11-Sep-17
Spix's Warbling-Antbird – Hypocnemis striata; Pocinha Francisco, Brazil BR-MT 05-Sep-17
Blackish Antbird – Cercomacroides nigrescens; Cristalino Lodge–Serra Trail BR-MT 06-Sep-17
Gray Antbird – Cercomacra cinerascens; Cristalino Lodge–Serra Trail BR-MT 06-Sep-17
Mato Grosso Antbird – Cercomacra melanaria; Pantanal — Campos do Jofre BR-MT 13-Sep-17
Band-tailed Antbird – Hypocnemoides maculicauda; Cristalino Lodge — Limão BR-MT 08-Sep-17
Silvered Antbird – Sclateria naevia; Rio Cristalino–between Teles Pires and Cristalino Lodge BR-MT 09-Sep-17
Bare-eyed Antbird – Rhegmatorhina gymnops; Pocinha Francisco, Brazil BR-MT 05-Sep-17
Dot-backed Antbird – Hylophylax punctulatus; Pocinha Francisco, Brazil BR-MT 05-Sep-17
Xingu Scale-backed Antbird – Willisornis vidua; Pocinha Francisco, Brazil BR-MT 05-Sep-17
Black-spotted Bare-eye – Phlegopsis nigromaculata; Pocinha Francisco, Brazil BR-MT 05-Sep-17
Olivaceous Woodcreeper – Sittasomus griseicapillus; Cristalino Lodge–Serra Trail BR-MT 06-Sep-17
White-chinned Woodcreeper – Dendrocincla merula; Pocinha Francisco, Brazil BR-MT 05-Sep-17
Wedge-billed Woodcreeper – Glyphorynchus spirurus; Cristalino Lodge–Tower 1 BR-MT 07-Sep-17
Great Rufous Woodcreeper – Xiphocolaptes major; Pantanal — Pousada Piuval BR-MT 10-Sep-17
Striped Woodcreeper – Xiphorhynchus obsoletus; Pocinha Francisco, Brazil BR-MT 05-Sep-17
Buff-throated Woodcreeper – Xiphorhynchus guttatus; PN Chapada dos Guimarães–Pousada do Parque BR-MT 17-Sep-17
Straight-billed Woodcreeper – Dendroplex picus; Rio Teles Pires–islands on lower Teles Pires BR-MT 07-Sep-17
Red-billed Scythebill – Campylorhamphus trochilirostris; Pantanal — Pousada Piuval BR-MT 11-Sep-17
Narrow-billed Woodcreeper – Lepidocolaptes angustirostris; Pantanal — Pousada Piuval BR-MT 10-Sep-17
Layard's Woodcreeper – Lepidocolaptes layardi; Cristalino Lodge, Brazil, BR-MT 05-Sep-17
Point-tailed Palmcreeper – Berlepschia rikeri; Rio Cristalino — Lagoa Cigana BR-MT 08-Sep-17
Pale-legged Hornero – Furnarius leucopus; Pantanal–Porto Jofre vicinity BR-MT 12-Sep-17
Rufous Hornero – Furnarius rufus; Várzea Grande, Brazil, BR-MT 03-Sep-17
Rufous-rumped Foliage-gleaner – Philydor erythrocercum; Pocinha Francisco, Brazil BR-MT 05-Sep-17
Greater Thornbird – Phacellodomus ruber; Pantanal — Pousada Piuval BR-MT 10-Sep-17
Rufous-fronted Thornbird – Phacellodomus rufifrons; Pantanal–Rio Pixaim vicinity BR-MT 14-Sep-17
Rusty-backed Spinetail – Cranioleuca vulpina; Pantanal–Porto Jofre vicinity BR-MT 12-Sep-17
Rufous Cacholote – Pseudoseisura unirufa; Pantanal — Pousada Piuval BR-MT 10-Sep-17
Yellow-chinned Spinetail – Certhiaxis cinnamomeus; Pantanal — Pousada Piuval BR-MT 10-Sep-17
Chotoy Spinetail – Schoeniophylax phryganophilus; Pantanal–Porto Jofre vicinity BR-MT 12-Sep-17
White-lored Spinetail – Synallaxis albilora; Pantanal — Campos do Jofre BR-MT 11-Sep-17
Cinereous-breasted Spinetail – Synallaxis hypospodia; Pantanal — Campos do Jofre BR-MT 13-Sep-17
White-lored Tyrannulet – Ornithion inerme; Cristalino Lodge, Brazil, BR-MT 05-Sep-17
Northern Beardless-Tyrannulet – Camptostoma imberbe; Florida Wash US-AZ 05-Aug-17
Southern Beardless-Tyrannulet – Camptostoma obsoletum; Cristalino Lodge — Limão BR-MT 08-Sep-17
Subtropical Doradito – Pseudocolopteryx acutipennis; Pantanal — Campos do Jofre BR-MT 13-Sep-17
Yellow-crowned Tyrannulet – Tyrannulus elatus; Cristalino Lodge–Tower 1 BR-MT 07-Sep-17
Forest Elaenia – Myiopagis gaimardii; Pantanal — Pousada Piuval BR-MT 11-Sep-17
Greenish Elaenia – Myiopagis viridicata; Pantanal — Pousada Piuval BR-MT 11-Sep-17
Plain-crested Elaenia – Elaenia cristata; Chapada dos Guimarães–Véu da Noiva Falls BR-MT 15-Sep-17
Ochre-bellied Flycatcher – Mionectes oleagineus; Pocinha Francisco, Brazil BR-MT 05-Sep-17
Sepia-capped Flycatcher – Leptopogon amaurocephalus; Pantanal–Rio Pixaim vicinity BR-MT 14-Sep-17
Plain Tyrannulet – Inezia inornata; Cuiaba–Parque Mae Bonifacia, Brazil BR-MT 04-Sep-17
Amazonian Tyrannulet – Inezia subflava; Rio Teles Pires–islands on lower Teles Pires BR-MT 07-Sep-17
Stripe-necked Tody-Tyrant – Hemitriccus striaticollis; Pantanal–Porto Jofre vicinity BR-MT 12-Sep-17
Pearly-vented Tody-Tyrant – Hemitriccus margaritaceiventer; Pantanal — Pousada Piuval BR-MT 11-Sep-17
Zimmer's Tody-Tyrant – Hemitriccus minimus; Cristalino Lodge–Serra Trail BR-MT 06-Sep-17
Rusty-fronted Tody-Flycatcher – Poecilotriccus latirostris; Pantanal–Porto Jofre vicinity BR-MT 12-Sep-17
Spotted Tody-Flycatcher – Todirostrum maculatum; Rio Teles Pires–islands on lower Teles Pires BR-MT 07-Sep-17
Common Tody-Flycatcher – Todirostrum cinereum; Várzea Grande, Brazil, BR-MT 03-Sep-17
Cliff Flycatcher – Hirundinea ferruginea; Chapada dos Guimarães–Véu da Noiva Falls BR-MT 15-Sep-17
Tufted Flycatcher – Mitrephanes phaeocercus; Carr Canyon–Reef Townsite US-AZ 09-Aug-17 *
Olive-sided Flycatcher – Contopus cooperi; Doodletown US-NY 20-May-17

Greater Pewee – Contopus pertinax; Miller Canyon Trail US-AZ 08-Aug-17
Western Wood-Pewee – Contopus sordidulus; Ramsey Canyon Inn US-AZ 30-Jul-17
Eastern Wood-Pewee – Contopus virens; Sandy Hook US-NJ 17-May-17
Cuban Pewee – Contopus caribaeus; Campismo La Chorrera CU-AP 21-Mar-17
Fuscous Flycatcher – Cnemotriccus fuscatus; Pantanal — Pousada Piuval BR-MT 10-Sep-17
Yellow-bellied Flycatcher – Empidonax flaviventris; Bloomingdale Bog US-NY 17-Jun-17
Alder Flycatcher – Empidonax alnorum; Lord Stirling Park US-NJ 30-May-17
Willow Flycatcher – Empidonax traillii; Sandy Hook US-NJ 17-May-17
Least Flycatcher – Empidonax minimus; Sterling Forest US-NY 11-May-17
Hammond's Flycatcher – Empidonax hammondii; Central Park US-NY 26-Nov-17
Pacific-slope Flycatcher – Empidonax difficilis; Patagonia Lake SP US-AZ 07-Aug-17
Cordilleran Flycatcher – Empidonax occidentalis; Montosa Canyon US-AZ 06-Aug-17
Buff-breasted Flycatcher – Empidonax fulvifrons; Carr Canyon–Reef Townsite US-AZ, 09-Aug-17
Black Phoebe – Sayornis nigricans; Cave Creek Canyon–South Fork US-AZ 01-Aug-17
Eastern Phoebe – Sayornis phoebe; Cheriton Landfill US-VA 6-Jan-17
Say's Phoebe – Sayornis saya; Hereford, Conchise County US-AZ 30-Jul-17
Vermilion Flycatcher – Pyrocephalus rubinus; De Anza Trail–Tumacacori US-AZ 06-Aug-17
Drab Water Tyrant – Ochthornis littoralis; Rio Teles Pires–islands on lower Teles Pires BR-MT 07-Sep-17
Gray Monjita – Xolmis cinereus; Chapada dos Guimarães–Estrada da Geladeira BR-MT 16-Sep-17
White-rumped Monjita – Xolmis velatus; Pantanal — Pousada Piuval BR-MT 11-Sep-17
Black-backed Water-Tyrant – Fluvicola albiventer; Pantanal — Pousada Piuval BR-MT 10-Sep-17
White-headed Marsh Tyrant – Arundinicola leucocephala; Pantanal — Pousada Piuval BR-MT 10-Sep-17
Long-tailed Tyrant – Colonia colonus; Cristalino Lodge–Serra Trail BR-MT 06-Sep-17
Cattle Tyrant – Machetornis rixosa; Cuiaba–Parque Mae Bonifacia, Brazil BR-MT 04-Sep-17
Rufous Casiornis – Casiornis rufus; Cristalino Lodge–Serra Trail BR-MT 06-Sep-17
Dusky-capped Flycatcher – Myiarchus tuberculifer; Miller Canyon Trail US-AZ 08-Aug-17
Swainson's Flycatcher – Myiarchus swainsoni; Cristalino Lodge–Serra Trail BR-MT 06-Sep-17
Short-crested Flycatcher – Myiarchus ferox; Cuiaba–Parque Mae Bonifacia, Brazil BR-MT 04-Sep-17
Great Crested Flycatcher – Myiarchus crinitus; Belleplain SF US-NJ 29-Apr-17
Brown-crested Flycatcher – Myiarchus tyrannulus; Cave Creek Canyon–South Fork US-AZ, 02-Aug-17
La Sagra's Flycatcher – Myiarchus sagrae; Campismo La Chorrera CU-AP 21-Mar-17
Lesser Kiskadee – Pitangus lictor; Cristalino Lodge — Limão BR-MT 08-Sep-17
Great Kiskadee – Pitangus sulphuratus; Várzea Grande, Brazil, BR-MT 03-Sep-17
Boat-billed Flycatcher – Megarynchus pitangua; Cristalino Lodge BR-MT 05-Sep-17
Rusty-margined Flycatcher – Myiozetetes cayanensis; Cuiaba–Parque Mae Bonifacia, Brazil BR-MT 04-Sep-17
Dusky-chested Flycatcher – Myiozetetes luteiventris; Cristalino Lodge–Tower 1 BR-MT 07-Sep-17
Streaked Flycatcher – Myiodynastes maculatus; Pantanal–Rio Pixaim vicinity BR-MT 13-Sep-17
Sulphur-bellied Flycatcher – Myiodynastes luteiventris; Ramsey Canyon Inn US-AZ 28-Jul-17
Piratic Flycatcher – Legatus leucophaius; Cuiaba–Parque Mae Bonifacia, Brazil BR-MT 04-Sep-17
Variegated Flycatcher – Empidonomus varius; Cristalino Lodge–Serra Trail BR-MT 06-Sep-17
Crowned Slaty Flycatcher – Empidonomus aurantioatrocristatus; Cristalino Lodge–Serra Trail BR-MT 06-Sep-17
White-throated Kingbird – Tyrannus albogularis;  Cristalino Lodge BR-MT 05-Sep-17
Tropical Kingbird – Tyrannus melancholicus; Amado WTP 05-Aug-17
Cassin's Kingbird – Tyrannus vociferans; Sierra Vista US-AZ 29-Jul-17
Thick-billed Kingbird – Tyrannus crassirostris; Patagonia Roadside Rest Area US-AZ 07-Aug-17
Western Kingbird – Tyrannus verticalis; Frog Pond WMA–Lucky Hammock US-FL 17-Jan-17
Eastern Kingbird – Tyrannus tyrannus; Dallenbach Park US-NJ 01-May-17
Gray Kingbird – Tyrannus dominicensis; L1 Dike Road US-FL 24-Jan-17
Loggerhead Kingbird – Tyrannus caudifasciatus; Campismo La Chorrera CU-AP 21-Mar-17
Giant Kingbird – Tyrannus cubensis; Sierra del Chorillo–Sendero de las Aves CU-CM 26-Mar-17
Scissor-tailed Flycatcher – Tyrannus forficatus; Space Coast Regional Airport US-FL 8-Jan-17
Fork-tailed Flycatcher – Tyrannus savana; Cristalino Lodge — Limão BR-MT 08-Sep-17
Amazonian Umbrellabird – Cephalopterus ornatus; Rio Teles Pires — Ilha Ariosto BR-MT 08-Sep-17
Spangled Cotinga – Cotinga cayana; Cristalino Lodge BR-MT 05-Sep-17
Screaming Piha – Lipaugus vociferans; Cristalino Lodge–Tower 1 BR-MT 07-Sep-17
Pompadour Cotinga – Xipholena punicea; Cristalino Lodge BR-MT 05-Sep-17
Bare-necked Fruitcrow – Gymnoderus foetidus; Cristalino Lodge BR-MT 05-Sep-17
Helmeted Manakin – Antilophia galeata;Fazenda Campo Largo BR-MT 14-Sep-17
Snow-capped Manakin – Lepidothrix nattereri; Pocinha Francisco, Brazil BR-MT 05-Sep-17
White-crowned Manakin – Dixiphia pipra; Pocinha Francisco, Brazil BR-MT 05-Sep-17
Red-headed Manakin – Ceratopipra rubrocapilla; Cristalino Lodge–Tower 1 BR-MT 07-Sep-17
Black-tailed Tityra – Tityra cayana; Pantanal — Pousada Piuval BR-MT 10-Sep-17
Masked Tityra – Tityra semifasciata; Cristalino Lodge–Serra Trail BR-MT 06-Sep-17
Varzea Schiffornis – Schiffornis major; Rio Cristalino–between Teles Pires and Cristalino Lodge BR-MT 09-Sep-17
Brown-winged Schiffornis – Schiffornis turdina; Pocinha Francisco, Brazil BR-MT 05-Sep-17
White-naped Xenopsaris – Xenopsaris albinucha; Cuiaba–Parque Mae Bonifacia, Brazil BR-MT 04-Sep-17
Rose-throated Becard – Pachyramphus aglaiae; De Anza Trail–Tumacacori US-AZ 06-Aug-17
Crested Becard – Pachyramphus validus; PN Chapada dos Guimarães–Pousada do Parque BR-MT 17-Sep-17
Loggerhead Shrike – Lanius ludovicianus Savannah NWR US-SC 7-Jan-17
Northern Shrike – Lanius excubitor; Tupper Lake US-NY 31-Jan-17
Rufous-browed Peppershrike – Cyclarhis gujanensis; Pantanal–Porto Jofre vicinity BR-MT 12-Sep-17
Ashy-headed Greenlet – Hylophilus pectoralis; Pantanal — Campos do Jofre BR-MT 11-Sep-17
White-eyed Vireo – Vireo griseus; PN Viñales–Sendero Maravillas CU-PR 22-Mar-17
Thick-billed Vireo – Vireo crassirostris; Faro Paredón Grande CU-CA 28-Mar-17
Cuban Vireo – Vireo gundlachii; PN Viñales–Sendero Maravillas CU-PR 22-Mar-17
Bell's Vireo – Vireo bellii; Mt. Lemmon US-AZ 04-Aug-17
Gray Vireo – Vireo vicinior; Mt. Lemmon US-AZ 04-Aug-17 (heard only)
Hutton's Vireo – Vireo huttoni; Ash Canyon B&B US-AZ 30-Jul-17
Yellow-throated Vireo – Vireo flavifrons; Cayo Coco CU-  28-Mar-17
Blue-headed Vireo – Vireo solitarius; Evergreen Cemetery US-FL 12-Jan-17
Plumbeous Vireo – Vireo plumbeus; Portal US-AZ 01-Aug-17
Warbling Vireo – Vireo gilvus; Higbee Beach US-NJ 29-Apr-17
Red-eyed Vireo – Vireo olivaceus; Forest Park US-NY 09-May-17
Black-whiskered Vireo – Vireo altiloquus; Campismo La Chorrera CU-AP 21-Mar-17
Gray Jay – Perisoreus canadensis; Sabattis Rd. US-NY 1-Feb-17
Purplish Jay – Cyanocorax cyanomelas; Pantanal — Pousada Piuval BR-MT 10-Sep-17
Curl-crested Jay – Cyanocorax cristatellus; Chapada dos Guimarães–Estrada da Geladeira BR-MT 16-Sep-17
Steller's Jay – Cyanocitta stelleri; Mt. Lemmon US-AZ 04-Aug-17
Blue Jay – Cyanocitta cristata; Old Spye Road US-NJ 1-Jan-17
Florida Scrub-Jay – Aphelocoma coerulescens; Cape Coral US-FL 25-Jan-17
Woodhouse's Scrub-Jay – Aphelocoma woodhouseii; Casa de Conrad, Portal US-AZ 03-Aug-17
Mexican Jay – Aphelocoma wollweberi; Ash Canyon B&B US-AZ 30-Jul-17
American Crow – Corvus brachyrhynchos; Franklin Township US-NJ 2-Jan-17
Palm Crow (Cuban) – Corvus palmarum; road stop CU-CM 26-Mar-17
Cuban Crow – Corvus nasicus; Playa Larga CU-MA 24-Mar-17
Fish Crow – Corvus ossifragus; Cheriton Landfill US-VA 06-Jan-17
Chihuahuan Raven – Corvus cryptoleucu; Portal US-AZ 02-Aug-17
Common Raven – Corvus corax; Buchanan Riverfront Park US-NJ 1-Jan-17
Horned Lark – Eremophila alpestris Orange County US-NY 4-Feb-17
Black-collared Swallow – Pygochelidon melanoleuca; Rio Teles Pires–islands on lower Teles Pires BR-MT 07-Sep-17
White-banded Swallow – Atticora fasciata; Rio Cristalino BR-MT 04-Sep-17
Northern Rough-winged Swallow – Stelgidopteryx serripennis; Castillo De Los Tres Reyes Del Morro CU-CH 30-Mar-17
Southern Rough-winged Swallow – Stelgidopteryx ruficollis; Cuiaba–Parque Mae Bonifacia, Brazil BR-MT 04-Sep-17
Purple Martin – Progne subis; Joan's yard, Davie US-NY 16-Mar-17
Cuban Martin – Progne cryptoleuca; Camagüey CU-CM 26-Mar-17
Gray-breasted Martin – Progne chalybea; Cristalino Lodge BR-MT 05-Sep-17
Brown-chested Martin – Progne tapera; Várzea Grande, Brazil, BR-MT 03-Sep-17
Tree Swallow – Tachycineta bicolor Cheriton Landfill US-VA 6-Jan-17
White-winged Swallow – Tachycineta albiventer; Rio Cristalino BR-MT 04-Sep-17
Bahama Swallow – Tachycineta cyaneoviridis; Cayo Guillermo CU-CA 27-Mar-17
Bank Swallow – Riparia riparia; Mecox Inlet US-NY 27-May-17
Barn Swallow – Hirundo rustica; Cayo Guillermo CU-CA 27-Mar-17
Cliff Swallow – Petrochelidon pyrrhonota; Amado WTP US-AZ 05-Aug-17
Cave Swallow – Petrochelidon fulva; Playa Giron, CU-MA 23-Mar-17
Carolina Chickadee – Poecile carolinensis; Morgan Avenue Mudflats US-NJ 1-Jan-17
Black-capped Chickadee – Poecile atricapillus; Newcomb US-NY 31-Jan-17
Mountain Chickadee – Poecile gambeli; Mt. Lemmon US-AZ 04-AZ-17
Mexican Chickadee – Poecile sclateri; Portal US-AZ 01-Aug-17
Bridled Titmouse – Baeolophus wollweberi; Ramsey Canyon Inn US-AZ 29-Jul-17
Tufted Titmouse – Baeolophus bicolor; Morgan Avenue Mudflats US-NJ 1-Jan-17
Verdin – Auriparus flaviceps; Desert Botanical Garden, Phoenix US-AZ 28-Jul-17
Bushtit – Psaltriparus minimus; Ramsey Canyon Preserve US-AZ 31-Jul-17
Red-breasted Nuthatch – Sitta canadensis; Tennent Pond US-NJ 1-Jan-17
White-breasted Nuthatch – Sitta carolinensis; Morgan Avenue Mudflats US-NJ 1-Jan-17
Pygmy Nuthatch – Sitta pygmaea; Mt. Lemmon US-AZ 04-AZ-17
Brown-headed Nuthatch – Sitta pusilla; Victoria's House US-GA 27-Jan-17
Brown Creeper – Certhia americana Newcomb US-NY 31-Jan-17
Rock Wren – Salpinctes obsoletus; Franklin Township (2016-17)" US-NJ 2-Jan-17
Tooth-billed Wren – Odontorchilus cinereus; Cristalino Lodge — Torre 1 BR-MT 07-Sep-17
Canyon Wren – Catherpes mexicanus; Florida Wash US-AZ 05-Aug-17
Zapata Wren – Ferminia cerverai; PN Ciénaga de Zapata–San Tomas CU-MA 24-Mar-17
House Wren – Troglodytes aedon St. Sebastian River Preserve SP–Northwest US-FL 9-Jan-17
Winter Wren – Troglodytes hiemalis; Central Park US-NY 14-Apr-17
Sedge Wren – Cistothorus platensis Viera Wetlands US-FL 9-Jan-17
Marsh Wren – Cistothorus palustris Viera Wetlands US-FL 9-Jan-17
Carolina Wren – Thryothorus ludovicianus Morgan Avenue Mudflats US-NJ 1-Jan-17
Bewick's Wren – Thryomanes bewickii; Ash Canyon B&B US-AZ 30-Jul-17
Cactus Wren – Campylorhynchus brunneicapillus; Desert Botanical Gardens, Phoenix US-AZ 28-Jul-17
Thrush-like Wren – Campylorhynchus turdinus; Cuiaba–Parque Mae Bonifacia, Brazil BR-MT 04-Sep-17
Moustached Wren – Pheugopedius genibarbis; Cuiaba–Parque Mae Bonifacia, Brazil BR-MT 04-Sep-17
Buff-breasted Wren – Cantorchilus leucotis; Cuiaba–Parque Mae Bonifacia, Brazil BR-MT 04-Sep-17
Fawn-breasted Wren – Cantorchilus guarayanus; Pantanal–Porto Jofre vicinity BR-MT 12-Sep-17
Blue-gray Gnatcatcher – Polioptila caerulea Viera Wetlands US-FL 9-Jan-17
Cuban Gnatcatcher – Polioptila lembeyei; Faro Paredón Grande CU-CA 28-Mar-17
Black-tailed Gnatcatcher – Polioptila melanura; Desert Botanical Garden, Phoenix 28-Jul-17
Black-capped Gnatcatcher – Polioptila nigriceps; Montosa Canyon US-AZ 06-Aug-17
Masked Gnatcatcher – Polioptila dumicola; Cuiaba–Parque Mae Bonifacia, Brazil BR-MT 04-Sep-17
Red-whiskered Bulbul – Pycnonotus jocosus; Miami-Dade County US-FL 16-Mar-17
Golden-crowned Kinglet – Regulus satrapa Tennent PondUS-NJ 1-Jan-17
Ruby-crowned Kinglet – Regulus calendula; Julian L. Capik Nature Preserve US-NJ 1-Jan-17
Black-capped Donacobius – Donacobius atricapilla; Rio Cristalino — Lagoa Cigana BR-MT 08-Sep-17
Eastern Bluebird – Sialia sialis Lake Mayer (Savannah) US-GA 27-Jan-17
Western Bluebird – Sialia mexicana; Mt. Lemmon US-AZ 04-Aug-17
Veery – Catharus fuscescens; Dallenbach Park US-NJ 01-May-17
Gray-cheeked Thrush – Catharus minimus; Forest Park US-NY 19-May-17
Swainson's Thrush – Catharus ustulatus; Dallenbach Park US-NJ 01-May-17
Hermit Thrush – Catharus guttatus; Victoria's House–US-GA-Savannah US-GA 27-Jan-17
Wood Thrush – Hylocichla mustelina; Belleplain SP US-NJ 29-Apr-17
Pale-breasted Thrush – Turdus leucomelas; Várzea Grande, Brazil, BR-MT 03-Sep-17
Rufous-bellied Thrush – Turdus rufiventris; Várzea Grande, Brazil, BR-MT 03-Sep-17
Clay-colored Thrush – Turdus grayi; Panama City PA-PN 18-Sep-17
Creamy-bellied Thrush – Turdus amaurochalinus; Pantanal–Rio Pixaim vicinity BR-MT 15-Sep-17
American Robin – Turdus migratorius; Morgan Avenue Mudflats US-NJ 1-Jan-17
Red-legged Thrush – Turdus plumbeus; Hotel Nacional de Cuba CU-CH 20-Mar-17
Gray Catbird – Dumetella carolinensis; St. Sebastian River Preserve SP–Northwest US-FL 9-Jan-17
Curve-billed Thrasher – Toxostoma curvirostre; Desert Botanical Garden, Phoenix US-AZ 28-Jul-17
Brown Thrasher – Toxostoma rufum; Jones Beach SP US-NY 09-May-17
Bendire's Thrasher – Toxostoma bendirei; Stateline Rd., Hidaldo Co., US-NM 02-Aug-17
Crissal Thrasher – Toxostoma crissale; Casa de Conrad, Portal US-AZ 01-Aug-17
Chalk-browed Mockingbird – Mimus saturninus; Pantanal–Porto Jofre vicinity BR-MT 12-Sep-17
Tropical Mockingbird – Mimus gilvus; Panama City PA-PN 18-Sep-17
Northern Mockingbird – Mimus polyglottos; Morgan Avenue Mudflats US-NJ 1-Jan-17
European Starling – Sturnus vulgaris; Morgan Avenue Mudflats US-NJ 1-Jan-17
Common Myna – Acridotheres tristis; TriRail Transfer Station, Hialeah US-FL 21-Jan-17 173
American Pipit – Anthus rubescens; Jones Beach SP–West End US-NY 25-Nov-17
Yellowish Pipit – Anthus lutescens; Pantanal — Pousada Piuval BR-MT 10-Sep-17
Cedar Waxwing – Bombycilla cedrorum; Sandy Hook US-NJ 06-May-17
Phainopepla – Phainopepla nitens; Mt. Lemmon US-AZ 04-Aug-17
Olive Warbler – Peucedramus taeniatus; Carr Canyon–Reef Townsite US-AZ 09-Aug-17
Snow Bunting – Plectrophenax nivalis; Robert Moses SP US-NY 17-Feb-17
Ovenbird – Seiurus aurocapilla; Refugio de Fauna Bermeja CU-MA 23-Mar-17
Worm-eating Warbler – Helmitheros vermivorum; Cayo Coco–Cueva del Jabali CU-CA 29-Mar-17
Louisiana Waterthrush – Parkesia motacilla; PN Viñales–Sendero Maravillas CU-PR 22-Mar-17
Northern Waterthrush – Parkesia noveboracensis; road stop CU-PR 22-Mar-17
Golden-winged Warbler – Vermivora chrysoptera; Sterling Forest US-NY 11-May-17
Blue-winged Warbler – Vermivora cyanoptera; Sterling Forest US-NY 11-May-17
Black-and-white Warbler – Mniotilta varia; Evergreen Cemetery US-FL 15-Mar-17
Prothonotary Warbler – Protonotaria citrea; Saltmarsh Nature Center at Marine Park US-NY 13-Apr-17
Swainson's Warbler – Limnothlypis swainsonii; Soplillar CU-MA 23-Mar-17

Tennessee Warbler – Oreothlypis peregrina; Central Park US-NY 10-May-17
Orange-crowned Warbler – Oreothlypis celata; Richardson Historic Park and Nature Preserve US-FL 19-Jan-17
Lucy's Warbler – Oreothlypis luciae; Cheriton Landfill US-VA 6-Jan-17
Nashville Warbler – Oreothlypis ruficapilla; Cheriton Landfill US-VA 6-Jan-17
Virginia's Warbler – Oreothlypis virginiae; Mt. Lemmon US-AZ 04-Aug-17
Mourning Warbler – Geothlypis philadelphia; Little Tupper Lake US-NY 19-Jun-17
Kentucky Warbler – Geothlypis formosa; Alley Pond Park US-NY 2-May-17 (heard only)
Common Yellowthroat – Geothlypis trichas; Viera Wetlands US-FL 9-Jan-17

Hooded Warbler – Setophaga citrina; Richardson Historic Park and Nature Preserve US-FL 19-Jan-17
American Redstart – Setophaga ruticilla; Evergreen Cemetery US-FL 12-Jan-17
Cape May Warbler – Setophaga tigrina; Road stop CU-CF 25-Mar-17
Cerulean Warbler – Setophaga cerulea; Doodletown US-NY 20-May-17
Northern Parula – Setophaga americana; Evergreen Cemetery US-FL 12-Jan-17
Magnolia Warbler – Setophaga magnolia; PN Viñales–Sendero Maravillas CU-PR 22-Mar-17
Bay-breasted Warbler – Setophaga castanea; Central Park US-NY 03-May-17
Blackburnian Warbler – Setophaga fusca; Forest Park US-NY 16-May-17
Yellow Warbler (Golden) – Setophaga petechia; PN Cienaga de Zapata–Las Salinas CU-MA 24-Mar-17
Chestnut-sided Warbler – Setophaga pensylvanica; Forest Park US-NY 16-May-17
Blackpoll Warbler – Setophaga striata; Forest Park Waterhole US-NY 09-May-17
Black-throated Blue Warbler – Setophaga caerulescens; Richardson Historic Park and Nature Preserve US-FL 12-Jan-17
Palm Warbler – Setophaga palmarum; Space Coast Regional Airport US-FL 8-Jan-17
Olive-capped Warbler – Setophaga pityophila; Hacienda Cortena CU-AR 21-Mar-17
Pine Warbler – Setophaga pinus; Evergreen Cemetery US-FL 12-Jan-17
Yellow-rumped Warbler – Setophaga coronata; Morgan Avenue Mudflats US-NJ 1-Jan-17
Yellow-throated Warbler – Setophaga dominica; Evergreen Cemetery US-FL 15-Mar-17
Prairie Warbler – Setophaga discolor; Evergreen Cemetery  US-FL 12-Jan-17
Grace's Warbler – Setophaga graciae; East Turkey Creek, Portal US-AZ 01-Aug-17
Black-throated Gray Warbler – Setophaga nigrescens; Evergreen Cemetery US-FL 12-Jan-17 186
Townsend's Warbler – Setophaga townsendi; Mt. Lemmon US-AZ 04-Aug-17
Hermit Warbler – Setophaga occidentalis; Mt. Lemmon US-AZ 04-Aug-17
Black-throated Green Warbler – Setophaga virens; Sierra del Chorillo–Sendero de las Aves CU-CM 26-Mar-17
Rufous-capped Warbler – Basileuterus rufifrons; Miller Canyon Trail US-AZ 08-Aug-17
Golden-crowned Warbler (White-bellied) – Basileuterus culicivorus; Cuiaba–Parque Mae Bonifacia, Brazil BR-MT 04-Sep-17
Flavescent Warbler – Myiothlypis flaveola; Pantanal–Porto Jofre vicinity BR-MT 12-Sep-17
Canada Warbler – Cardellina canadensis; Central Park US-NY 16-May-17
Wilson's Warbler – Cardellina pusilla; Central Park US-NY 10-May-17
Red-faced Warbler – Cardellina rubrifrons; East Turkey Creek, Portal US-AZ 01-Aug-17
Painted Redstart – Myioborus pictus; Ramsey Canyon US-AZ 31-Jul-17
Red-crested Cardinal – Paroaria coronata; Pantanal — Pousada Piuval BR-MT 10-Sep-17
Red-capped Cardinal – Paroaria gularis; Rio Cristolino upstream BR-MT 06-Sep-17
Cinnamon Tanager – Schistochlamys ruficapillus; Chapada dos Guimarães–Estrada da Geladeira BR-MT 16-Sep-17
White-banded Tanager – Neothraupis fasciata; Chapada dos Guimarães–Estrada da Geladeira BR-MT 16-Sep-17
Hooded Tanager – Nemosia pileata; Pantanal — Pousada Piuval BR-MT 11-Sep-17
White-rumped Tanager – Cypsnagra hirundinacea; Chapada dos Guimarães–Estrada da Geladeira BR-MT 16-Sep-17
Gray-headed Tanager – Eucometis penicillata; Pantanal–Rio Pixaim vicinity BR-MT 14-Sep-17
White-lined Tanager – Tachyphonus rufus; Chapada dos Guimarães–Véu da Noiva Falls BR-MT 15-Sep-17
White-winged Shrike-Tanager – Lanio versicolor; Pocinha Francisco BR-MT 05-Sep-17
Silver-beaked Tanager – Ramphocelus carbo; Cristalino Lodge–Tower 1 BR-MT 07-Sep-17
Blue-gray Tanager – Thraupis episcopus; Rio Cristolino upstream BR-MT 06-Sep-17
Sayaca Tanager – Thraupis sayaca; Várzea Grande, Brazil, BR-MT 03-Sep-17
Palm Tanager – Thraupis palmarum; Cristalino Lodge–lodge grounds BR-MT 07-Sep-17
Burnished-buff Tanager – Tangara cayana; Chapada dos Guimarães–Véu da Noiva Falls BR-MT 15-Sep-17
Blue-necked Tanager – Tangara cyanicollis; Rio Teles Pires–islands on lower Teles Pires BR-MT 07-Sep-17
Turquoise Tanager – Tangara mexicana; Cristalino Lodge–Serra Trail BR-MT 06-Sep-17
Opal-rumped Tanager – Tangara velia; Cristolino Lodge Tower 2 BR-MT 05-Sep-17
Bay-headed Tanager – Tangara gyrola; Pocinha Francisco, Brazil BR-MT 05-Sep-17
Swallow Tanager – Tersina viridis; Chapada dos Guimarães–Véu da Noiva Falls BR-MT 15-Sep-17
Black-faced Dacnis – Dacnis lineata; Cristolino Lodge Tower 2 BR-MT 05-Sep-17
Blue Dacnis – Dacnis cayana; Cristolino Lodge Tower 2 BR-MT 05-Sep-17
Short-billed Honeycreeper – Cyanerpes nitidus; Cristolino Lodge Tower 2 BR-MT 05-Sep-17
Red-legged Honeycreeper – Cyanerpes cyaneus; Campismo La Chorrera CU-AP 21-Mar-17
Yellow-backed Tanager – Hemithraupis flavicollis; Cristolino Lodge Tower 2 BR-MT 05-Sep-17
Blue Finch – Porphyrospiza caerulescens; Chapada dos Guimarães–Véu da Noiva Falls BR-MT 15-Sep-17
Saffron Finch – Sicalis flaveola; Várzea Grande, Brazil, BR-MT 03-Sep-17
Blue-black Grassquit – Volatinia jacarina; Cristalino Lodge–Serra Trail BR-MT 06-Sep-17
White-bellied Seedeater – Sporophila leucoptera; Cuiaba–Parque Mae Bonifacia, Brazil BR-MT 04-Sep-17
Yellow-bellied Seedeater – Sporophila nigricollis; Várzea Grande, Brazil, BR-MT 03-Sep-17
Double-collared Seedeater – Sporophila caerulescens; Várzea Grande, Brazil, BR-MT 03-Sep-17
Plumbeous Seedeater – Sporophila plumbea; Chapada dos Guimarães–Estrada da Geladeira BR-MT 16-Sep-17
Rusty-collared Seedeater – Sporophila collaris; Pantanal — Pousada Piuval BR-MT 10-Sep-17
Red-crested Finch – Coryphospingus cucullatus; Cuiaba–Parque Mae Bonifacia, Brazil BR-MT 04-Sep-17
Bananaquit – Coereba flaveola' Wilton Manors US-FL 19-Jan-17
Cuban Grassquit – Tiaris canorus; Campismo La Chorrera CU-AP 21-Mar-17
Yellow-faced Grassquit – Tiaris olivaceus; Hacienda Cortena CU-AR 21-Mar-17
Cuban Bullfinch (Cuban) – Melopyrrha nigra; PN Viñales–Sendero Maravillas CU-PR 22-Mar-17
Black-throated Saltator – Saltatricula atricollis; Chapada dos Guimarães–Estrada da Geladeira BR-MT 16-Sep-17
Buff-throated Saltator – Saltator maximus; PN Chapada dos Guimarães–Pousada do Parque BR-MT 17-Sep-17
Grayish Saltator – Saltator coerulescens; Várzea Grande, Brazil, BR-MT 03-Sep-17
Rufous-winged Sparrow – Peucaea carpalis; Florida Wash US-AZ 05-Aug-17
Botteri's Sparrow – Peucaea botterii; Stateline Rd., Cochise County US-AZ 03-Aug-17

Cassin's Sparrow – Peucaea cassinii; Stateline Rd., Cochise County US-AZ 02-Aug-17
Grasshopper Sparrow – Ammodramus savannarum; Negri-Nepote Grassland US-NJ 07-May-17
Henslow's Sparrow – Ammodramus henslowii; Shawangunk Grasslands NWR US-NY 30-May-17
Seaside Sparrow – Ammodramus maritimus; Jake's Landing US-NJ 29-Apr-17
American Tree Sparrow – Spizelloides arborea; Morgan Avenue Mudflats US-NJ 1-Jan-17
Chipping Sparrow – Spizella passerina; Savannah NWR US-SC 7-Jan-17 189
Field Sparrow – Spizella pusilla; Cheriton Landfill US-VA 6-Jan-17
Black-throated Sparrow – Amphispiza bilineata; Casa de Conrad, Portal US-AZ 01-Aug-17
Five-striped Sparrow – Amphispiza quinquestriata; Montosa Canyon US-AZ 11-Aug-17
Lark Sparrow – Chondestes grammacus; Casa de Conrad, Portal US-AZ 31-Jul-17
Lark Bunting – Calamospiza melanocorys; Stateline Rd. (Conchise County) US-AZ 02-Aug-17
Saffron-billed Sparrow – Arremon flavirostris; Pantanal — Pousada Piuval BR-MT 11-Sep-17
Fox Sparrow – Passerella iliaca; Alley Pond Park Restoration Area US-NY 25-Nov-17
Dark-eyed Junco – Junco hyemalis; Morgan Avenue Mudflats US-NJ 1-Jan-17
Yellow-eyed Junco – Junco phaeonotus; East Turkey Creek US-AZ 01-Aug-17
White-crowned Sparrow – Zonotrichia leucophrys; Central Park US-NY 04-May-17
White-throated Sparrow – Zonotrichia albicollis; Morgan Avenue Mudflats US-NJ 1-Jan-17
Savannah Sparrow – Passerculus sandwichensis; Old Spye Road US-NJ 1-Jan-17
Song Sparrow – Melospiza melodia; Morgan Avenue Mudflats US-NJ 1-Jan-17
Lincoln's Sparrow – Melospiza lincolnii; Central Park US-NY 03-May-17
Swamp Sparrow – Melospiza georgiana; Morgan Avenue Mudflats US-NJ 1-Jan-17
Zapata Sparrow – Torreornis inexpectata; PN Ciénaga de Zapata–San Tomas CU-MA 24-Mar-17
Canyon Towhee – Melozone fusca; Desert Botanical Garden, Phoenix 29-Jul-17
Abert's Towhee – Melozone aberti; Phoenix US-AZ 28-Jul-17
Rufous-crowned Sparrow – Aimophila ruficeps; Carr Canyon–Reef Townsite US-AZ 09-Aug-17
Spotted Towhee – Pipilo maculatus; Ramsey Canyon Inn US-AZ 29-Jul-17
Eastern Towhee – Pipilo erythrophthalmus; Huntley Meadows Park US-VA 29-Jan-17
Western Spindalis – Spindalis zena; PN Viñales–Sendero Maravillas CU-PR 22-Mar-17
Yellow-headed Warbler – Teretistris fernandinae; PN Viñales–Sendero Maravillas CU-PR 22-Mar-17
Oriente Warbler – Teretistris fornsi; road stop CU-CM 27-Mar-17
Yellow-breasted Chat – Icteria virens; De Anza Trail–Tumacacori US-AZ 06-Aug-17
Hepatic Tanager – Piranga flava; Ramsey Canyon Preserve US-AZ 31-Jul-17
Summer Tanager – Piranga rubra; Battery Park US-NY 10-May-17
Scarlet Tanager – Piranga olivacea; William Warren County Park US-NJ 06-May-17
Western Tanager – Piranga ludoviciana; Ash Canyon B&B US-AZ 30-Jul-17
Red-crowned Ant-Tanager – Habia rubica; Rio Cristalino upstream BR-MT 06-Sep-17
Northern Cardinal – Cardinalis cardinalis; Morgan Avenue Mudflats US-NJ 1-Jan-17
Pyrrhuloxia – Cardinalis sinuatus; Casa de Conrad, Portal US-AZ 31-Jul-17
Rose-breasted Grosbeak – Pheucticus ludovicianus; D&R Canal, Somerset County US-NJ 28-Apr-17
Black-headed Grosbeak – Pheucticus melanocephalus; Ramsey Canyon Inn US-AZ 29-Jul-17
Rose-breasted Chat – Granatellus pelzelni; Cristalino Lodge–Tower 1 BR-MT 07-Sep-17
Blue Grosbeak – Passerina caerulea; Higbee Beach US-NJ 29-Apr-17
Lazuli Bunting – Passerina amoena; Rio Rico Ponds US-AZ 06-Aug-17
Indigo Bunting – Passerina cyanea; PN Viñales–Sendero Maravillas CU-PR 22-Mar-17
Varied Bunting – Passerina versicolor; Florida Wash US-AZ 05-Aug-17
Painted Bunting – Passerina ciris; Merritt Island NWR US-FL 8-Jan-17
Dickcissel – Spiza americana; Shawangunk Grasslands NWR US-NY 30-May-17
Bobolink – Dolichonyx oryzivorus; Sandy Hook US-NJ 06-May-17
Red-winged Blackbird – Agelaius phoeniceus Morgan Avenue Mudflats US-NJ 1-Jan-17
Red-shouldered Blackbird – Agelaius assimilis; Refugio de Fauna Bermeja CU-MA 23-Mar-17
Tawny-shouldered Blackbird – Agelaius humeralis; Campismo La Chorrera CU-AP 21-Mar-17
Eastern Meadowlark – Sturnella magna; southern Miami US-FL 14-Jan-17
Crested Oropendola – Psarocolius decumanus; Pantanal — Pousada Piuval BR-MT 10-Sep-17
Olive Oropendola – Psarocolius bifasciatus; Cristalino Lodge BR-MT 05-Sep-17
Solitary Black Cacique – Cacicus solitarius; Pantanal–Rio Pixaim vicinity BR-MT 11-Sep-17
Yellow-rumped Cacique – Cacicus cela; Rio Cristalino BR-MT 04-Sep-17
Cuban Blackbird – Dives atroviolaceus; Hotel Nacional de Cuba CU-CM 20-Mar-17
Rusty Blackbird – Euphagus carolinus; Alley Pond Park US-NY 13-Apr-17
Common Grackle – Quiscalus quiscula; Morgan Avenue Mudflats US-NJ 1-Jan-17
Boat-tailed Grackle – Quiscalus major; I95 Florida Welcome Centre US-FL 7-Jan-17
Great-tailed Grackle – Quiscalus mexicanus; Encanto Park, Phoenix US-AZ 28-Jul-17
Greater Antillean Grackle – Quiscalus niger; Campismo La Chorrera CU-AP 21-Mar-17
Scarlet-headed Blackbird – Amblyramphus holosericeus; Pantanal — Campos do Jofre BR-MT 13-Sep-17
Chopi Blackbird – Gnorimopsar chopi; Pantanal — Pousada Piuval BR-MT 10-Sep-17
Grayish Baywing – Agelaioides badius; Pantanal — Pousada Piuval BR-MT 10-Sep-17
Unicolored Blackbird – Agelasticus cyanopus; Pantanal–Porto Jofre vicinity BR-MT 12-Sep-17
Purple-throated Euphonia – Euphonia chlorotica; Rio Teles Pires–islands on lower Teles Pires BR-MT 07-Sep-17
Golden-bellied Euphonia – Euphonia chrysopasta; Cristalino Lodge–Tower 1 BR-MT 07-Sep-17
Rufous-bellied Euphonia – Euphonia rufiventris; Cristalino Lodge BR-MT 05-Sep-17
Shiny Cowbird – Molothrus bonariensis; farm CU-AR 21-Mar-17
Bronzed Cowbird – Molothrus aeneus; Encanto Park, Phoenix US-AZ 28-Jul-17
Brown-headed Cowbird – Molothrus ater; Sinking Spring  US-PA 8-Feb-17
Giant Cowbird – Molothrus oryzivorus; Rio Teles Pires–islands on lower Teles Pires BR-MT 07-Sep-17
Cuban Oriole – Icterus melanopsis; Campismo La Chorrera CU-AP 21-Mar-17
Orchard Oriole – Icterus spurius; Sandy Hook NWR US-NJ 03-May-17
Hooded Oriole – Icterus cucullatus; Casa de Conrad, Portal US-AZ 31-Jul-17
Epaulet Oriole – Icterus cayanensis; Cristalino Lodge–Tower 1 BR-MT 07-Sep-17
Variable Oriole – Icterus pyrrhopterus; Pantanal — Pousada Piuval BR-MT 10-Sep-17
Orange-backed Troupial – Icterus croconotus; Pantanal — Pousada Piuval BR-MT 10-Sep-17
Bullock's Oriole – Icterus bullockii; Lititz  US-PA 8-Feb-17
Spot-breasted Oriole – Icterus pectoralis; Wilton Manors US-FL 19-Jan-17 (heard only)
Baltimore Oriole – Icterus galbula; my yard, US-NJ, 14-Feb-17
Black-backed Oriole – Icterus abeillei; Sinking Spring US-PA 8-Feb-17 (countability pending Records Committee approval)
Scott's Oriole – Icterus parisorum; Casa de Conrad, Portal US-AZ 02-Aug-17
House Finch – Haemorhous mexicanus; Morgan Avenue Mudflats US-NJ 1-Jan-17
Purple Finch – Haemorhous purpureus; Six Mile Run, Somerset County US-NJ 28-Apr-17
Red Crossbill – Loxia curvirostra; Bloomingdale Bog US-NY 17-Jun-17 (heard only)
Pine Siskin – Spinus pinus; Casa de Conrad, Portal US-AZ 31-Jul-17
Lesser Goldfinch – Spinus psaltria; Sierra Vista US-AZ 29-Jul-17
American Goldfinch – Spinus tristis; Morgan Avenue Mudflats US-NJ 1-Jan-17
House Sparrow – Passer domesticus; Old Spye Road US-NJ 1-Jan-17
Scaly-breasted Munia – Lonchura punctulata; Roxanne's house US-FL 17-Jan-17
---
Exotics & Domestics
– Helmeted Guineafowl (domestic); Huey Lodge CU-SS 30-Mar-17