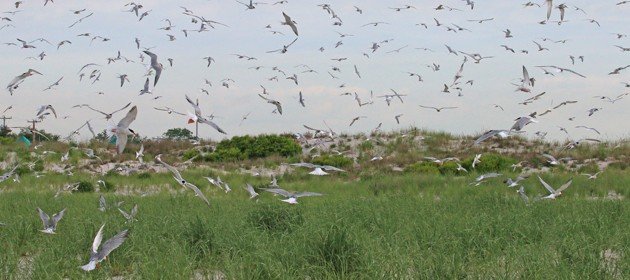 For all of the pros and cons that drones have, add one tick to the "pro" side of the ledger. A recent study found that conducting bird surveys by drone produced results that were at least as accurate, if not more so, than other counting methods.
The Australian research team used drones to photograph populations of Crested Terns, Frigatebirds, and Royal Penguins. They then studied the images in comparison with conventionally obtained accounts of the colonies conducted at the same time. The drone-obtained counts appeared to help researchers avoid missing birds, while enabling them to focus on specific areas of the colonies and to count the birds at their leisure.
Which may be all well and good. But drones are relatively low in cost and don't need bathroom breaks. Human bird-colony counters, watch your backs—could you be someday outsourced?
Colony of Common Terns at Nickerson Beach above photographed by Corey