O beautiful for whistling ducks! a tropical delight!
Even in the Brazilian Amazon, I've never seen this many whistling ducks together–there were sixty at a manmade lake behind the Brevard Community College near Titusville, Florida. Phoebe, Liam and I went down to work (and play) in January 2011 at the Space Coast Birding and Wildlife Festival, and it was the highlight of our winter. I was standing around talking to some people in the parking lot of the college when I heard a high, joyous call floating down from the air. My birder's brain struggled mightily to reconcile the odd shapes in the sky with any known species, but their call brought it all back. Black-bellied Whistling Ducks. I plotzed.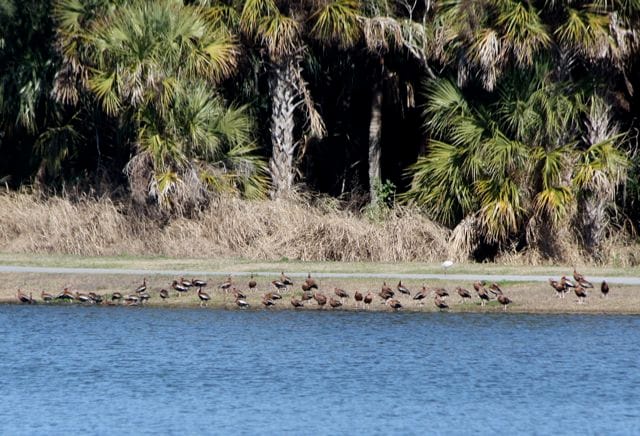 They hopscotched across the water, long pink legs dangling. What a sight. And what a phenomenon, to have this tropical duck in such numbers, a few hours' flight from our home in Ohio.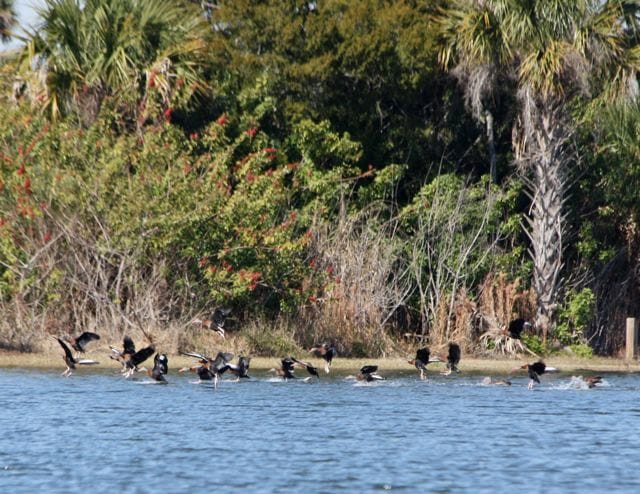 I don't get a lot of life birds in North America any more, but this confiding little gent offered himself up to the list: a Florida Scrub-Jay. They're easy to see at the entrance to the Cape Canaveral Seashore. Gaily color-banded, I've no doubt each individual is well-known to science.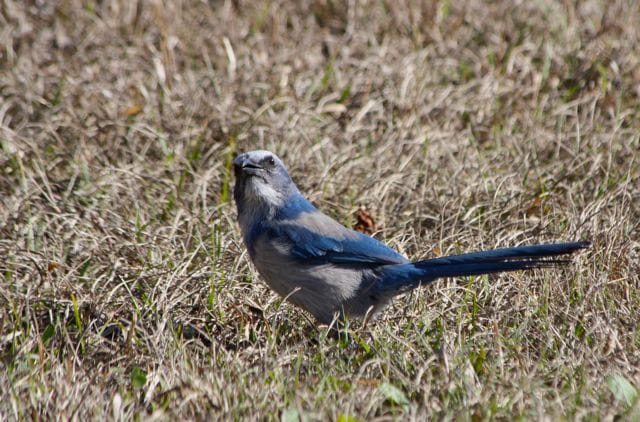 This nice lady was oblivious to the fact that I was quietly shooting skimmers and gulls from my car with a telephoto lens. Armed only with a cellphone camera, she walked right into the flock to take a photo, putting a big flock of skimmers up into the air. Finally I spoke to her and asked if she might consider letting the birds continue resting, and she was happy to comply. Parking lot Black Skimmers, patiently enduring our foibles…just another wonderful thing about Florida.
That evening, I found the same flock resting on a sandbar, and deployed the Leica digiscoping rig. It's hard to get a photo of a black skimmer's eye, so heavy are their brows and so thick is their makeup. But here you go. Black Skimmers' eyes. What an oddly proportioned bird! Get a load of the mandible on the granddaddy skimmer to the far right. Now that's a jutting jaw. Skimmers, of course, use that laterally flattened mandible to cut the water and leave a trail of light–intriguing to small fish at dusk. When the fish rise to investigate, a split-second snap of the bill captures a meal.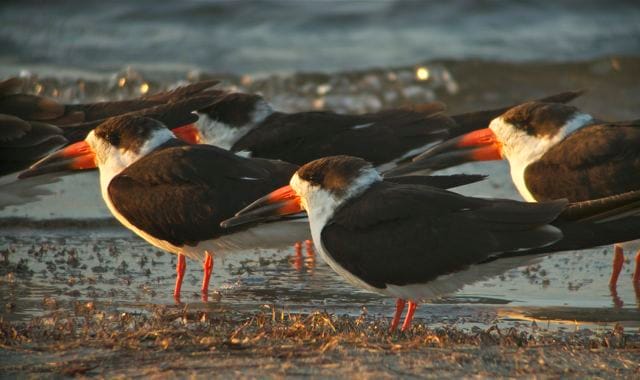 I was delighted to see a seagle depicted on a local restaurant mural. From the tail band, it looks like an immature. It's a three-year seagle.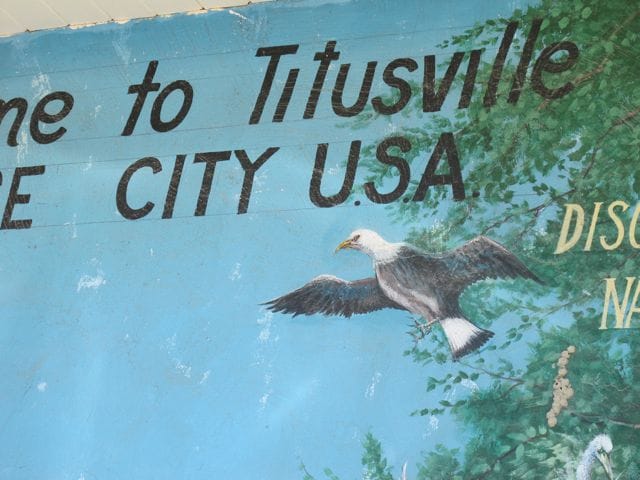 But I was most delighted of all to have an audience with a relaxed, preening Sandhill Crane. It had been a long time since I'd seen one, and I had a few thoughts to share with it. Once I stopped blubbering, that is.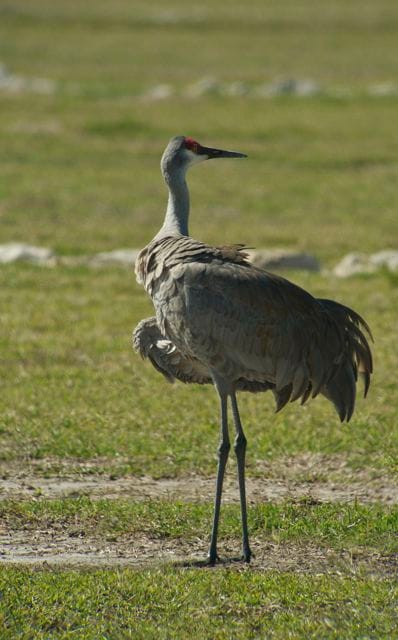 If you haven't already taken in the Space Coast Birding and Wildlife Festival, please make plans for next January. For winter-weary Ohioans, it was a spirit-lifting, soul-saving trip. Just to bake yourself in the sun would be worth the (highly affordable) flight to Orlando. But oh! the marvelous birds that await. Go. Just go.
For more tantalizing glimpses of Florida wildlife, see my blogposts about it all.