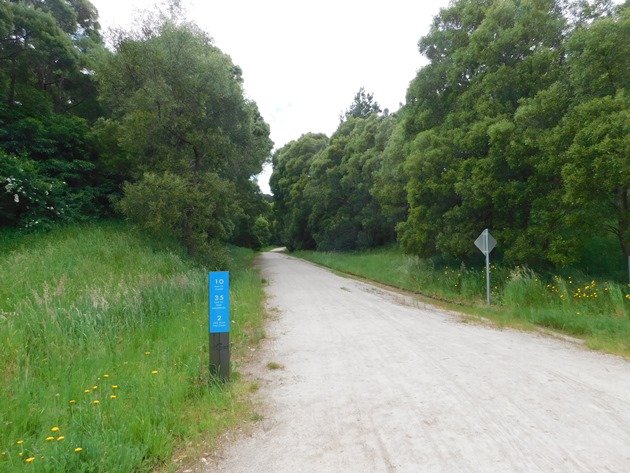 Over the past few weeks I have spent many hours walking the Great Southern Rail Trail. From our base, which has been Foster for most of the time and Fish Creek over recent weeks, I have walked the stretch of Rail Trail from Foster to Fish Creek several times. I have walked from Foster to Fish Creek and back in a day or just walked in one direction or shorter sections from either end.
The markers along the Rail Trail are only positioned two kilometres from each town and they also show the distance to either end of the trail for those cycling or walking the entire length of it. They are clearly marked as you can see in the header photo. There is generally an eight kilometre length of trail with no markers. There are very few benches along the route, but one marked short trail about half-way between Foster and Fish Creek offers views of Wilson's Promontory. There is a small shelter and picnic bench at this location and depending on visibility you may or may not be able to see the coast!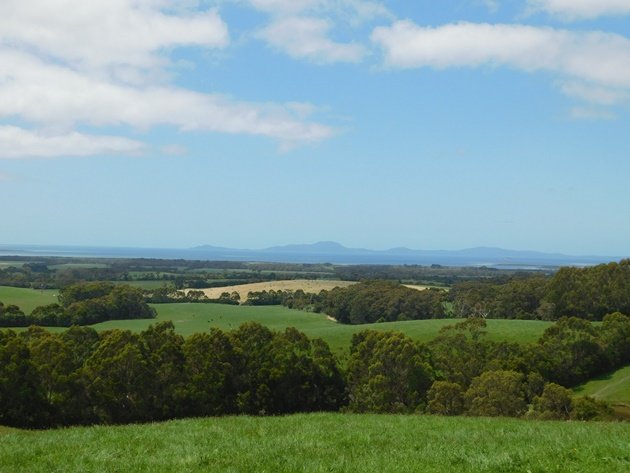 Lookout view to "The Prom"
The old train station building at Foster is now a Men's Shed, but the old train station at Fish Creek is the Community Garden. It is a good place to stop for a picnic lunch at the bench before walking back to Foster if you are doing a return trip.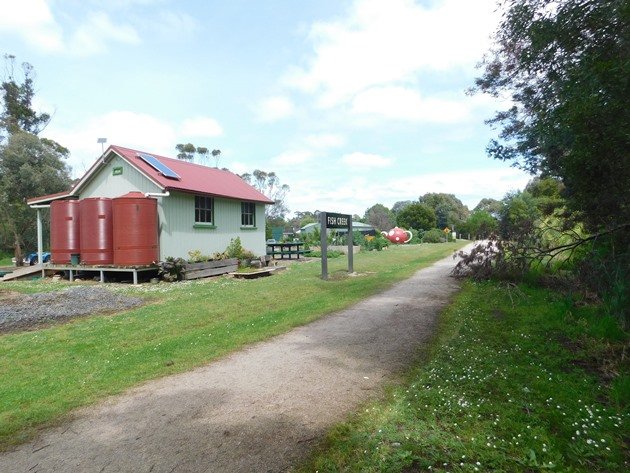 Fish Creek train station building
I have become very familiar with the birds along the trail. Some species I know I will see and other species I don't observe on every walk. The weather has not been very warm at all in this part of Australia despite it being summer and we have been fortunate to have not been affected by the awful bush-fires. We have had a few days with smoke in the air recently, but all things considered we have been very fortunate.
One of the most common birds that I have encountered is the Eastern Yellow Robin. They often nip back and forth onto the trail collecting food. Grey Fantails are also another very common bird in the area and you are guaranteed to see them on this section of the trail. Superb Fairy-wrens are common along the trail as well.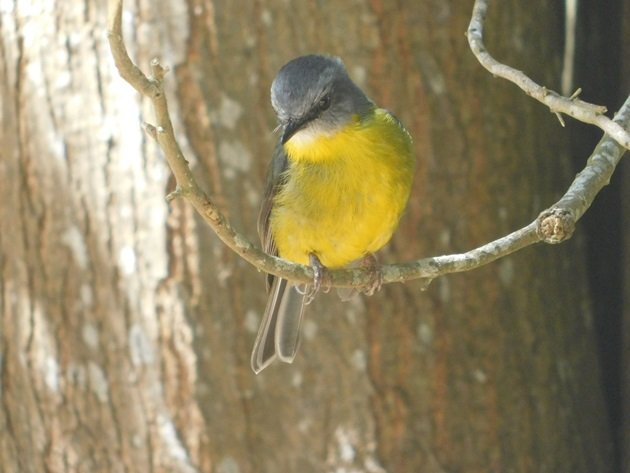 Eastern Yellow Robin
Laughing Kookaburras are very common in the area and call out at any time of day! They are sometimes very high up in the trees. The trail is not steep in any section despite the surrounding hills, because the original train could only climb at a certain gradient. On a bicycle it would be more apparent, but on foot you hardly notice the incline or decline. In some sections of the walk you find yourself looking down off the trail into the surrounding green countryside. In other sections you are in a valley between the hills and there is ample shade from the tall trees. However, in windy weather this trail would not be recommended due to the risk of falling branches.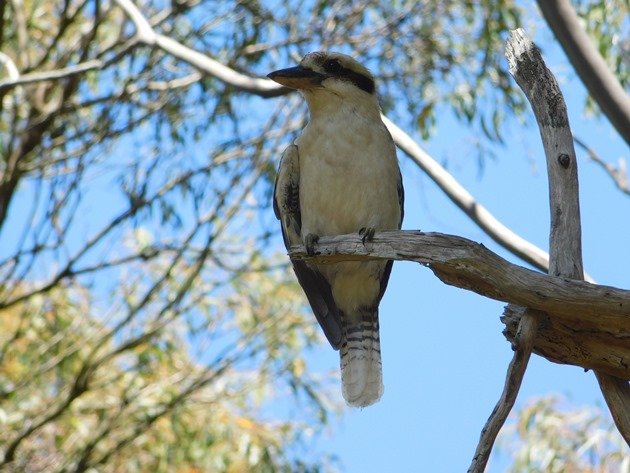 Laughing Kookaburra
Both Crimson Rosellas and Eastern Rosellas are often encountered along the trail. Crimson Rosellas often fly up from the ground and despite their bright colours they are not always as visible as you would expect when they are perched in the tall trees.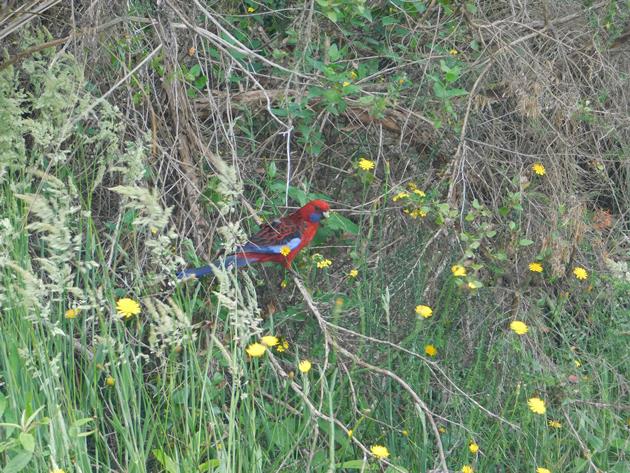 Crimson Rosella
Close to the trail near Foster there is water that remains from recent rains. I have encountered White-necked Herons feeding on several occasions and White-faced Herons are also observed on a regular basis. Masked Lapwings are often seen close to Foster and also Common Blackbirds, Common Mynas, Common Starlings, Red Wattlebirds, Straw-necked Ibis, Spotted Doves, Galahs and Little Corellas.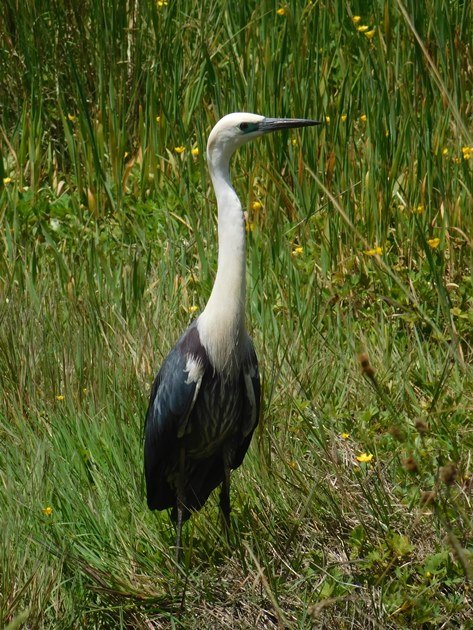 White-necked Heron
There are a few species that I hear a lot more often than I see and one bird in particular is the Eastern Whipbird. I hear an Eastern Whipbird on every occasion that I go walking, but have only managed a couple of photos so far! They are usually busy throwing leaf litter around on the forest floor.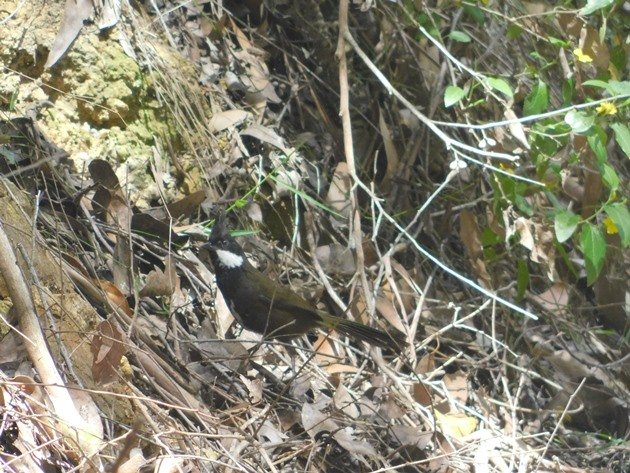 Eastern Whipbird
Silvereyes are another bird species that I encounter on a regular basis as they flit through the trees calling as they move. Once again I have not had too much luck at photographing them! The Silvereyes are often upside down as they feed too!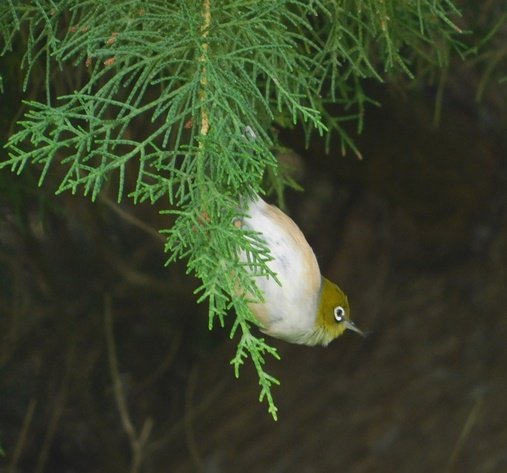 Silvereye
White-throated Treecreepers are a bird species that I often observe, but only single individuals. Due to the fact that they are feeding rapidly up tree trunks and moving around the trunk as they go they are also rather tricky to photograph!
White-throated Tree-creeper
Yellow-tailed Black Cockatoos are often heard before they are seen. I have mostly observed them flying, but when they have been in trees they have been busy eating. They are a magnificent large bird, which is much bigger than the Gang-gang Cockatoo.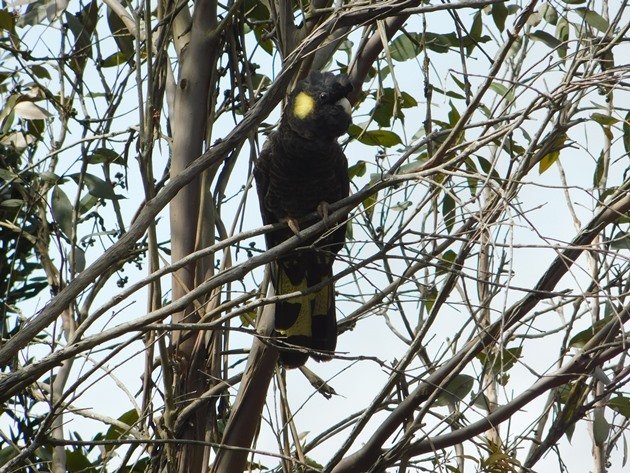 Yellow-tailed Black Cockatoo
Whilst looking at some of the tall trees close to Fish Creek I have come across nests. The presence of the white marks down the trunk from the gap visible indicated there were birds inside. I waited for a few minutes and the parents arrived with food. I was then able to determine that the young birds were Common Starlings.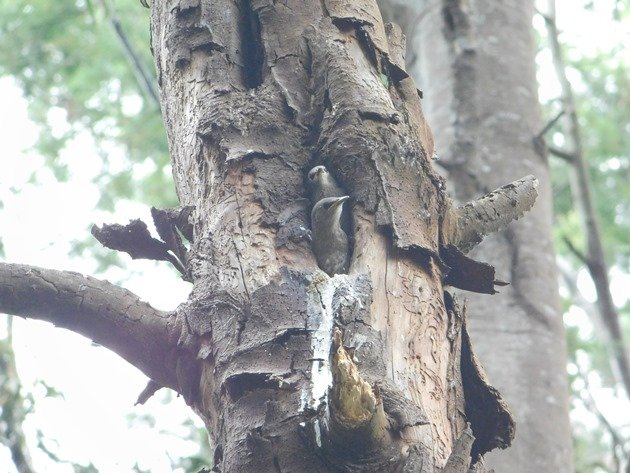 Common Starlings in a nest hole
The dam about three kilometres from Fish Creek is a very good place to observe birds. Not only has there been a Latham's Snipe there, but also Blue-billed Ducks, Australian Wood Duck, Pacific Black Duck, Grey Teal, Eurasian Coot, Australian White Ibis, Purple Swamphen, Australian Reed Warbler, Dusky Moorhens and many more species if you take the time to watch and wait.
Whilst walking along the trail I have sometimes been lucky enough to notice an odd shape in the trees. Koalas live in the forest around here, but you do not always see them. When I do see them I always stop and take a photograph! They are an easy subject, because they never move particularly fast!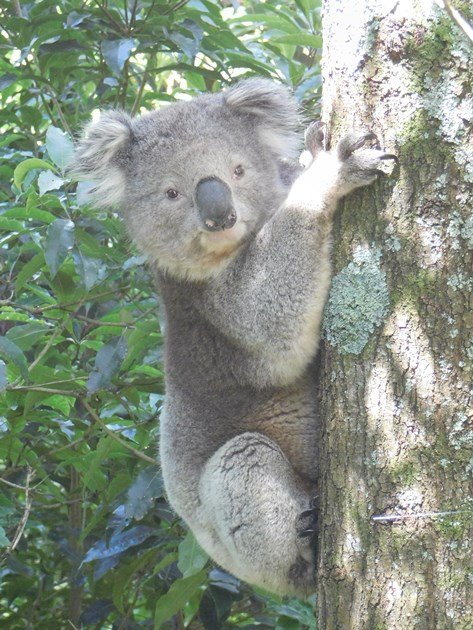 Koala
There's plenty to observe along the Great Southern Rail Trail whether you choose to walk it, cycle it or horse-ride along it! You can often spend several hours along the trail and not encounter another person, so you don't need to worry about it being "too busy" for birding! Enjoy!