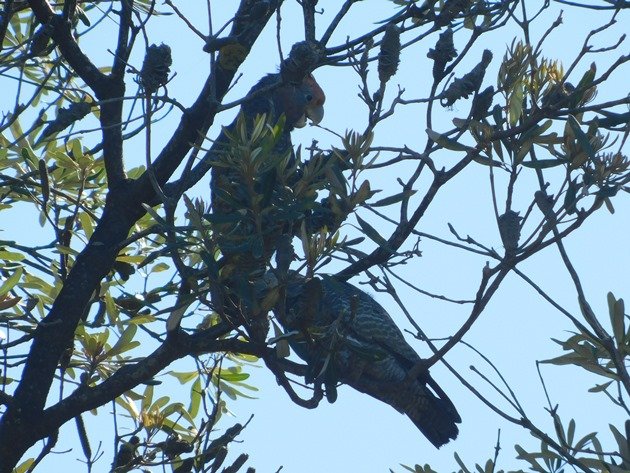 We have observed some beautiful birds in Victoria during our visit including the Spotted Pardalote and Rufous Fantail. There are numerous bird species that we only observe when we are many miles from home and some bird species we have rarely observed. We have only observed Gang-gang Cockatoos twice before and once was a pair in New South Wales several years ago and ten years ago another pair in Victoria near Portland.
Due to work commitments Grant is not able to spend the time walking and birding that I can. However, he had observed Gang-gang Cockatoos at his job site! He was attracted to them by their distinctive sound, which almost sounds like a large frog! There are some recordings of the sound that they make here on eBird.
I have spent plenty of time outside walking many kilometres hoping to find a Gang-gang Cockatoo or three! I have looked up and listened out, but to no avail. Although Grant works very long hours restricting the time we could go walking and birding together we do have daylight saving in our favour. It does not go dark until about 9pm, so you can go out late looking for birds.
Having a couple of extra hours to explore together late on Christmas Day we went in search of Gang-gang Cockatoos, but we had no luck. On Boxing Day we went out again late in the afternoon to once again go for a walk in the hope of finding some great birds. A little "Christmas wish" too-Gang-gangs please!
We went to Walkerville to walk the bush track along the ridge first. The grass and other vegetation had been slashed recently, which was a relief after yet another Tiger Snake encounter this past week whilst walking alone. It was not a very busy trail for birds, but my sharp hearing picked up a very shrill sound.
It was soon obvious that we had a very small bird in the dense bush that we both struggled to observe initially. However, it suddenly made itself visible and we had our first Southern Emu-wren in over ten years! It was a beautiful male bird and we then realised there were female birds on the other side of the wide trail that he was communicating with. Whilst observing the Southern Emu-wrens a White-fronted Chat flew into view and landed on some raised vegetation! Two new birds for 2019 just like that!
We drove down the windy road to the Walkerville North car-park to take a walk along the beach. It was a beautiful day and there is a camping ground right on the foreshore. Shortly after we set off long the beach there was a distinctive sound! Gang-gang Cockatoos! Initially we observed a pair in the banksia tree over the camping ground entrance. Then four birds flew off calling to the next tree that had the food they were looking for.
We had our walk along the beach observing several bird species and returned to the car-park in the hope of getting some better photos of the well camouflaged birds. Gang-gang Cockatoos are almost the same colour as the banksia trees that they like to feed on. The male Gang-gang Cockatoos with the red feathers on their heads are more distinct, though. The birds are very good at acrobatics in the trees and despite it being late in the day I was able to capture a few photos.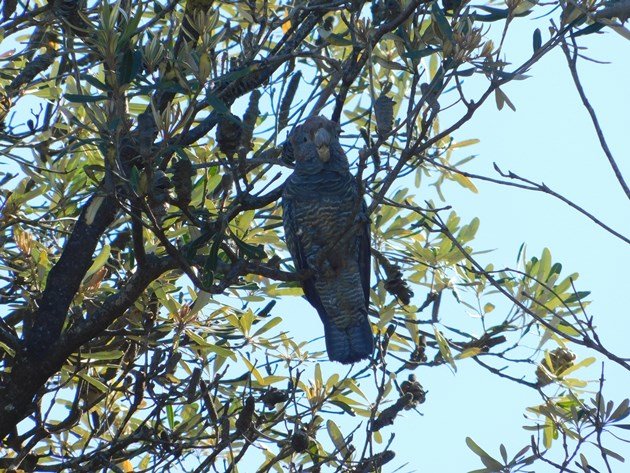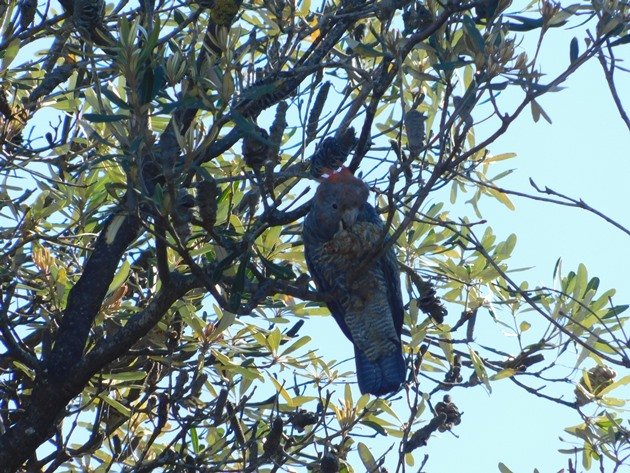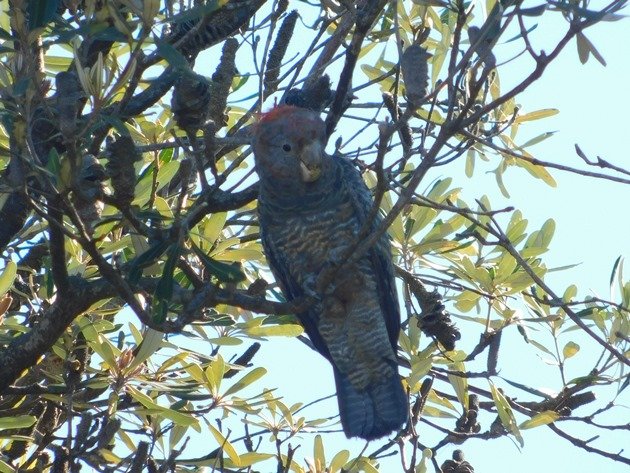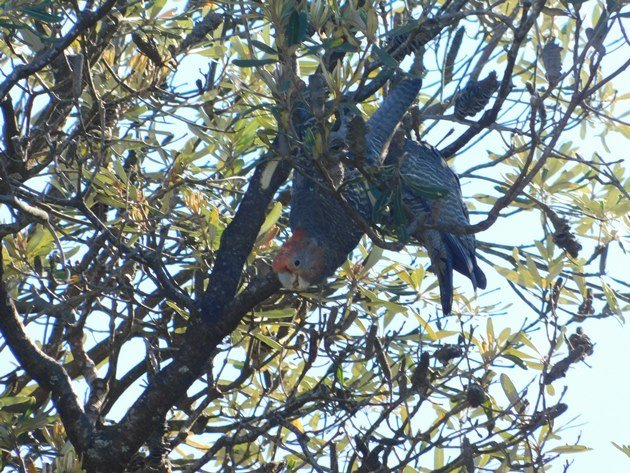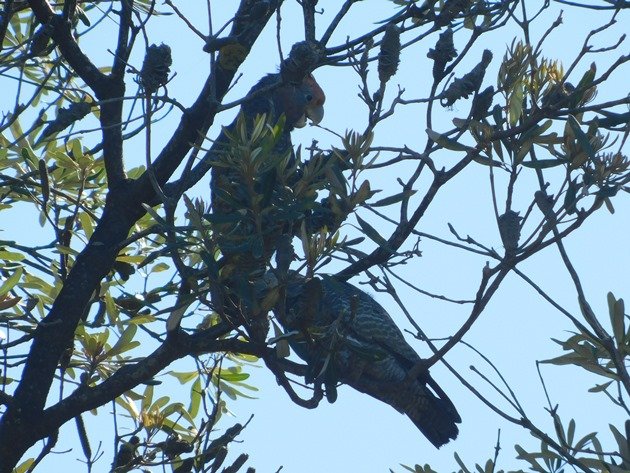 Gang-gang Cockatoos
The exciting part of the observation of the Gang-gang Cockatoos was the presence of at least fifteen birds! We had never seen more than a pair previously. Although we did not find Gang-gang Cockatoos on Christmas day, we were more than happy with our observations on Boxing Day!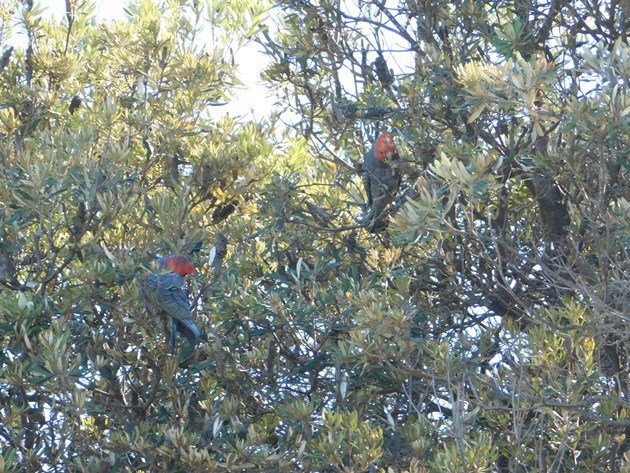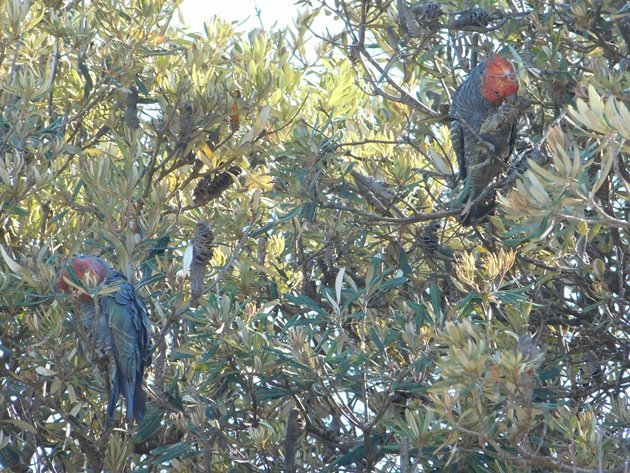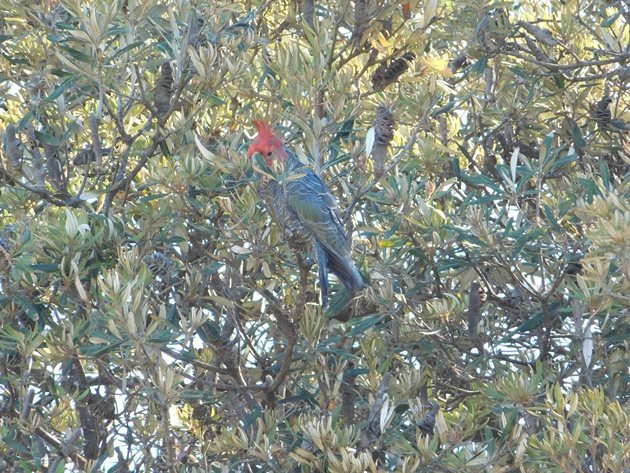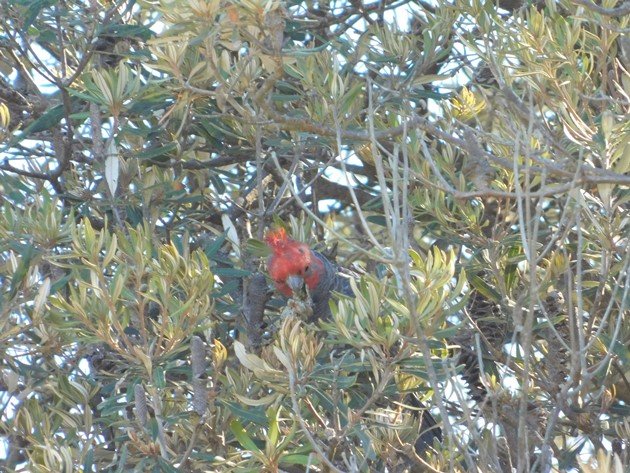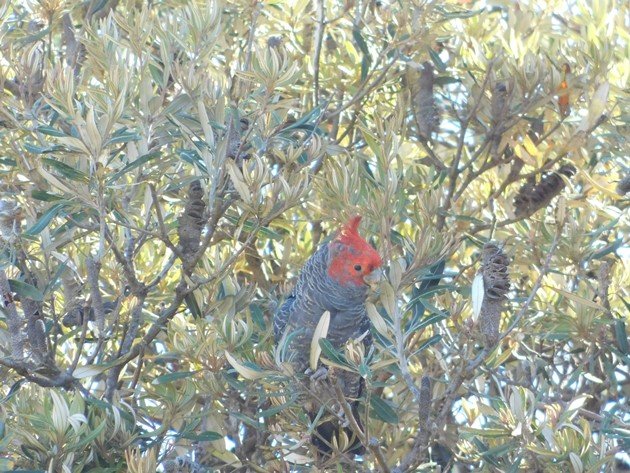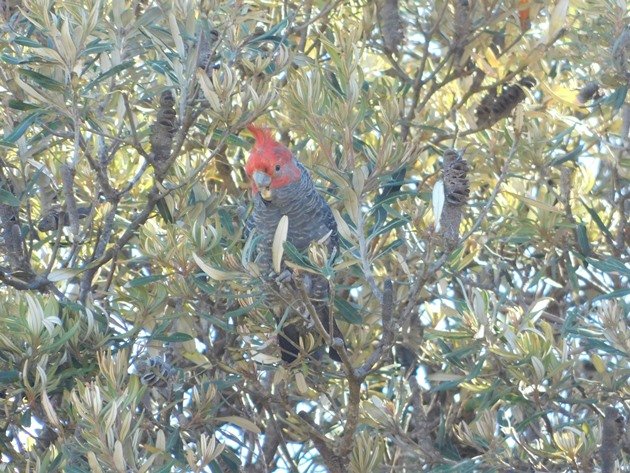 Gang-gang Cockatoos
I hope that if any of you had a "Christmas wish" bird that you did find it-even if it was a day late!
All the best to you and your family for good health and good birding in 2020!