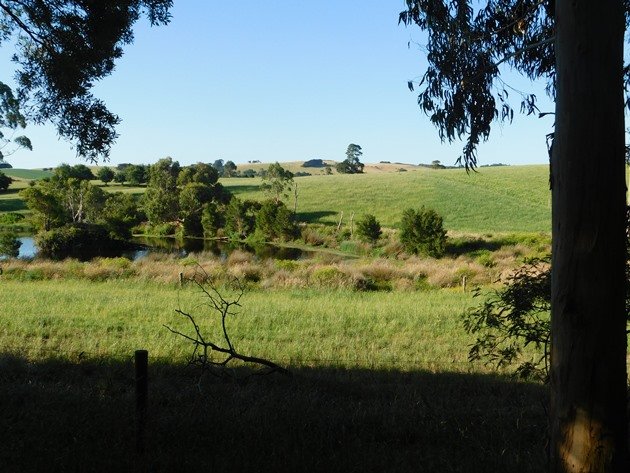 It has been strange being away from our home in Broome, Western Australia, at this time of year. There are so many differences in both the weather and the birds. We usually start our bird list for the year from home, but this year it was different. Incidentally, we didn't stay up until midnight chasing any nocturnal birds to end the year!
We woke to a New Year in Fish Creek, Victoria and our birding year began. If we had been at home and we had all day to bird we would have expected to reach over one hundred bird species on the first day of the year. However, it may have been different this year even at home due to the lack of rain for over eight months and the ephemeral lakes remaining dry.
This year our list started off as a joint effort first thing and we started with some common species like Common Blackbird, Common Starling, Common Myna, Galah, Little Corella, Red Wattlebird, Spotted Dove and Magpie-lark. Driving through dairy country we soon added Australian Wood Duck, Pacific Black Duck, Grey Teal, Grey Fantail, Wedge-tailed Eagle, Laughing Kookaburra, Eastern Rosella and Superb Fairy-wren to the 2020 Year List.
Grant then dropped me twenty kilometres from Fish Creek on the Great Southern Rail Trail and I walked back to Fish Creek. I started my own list during that walk and I was familiar with the walk and had envisioned which bird species I may see. Grant continued on to work and also made a list over his working day and even saw a Gang-gang Cockatoo!
By the time I had walked back as far as Foster I had added some familiar birds that I had expected and some birds that I had not expected. This is the joy of birding! I found Yellow-faced Honeyeaters, New Hollands Honeyeaters and White-eared Honeyeaters where I have observed them in recent weeks. The Crimson Rosellas, Eastern Yellow Robins, European Goldfinch, Golden Whistler, Grey Shrike-thrush, Welcome Swallows and Eastern Whipbird were where I normally observe them. There was a Black-shouldered Kite hovering near Charity Lane on the outskirts of Foster. This is a bird I have seen quite regularly, but not on this section of trail. I had not seen any Yellow-tailed Black Cockatoos for a couple of weeks and then there were a pair of them flying slowly over the trail.
When I arrived at the dam that is visible from the trail (see the header photo) between Foster and Fish Creek I knew I should be able to add a few birds to the list. Eurasian Coot are always there, but I was delighted to find several Blue-billed Ducks to add to the list. An Australian White Ibis flew in whilst I searched for the family of Dusky Moorhen that I have observed there recently. I couldn't see the Dusky Moorhens, but they could easily be hiding in the reeds.
I continued on back to Fish Creek and once Grant finished work we decided to continue our birding day. It is light until around 9pm in Victoria at this time of year, whilst in Broome sunset does not vary much year round and is around 5:30pm. We decided to go to Toora to look for some other bird species despite it being high tide.
We soon added Pied Oystercatcher, Eastern Curlew, Black Swan, Black shouldered Lapwing, Silver Gull, Pacific Gull, Little Pied Cormorant, Caspian Tern, Great Cormorant and a Brown Falcon on the edge of town. We also went to the Toora Poo Ponds where we were able to add Australian Pelicans, Royal Spoonbills, Yellow-billed Spoonbill, Eastern Great Egret, Hardhead, Eurasian Skylark and more.
Although it was getting late we decided it was worth returning to the dam near the trail together via an access point near the road to Fish Creek. Grant had never visited the dam anyway, so it was an opportunity to visit it together. The main purpose was to look for the Dusky Moorhen family and add them to the list. An Australian Reed Warbler was present and calling late in the evening and all of the other birds were present that had been there earlier in the day. We discovered the family of Dusky Moorhens feeding on the edge of the open water as we had hoped.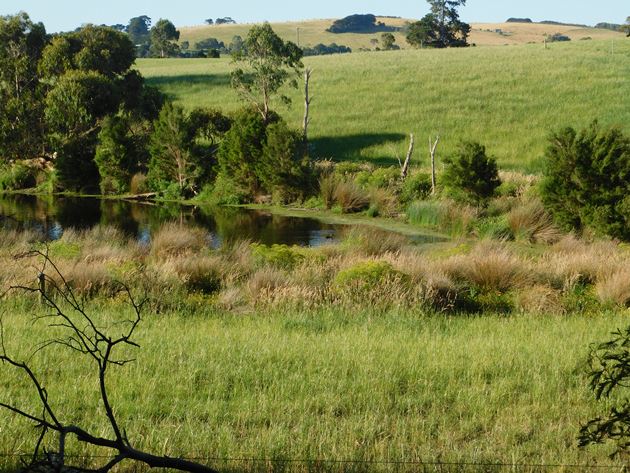 Dam view from the trail-Latham's Snipe below the two dead tree trunks!
Grant noticed the prize bird first! In the process of looking for Dusky Moorhens he saw a Latham's Snipe stood right out in the open with the sun on it! Latham's Snipe are visitors to Australia and go north to Japan to breed. In Broome we have Swinhoe's Snipe visiting the area at this time of year, but you don't always find them! Australian Painted Snipe can show up anywhere and in the past they have bred around Broome, but they are unlikely to this year unless we get some significant rain. If you are in the UK you can expect to observe Common Snipe, but this was our first good views of Latham's Snipe. We had observed one briefly at Bald Hills Wetland Reserve late last year, but it was a brief view!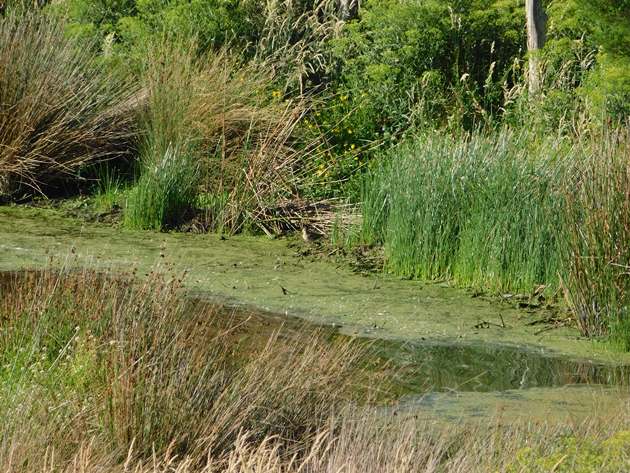 Latham's Snipe
I soon zoomed in my camera to take some photos of the Latham's Snipe as it posed nicely on the edge of the dam. The light was perfect late in the day.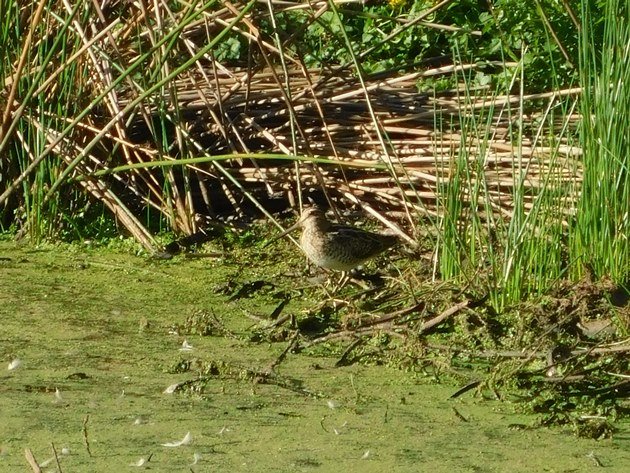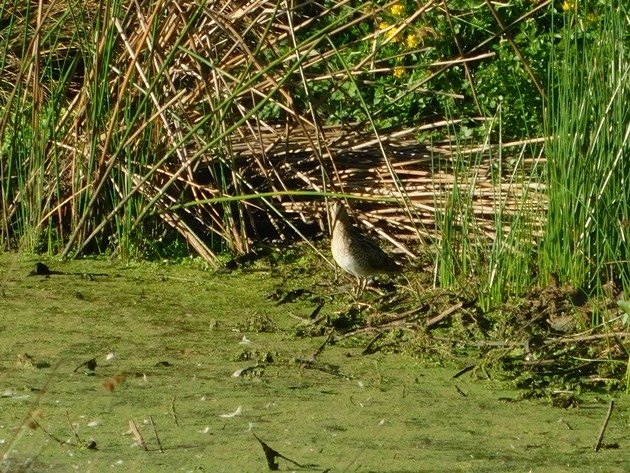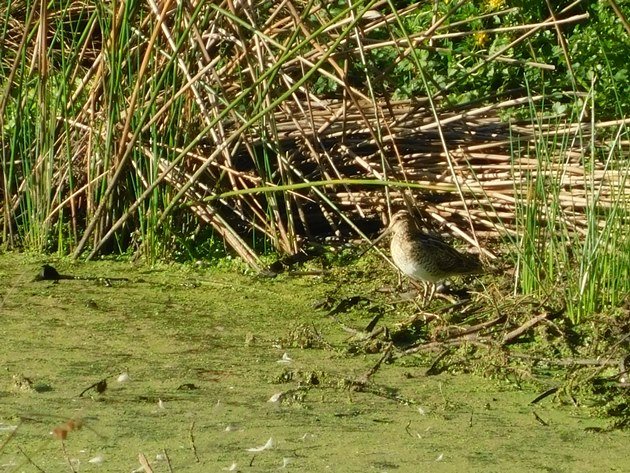 Latham's Snipe
The Latham's Snipe then moved slowly along looking for food and it was time for us to consider the same thing! If it hadn't been for the absence of the Dusky Moorhen earlier in the day we would not have seen the Latham's Snipe!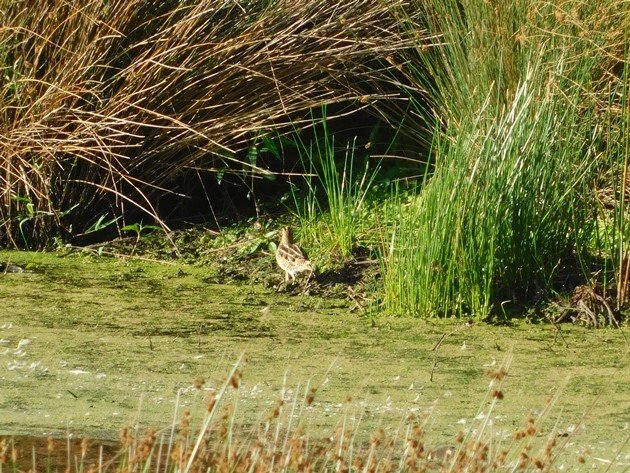 Latham's Snipe wanders off feeding
It had been a good day of birding to start the year even if we had not been able to be together for the whole day. Our list for the day sat at 76 bird species, which we were very pleased with.
Good luck to all of you in finding lots of birds this year! Some birds you are no doubt expecting to observe and some may be a pleasant surprise! Enjoy all of the birds that you see and treasure the special ones! The world would be sad place without birds.