Following on from Grant's birthday camping trip to the Fitzroy River at Langi Crossing it was my turn to choose a place to go for my birthday. Our birthdays are two weeks apart and I decided we should go and check out the Fitzroy River at another location. When you live by the coast it is always nice to go inland and observe some different birds.
The rainfall around the Fitzroy River catchment had been higher than average this wet season. Geikie Gorge had only just been opened once the water levels had dropped sufficiently to allow access. We visit Geikie Gorge every year and the bird-life is always good. It offers some birds that we don't observe elsewhere, so that is an added bonus. The rock walls that line the river are impressive as you can see in the header photo.
The highway north from Broome to Fitzroy Crossing is currently lined with pink native flowers. It makes for a beautiful environment and often Galahs fly up from the edge of the highway offering even more pink!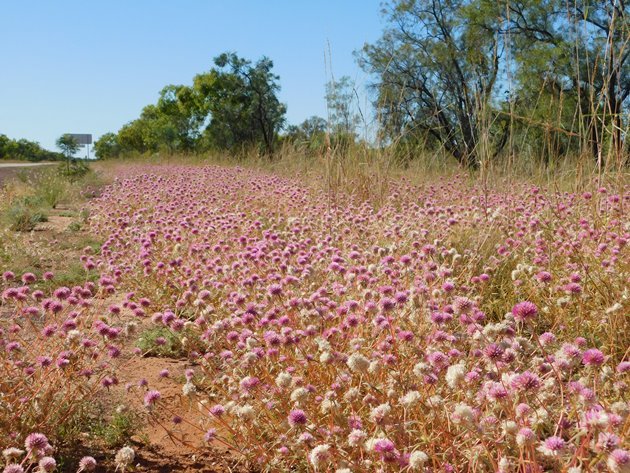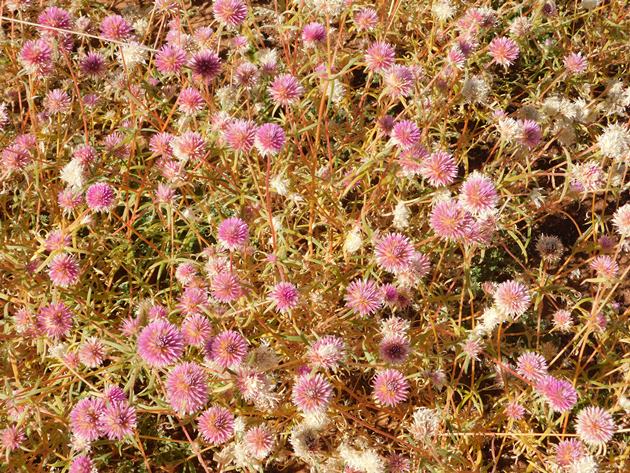 The edge of the highway
There was still water over the road to Geikie Gorge, but it was not deep. We always drive slowly towards the park, because often there are many species to be observed along that road. The White-winged Trillers were busy feeding on the road as well as the Black-faced Woodswallows. We could pull over where the water flowed across the road and observed a Sacred Kingfisher, Diamond Doves, Little Pied Cormorant, Rufous-throated Honeyeaters and a pair of Leaden Flycatchers.
Our bird list was growing quite fast as we approached the park and it included Whistling Kite, Black Kite, Little Corellas, Magpie-lark, Tree Martin, White-necked Heron, Zebra Finch, Crested Pigeon, Willie Wagtail, Black-faced Cuckoo-shrike and a Black-eared Cuckoo perched high up on some sticks.
We soon added Rainbow Bee-eaters, Grey-crowned Babblers, Brolga, Double-barred Finch, Pacific Black Ducks, Red-tailed Black Cockatoos, Masked Woodswallows, Little Friarbirds, Peaceful Doves, White-gaped Honeyeaters, Striated Pardalote, Masked Woodswallows, Paperbark Flycatcher and Great Bowerbird to our park list.
We always do all of the walk trails in the park. The walk trails can now be found on this website. There are also downloads about the park and a "Twitchers Route" in the "downloads and resources" section of this website. The first short walk takes you in amongst the rocky outcrops and we were lucky enough to encounter two Sandstone Shrike-thrush. Neither was in good light, but the sky is blue!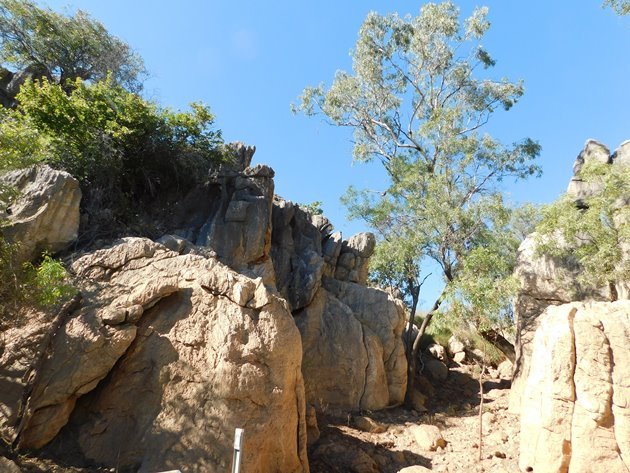 Trail on the short walk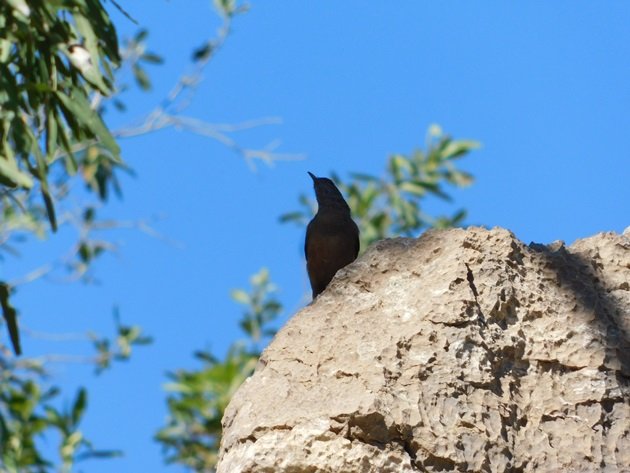 Sandstone Shrike-thrush
This first short walk is always a good location to observe Little Woodswallows. They are usually very high up in the trees and are the darkest and smallest of the Woodswallows in the area.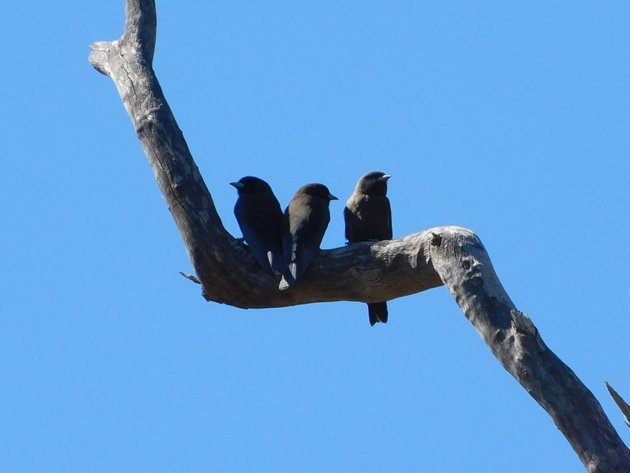 Little Woodswallows
It was then a hard slog through the riverbed to get to the river and see what birds were about. There are numerous trees that line the river and we soon added Brown Honeyeater, Fairy Martin, Bar-shouldered Dove, Blue-winged Kookaburra, Mistletoebird, Nankeen Kestrel and Black-fronted Dotterels beside a remaining pool of river water. We accidentally flushed a Black Bittern, which proceeded to move upstream. There was nobody else on the walk trail and it had maybe never seen a human before!
Returning to the car-park area we added Varied Sittellas, White Ibis and Grey Shrike-thrush and headed towards the sandbar. Then I heard what I had hoped to hear and see for my birthday! Purple-crowned Fairywrens! I didn't get particularly good photos, but we were more than happy to find them! It is the closest location to Broome to observe them and we have been able to on our recent visits.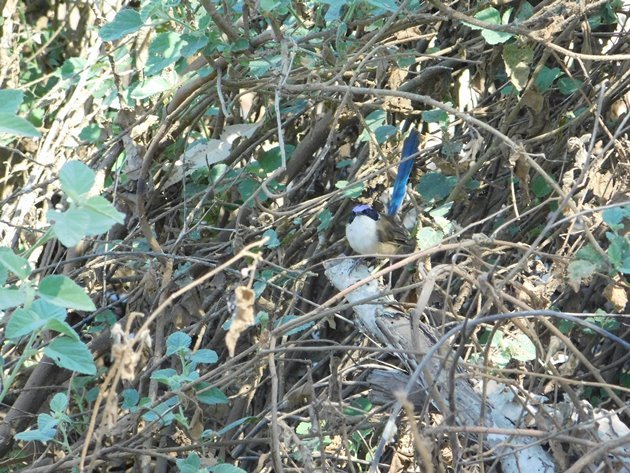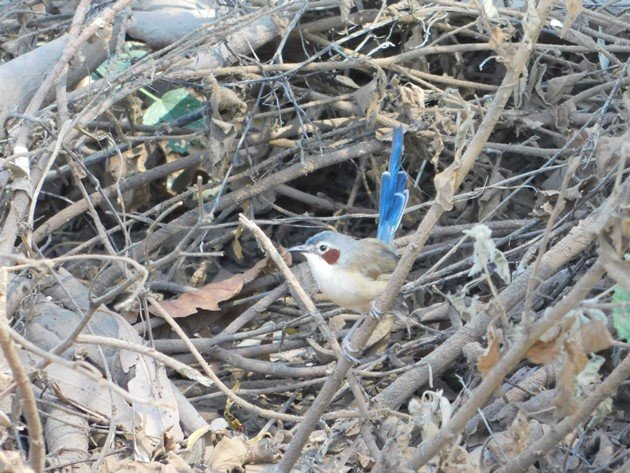 Purple-crowned Fairywren-male above and female below
Our final birds on the list for Geikie Gorge were White-breasted Woodswallow, Rufous Whistler, Jacky Winter and Yellow-throated Miner. We had spent five hours in the park and then we headed for the Low Level Crossing of the Fitzroy River.
Over the recent Wet Seasons there has been no end of sand dumped naturally at the side of the river and the road has been closed for some years now. You can still park on either side and walk down to the crossing. The river has only recently stopped flowing over the crossing.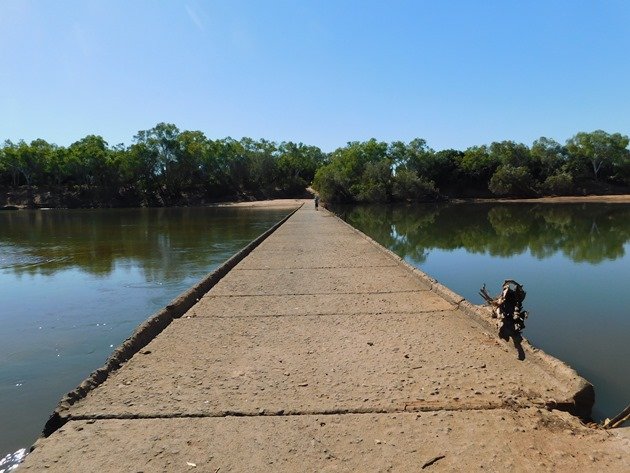 Fitzroy River level at the low level bridge-May 8th 2021
The first birds we heard and saw when we got out of our car were Budgerigars, which we had not observed yet this year. Red-browed Pardalotes were calling and the sky was filled with Little Corellas, Black Kites and Whistling Kites. As we walked down the riverbank to the crossing we observed Paperbark Flycatchers, Black-faced Cuckoo-shrikes, White-bellied Cuckoo-shrikes, White-gaped Honeyeaters and Willie Wagtails.
On the far side I could see some white shapes and soon realised there were Great Egrets and a Little Egret in the trees. The edge of the river offered feeding areas for the White-faced Herons, Black-fronted Dotterels and Straw-necked Ibis. We walked across the low level bridge and found a pair of Red-tailed Black Cockatoos discreetly sat in the tall trees on the edge of the riverbank.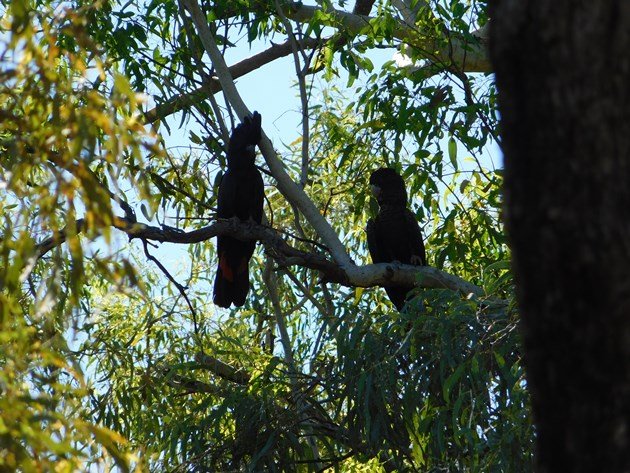 Red-tailed Black Cockatoos in the shade
We also added Striated Pardalote, Mistletoebirds, Peaceful Doves, Great Bowerbirds, Bar-shouldered Doves, Torresian Crows, Yellow-tinted Honeyeaters, Rufous Whistler, Double-barred Finch, Brown Goshawk, Zebra Finch, Black-faced Woodswallow, Magpie-lark, Brolga, Straw-necked Ibis, White-winged Triller, Pallid Cuckoo, Sacred Kingfisher and Spotted Harrier to the list for that small area in an hour.
The big surprise was not just one Nankeen Night-heron sitting on a branch out in the open at 2pm, but a family. There were two adults and nine juvenile birds all bathing together!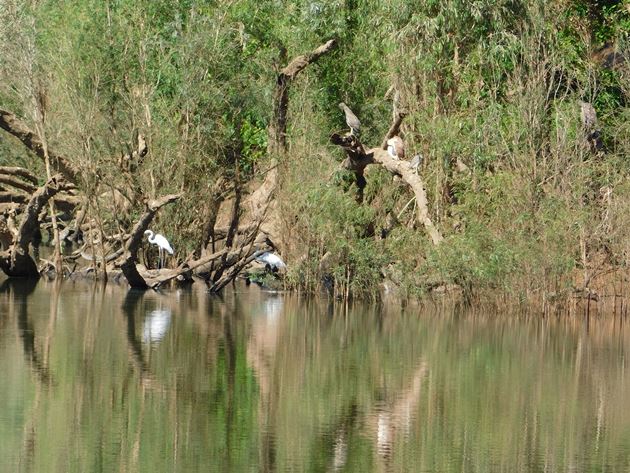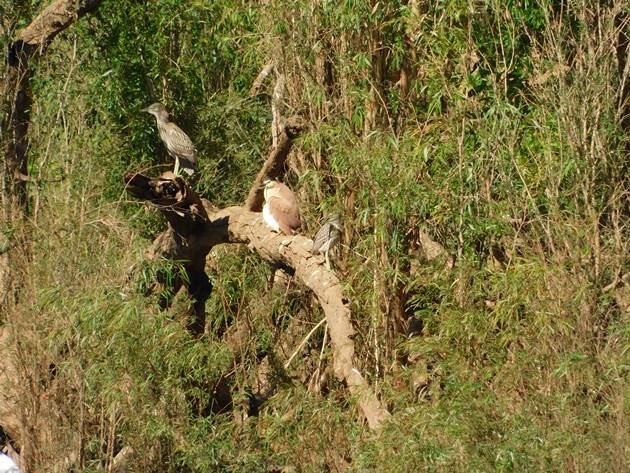 Great Egrets and Nankeen Night-herons
It was a great way to spend my birthday. We had observed so many birds and a few that we had not seen yet this year. So, we both spent our birthdays at the Fitzroy River, but in different locations about 250kms apart. The river level had also dropped over that fortnight as we discovered when we returned to Langi Crossing for Sunday night.
We went back to camp in the bush where I had started my birthday. I will write about that location next time!
And, yes, I do have the same birthday as Sir David Attenborough, but not the same birth date!