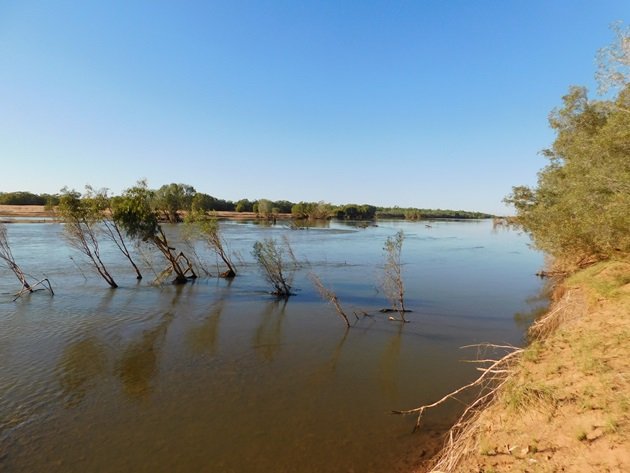 If you look at this header photo and then the header photo of our first camping trip in 2020 you will notice it is somewhat similar. It is the exact same location, but there is a lot more water flowing down the Fitzroy River this year. Fitzroy Crossing had a very good wet season and the surrounding area that floods into the Fitzroy River means that it is still flowing well. The high tides from the coast are not yet pushing up into the Fitzroy River at Langi Crossing, so it is just fresh water flowing downstream. Over the weekend we did notice a slight drop in river height. Looking at the current River Height Data it is continuing to fall quite fast.
With the recent change of weather and cooler nights it was perfect for camping last weekend. With it being Grant's birthday it gave us an excuse to make our first camping trip for 2021. We don't actually need an excuse to go camping! It was actually ten years ago that we observed our first Painted Snipe in Australia on Grant's birthday! You just have to go birding on your birthday really, because you never know what might show up.
Langi Crossing is always a great place for birds, but they do vary on each visit. There is a good mix of bird species both large and small. We have been lucky that we have always been able to camp in one secluded spot offering great views of the river. Despite all of the water that has raced through the area in recent months it has remained level where we want to go and set up camp.
We arrived at Langi Crossing around midday on Friday 23rd, so we could settle in for the afternoon and wake up there on Grant's birthday on Saturday. Our list was soon filling our little notebook. We started with a Sacred Kingfisher, Torresian Crow, Long-tailed Finches, Diamond Doves, Peaceful Doves, Bar-shouldered Doves, Little Friarbirds, Black-faced Woodswallows, White-winged Trillers, Pied Butcherbirds, Crested Pigeons, Willie Wagtails, Whistling Kites, Black Kites, Brown Goshawk, Magpie-larks, Black-faced Cuckoo-shrike, Grey-crowned Babblers and a lone White Ibis walked through the back of our camp.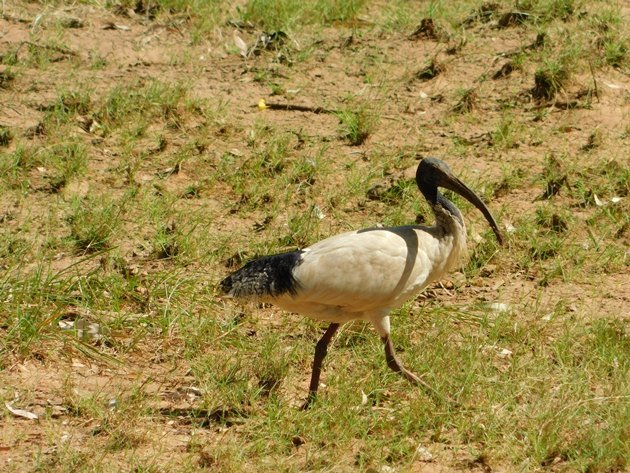 White Ibis
A few Paperbark Flycatchers were very active around our camp and also very vocal! The Red-browed Pardalotes and Striated Pardalotes were calling as were the Varied Sittellas. The predominant honeyeaters were the Yellow-tinted Honeyeaters, but there were also Rufous-throated Honeyeaters, Brown Honeyeaters, White-gaped Honeyeaters, White-throated Honeyeaters, Singing Honeyeaters and Jacky Winters.
A goanna wandered into our camp area trying to get to the river for a drink no doubt. It soon realised there was a significant drop-off and wandered off. We choose an area with a good drop-off for a good reason-crocodiles!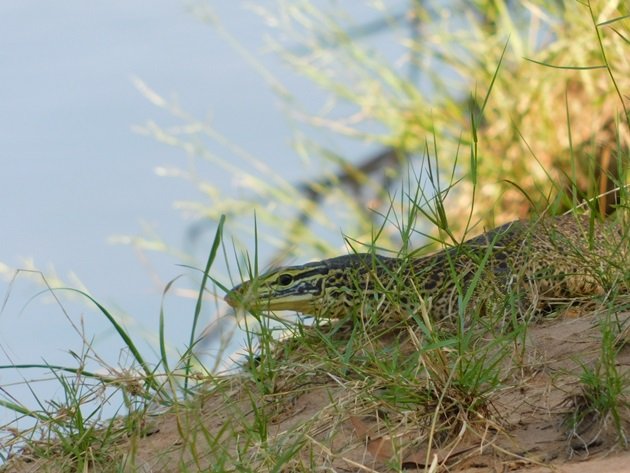 Goanna investigating the drop-off
We had our lunch and observed the activity on the river. There were Little Egrets, Intermediate Egrets, Great Egrets, White-faced Herons, a White-necked Heron, Whiskered Terns, Gull-billed Terns and a Little Black Cormorant flying upstream. Oddly we did not observe a Caspian Tern on this camping trip. We accidentally flushed a Nankeen Night-Heron from a large tree near camp before it had even gone dark!
We had a walk upstream after lunch and added Galah, Straw-necked Ibis, Great Bowerbird, Little Corellas, Rainbow Bee-eaters, Brown Falcon, Mistletoebird, White-breasted Woodswallow, Weebills, Blue-winged Kookaburra, Double-barred Finch, Cockatiels, a pair of White-bellied Sea-Eagles, a lone Dollarbird and then we saw a Black-fronted Dotterel running off some rocks very fast. We moved in slowly and soon observed that there was a well camouflaged nest with one egg in it.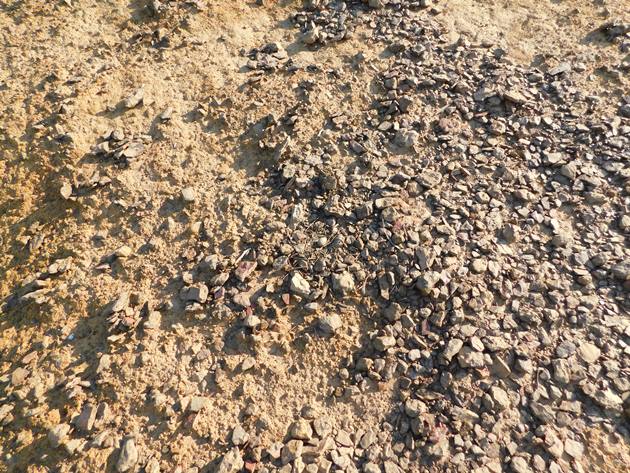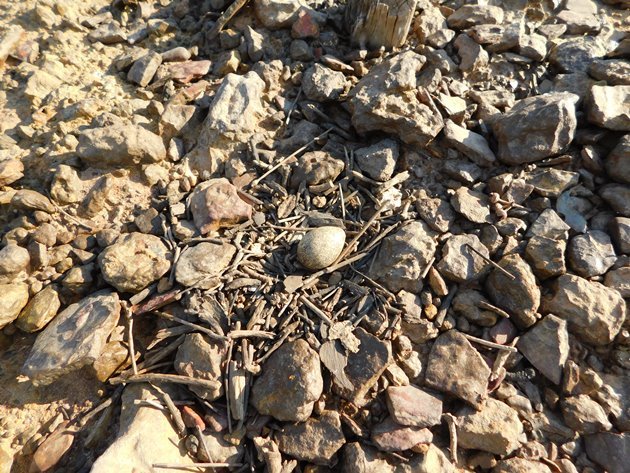 Black-fronted Dotterel nest with one egg
Our list continued as the afternoon went by and we observed Yellow White-eyes, Grey Shrike-thrush, a juvenile Pallid Cuckoo and Yellow-throated Miners. Another goanna crossed our track and raced towards the river. It stopped briefly and stood up to look back at us!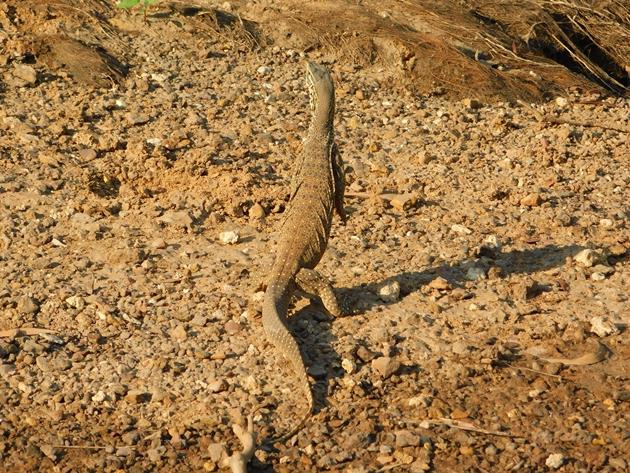 A goanna-once again well camouflaged
As dusk fell a Black-necked Stork landed on the far side of the river from us. It had not even gone dark and we heard the familiar sound of Barking Owls, Southern Boobooks, Australian Owlet Nightjar and the wailing of the Bush Stone-curlew. The Australian bush can be as noisy at night as it is in the day, especially when the moon is getting full.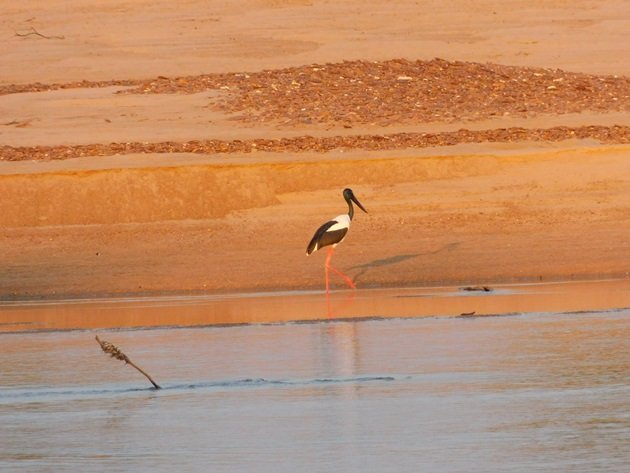 Black-necked Stork on dusk
We always go to bed early when we camp, because we know we will no doubt be woken by birds in the night and the sun rises early too. We heard Black-winged Stilts in the night and Wandering Whistling-Ducks. At first light we heard Brolga and we were soon up having coffee by the river. The sky was very active first thing with Tree Martins, Fairy Martins and Little Woodswallows. We then added Red-collared Lorikeets, Red-winged Parrots, Red-tailed Black Cockatoos, Rufous Whistler and Royal Spoonbill to our list. We headed off downstream for walk to see what else we could add on Grant's birthday.
We saw another goanna, but on this occasion it went flat as we approached and I did not see it until I almost stood on it! At least it was not a crocodile!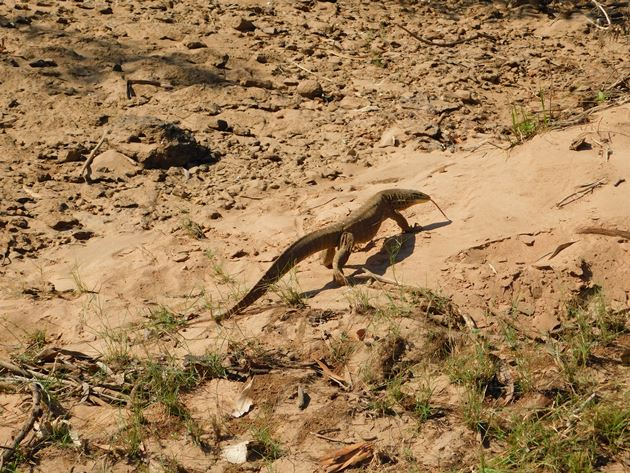 Another goanna
The crocodiles were less visible than on some visits. The water in the river remains warm and so they can stay in the water. When it is cooler they do tend to sunbathe on the bank more. There is now a warning sign on the gate into the area to warn people that they are in the Kimberley and there are crocodiles present, so to take care.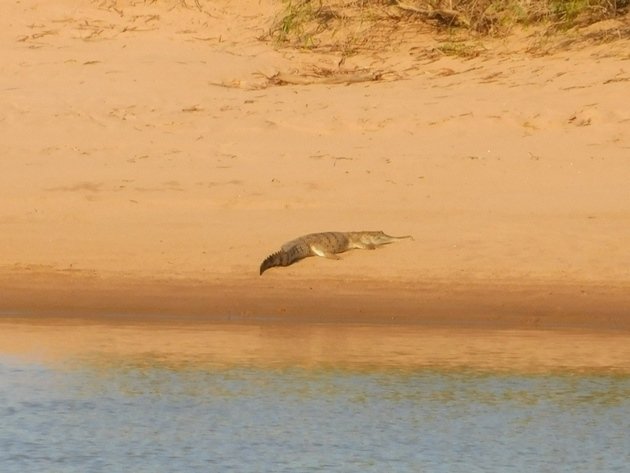 Freshwater crocodile
Our walk downstream added a few more bird species including Zebra Finch, Purple-backed Fairywrens, Rufous Songlarks, Black-breasted Buzzard, Black Falcon and Common Greenshank. The pair of White-bellied Sea-Eagles had positioned themselves on the old telegraph pole that used to carry the line across the Fitzroy River many years ago.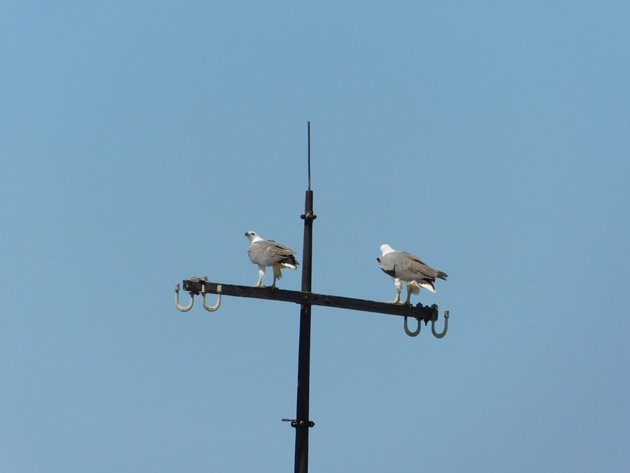 Pair of White-bellied Sea-Eagles
One of the new birds for 2021 happened late in the day and it was a White-bellied Cuckoo-shrike that landed in the tree above our camp. We also had our first Sulphur-crested Cockatoos for the year.
On our drive out we observed Nankeen Kestrels and Australasian Pipit making our camping trip list over one hundred species for that location. So, it was a good birthday trip!
It was the first time we had not seen Australian Pelicans in the area, but also we had never been there when the river level was so high. It will be interesting to see the water levels drop over coming weeks and months and returning to see the changes in the bird-life.