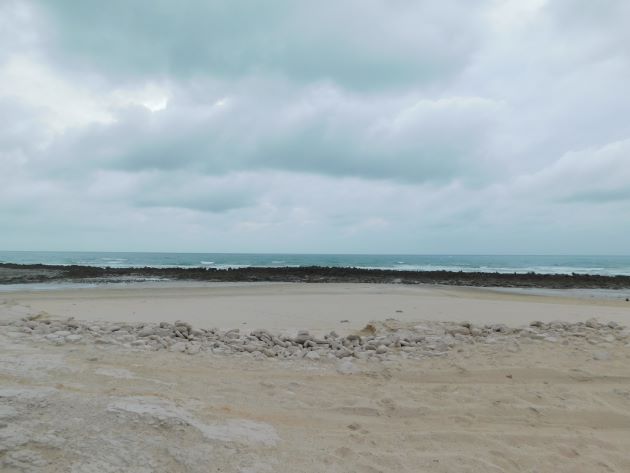 Well, summer is over! However, that does not mean that our wet season is over! We can expect more rain over coming weeks and the past week has seen more rain fall around the regions. Tropical Cyclone Anika became a rain bearing depression over the past week. It came into our region dumping enough rain to close the highway south across Roebuck Plains for a while and also restrict travel north to high clearance vehicles. Thankfully the predictions of the amount of rain to expect here were overestimated, but sadly there are many parts of Australia on the east coast where they have had record-breaking rainfall and it has cost many lives and homes.
We risked a beach walk last Sunday on the northern end of Cable Beach and there was plenty of grey about! There was no blue sky, but there were plenty of birds feeding on the reef. It was very humid and the wind was quite strong as a result of the ex Tropical Cyclone Anika. The photo above is the view from the sandstone cliffs overlooking the exposed reef and out across the Indian Ocean.
Although the reef may not look very busy at first glance you soon notice there are birds feeding or roosting amongst the rock pools. There are always both white and grey morphs of the Eastern Reef Egret quietly fishing in the rock pools when the tide is out at this location.
Closest to the water's edge are the Sooty Oystercatchers and there are usually over thirty in the flock. The Pied Oystercatchers remain in their pairs throughout the year and there is sometimes a flock near the south side of Willie Creek. The Grey Plovers tend to disappear into the rocks and become almost invisible until they take off with their clearly black armpits.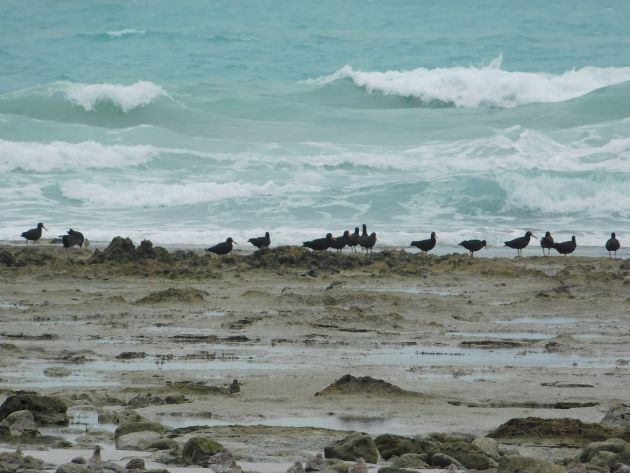 Sooty Oystercatchers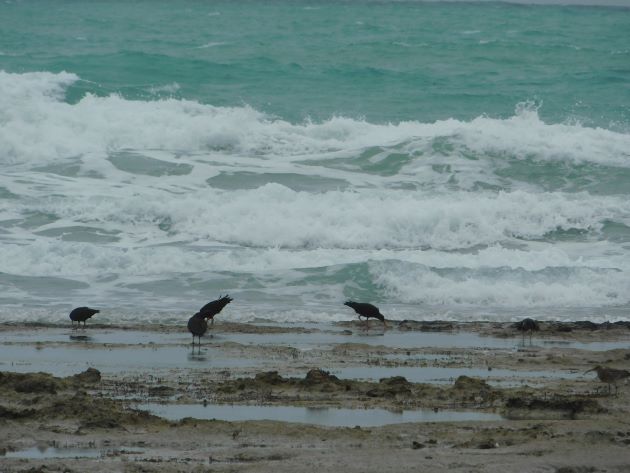 Sooty Oystercatchers, Pied Oystercatcher and a Whimbrel on the right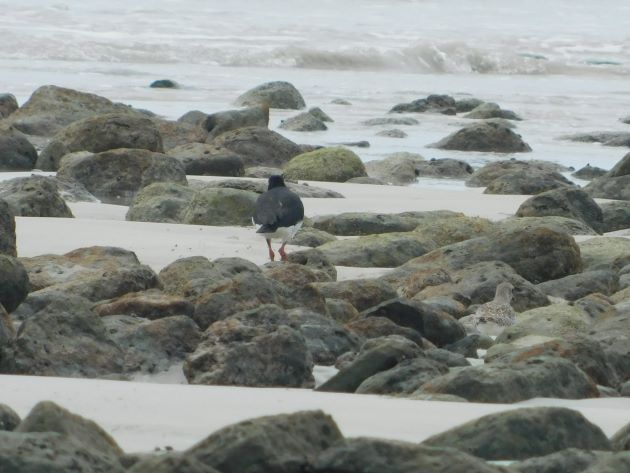 Pied Oystercatcher and Grey Plover
The Great Knot are also well camouflaged amongst the rocks and the shorebirds are all starting to get their breeding plumage. It won't be long now before the shorebirds start to head off to the Northern hemisphere to breed. The Grey-tailed Tattlers , Red-necked Stint, Red-capped Plovers, Sanderling and Bar-tailed Godwits are well hidden amongst the rocks too.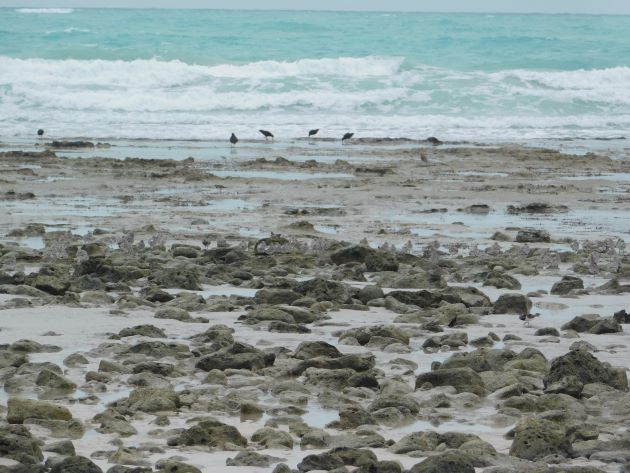 Sooty Oystercatchers at the edge of the ocean and Great Knot hiding in the rocks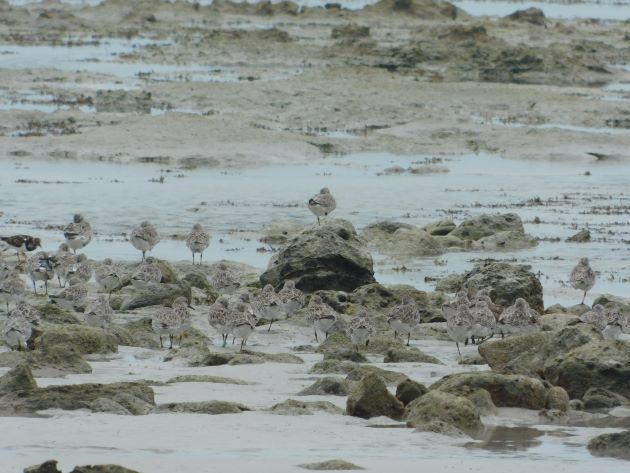 Ruddy Turnstone and Great Knot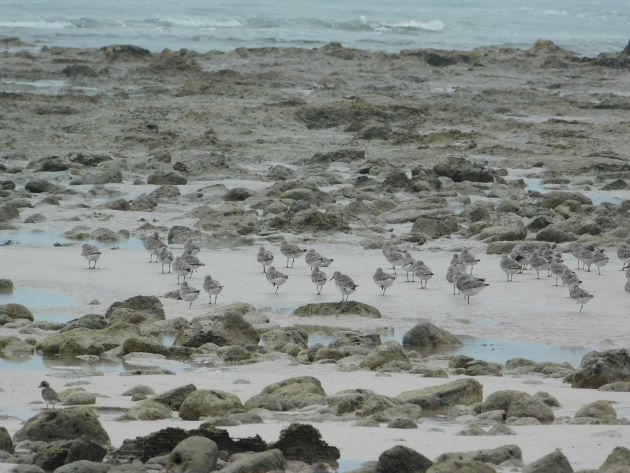 Great Knot on the sand and a Lesser Sand Plover bottom left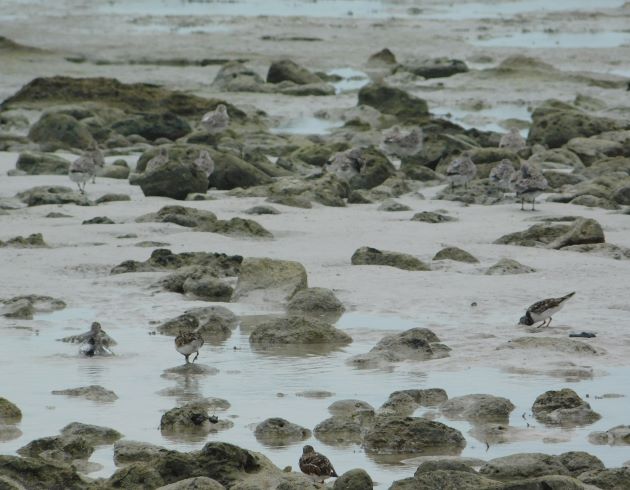 Great Knot roosting and Ruddy Turnstone bathing and feeding
Despite there being over a thousand Black-winged Stilt visible when you drive across Roebuck Plains we observed three that were on the beach instead of inland.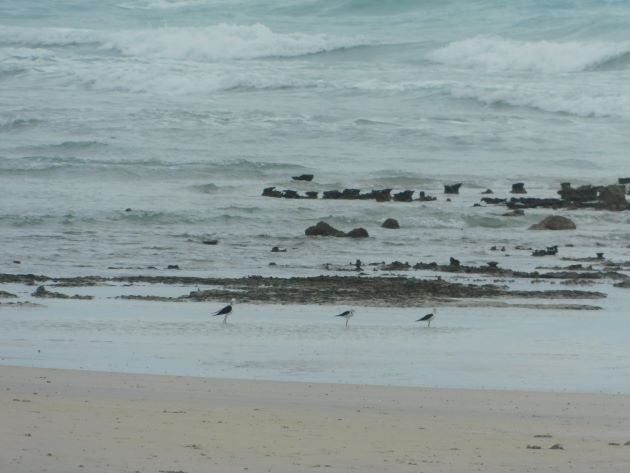 Black-winged Stilt
Nothing demonstrates grey better in size and colour as well as the White-bellied Sea-Eagle. I had hoped it might settle for a moment or two, but it continued to patrol the coast whilst we walked, birdwatched and kept an eye on the sky.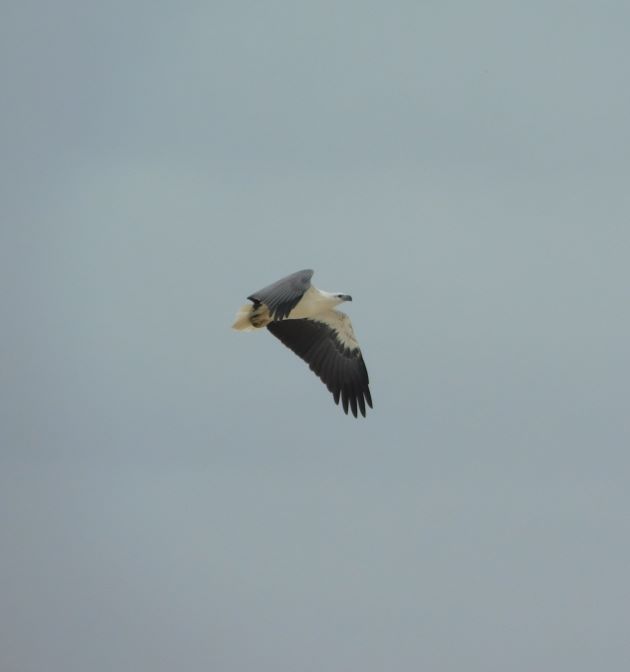 White-bellied Sea-Eagle
The storm front came in quickly and we just made it back to our vehicle and out of the cliff top car park. Looking at the radar we realised we needed to get home and out of it. It was very impressive, but also brought more sand and dirt than rain with it on its leading edge and we didn't really need sandblasting!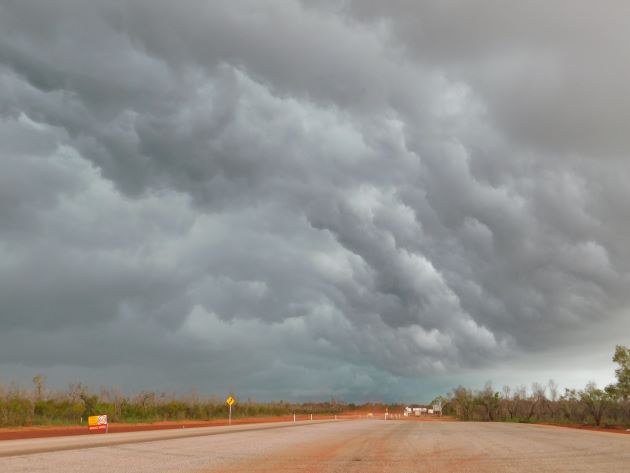 Storm front
So, it was all a bit grey! The birds were grey or black and white, which makes grey, and the sky was grey! If you get sick of constant blue skies then this is the place to be over our wet season!
After 697 days Western Australia has decided to open its borders to fully vaccinated International visitors. It has also now opened its borders to fully vaccinated Australians including Western Australians who have been locked out. We are also now experiencing what much of the world has been experiencing for the past two years. Now we have Covid 19 in the community in Western Australia. There is no doubt that we have challenging times ahead, but we hope with high rates of vaccination we can escape some of the loss of life.
It would appear that this is my 600th post on this website! I hope you have all enjoyed my posts so far and I hope to continue to offer some variety even if we don't venture far from home for some time yet.