"I am not a number, I'm a free man!"
.
How was 2012?
Pretty amazing, thank you! Last year was the first time since 1991 that I visited an entirely new bio-geographic region: South-east Asia. I was also fortunate to spend some time in eastern Kazakhstan, around Almaty and near the Altai mountains. And I also managed to bird around Germany extensively, visiting all but one of the nation's 16 Bundesländer (states, provinces, whatever), and I ended the year in southern France, watching scores of Greater Flamingos. I finished the year with at least 553 species, a number I haven't reached since probably the early 1990s. Last year also marks the first time ever that I kept a year list, and I had defined some goals for the year. Did I reach them? Well, let's see …
What are my goals for 2012?

See more species than Corey
See more than 500 species
Increase my life list to over 1,500 species
 And this is how I did:
Final year total Corey: 525+     Final year total Jochen: 553+     CHECK
 553 is more than 500, so that's also a

CHECK

 I started into 2012 with 1,300+ species and saw 210+ lifers, so yepp, also CHECK
I clearly won't be sad, coz three out of three ain't bad!
However, I should not fail to mention that last year was also filled with a significant amount of frustration. Many business trips were cancelled, e.g. 3 other trips to different regions of Kazakhstan, and a trip to Gabon. Wanting to still beat Corey after having been such a big-mouthed bugger, I had to increase my birding in Germany very significantly, and this put a lot of pressure onto my few birding / business trips. "Pressure" translates to pure frustration when you end up failing over and over again during your chases because the weather fails to cooperate, as was the norm in 2012. My dipping rate increased to somewhere between 80 and 90% during the last third of 2012, and I was only able to add a handful of new species to my list between the end of August and the end of December (the curse was finally lifted in southern France on December 30th). By the end of November, I was so frustrated that I considered taking a (short) break from birding, for the first time ever in my life. It was at this point that I fully realized that serious competitiveness is not something that floats my birding boat, it sinks it.
The big lesson of 2012 therefore is to never ever bird "competitively" again.
What are my goals for 2013?
Well, none really. I don't have any fixed plans for business trips abroad, and really do not know at all what will come my way in 2013. I might re-visit Indonesia, and I might make it to Kazakhstan again, possibly to Poland, and somewhere in Africa is always a very remote possibility – unlikely but who knows? What I know for sure is that I will be birding in many regions of Germany, and I already have a few Mediterranean species on the list from my visit to southern France in the first days of January. Therefore, I'll loosely define the following goals:
See more than 350 species (aim for 10,000+ if reasonably possible) CHECK! 14 Jun: Hoopoe!
See at least one lifer

CHECK! 14 Jan: Lesser White-fronted Goose – that was quick!

Chase less and bird more relaxed than I did in 2012

No chasing after August, very few dips during the year, CHECK!

Beat Corey if reasonably possible and if not in violation of my third goal 

553 to 511, CHECK!
The goal of 350 species and at least one lifer is very ambitious (unrealistic?) should I not leave Germany anymore this year. If trips to other destinations materialize, I might adapt my goal accordingly. Or I might not.
Whether I will really try and beat Corey again (mwahahahahaaaa) entirely depends on how my travel plans (and his) develop. Should I not be able to leave Germany, there will be no way whatsoever I could beat him, even if he doesn't leave NY. However, he did tempt me (by email), and I am tempted to give in to the temptation…
My Birding Year 2013
January
Jan 1 – 5:  The last days of the family vacation in and around the Camargue in southern France made for a very good start into the year. Highlights included  Black-throated Diver, Slender-billed Gull, Greater Spotted Eagle, Northern Gannet, Rock Sparrow, Cattle Egret, Cetti's Warbler, and of course Greater Flamingo.
Jan 7:  First day at work. I was amazed beyond my wits when I spotted a Grey-headed Woodpecker outside my office window as the second woodpecker species of the year, even before my first Great Spotted Woodpecker.
Jan 8: A one-day business trip to Dinslaken/Germany produced some very nice species, e.g. Greater White-fronted Goose, but most of all a surprise self-found Long-tailed Duck (at this time, only 5 other birds were recorded nation-wide away from Germany's immediate coasts) and a flock of Bohemian Waxwings next to the highway.
Jan 14 – 15: A two-day business trip to Hannover and the lower Rhine valley brought me some excellent additions to the year list, amongst them two successful chases: my LIFE Lesser White-fronted Goose and a Ring-billed Gull, an exceptionally rare vagrant to Germany (less than 5 records, I presume)! Outstandingly great birding!
Jan 17: A nice day "office birding". The return of winter, well the start of it to be honest, has apparently gotten birds to move again, and I was able to see – amongst others – Mistle Thrush, Redwing and even a Bohemian Waxwing from my office window.
Jan 21: An outstanding day in the vineyard just outside my office. A sudden influx of winter (I had nearly forgotten it was that season) brought in a group of at least 3 Bohemian Waxwings. After spotting them from my office, I grabbed my camera to go and get some pictures. This endeavor was not met with success, but in trying I found some "trumpeting" Bullfinches – the nominate subspecies that is regular but rare in Germany – and most amazing of all, two Twite, or is it Twites? A very, very exceptional inland record!
Jan 22: A business trip to Stuttgart offered a chance to – succesfully – chase an Arctic Diver on the river Neckar in the middle of the city! A nearby park had some additional birds in store for me, with some nice but expected additions to the year list, e.g. Common Treecreeper and Stock Dove.
Jan 26: Some nice birds at Mannheim's Luisenpark (White Storks) and around my house (Fieldfares, Bullfinches, Crested Tits, etc.) while checking out the winter aspect of the playgrounds with my son. I also re-found the hybrid Carrion- x Hooded Crow that's been around my neighbourhood since at least 2010/11.
Jan 27: I hate Mistlethrushes. With a passion. At least for a while, then I'll love them again. Anyway, here's why: today, I spotted a flock of around 50 Bohemian Waxwings 300 m away uphill from my office. I grabbed my camera, rushed up the hill, and approached them slowly, carefully, and successfully. Brilliant sunshine, sun in my back, blue sky, colourful berries, amazing Waxwings. And just when I was about to start taking what were surely going to become the best pictures ever taken of the species, a blinkin' Mistlethrush darted into the bush for no good reason whatsoever, and spooked the Waxwings away, out of sight and out of reach. Aaaaaargh!! Of course I wanted to at least get an amazing picture of the Mistlethrush instead, which was perched very beautifully and closely in the bush, but just as I had focussed, the thrush flew off, giving away nothing but a picture of half a Mistelthrush in flight. May the sparrowhawks get it!
Northern "trumpeting" Bullfinches near Heidelberg 
February
Feb 3: Half a day at the zoo in Heidelberg with my son and looking out of my living room window for the remainder of the day produced a surprising amount of interesting birds, with additions to the year list in the form of Serin, Caspian Gull and a dubious Mandarin Duck. The zoo keeps many of them on a pond, but one male was flying around, wings not clipped and legs not banded/ringed, and there is a feral population just 20 kms away. Hmmmm… well, I haven't added it to the year list.
Feb 4: Unbelievable, what is up with the vineyard outside my office window? First the Twites a few days ago, then unseasonal Cranes, frequent Waxwings, and now a Roughleg! This species is so rare here I need to report it to the records committee of Baden-Württemberg. Geez! Maybe I'll get Germany's first ever Harris's Sparrow soon?
Feb 8-10: A little castling routine in my home has kept me busy over the weekend – the sleeping room is now a study, my son's former room the new sleeping room and the former study has turned into my son's new room. Occasional longing glances through the windows of those rooms onto the outside world have been successful (the birds know when they are needed the most), with a first-of-year Long-eared Owl and a Redwing in a small group of Fieldfares.
Feb 19-21: Geez, long time no birding. A long business trip up North netted me some nice additional species. I first went to the Silbersee (silver lake) for waterfowl, but sadly was prevented from locating the hoped-for Greater Scaups by heavy snow fall and the limited visibility that brings. A quick glance over a small lake near Zeppelinheim did produce the Velvet Scoter that had been present for some time, but I failed again at another location near Wetzlar for Greater Scaups. The 20th was spent near Langhagen, where White-tailed Eagles and a flock of Twite were the highlights. Driving back, I visited the Elbe valley near Dannenberg for geese. Again due to the thick snow fall, I was not able to locate any of the tree "special" geese that had been reported from there just days before (Pink-footed, Taiga Bean, and Red-breasted), but I had a good time nonetheless.
Feb 23-24: Nice weekend birding around my garden, with a large flock of Fieldfares and my first-of-the-year Lesser Redpoll, quite a (very) good bird to see around here.
Feb 25: A completely uneventful day trip to Hannover – there and back again – but my first large flock of around 75 Skylarks for the year was nice.
Feb 26: The biggest invasion of Bohemian Waxwings to southern Germany I've ever witnessed led to me seeing a flock in my backyard before breakfast and another one while driving my wife to work. The fact that they are so common this year that this isn't all that cool makes it that cool. In the afternoon, I finally managed to go see the Eagle Owl that's breeding 500 m away from my office.
Feb 28: I end the month with a rather nice day of "office birding" that produced what I think may be a record 29 species seen or heard from my office window, including my first Black Woodpecker of the year (4 species of woodpecker today). Bring it on, March!
Bohemian Waxwing
March
Well, it is now April 2nd, and I haven't added a single entry to my year's diary in March. The few people who read this (any?) may find this surprising, or they may even think I was so busy birding the living daylights out of Germany that I had found no time to do anything online.
Nope.
As a matter of fact, this March 2013 was the most BORING month bird-wise I have ever experienced, in 30+ years of birding! Incredible. After the darkest January and February since sunlight hours were recorded, we slipped into the coldest March since 1880. I kid you not. My son searched for Easter goodies in my backyard while it was snowing!
During all of March, our winter birds remained and essentially no migrants whatsoever blessed us with a hint at spring migration. As you can see by the graph below, I only managed a handful of new species during the entire month.
Rolling with the punshes, I spent my month wisely and did not go on any significant business/birding trips. Instead, I sat at my desk in the office and wrote enough reports to keep the customers happy until next year. April is bound to be better though – heck, those migrants have to arrive some time, right?
 My "office" Common Buzzard, shortly after raiding the nest of my "office" Magpies
April
Apr 1: A family outing to the Schlosspark (castle park) of Schwetzingen finally produces my first Barn Swallows of the year, at a time when I'd normally be hoping for an early Common Swift that I can string into a Pallid. Good woodpecker activity there, as always, with Grey-headed, Green, Greater and Middle Spotted as well as the tail feather of a Black.
Apr 2: The birds are helping. Checking 10,000 Birds today at the office (oooops, I never, ever do that), I noticed that I was 1 behind Corey in our year list competition. A migrant Hobby and a fly-by Wryneck, both very remarkable for my office list, took care of the situation, pushing me back to the lead.
Apr 3: Leaving for a 10-day business trip to Java / Indonesia! Yyyyeeees!
Apr 4: A short stop-over in Singapore netted me some nice birds, most notably my life House Crow and huge flocks of Javan Myna.
Apr 5 – 12: Surveying a diverse site near Cirebon, with small wetlands, forested hills, rice fields, banana plantations, etc. produced more than 70 species. Amazing stuff, but physically very demanding in the tropical heat and humidity. Avian highlights were good numbers of migrating raptors (Oriental Honey Buzzards, Japanese and Chinese Sparrowhawk), my first Gallus-member, the Green Junglefowl, Ruddy Cuckoo-Dove, Savanna Nightjars, four species of Kingfisher, four species of sunbirds and the amazing Java Sparrow!
Apr 13: A day in Jakarta allowed me to visit the mangrove reserve of Muara Angke and the coast next to it, which was just amazing. I guess my next blog post on 10,000 Birds is going to cover that day.
Apr 14: Arrived back in Germany during the early afternoon. While i was away, the weather had been cold and miserable, and there was scarcely a difference in vegetation development to when I had left. What a sad, sad spring it is!
Apr 17: Oh, the migrants are here! Those 10 days away in Indonesia really helped. Two new species for the year just walking from the parking lot to my office.
Apr 19: A brilliant day at Waghäusel, with more than 75 species and around 18 new ones for the year. The best rarity was a self-found British Yellow Wagtail, which is a very scarce migrant / yearly vagrant, but most impressive were the Purple Herons that have decided to breed out in the open, next to the trail this year!
Apr 25: First day of a three-day business trip up North, first checking Waghäusel again to photograph the Purple Herons, then on to Neupotz, where I got a few expected firsts (e.g. Greenshank, Wheatear). In the afternoon, it was off to Wetzlar for another quick survey, which resulted in an astounding flock of over 200 Linnets, very unusual this late in the year. A night drive North to Hannover.
Apr 26: Afte finishing my work assignments in Hannover around 12:30, I drove to lake Dümmer where i had an excellent afternoon watching Black-tailed Godwits, a Temminck's Stint and most significant of all, a self-found vagrant Ashy-headed Wagtail. I arrived at the former poo ponds of Münster late – around 18:00 – but there was still enough light to check some ponds for shorebirds, with my first-of-year Oystercatchers, nice Redshanks, and again Black-tailed godwits. The Icelandic Black-tailed godwit that had been reported in the days before had sadly left already.
Apr 27: A morning's survey near Ennigerloh in very cold temperatures (4°C!) got me a nice breeding Eurasian Eagle Owl and a small flock of Wheatears. Then it was back home again, a long drive south.
Apr 28: A family visit to the Wilhelma Zoo at Stuttgart, nice to see the feral Yellow-crowned Amazons which should be countable by now (since last year), but German birders are still awaiting the official verdict on the matter.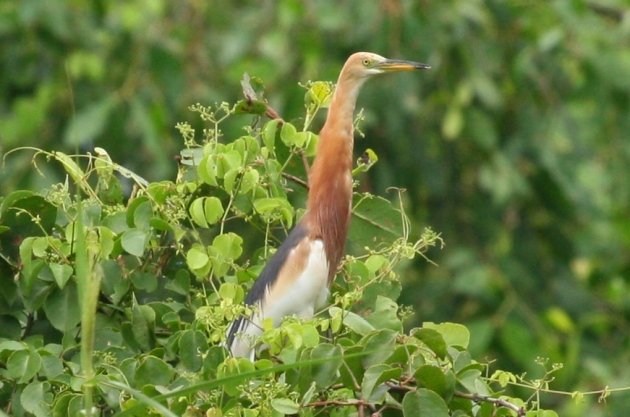 Nothing says "Java" quite like the Java Pond Heron 
May
May 1: The start of a 5-day business trip across southern Germany, from Kronau to a site near Stuttgart (where I found partridges away from pear trees but failed to see little owls in apple trees) to the Donaumoos, a very successful day. I successfully twitched a vagrant Pectoral Sandpiper near Günzburg.
May 2: Surveys around Schelklingen, including a visit to the Schmiechener See where I found my second nearctic vagrant, a female Blue-winged Teal. Amazing!
May 3: Business meetings in the morning at Schelklingen, then from the Plessenteich (Osprey!) to the Donaumoos and after nightfall on to Regensburg.
May 4: An all-day survey near Regensburg where I found expected Woodlarks and a very unexpected Western Bonelli's Warbler!
May 5: Back home to Heidelberg, with a quick visit to the very crowded "island zone" of the Altmühlsee. The latter netted me Penduline Tits.
May 6: A short and relatively uneventful visit to Kronau again, followed by Waghäusel where I inexplicably failed to find the vagrat Black-winged Stilts, but had a good time nonetheless.
May 9: The start of a business trip "up North", visiting the Belziger Landschaftswiesen (Great Bustards, Ortolan Bunting, Little Owl), the Rietzer See / Streng (River Warbler, Bittern, Red-necked Grebe, Black Tern), and the Havelländisches Luch near Buckow (more Great Bustards, Corn Bunting, Barred Warbler, Montagu's Harrier). The evening was spent surveying for amphibians near Langhagen, the highlight being my first visual encounter with Fire-bellied Toads!
May 10: Survey at Langhagen, with nice birds (e.g. Eagle Owl) and more Fire-bellied Toads! I spent the evening at the wetland "Große Rosin", which was just amazing: All three Chlidonias-terns, including my favourite White-winged, Lesser Spotted Eagle, and a calling female Little Crake!
May 11: More surveying near Langhagen, followed by a quick visit to the island Poel. Birding the northern tip near the "bird island" Langenwerder produced the expected by still highly appreciated "special" terns of the area, Arctic and Little Tern. Ringed Plovers were also a nice addition to the year list. Scanning the southern bay allowed me to find a few Brent Geese.
May 12: Departing Langhagen early in the morning to get home not too late in the afternoon (it's a 500-mile drive!), I quickly stopped at a beech forest next to the road that looked good for Red-breasted Flycatcher. No luck with the fly, but an odd song turned out to come from a Greenish Warbler, a first class rarity to Germany! Not bad for what was essentially a dip.  
May 15: "Office Birding" today allowed me to finally get my Red-footed Falcon for the year. Lucky!
May 16: An unsuccessful early-morning chase after a long-staying Roller near Rottenburg was unsuccessful (but nice nonetheless, with e.g. Montagu's Harrier), and I made it just in time (with 2 minutes left) to the business meeting at Schelklingen! Yeah, that was a bit lucky…
May 17 – 20: A short family vacation at a "kid's farm" (Weberhof) an hour's drive away from Heidelberg was great fun, but of course the birding was limited to the common garden birds. There were surprisingly many kites though (both Black and Red).
May 26: A visit to the natural history section of Frankfurt's Senkenberg Museum was amazing, and it netted me more than 500 new species for the year, including Passenger Pigeon and Great Auk. Oh wait, stuffed birds don't count you say? Well, too bad!
May 27: The start of a long, long business trip all across Germany and into Poland. The birds at Kronau and Neupotz were nice but not out of the ordinary, with the exception of a Purple Heron at the latter site. The known bee-eater colony near Maisbach held two birds, which were breathtaking no matter how expected they may be at a known breeding site. Things started to really heat up though at Waghäusel where I successfully twitched a Spoonbill and – revenge – the Black-winged Stilts, and where I also heard a Spotted Crake. Not bad even for Waghäusel. Not bad at all!
May 28: An all-day survey at Warstein produced Eagle Owls, Wheatear and a surprise pair of Great Grey Shrikes.
May 29: Checking a promising small river running through the town of Warstein resulted in great views of a Dipper, the best I've had since Kiefersfelden. This was followed by a long, long drive East towards Poland. The weather was a catastrophy (can you spell r-a-i-i-i-i-i-i-i-i-i-i-n?) but luckily turned okayish when I arrived at one of my stop-over birding sites, the water reservoir near Kelbra. Good birds, good birds indeed. I may have missed the Red-throated Diver that had been reported there just days before my visit, but this was compensated by nearly 300 Black-necked Grebes, a calling Bittern, a Barred Warbler, and a large flock of raptors, comprising 28 Black Kites, 6 Red Kites, and 4 Common Buzzards. The day had more good birds in store for me however, and a visit to the Geiseltal lake near Braunsbedra was nothing short of spectacular! Amazing looks at Bee-eaters, a killer Wryneck, Dunlins, Redshanks, a Greenshank and most amazing of all: one of the very few inland Red-necked Phalarope of Germany this spring, self-found! What a day!!
May 30: An early morning visit to the Berzdorfer See was great, with Bluethroat, a fly-by Tawny Pipit (yes!!), my first good looks at a Barred Warbler since – I don't know, maybe the early 2000s, and 5 Arctic Divers. Then it was on to Poland, where I started a survey at a site south of Bunzlau. Rain, rain, rain.
May 31: Survey near Bunzlau, with nothing special to report except for more rain, rain, rain and a Scarlet Rosefinch singing twice. No views, just two short song phrases, and thus not satisfactory but okay. Realizing the rain would not allow me to get any results beyond the data I had already gathered, I left Poland for Schelklingen/Germany. En route, the rain got severe. And I mean really severe. So severe in fact that there were large-scale floodings across southern Germany, the Czech Republic and Austria, with people dying, roads collapsing and dams breaking. In some areas, the floods were the worst in a hundred years! I therefore decided – quite despaired – to give up Schelklingen and drive home to Heidelberg. Arriving there around 11 p.m. I checked the weather forecast. The rains were expected to continue the next day (Saturday) but Sunday was expected to be much better. The plan was made to await the weather forecast and flood reports the next day and then decide to drive to Schelklingen or not…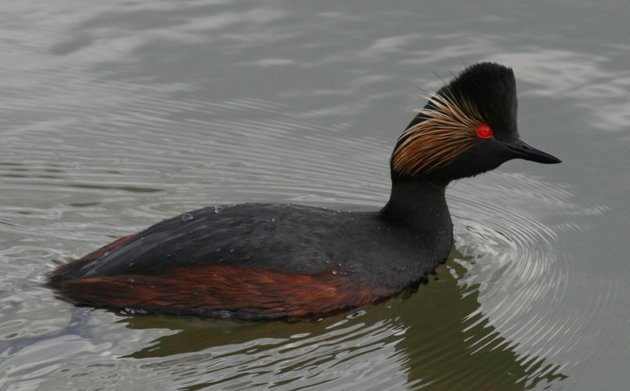 There is more to Waghäusel than Stilts and Purple Herons! Black-necked Grebes, for example.
June
Jun 1: After closely following the flood situation, I decided to give Schelklingen a try and departed Heidelberg around noon. It was clear that the weather would only permit to survey the next day, so I took my time driving there and chose the small detour through the northern Black Forest. This little "standard tour" to some localized breeding birds was difficult due to rain and fog, but very successful: Alpine Swifts in Achern (check), Ring Ouzel at Ruhestein (check), Citril Finch at Schliffkopf (check), and this year's addition to the tour: a vagrant Iberian Chiffchaff near Kniebis (check!). A visit to the lakes near Wernau produced countable but unsatisfying looks at a Little Bittern (check). Getting five out of five target species sure made this a sweet day, in spite of the weather.
Jun 2: A day's surveying around Schelklingen was good due to decent weather but uneventful. On my return drive home, I tried to get better views of the breeding Little Bitterns at Wernau but failed. Still, a nice day. And what a birding month (+ 2 days)!
Jun 10: Off again on a week-long business trip to the north of Germany after an uneventful week back home. After a quick visit to Wetzlar, I was off to the far North-east of Germany, arriving at the meadows of Johanneshof around 10 p.m. A night walk through the wetland produced my life Baillon's Crake, which is quite a find in Germany, but not completely unexpected there.
Jun 11: An extremely productive early morning birding the Johanneshofer meadows lead to the observation of the known Pacific Golden Plover, a much longed-for lifer, three Spoonbills and many other fine birds. Around noon, a quick walk through the Elisenhain near Greifswald did not produce the hoped-for Red-breasted Flys, and a visit to the sand bars near Wampen did not allow me to see Avocets, but a fly-by Osprey was nice and unexpected. Around noon, I was off to my survey site near Langhagen.
Jun 12: The survey site at Langhagen is just a marvellous place, and I encountered Cranes, White-tailed Eagles, beautiful Ospreys again, Barred Warblers, Whin- and Stonechats, Wheat-ears and even an amazing Black Stork. Good times, indeed – and getting paid for it! A quick stop-over at a forest south of Neukalen finally netted me Red-breasted Flycatchers, but the night cruise of the wetlands near Beestland, Zarnekow-Upost and the Große Rosin was great but uneventful concerning the year list, with only Water Rails and plenty of Savi's Warblers (plus a quail) calling. A roadside stop around midnight allowed me to listen to a River Warbler, but sadly not a Corncrake.
Jun 13: A long drive from Germany's north-east to Germany's north-west, stopping at the Greater Rhea site near Lübeck (check), the Gull-billed Tern site near Freiburg/Elbe (check) and the former poo ponds of Münster for a Ferruginous Duck (check).
Jun 14: A survey near Ennigerloh yielded the expected Eagle Owl but not much else. A quick stop near Rüdesheim en route home brought Cirl and Rock Buntings and Melodious Warblers, while a short walk near Sandhausen (close to Heidelberg) got me the great Hoopoe.
Jun 20: A cold front from the west put an end to an unseasonal heat wave of 38°C that had lasted for nearly a week. The cold front hit in the evening around 21:30, and it was quite an event, with massive downdrafts of more than 100 km/h. It was an awe-inspiring experience to watch the dark wall of clouds approach, rendered even more memorable by the discovery of 7 Griffon Vultures that had been caught up in the storm and had no choice but to battle against the wind and stay airborne well into the night. This is an amazing vagrant to Germany, even during an influx (as was the case during the time of the observation), but finding Griffons at night during a thunderstorm is possibly the weirdest birding experience of my life!
Jun 28: I had spent the previous days scanning the skies even more thoroughly than I usually do because of several reports of Pacific Swifts and even one White-throated Needletail (that would end up as rotor fudder of a nearby wind turbine), but had little expectations of anything special. Until I noticed a black dot on the sky approaching my office from the east. It was a very large bird. A huge bird, with a peculiar tail. It came towards me, I grabbed my camera in a delirious state of disbelief, shot off around 15 pictures as the bird passed overhead, high up against a grey sky, downloaded the pics immediately to look at them again, over and over again. I finally had to accept it as being real and true: what had just passed over my office was no less a bird than the magnificent bird of birds, emperor of the avian kingdom, a BEARDED VULTURE.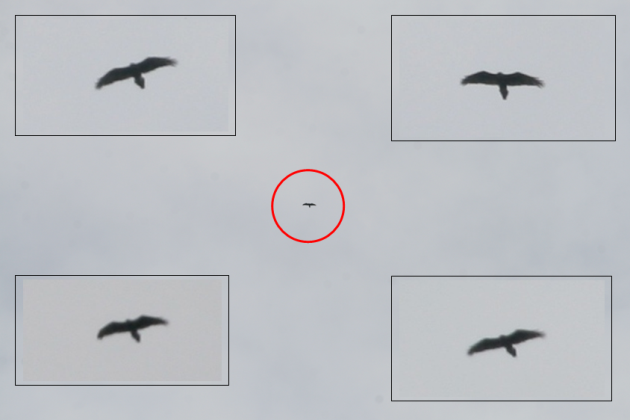 The BEARDED VULTURE over my office in Leimen on 28 June
.
July
 Jul 01 – 11: Quiet days in and around Heidelberg, with no business trips or family days bringing in significant birds. After successfully seeing the Hoopoe on June 14 I had seen almost all possible regular species of my area with no potential additions to the year list, making this quiet phase a bit boring but not bad in a competitive sense.  
Jul 12: Leaving for Burglengenfeld in Bavaria late in the evening, I quickly visit the Viernheimer Heide north of Mannheim to add Eurasian Nightjars to the year list. In spite of good weather conditions, the forest is very quiet and it takes me more than an hour until I finally hear a short flight call. As far from satisfying as an observation can get, but perfectly countable. Due to the difficulties of getting the Nightjars it has gotten very late and I decide not to  visit an area for Corncrake near Nürnberg, which means this species will likely evade me this year…
Jul 13: A morning's survey at Burlengenfeld, followed by guiding a nature tour, produces a few nice birds, amongst them Woodlarks, Honey Buzzard, Little Grebe and Teal.
Jul 14 – 31: Again, a very quiet phase at the office and at home, with no trips whatsoever. Heidelberg is experiencing a rather severe drought and heat wave, making the little bit of birding I get done locally not so pleasant. However, this is not so bad regarding the year list as I have now really seen all possible birds here and have to wait for wader/shorebird migration and winter anyway. August is bound to get better though, as I have a búsiness trip to the Baltic coast scheduled around the middle of the month and a family vacation to the Bretagne for the last week of August and the first week of September.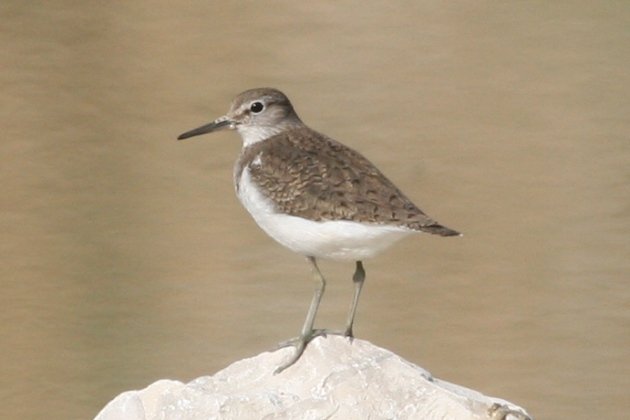 Little birding means few bird pictures, and this Common Sandpiper at Burglengenfeld is just about the only bird I took pictures of in July 2013 
.
August
Aug 04: A family trip to the castle parks of Ludwigsburg was quite nice, providing good looks of common garden birds and countable Mandarin Ducks, the first addition to the year list since 12 July.
Aug 05: Finally on the road again to the north-west of Germany. A short stop in Dietzenbach near Frankfurt is quite uneventful, but a Red-backed Shrike and close-up Linnets & Goldfinches are appreciated. After a looooong drive, I arrive at Senden city centre, where a Pied Wagtail had been spotted a week or so before. No Pied Wagtail, but a surprisingly rich assembly of common garden birds made for an enjoyable stop. Another drive, this time short, and I scan the "E1" pond of the former poo ponds of Münster for waders/shorebirds. Sadly the water level is too high for any Calidris (which I am badly in need for), but quite a number of Tringa sandpipers and a Spoonbill, rather rare here, are very nice. I then make a quick dash into dusk to look for a Ferruginous Duck, but fail as the light fails me.
Aug 06: A rather uneventful morning searching a few buildings that need to be demolished for bats & birds in Ennigerloh, then off again back south to where the home is. The late afternoon brings the first substantial rain since the beginning of July. Finally releaved!
Aug 07: A rather diverse day at the office again, although no major rarities or specials show up. It had been raining heavily over night, and it is surprising what that has done: my daily office list is around 30 again, after struggling to even approach 20 during the last 2 weeks.
Aug 16: A long drive North towards Stralsund, as a combined business / private trip (birthday at the in-laws). I decide to visit the Johanneshofer Wiesen near Anklam and spend the night there. What should have taken 7 hours (allowing for 3 hours of birding before nightfall) turned out to be a 9 hour trip, cutting the birding time to about an hour. Still, the meadows are amazing and I have one of the best shorebird moments ever, with Broad-billed Sandpipers, a Red-necked Phalarope and an astounding Kentish Plover. As night falls, I listen for the calls of migrating birds, and am very successful in doing so, with a Dotterel, a Spotted Crake and a Corn Crake. I score around 10 new species for the year!
Aug 17: The morning is surprisingly much more quiet, with many shorebirds feeding too far away on the western edge of the meadow to do anything. However, I still manage to pick out my Sanderling for the year and an astoungind group of 3 Marsh Sandpipers. After spending the day on the island of Rügen with the family (not much birding there), I take off towards my survey site (the business part of the trip) near Langhagen, but not before a quick stop at the meadows of Karrendorf. Again, the shorebirds are amazing, and I find 22 species, including a group of 7 Broad-billed Sandpipers, 4 Red-necked Pharalopes, and my first-of-the-year Bar-tailed Godwits and Avocets. I depart Karrendorf after dark, failing again to spot a Short-eared Owl, and spend the night in the car on a parking area along the Autobahn. The two sites Johanneshofer Wiesen and Karrendorf produced a total of 29 shorebird species, which means I am "through" with this group: nothing left that I could realistically see this year in Germany.
Aug 18: The morning's survey is very nice again, as always in Mecklenburg-Vorpommern, but there is nothing unexpected. Just the usual White-tailed Eagles, Osprey, Cranes, Woodlark, and so on… A thunderstorm drives me out of the place back into the car, and off I take around noon. Bad idea. The Autobahn is so cluttered that the entire drive will eventually take me 12 instead of 7 hours! I decide to take a short break from driving by birding the Reckahner ponds next to the Autobahn. Nice shorebird assembly but nothing special (I am spoiled now, right?).
Aug 23: Departure in the late afternoon on a trip to Brittany / Bretagne in France!
Aug 24 to Aug 31: A week in northern Bretagne on the Pink Granite Coast. Great birding, with the highlight being a boat trip to the Sept Isles, the seven islands.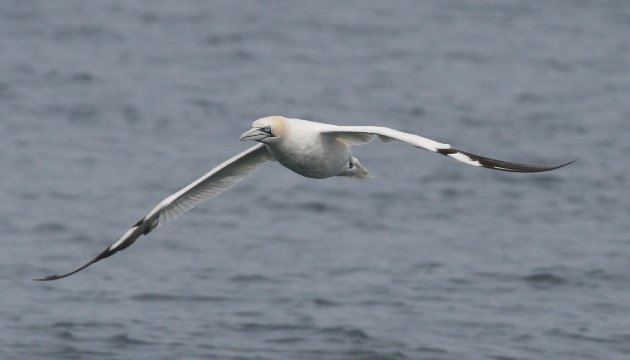 Northern Gannet, one of around 10,000Birds (ha!) seen around the 7 Isles on August 29th. This is a species that cannot be overrated, no matter how hard you try.
September
Sep 1 to Sep 7: A week in Camaret-sur-mer south of Brest / Brittany. Sadly our car had to be repaired and we thus lost 2 days, so the birding was limited compared to the first week. Nevertheless, it was a very good time!
Sep 19: After uneventful days, including one-day trips to Wetzlar and Schelklingen with essentially no birds, a group of several Red-throated Pipits flew over my balcony in the morning. Fine birds for this part of Germany, fine birds.  
Sep 28: Having a cold and snoring louldy had me banned from the sleeping room onto the livingroom's couch, which resulted in an acoustic encounter with a Barn Owl in the middle of a sleepless, snotty night.
Sep 30: I just realized that the month is nearly over and there has been essentially no birding whatsoever beyond looking out of my livingroom or office windows.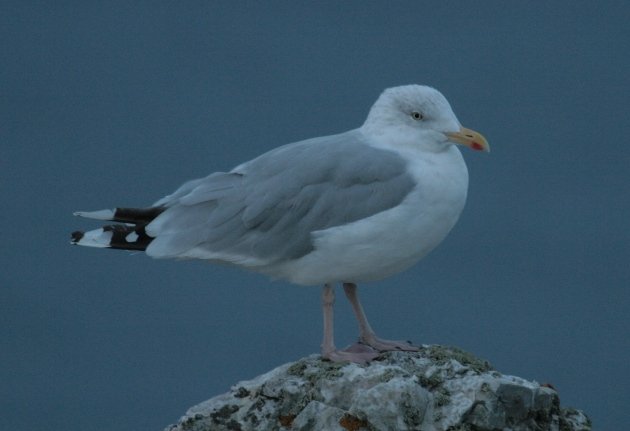 For lack of other bird images during this nearly birding-less month, I'll have to chose this Herring Gull from an early morning's seawatch at Cape Penhir near Camaret-sur-mer, Brittany
.
October
Oct 06 to Oct 11: A short but amazing business trip to Kazakhstan's Mangghystau province. The beginning of October is a little bit too late to get some of the better migrants, and many breeding birds have already left. Nevertheless, Chukars, Saker, Golden Eagles, Spanish Sparrows (my first good views since 1995!), Black-bellied Sandgrouse, Brown-necked Ravens (my first since the 1980's!), Sibe Chiffchaffs and an incredible 9 species of lark, including the province's first Oriental Skylarks, provided some high octane birding experiences.
Oct 22: After the high-adrenaline first half of 2013, the second half – especially September and October – have turned out te be exceedingly quiet on the birding front. Most of the days were spent at the office writing numerous reports about the breeding season's survey results. It was therefore a very welcome experience to discover a Glossy Ibis flying past my office window, as part of what might be Germany's biggest influx of the species ever.
Oct 31: I am scheduled to be in Indonesia again at the beginning of November, hopefully with a little bit of birding from the airport windows in Dubai – let's hope everything works out!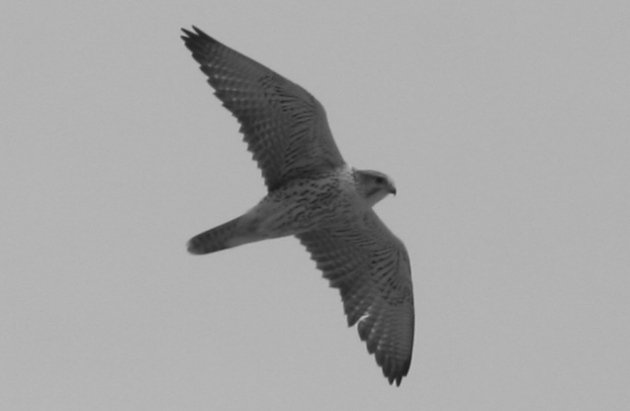 Nothing says  "Kazakhstan" as convincingly as a Saker
.
November
Nov 02: I start off on a business trip to Indonesia again, this time visiting sites on Java and Borneo. I love my job.
Nov 03: A stop-over in Dubai is too short to leave the airport, but I manage views of Chestnut-bellied Sandgrouse, Common Myna and Crag Martin in and around the airport building.
Nov 04 – 08: At Cirebon again, where the birding is quite different from April and includes some palearctic migrants, like Asian Brown Flycatcher and Yellow-rumped Flycatcher.
Nov 09: An insanely successful day at Gunung Gede Pangrango National Park. GIANT SWIFTLETS!!
Nov 11 – 15: Survey work around Tarjun, South Kalimantan (Borneo) with amazing results and plenty of lifers and new species compared to the survey in April 2012. Most significant is the first-ever record of Kamchatka Leaf Warbler for Borneo, but most thrilling to me are Besra, the beautiful Little Green-Pigeons, Silver-rumped Needletail, again 4 species of hornbill, my first ever Pitta (typically a heard-only), and plenty of Bornean Black Magpie observations.
Rest of November: a quiet time with work, work, work…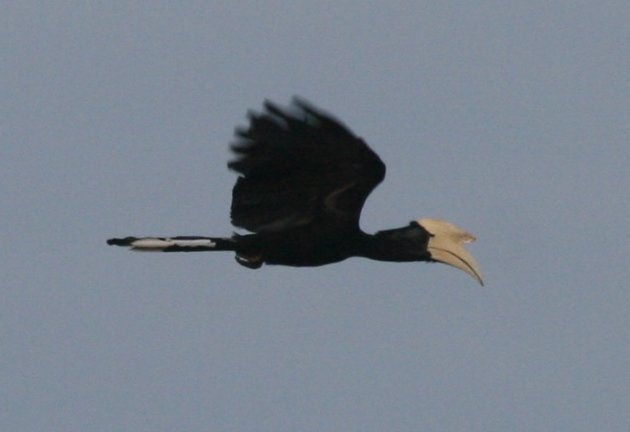 The über-cool Black Hornbill.
December
An extremely quiet birding month again, with much work to do at the office and no business trips related to birding.
Dec 28 – 31: finally, a week-long family holiday to France's Provence again! As this was a repetition of the family trip one year ago, and as I did not expect many new species for the year, the birding was as relaxed as the entire trip was – and that's very relaxed. Some birding highlights were Cirl Bunting and Southern Grey Shrike near our accomodation, and Rock Sparrows at Pond du Gard. The last day of the year brought some more action at Les Baux, where I missed the Wallcreeper by a few minutes but nevertheless had a splendid time with additions to the year list in the form of Bonelli's Eagle (unsatisfactory views but countable), Blue Rock Thrush and Alpine Accentor.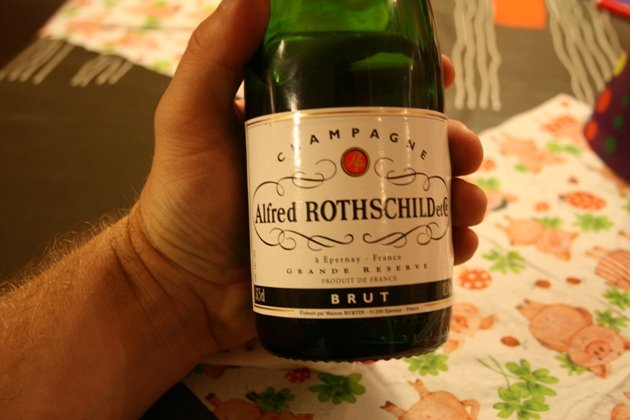 I finish the year with 553 species, the exact same number as 2012!
Statistics & Maps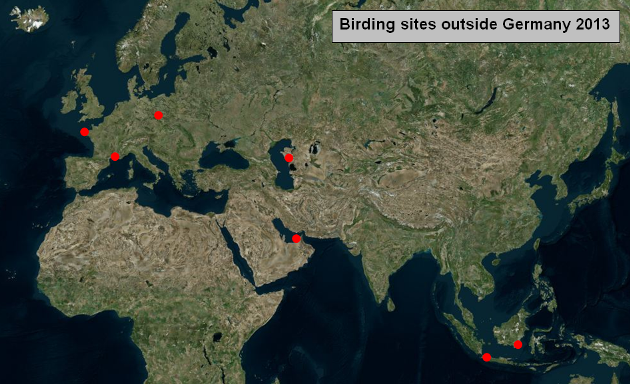 .
The Almighty List
The taxonomy of the list follows (in a very loose fashion) the WP checklist on the German Club300 site for reasons of convenience. Should I be able to visit regions outside the WP, I'll just mix those species in according to my own free will.
Abbreviations for German "Bundesländer" (states, provinces, whatever…):
BB  – Brandenburg
BW – Baden-Württemberg
BY – Bayern
HE – Hessen
MV – Mecklenburg-Vorpommern
NW – Nordrhein-Westfalen
NI – Niedersachsen
RP – Rheinland-Pfalz
SN – Sachen
TH – Thüringen
Greater Rhea Rhea americana: Schaalsee, MV, Germany, 13 Jun
Tundra Bean Goose Anser rossicus: near Minden, NW, Germany, 14 Jan
Greater White-fronted Goose Anser albifrons: Werrich, NW, Germany, 8 Jan
LESSER WHITE-FRONTED GOOSE Anser erythropus: near Minden, NW, Germany, 14 Jan –

LIFER

!!
Greylag Goose Anser anser: Camargue, Provence, France, 3 Jan
Brant Goose Branta bernicla: Poel, MV, Germany, 11 May
Barnacle Goose Branta leucopsis:near Minden, NW, Germany, 14 Jan
Canada Goose Branta canadensis: Hitdorf ferry port, NW, Germany, 15 Jan
Mute Swan Cygnus olor: Camargue, Provence, France, 1 Jan
Tundra Swan Cygnus columbianus: Dannenberg, NI, Germany, 21 Feb
Whooper Swan Cygnus cygnus: near Minden, NW, Germany, 14 Jan
Egyptian Goose Alopochen aegyptiaca: Werrich, NW, Germany, 8 Jan
Ruddy Shelduck Tadorna ferruginea: Werrich, NW, Germany, 8 Jan
Common Shelduck Tadorna tadorna: Camargue, Provence, France, 1 Jan
Wandering Whistling-duck Dendrocygna arcuata: Tarjun, S Kalimantan, Indonesia, 11 – 15 Nov
SUNDA TEAL Anas gibberifrons: Muara Angke, Java, Indonesia, 13 Apr
Gadwall Anas strepera: Silbersee, RP, Germany, 19 Feb
Eurasian Wigeon Anas penelope: Silbersee, RP, Germany, 19 Feb
Mallard Anas platyrhynchos: Camargue, Provence, France, 1 Jan
Blue-winged Teal Anas discors: Schmiechener See, BW, Germany, 2 May – self-found vagrant!
Northern Shoveler Anas clypeata: Camargue, Provence, France, 1 Jan
Northern Pintail Anas acuta: Dannenberg, NI, Germany, 21 Feb
Garganey Anas querquedula: Wagbachniederung, BW, Germany, 19 Apr
Common Teal Anas crecca: Silbersee, RP, Germany, 19 Feb
Mandarin Duck Aix galericulata: Ludwigsburg, BW, Germany, 4 Aug
Red-crested Pochard Netta rufina: Camargue, Provence, France, 3 Jan
Common Pochard Aythya ferina: Camargue, Provence, France, 3 Jan
Tufted Duck Aythya fuligula: Dinslaken, NW, Germany, 8 Jan
Ferrugineus Duck Aythya nyroca: Rieselfelder Münster, NW, Germany, 13 Jun
Common Eider Somateria mollissima: Hitdorf ferry port, NW, Germany, 15 Jan
Velvet Scoter Melanitta fusca: Zeppelinheim, HE, Germany, 19 Feb
Common Scoter Melanitta nigra: Camargue, Provence, France, 1 Jan
Long-tailed Duck Clangula hyemalis: Dinslaken, NW, Germany, 8 Jan
Common Goldeneye Bucephala clangula: Dinslaken, NW, Germany, 8 Jan
Smew Mergellus albellus: Silbersee, RP, Germany, 19 Feb
Common Merganser Mergus merganser: Dinslaken, NW, Germany, 8 Jan
Red-breasted Merganser Mergus serrator: Camargue, Provence, France, 3 Jan
Chukar Partridge Alectoris chukar: Shetpe, Mangghystau Province, Kazakhstan, 07 – 10 Oct
GREEN JUNGLEFOWL Gallus varius:  Cirebon, Java, Indonesia, 5-12 Apr
Grey Partridge Perdix perdix: Ludwigsburg, BW, Germany, 1 May
Common Quail Coturnix coturnix. Schurrsee, BY, Germany, 1 May
Common Pheasant Phasianus colchicus: Heidelberg, BW, Germany, 19 Feb
GREAT ARGUS Argusianus argus: Tarjun, S Kalimantan, Indonesia, 11 – 15 Nov
Chestnut-bellied Partridge Arborophila javanica: Gunung Gede Pangrango National Park, Java, Indonesia, 9 Nov
Blue-breasted Quail Coturnix chinensis:  Cirebon, Java, Indonesia, 5-12 Apr
Black-throated Loon Gavia arctica: Camargue, Provence, France, 1 Jan
Little Grebe Tachybaptus ruficollis: Stuttgart, BW, Germany, 22 Jan
Great Crested Grebe Podiceps cristatus: Camargue, Provence, France, 1 Jan
Black-necked Grebe Podiceps nigricollis: Camargue, Provence, France, a Jan
Red-necked Grebe Podiceps grisegena: Streng, BB, Germany, 9 May
Greater Flamingo Phoenicopterus ruber: Camargue, Provence, France, 1 Jan
Northern Fulmar Fulmarus glacialis: Les Sept Isles, Bretagne, France, 28 Aug – first since around 1992, first tubenose since 2003
Balearic Shearwater Puffinus mauretanicus: Les Sept Isles, Bretagne, France, 28 Aug
Black Stork Ciconia nigra: Leimen, BW, Germany, 13 Mar
White Stork Ciconia ciconia: Mannheim Luisenpark, BW, Germany, 26 Jan
Lesser Adjutant Leptoptilos javanicus: Tarjun, S Kalimantan, Indonesia, 11 – 15 Nov
MILKY STORK Mycteria cinerea: Muara Angke, Java, Indonesia, 13 Apr
CHRISTMAS ISLAND FRIGATEBIRD Fregata andrewsi: Muara Angke, Java, Indonesia, 13 Apr
Northern Gannet Morus bassanus. Camargue, Provence, France, 1 Jan
Great Cormorant Phalacrocorax carbo: Camargue, Provence, France, 1 Jan
European Shag Phalacrocorax aristotelis: Cote du Granit Rose, Bretagne, France, 26 Aug
LITTLE BLACK CORMORANT Phalacrocorax niger: Muara Angke, Java, Indonesia, 13 Apr
Little Cormorant Phalacrocorax niger: Jakarta, Java, Indonesia, 4 Nov
Little Pied Cormorant Microcarbo melanoleucos: Tarjun, S Kalimantan, Indonesia, 11 – 15 Nov – very rare on Borneo
Oriental Darter Anhinga melanogaster: Cirebon, Java, Indonesia, 5-12 Apr
Eurasian Bittern Botaurus stellaris: Streng, BB, Germany, 9 May
Little Bittern Ixobrychus minutus: Wernauer Baggerseen, BW, Germany, 1 Jun
Yellow Bittern Ixobrychus sinensis: Cirebon, Java, Indonesia, 5-12 Apr
Cinnamon Bittern Ixobrychus cinnamomeus: Jakarta – Cirebon, Java, Indonesia, 5 Apr
Black Bittern Dupetor flavicollis: Muara Angke, Java, Indonesia, 13 Apr
Grey Heron Ardea cinerea: Camargue, Provence, France, 1 Jan
Purple Heron Ardea purpurea: Wagbachniederung, BW, Germany, 19 Apr
Great White Egret Ardea alba: Camargue, Provence, France, 1 Jan
Intermediate Egret Egretta intermedia: Jakarta – Cirebon, Java, Indonesia, 5 Apr
Little Egret Egretta garzetta: Camargue, Provence, France, 1 Jan
Cattle Egret Bubulcus ibis: Camargue, Provence, France, 3 Jan
Eastern Cattle Egret Bubulcus coromandus: Cirebon-Jakarta, Java, Indonesia, 12 Apr
Little Heron Butorides striata: Muara Angke, Java, Indonesia, 13 Apr
Black-crowned Night-heron Nycticorax nycticorax: Muara Angke, Java, Indonesia, 13 Apr
Glossy Ibis Plegadis falcinellus: Leimen, BW, Germany, 22 Oct –

self-found vagrant, my first since 2000

Eurasian Spoonbill Platalea leucorodia: Waghäusel, BW, Germany, 27 May
Osprey Pandion haliaeetus: Plessenteich, BW, Germany, 3 May
European Honey Buzzard Pernis apivorus: Heidelberg, BW, Germany, 21 Apr
Oriental Honey Buzzard Pernis ptilorhynchus: Cirebon, Java, Indonesia, 5-12 Apr
Black-shouldered Kite Elanus caeruleus: Tarjun, S Kalimantan, Indonesia, 11 – 15 Nov
Red Kite Milvus milvus: Heidelberg, BW, Germany, 7 Feb
Black Kite Milvus migrans: Leimen, BW, Germany, 15 Mar
Brahminy Kite Haliastur indus:  Cirebon, Java, Indonesia, 5-12 Apr
White-tailed Eagle Haliaeetus albicilla: Langhagen, MV, Germany, 20 Feb
Bearded Vulture Gypaetus barbatus: Leimen, BW, Germany, 28 Jun –

self-found vagrant just days after the Griffons! Amazing!!

Griffon Vulture Gyps fulvus: Heidelberg, BW, Germany, 20 Jun –

self-found vagrant!

Western Marsh Harrier Circus aeruginosus: Camargue, Provence, France, 1 Jan
Montagu's Harrier Circus pygargus: Buckow, BB, Germany, 9 May
Northern Harrier Circus cyaneus: Camargue, Provence, France, 4 Jan
Pallid Harrier Circus macrourus: Shetpe, Mangghystau Province, Kazakhstan, 07 – 10 Oct
Eurasian Sparrowhawk Accipiter nisus: Camargue, Provence, France, 2 Jan
JAPANESE SPARROWHAWK Accipiter gularis:  Cirebon, Java, Indonesia, 5-12 Apr
Chinese Sparrowhawk Accipiter soloensis:  Cirebon, Java, Indonesia, 5-12 Apr
BESRA Accipiter virgatus: Tarjun, S Kalimantan, Indonesia, 11 – 15 Nov
Northern Goshawk Accipiter gentilis: Heidelberg, BW, Germany, 28 Jan
Crested Goshawk Accipiter trivirgatus: Tarjun, S Kalimantan, Indonesia, 11 – 15 Nov
Crested Serpent-Eagle Spilornis cheela:  Cirebon, Java, Indonesia, 5-12 Apr
Changeable Hawk-eagle Spizaetus cirrhatus: Cirebon, Java, Indonesia, 4-8 Nov
Javan Hawk-eagle Spizaetus bartelsi: Gunung Gede Pangrango National Park, Java, Indonesia, 9 Nov
Wallace's Hawk-eagle Nisaetus nanus: Tarjun, S Kalimantan, Indonesia, 11 – 15 Nov
Rough-legged Buzzard Buteo lagopus: Heidelberg, BW, Germany, 4 Feb –

vagrant to BW!

Common Buzzard Buteo buteo: Camargue, Provence, France, 1 Jan
Black Eagle Ictinaetus malayensis:  Cirebon, Java, Indonesia, 5-12 Apr
Bonelli's Eagle Aquila fasciata: Les Baux, Provence, France 31 Dec
Golden Eagle Aquila chrysaetos: Shetpe, Mangghystau Province, Kazakhstan, 07 – 10 Oct
Lesser Spotted Eagle Aquila pomarina: Grosse Rosin, MV, Germany, 10 May
Greater Spotted Eagle Aquila clanga: Camargue, Provence, France, 3 Jan – my first since 1996!
Black-thighed Falconet Microhierax fringillarius: Tarjun, S Kalimantan, Indonesia, 11 – 15 Nov
Common Kestrel Falco tinnunculus: Camargue, Provence, France, 2 Jan
Lesser Kestrel Falco naumanni: Shetpe, Mangghystau Province, Kazakhstan, 07 – 10 Oct
Spotted Kestrel Falco moluccensis:  Cirebon, Java, Indonesia, 5-12 Apr
Red-footed Falcon Falco vespertinus: Leimen, BW, Germany, 15 May
Merlin Falco columbarius: Camargue, Provence, France, 4 Jan
Eurasian Hobby Falco subbuteo: Leimen, BW, Germany, 02 Apr
Peregrine Falcon Falco peregrinus: Leimen, BW, Germany, 10 Jan
Saker Falcon Falco cherrug: Shetpe, Mangghystau Province, Kazakhstan, 07 – 10 Oct
Great Bustard Otis tarda: Belziger Landschaftswiesen, BB, Germany, 9 May
Corn Crake Crex crex: Johannishofer Wiesen, MV, Germany, 16 Aug
Water Rail Rallus aquaticus: Camargue, Provence, France, 3 Jan
WHITE-BROWED CRAKE Porzana cinerea: Muara Angke, Java, Indonesia, 13 Apr
Little Crake Porzana parva: Grosse Rosin, MV, Germany, 10 May
Baillon's Crake Porzana pusilla: Johanneshofer Wiesen, MV, Germany, 10 Jun
Spotted Crake Porzana porzana: Waghäusel, BW, Germany, 27 May
White-breasted Waterhen Amaurornis phoenicurus:  Cirebon, Java, Indonesia, 5-12 Apr
Eurasian Moorhen Gallinula chloropus: Camargue, Provence, France, 1 Jan
Eurasian Coot Fulica atra: Camargue, Provence, France, 1 Jan
Common Crane Grus grus: Heidelberg, BW, Germany, 31 Jan
Northern Lapwing Vanellus vanellus: somewhere en route through France, 5 Jan
Grey Plover Pluvialis squatarola: Camargue, Provence, France, 3 Jan
European Golden Plover Pluvialis apricaria: Heidelberg, BW, Germany, 16 Mar
PACIFIC GOLDEN PLOVER Pluvialis fulva: Johanneshofer Wiesen, MV, 11 Jun –

vagrant!

Kentish Plover Charadrius alexandrinus: Johannishofer Wiesen, MV, 16 Aug
Little Ringed Plover Charadrius dubius: Neupotz, RP, Germany, 19 Apr
Common Ringed Plover Charadrius hiaticula: Poel, MV, Germany, 11 May
Eurasian Oystercatcher Haematopus ostralegus: Rieselfelder Münster, NW, Germany, 26 Apr
Black-winged Stilt Himantopus himantopus: Waghäusel, BW, Germany, 27 May
Pied Avocet Recurvirostra avosetta: Karrendorfer Wiesen, MV, Germany, 17 Aug
Common Redshank Tringa totanus: Camargue, Provence, France, 3 Jan
Common Greenshank Tringa nebularia: Neupotz, RP, Germany, 25 Apr
Marsh Sandpiper Tringa stagnatilis: Johanneshofer Wiesen, MV, Germany, 17 Aug
Green Sandpiper Tringa ochropus: Neupotz, RP, Germany, 25 Apr
Wood Sandpiper Tringa glareola: Wagbachniederung, BW, Germany, 19 Apr
Spotted Redshank Tringa erythropus: near Leipheim, BY, Germany, 1 May
Common Sandpiper Actitis hypoleucos:  Cirebon, Java, Indonesia, 5-12 Apr
Whimbrel Numenius phaeopus: Johanneshofer Wiesen, MV, Germany, 16 Aug
Eurasian Curlew Numenius arquata: Camargue, Provence, France, 1 Jan
Black-tailed Godwit Limosa limosa: Dümmer, NI, Germany, 26 Apr
Bar-tailed Godwit Limosa lapponica: Karrendorfer Wiesen, MV, Germany, 17 Aug
Ruddy Turnstone Arenaria interpres: Camargue, Provence, France, 3 Jan
Red Knot Calidris canutus: Johanneshofer Wiesen, MV, Germany, 16 Aug
Sanderling Calidris alba: Johanneshofer Wiesen, MV, Germany, 17 Aug
Temminck's Stint Calidris temminckii: Dümmer, NI, Germany, 26 Apr
Pectoral Sandpiper Calidris melanotos: near Leipheim, BY, Germany, 1 May – vagrant!
Dunlin Calidris alpina: Camargue, Provence, France, 3 Jan
Purple Sandpiper Calidris maritima: Cote du Granit Rose, Bretagne, France, 26 Aug – first since 1992
Broad-billed Sandpiper Limicola falcinellus: Johanneshofer Wiesen, MV, Germany, 16 Aug
Common Snipe Gallinago gallinago: Dümmer, NI, Germany, 26 Apr
Pintail Snipe Gallinago stenura: Tarjun, S Kalimantan, Indonesia, 11 – 15 Nov
Eurasian Woodcock Scolopax rusticola: Leimen, BW, Germany, 13 Mar
DUSKY WOODCOCK Scolopax saturata: Gunung Gede Pangrango National Park, Java, Indonesia, 8 Nov
Swinhoe's Snipe Gallinago megala:  Cirebon, Java, Indonesia, 5-12 Apr
Red-necked Phalarope Phalaropus lobatus: Geiseltalsee, SN, Germany, 29 May
ORIENTAL PRATINCOLE Glareola maldivarum: Cirebon – Jakarta, Java, Indonesia, 8 Nov
Barred Buttonquail Trunix suscitator:  Cirebon, Java, Indonesia, 5-12 Apr
Black-legged Kittiwake Rissa tridactyla: Fort-la-Latte, Bretagne, France, 28 Aug –

first since late 1990s

Slender-billed Gull Chroicocephalus genei: Camargue, Provence, France, 1 Jan
Black-headed Gull Chroicocephalus ridibundus: Camargue, Provence, France, 1 Jan
Little Gull Hydrocoloeus minutus: Johanneshofer Wiesen, MV, Germany, 16 Aug
Mediterranean Gull Ichthyaetus melanocephalus: Wagbachniederung, BW, Germany, 19 Apr
Common Gull Larus canus: Werrich, NW, Germany, 8 Jan
Ring-billed Gull Larus delawarensis: Hitdorf ferry port, NW, Germany, 15 Jan – very rare vagrant!
Herring Gull Larus argentatus: Hannover, NI, Germany, 14 Jan
Caspian Gull Larus cachinnans: Heidelberg, BW, Germany, 3 Feb
Heuglin's Gull Larus heuglini: Aqtau, Mangghystau Province, Kazakhstan, 10 Oct
Yellow-legged Gull Larus michahellis: Camargue, Provence, France, 1 Jan – 1st bird of 2013!
Lesser Black-backed Gull Larus fuscus: Camargue, Provence, France, 3 Jan
Little Tern Sternula albifrons: Poel, MV, Germany, 11 May
Black Tern Chlidonias niger: Grosse Rosin, MV, Germany, 10 May
White-winged Tern Chlidonias leucopterus: Grosse Rosin, MV, Germany, 10 May
Whiskered Tern Chlidonias hybrida: Mooswaldsee, BY, Germany, 1 May
Common Tern Sterna hirundo: Mooswaldsee, BY, Germany, 1 May
Arctic Tern Sterna paradisaea: Poel, MV, Germany, 11 May
Gull-billed Tern Gelochelidon nilotica: Freiburg/Elbe, NI, Germany, 13 Jun
Caspian Tern Hydroprogne caspia: Johanneshofer Wiesen, MV, Germany, 17 Aug
Sandwich Tern Thalasseus sandvicensis: Camargue, Provence, France, 1 Jan
BRIDLED TERN Onychoprion anaethetus: Muara Angke, Java, Indonesia, 13 Apr
Pomarine Skua Stercorarius pomarina: Les Sept Isles, Bretagne, France, 28 Aug
Arctic Skua Stercorarius parasiticus: Les Sept Isles, Bretagne, France, 28 Aug
Long-tailed Skua Stercorarius longicaudus: Les Sept Isles, Bretagne, France, 28 Aug
Razorbill Alca torda: Camargue, Provence, France, 1 Jan – first since 2001!
Black-bellied Sandgrouse Pterocles orientalis: Shetpe, Mangghystau Province, Kazakhstan, 07 – 10 Oct
CHESTNUT-BELLIED SANDGROUSE Pterocles exustus: Dubai airport, Dubai, UAE, 3 Nov
Feral (Rock) Pigeon Columba livia: Camargue, Provence, France, 1 Jan
Stock Dove Columba oenas: Stuttgart, BW, Germany, 22 Jan
Common Wood Pigeon Columba palumbus:  somewhere en route through France, 5 Jan
Turtle Dove Streptopelia turtur: Waghäusel, BY, Germany, 6 May
Eurasian Collared Dove Streptopelia decaocto:  Camargue, Provence, France, 1 Jan
Laughing Dove Streptopelia senegalensis –

first since 2000

Island Collared Dove Streptopelia bitorquata:  Cirebon, Java, Indonesia, 5-12 Apr
Spotted Dove Streptopelia chinensis: Jakarta, Java, Indonesia, 5 Apr
Zebra Dove Geopelia striata: Jakarta, Java, Indonesia, 12 Apr
Pink-necked Green-Pigeon Treron vernans:  Cirebon, Java, Indonesia, 5-12 Apr
Cinnamon-headed Green-pigeon Treron fulvicollis: Tarjun, S Kalimantan, Indonesia, 11 – 15 Nov
LITTLE GREEN-PIGEON Treron olax: Tarjun, S Kalimantan, Indonesia, 11 – 15 Nov
Large Green-pigeon Treron capellei: Tarjun, S Kalimantan, Indonesia, 11 – 15 Nov
PINK-HEADED FRUIT-DOVE Ptilinopus porphyreus: Gunung Gede Pangrango National Park, Java, Indonesia, 9 Nov
RUDDY CUCKOO-DOVE Macropygia emiliana:  Cirebon, Java, Indonesia, 5-12 Apr
Blue-crowned Hanging-parrot Loriculus galgulus: Tarjun, S Kalimantan, Indonesia, 11 – 15 Nov
BLUE-RUMPED PARROT Psittinus cyanurus: Tarjun, S Kalimantan, Indonesia, 11 – 15 Nov
Long-tailed Parakeet Psittacula longicauda: Tarjun, S Kalimantan, Indonesia, 11 – 15 Nov
Rose-ringed Parakeet Psittacula krameri: Heidelberg, BW, Germany, 6 Jan
RED-BREASTED PARAKEET Psittacula alexandri: Jakarta, Java, Indonesia, 5 Apr
YELLOW-CROWNED AMAZON Amazona ochrocephala: Stuttgart Wilhelma, BW, Germany, 28 Apr
Common Cuckoo Cuculus canorus: Wagbachniederung, BW, Germany, 19 Apr
SUNDA CUCKOO Cuculus lepidus: Gunung Gede Pangrango National Park, Java, Indonesia, 9 Nov
Banded Bay Cuckoo Cacomantis sonneratii: Cirebon, Java, Indonesia, 5-12 Apr
Plaintive Cuckoo Cacomantis merulinus: Cirebon, Java, Indonesia, 5-12 Apr
Rusty-breasted Cuckoo Cacomantis sepulcralis: Cirebon, Java, Indonesia, 5-12 Apr
Red-billed Malkoha Phaenicophaenus javanicus: Cirebon, Java, Indonesia, 5-12 Apr
Chestnut-breasted Malkoha Phaenicophaeus curvirostris: Gunung Gede Pangrango National Park, Java, Indonesia, 9 Nov
Raffle's Malkoha Rhinorta chlorophaeus: Tarjun, S Kalimantan, Indonesia, 11 – 15 Nov
SHORT-TOED COUCAL Centropus rectungius: Tarjun, S Kalimantan, Indonesia, 11 – 15 Nov
Lesser Coucal Centropus bengalensis: Cirebon, Java, Indonesia, 5-12 Apr
Greater Coucal Centropus sinensis: Tarjun, S Kalimantan, Indonesia, 11 – 15 Nov
Barn Owl Tyto alba: Heidelberg, BW, Germany, 28 Sep
Eurasian Eagle Owl Bubo bubo: Heidleberg, BW, Germany, 26 Feb
Barred Eagle-owl Bubo sumatranus: Tarjun, S Kalimantan, Indonesia, 11 – 15 Nov
Little Owl Athene noctua: Belziger Landschaftswiesen, BB, Germany, 9 May
Long-eared Owl Asio otus: Heidelberg, BW, Germany, 8 Feb
JAVAN SCOPS OWL Otus angelinae: Gunung Gede Pangrango National Park, Java, Indonesia, 9 Nov
Tawny Owl Strix aluco: Langhagen, MV, Germany, 11 May
MALAYSIAN EARED-NIGHTJAR Eurostopodus temminckii: Tarjun, S Kalimantan, Indonesia, 11 – 15 Nov
Savanna Nightjar Caprimulgus affinis: Cirebon, Java, Indonesia, 5-12 Apr
LARGE-TAILED NIGHTHAWK Caprimulgus macrurus: Cirebon, Java, Indonesia, 4-8 Nov
SALVADORI'S NIGHTJAR Caprimulgus pulchellus: Cibodas Botanical Garden, Java, Indonesia, 8 Nov
Eurasian Nightjar Caprimulgus europaeus: Viernheimer Heide, HE, Germany, 12 Jul
WATERFALL SWIFTLET Hydrochous gigas: Gunung Gede Pangrango National Park, Java, Indonesia, 9 Nov
Edible-nest Swiftlet Aerodramus fuciphaga: Cirebon, Java, Indonesia, 5-12 Apr
Mossy-nest Swiftlet Aerodramus salangana: Tarjun, S Kalimantan, Indonesia, 11 – 15 Nov
Black-nest Swiftlet Aerodramus maximus: Tarjun, S Kalimantan, Indonesia, 11 – 15 Nov
Cave Swiftlet Collocalia linchii: Jakarta, Jave, Indonesia, 5 Apr
Glossy Swiftlet Collocalia esculenta: Tarjun, S Kalimantan, Indonesia, 11 – 15 Nov
ASIAN PALM-SWIFT Cypsiurus balasiensis: Tarjun, S Kalimantan, Indonesia, 11 – 15 Nov
SILVER-RUMPED NEEDLE-TAIL Rhaphidura leucopygialis: Tarjun, S Kalimantan, Indonesia, 11 – 15 Nov
Common Swift Apus apus: Wagbachniederung, BW, Germany, 19 Apr
Fork-tailed Swift Apus pacificus: Cirebon, Java, Indonesia, 5-12 Apr
House Swift Apus affinis: Cirebon, Java, Indonesia, 5-12 Apr
Alpine Swift Apus melba: Achern, BW, Germany, 1 Jun
Grey-rumped Swiftlet Hemiprocne longipennis: Tarjun, S Kalimantan, Indonesia, 11 – 15 Nov
Javan Trogon Harpactes reinwardtii: Gunung Gede Pangrango National Park, Java, Indonesia, 9 Nov
Dollarbird Eurystomus orientalis: Tarjun, S Kalimantan, Indonesia, 11 – 15 Nov
Common Kingfisher Alcedo atthis: Camargue, Provence, France, 5 Jan
Blue-eared Kingfisher Alcedo meninting: Cirebon, Java, Indonesia, 5-12 Apr
Small Blue Kingfisher Alcedo coerulescens: Cirebon, Java, Indonesia, 5-12 Apr
RUFOUS-BACKED KINGFISHER Ceyx rufidorsa: Tarjun, S Kalimantan, Indonesia, 11 – 15 Nov
Javan Kingfisher Halcyon cyanoventris: Cirebon, Java, Indonesia, 5-12 Apr
Collared Kingfisher Todiramphus chloris: Cirebon, Java, Indonesia, 5-12 Apr
Hoopoe Upupa epops: Sandhausen, BW, Germany, 14 Jun

– #350 CHECK!

Blue-tailed Bee-eater Merops phillipinus: Cirebon, Java, Indonesia, 5-12 Apr
Blue-throated Bee-eater Merops viridis: Tarjun, S Kalimantan, Indonesia, 11 – 15 Nov
European Bee-eater Merops apiaster: Maisbach, BW, Germany, 27 May
Oriental Pied Hornbill Anthracoceros albirostris: Tarjun, S Kalimantan, Indonesia, 11 – 15 Nov
Black Hornbill Anthracoceros malayanus: Tarjun, S Kalimantan, Indonesia, 11 – 15 Nov
Rhinoceros Hornbill Buceros rhinoceros: Tarjun, S Kalimantan, Indonesia, 11 – 15 Nov
WRINKLED HORNBILL Aceros corrugatus: Tarjun, S Kalimantan, Indonesia, 11 – 15 Nov
WREATHED HORNBILL Aceros undulatus: Tarjun, S Kalimantan, Indonesia, 11 – 15 Nov
Fire-tufted Barbet Psilopogon pyrolophus: Gunung Gede Pangrango National Park, Java, Indonesia, 9 Nov
RED-CROWNED BARBET Megalaima rafflesii: Tarjun, S Kalimantan, Indonesia, 11 – 15 Nov
Red-throated Barbet Megalaima mystacophanos: Tarjun, S Kalimantan, Indonesia, 11 – 15 Nov
YELLOW-CROWNED BARBET Megalaima henricii: Tarjun, S Kalimantan, Indonesia, 11 – 15 Nov
Blue-eared Barbet Megalaima australis: Tarjun, S Kalimantan, Indonesia, 11 – 15 Nov
Brown-throated Barbet Megalaima corvina: Gunung Gede Pangrango National Park, Java, Indonesia, 9 Nov
Black-banded Barbet Megalaima javensis: Cirebon, Java, Indonesia, 5-12 Apr
Orange-fronted Barbet Megalaima armillaris: Gunung Gede Pangrango National Park, Java, Indonesia, 9 Nov
Coppersmith Barbet Megalaima haemacephala: Cirebon, Java, Indonesia, 4-8 Nov
Brown Barbet Calorhamphus fuliginosus: Tarjun, S Kalimantan, Indonesia, 11 – 15 Nov
Eurasian Wryneck Jynx torquilla: Leimen, BW, Germany, 02 Apr
RUFOUS PICULET Sasia abnormis: Tarjun, S Kalimantan, Indonesia, 11 – 15 Nov
GREY-CAPPED PYGMY WOODPECKER Dendrocopos canicapillus: Tarjun, S Kalimantan, Indonesia, 11 – 15 Nov
WHITE-BELLIED WOODPECKER Dryocopus javensis: Tarjun, S Kalimantan, Indonesia, 11 – 15 Nov
Fulvous-breasted Woodpecker Dendrocopos macei: Cirebon, Java, Indonesia, 5-12 Apr
Lesser Spotted Woodpecker Dendrocopos minor: Neuenhofen, RP, Germany, 10 Mar
Middle Spotted Woodpecker Dendrocopus medius: Heidelberg, BW, Germany, 26 Jan
Great Spotted Woodpecker Dendrocopos major: Dinslaken, NW, Germany, 8 Jan
Banded Woodpecker Chrysophlegma mineaceus: Tarjun, S Kalimantan, Indonesia, 11 – 15 Nov
SUNDA WOODPECKER Picoides moluccensis: Muara Angke, Java, Indonesia, 13 Apr
Black Woodpecker Dryocopus martius: Leimen, BW, Germany, 28 Feb
 European Green Woodpecker Picus viridis: Leimen, BW, Germany, 7 Jan
Grey-headed Woodpecker Picus canus: Leimen, BW, Germany, 7 Jan
Banded Broadbill Eurylaimus javanicus: Gunung Gede Pangrango National Park, Java, Indonesia, 9 Nov
Black-and-yellow Broadbill Eurylaimus ochromalus: Tarjun, S Kalimantan, Indonesia, 11 – 15 Nov
HOODED PITTA Pitta sordida: Tarjun, S Kalimantan, Indonesia, 11 – 15 Nov –

my first pitta!

Red-backed Shrike Lanius collurio: Mooswaldsee, BY, Germany, 1 May
Great Grey Shrike Lanius excubitor: Hannover, NI, Germany, 14 Jan
Iberian Grey Shrike Lanius meridionalis: Fournes, Provence, France, 30 Dec – first since at least 2001, possibly 1995
Long-tailed Shrike Lanius schach: Cirebon, Java, Indonesia, 5-12 Apr
Eurasian Golden Oriole Oriolus oriolus: Mooswaldsee, BY, Germany, 3 May
Dark-throated Oriole Oriolus xanthonotus: Tarjun, S Kalimantan, Indonesia, 11 – 15 Nov
White-breasted Wood-Swallow Artamus leucorhynchus: Jakarta, Java, Indonesia, 5 Apr
Black Drongo Dicrurus macrocercus: Cirebon, Java, Indonesia, 5-12 Apr
Ashy Drongo Dicrurus leucophaeus: Gunung Gede Pangrango National Park, Java, Indonesia, 9 Nov
GREATER RACKET-TAILED DRONGO Dicrurus paradiseus: Tarjun, S Kalimantan, Indonesia, 11 – 15 Nov
RACKET-TAILED TREEPIE Crypsirina temia: Cirebon, Java, Indonesia, 5-12 Apr
BORNEAN BLACK MAGPIE Platysmurus aterrimus: Tarjun, S Kalimantan, Indonesia, 11 – 15 Nov
Spotted Nutcracker Nucifraga caryocatactes: Schelklingen, BW, Germany, 2 May
Red-billed Chough Pyrrhocorax pyrrhocorax: Camaret-sur-mer, Bretagne, France, 4 Sep
Eurasian Jay Garrulus glandarius: Leimen, BW, Germany, 7 Jan
Eurasian Magpie Pica pica: Camargue, Provence, France, 1 Jan
Western Jackdaw Corvus monedula: Camargue, Provence, France, 2 Jan
HOUSE CROW Corvus splendens: Singapore airport, Singapore, 4 Apr
Rook Corvus frugilegus: Camargue, Provence, France, 4 Jan
Carrion Crow Corvus corone: Camargue, Provence, France, 2 Jan
Hooded Crow Corvus cornix: Langhagen, MV, Germany, 20 Feb
LARGE-BILLED CROW Corvus macrorhynchos: Jakarta, Java, Indonesia, 4 Nov
SLENDER-BILLED CROW Corvus enca: Tarjun, S Kalimantan, Indonesia, 11 – 15 Nov
Northern Raven Corvus corax: somewhere en route in Germany, 14 Jan
Brown-necked Raven Corvus ruficollis: Shetpe, Mangghystau Province, Kazakhstan, 07 – 10 Oct –

first since early 1980s!

Bornean Bristlehead Pityriasis gymnocephala: Tarjun, S Kalimantan, Indonesia, 11 – 15 Nov
Bearded Reedling Panurus biarmicus: Langhagen, MV, Germany, 10 May
Calandra Lark Melanocorypha calandra: Shetpe, Mangghystau Province, Kazakhstan, 07 – 10 Oct
Bimaculated Lark Melanocorypha bimaculata: Shetpe, Mangghystau Province, Kazakhstan, 07 – 10 Oct
Black Lark Melanocorypha yeltonensis: Shetpe, Mangghystau Province, Kazakhstan, 07 Oct
Greater Short-toed Lark Calandrella brachydactyla: Shetpe, Mangghystau Province, Kazakhstan, 07 – 10 Oct
Lesser Short-toed Lark Calandrella rufescens: Shetpe, Mangghystau Province, Kazakhstan, 07 – 10 Oct
Crested Lark Galerida cristata: Camargue, Provence, France, 1 Jan
Eurasian Skylark Alauda arvensis: Camargue, Provence, France, 4 Jan
Oriental Skylark Alauda gulgula: Shetpe, Mangghystau Province, Kazakhstan, 07 – 10 Oct
Woodlark Lullula arborea: Leimen, BW, Germany, 5 Mar
Horned Lark Eremophila alpestris: Shetpe, Mangghystau Province, Kazakhstan, 07 – 10 Oct
Sand Martin Riparia riparia: Wagbachniederung, BW, Germany, 19 Apr
Rock Martin Ptyonoprogne fuligula: Dubai airport, Dubai, UAE, 3 Nov
Barn Swallow Hirundo rustica: Schwetzinger Schlosspark, BW, Germany, 01 Apr
House Swallow Hirundo tahitica: Jakarte – Cirebon, Java, Indonesia, 5 Apr
Striated Swallow Cecropis striolata: Cirebon, Java, Indonesia, 5-12 Apr
House Martin Delichon urbicum: Wagbachniederung, BW, Germany, 19 Apr 
Pygmy Tit Psaltria exilis: Cibodas botanical Garden, Java, Indonesia, 8 Nov
Marsh Tit Poecile palustris: Dinslaken, NW, Germany, 8 Jan
Willow Tit Poecile montanus: Hitdorf ferry port, NW, Germany, 15 Jan
Coal Tit Periparus ater: Dinslaken, NW, Germany, 8 Jan
European Crested Tit Lophophanes cristatus: Heidelberg, BW, Germany, 7 Jan
Great Tit Parus major: Camargue, Provence, France, 1 Jan
Eurasian Blue Tit Cyanistes caeruleus. Camargue, Provence, France, 1 Jan
Eurasian Penduline Tit Remiz pendulinus: Altmühlsee, BY, Germany, 5 May
Long-tailed Tit Aegithalos caudatus: Heidelberg, BW, Germany, 13 Jan
Blue Nuthatch Sitta azurea: Cibodas Botanical Garden, Java, Indonesia, 8 Nov
Eurasian Nuthatch Sitta europaea: Leimen, BW, Germany, 7 Jan
Eurasian Treecreeper Certhia familiaris: Stuttgart, BW, Germany, 22 Jan
Short-toed Tree-creeper Certhia brachydactyla: Dinslaken, NW, Germany, 8 Jan
Eurasian Wren Troglodytes troglodytes: Camargue, Provence, France, 1 Jan
White-throated Dipper Cinclus cinclus: Warstein, NW, Germany, 29 May
Lesser Shortwing Brachypteryx leucophrys: Cibodas Botanical Garden, Java, Indonesia, 8 Nov
White-browed Shortwing Brachypteryx montana:  Gunung Gede Pangrango National Park, Java, Indonesia, 9 Nov
Black-winged Flycatcher-shrike Hemipus hirundinaceus: Gunung Gede Pangrango National Park, Java, Indonesia, 9 Nov
SUNDA CUCKOO-SHRIKE Coracina larvata: Gunung Gede Pangrango National Park, Java, Indonesia, 9 Nov
Pied Triller Lalage nigra: Cirebon, Java, Indonesia, 5-12 Apr
Small Minivet Pericrocotus cinnamomeus: Cirebon, Java, Indonesia, 5-12 Apr
Sunda Minivet Pericrocotus miniatus: Gunung Gede Pangrango National Park, Java, Indonesia, 9 Nov
Common Iora Aegithina tiphia: Cirebon, Java, Indonesia, 5-12 Apr
Green Iora Aegithina viridissima: Tarjun, S Kalimantan, Indonesia, 11 – 15 Nov
Black-headed Bulbul Pycnonotus atriceps: Tarjun, S Kalimantan, Indonesia, 11 – 15 Nov
BLACK-AND-WHITE BULBUL Pycnonotus melanoleucos: Tarjun, S Kalimantan, Indonesia, 11 – 15 Nov
Grey-bellied Bulbul Pycnonotus cyaniventris: Tarjun, S Kalimantan, Indonesia, 11 – 15 Nov
Sooty-headed Bulbul Pycnonotus aurigaster: Jakarta, Java, Indonesia, 5 Apr
Yellow-vented Bulbul Pycnonotus goiavier: Cirebon, Java, Indonesia, 5-12 Apr
Olive-winged Bulbul Pycnonotus plumosus: Tarjun, S Kalimantan, Indonesia, 11 – 15 Nov
Cream-vented Bulbul Pycnonotus simplex: Tarjun, S Kalimantan, Indonesia, 11 – 15 Nov
Red-eyed Bulbul Pycnonotus brunneus: Tarjun, S Kalimantan, Indonesia, 11 – 15 Nov
Spectacled Bulbul Pycnonotus erythropthalmos: Tarjun, S Kalimantan, Indonesia, 11 – 15 Nov
Grey-cheeked Bulbul Alophoixus bres: Muara Angke, Java, Indonesia, 13 Apr
Orange-spotted Bulbul Pycnonotus bimaculatus: Gunung Gede Pangrango National Park, Java, Indonesia, 9 Nov
Sunda Bulbul Iole virescens: Gunung Gede Pangrango National Park, Java, Indonesia, 9 Nov
Common Goldcrest Regulus regulus: Dinslaken, NW, Germany, 8 Jan
Firecrest Regulus ignicapilla: Camargue, Provence, France, 1 Jan
Golden-bellied Gerygone Gerygone sulphurea: Cirebon, Java, Indonesia, 5-12 Apr
Mangrove Whistler Pachycephala cinerea: Tarjun, S Kalimantan, Indonesia, 11 – 15 Nov
Cetti's Warbler Cettia cetti: Camargue, Provence, France, 3 Jan
YELLOW-BELLIED WARBLER Abroscopus superciliaris: Cirebon, Java, Indonesia, 4-8 Nov
Sunda Warbler Seicercus grammiceps: Gunung Gede Pangrango National Park, Java, Indonesia, 9 Nov
JAPANESE LEAF WARBLER Phylloscopus xanthodryas: Gunung Gede Pangrango National Park, Java, Indonesia, 9 Nov
KAMTCHATKA LEAF WARBLER Phylloscopus examinandus: Tarjun, S Kalimantan, Indonesia, 11 – 15 Nov 
Mountain Leaf Warbler Phylloscopus trivirgatus: Gunung Gede Pangrango National Park, Java, Indonesia, 9 Nov
Willow Warbler Phylloscopus trochilus: Leimen, BW, Germany, 17 Apr
Common Chiffchaff Phylloscopus collybita: Camargue, Provence, France, 1 Jan
Siberian Chiffchaff Phylloscopus tristis: Shetpe, Mangghystau Province, Kazakhstan, 07 – 10 Oct
Iberian Chiffchaff Phylloscopus ibericus: Kniebis, BW, Germany, 1 Jun – vagrant!
Western Bonelli's Warbler Phylloscopus bonelli: Regensburg, BY, Germany, 4 May
Wood Warbler Phylloscopus sibilatrix: Ludwigsburg, BW, Germany, 1 May
Greenish Warbler Phylloscopus trochiloides: Langhagen, MV, Germany, 12 May
Icterine Warbler Hippolais icterina: Streng, BB, Germany, 9 May
Melodious Warbler Hippolais polyglotta: Hattenheim, HE, Germany, 14 Jun
Sedge Warbler Acrocephalus schoenobaenus: Wagbachniederung, BW, Germany, 19 Apr
Eurasian Reed Warbler Acrocephalus scirpaceus: Wagbachniederung, BW, Germany, 19 Apr
Marsh Warbler Acrocephalus palustris: Waghäusel, BW, Germany, 6 May
Clamorous Reed Warbler Acrocephalus stentoreus: Muara Angke, Java, Indonesia, 13 Apr
Great Reed Warbler Acrocephalus arundinaceus: Kronau, BW, Germany, 1 May
Common Grasshopper Warbler Locustella naevia: Wagbachniederung, BW, Germany, 19 Apr
Savi's Warbler Locustella luscinioides: Wagbachniederung, BW, Germany, 19 Apr
River Warbler Locustella fluviatilis: Streng, BB, Germany, 9 May
Zitting Cisticola Cisticola juncidis. Camargue, Provence, France, 2 Jan
Javan Tesia Tesia superciliaris: Gunung Gede Pangrango National Park, Java, Indonesia, 9 Nov
Common Tailorbird Orthotomus sutorius: Cirebon, Java, Indonesia, 5-12 Apr
Ashy Tailorbird Orthotomus ruficeps: Muara Angke, Java, Indonesia, 13 Apr
Olive-backed Tailorbird Orthotomus sepium: Cirebon, Java, Indonesia, 4-8 Nov
MOUNTAIN TAILORBIRD Orthotomus cuculatus: Gunung Gede Pangrango National Park, Java, Indonesia, 9 Nov
Rufous-tailed Tailorbird Orthotomus sericeus: Tarjun, S Kalimantan, Indonesia, 11 – 15 Nov
Dark-necked Tailorbird Orthotomus atrogularis: Tarjun, S Kalimantan, Indonesia, 11 – 15 Nov
Plain Prinia Prinia inornata: Cirebon, Java, Indonesia, 5-12 Apr
Yellow-bellied Prinia Prinia flaviventris: Cirebon, Java, Indonesia, 5-12 Apr
Bar-winged Prinia Prinia familiaris: Cirebon, Java, Indonesia, 5-12 Apr
Brown Prinia Prinia polychroa: Cirebon, Java, Indonesia, 5-12 Apr
Garden Warbler Sylvia borin: Leimen, BW, Germany, 18 Apr
Eurasian Blackcap Sylvia atricapilla: Heidelberg, BW, Germany, 24 Mar
Barred Warbler Sylvia nisoria: Buckow, BB, Germany, 9 May
Asian Desert Warbler Sylvia nana: Shetpe, Mangghystau Province, Kazakhstan, 07 – 10 Oct
Common Whitethroat Sylvia communis: Leimen, BW, Germany, 17 Apr
Lesser Whitethroat Sylvia curruca: Wagbachniederung, BW, Germany, 19 Apr
Dartford Warbler Sylvia undata: Cote du Granit Rose, Bretagne, France, 26 Aug
Sardinian Warbler Sylvia melanocephala: Camargue, Provence, France, 1 Jan
Spotted Flycatcher Muscicapa striata: Regensburg, BY, Germany, 4 May
ASIAN BROWN FLYCATCHER Muscicapa dauurica: Cirebon, Java, Indonesia, 4-8 Nov
European Robin Erithacus rubecula: Camargue, Provence, France, 1 Jan
Thrush Nightingale Luscinia luscinia: Zarnekow-Upost, MV, Germany, 10 May
Common Nightingale Luscinia megarhynchos: Leimen, BW, Germany, 18 Apr
Bluethroat Luscinia svecica: Wagbachniederung, BW, Germany, 19 Apr
Indigo Flycatcher Eumyias indigo: Gunung Gede Pangrango National Park, Java, Indonesia, 9 Nov
Little Pied Flycatcher Ficedula westermanni: Cibodas Botanical Garden, Java, Indonesia, 8 Nov
Pied Flycatcher Ficedula hypoleuca: Hannover, NI, Germany, 26 Apr
Collared Flycatcher Ficedula albicollis: Leipheim, BY, Germany, 1 May
Red-breasted Flycatcher Ficedula parva: Neukalen, MV, Germany, 12 Jun
YELLOW-RUMPED FLYCATCHER Ficedula zanthopygia: Cirebon, Java, Indonesia, 4-8 Nov
Snowy-browed Flycatcher Ficedula hyperythra: Gunung Gede Pangrango National Park, Java, Indonesia, 9 Nov
HILL BLUE-FLYCATCHER Cyornis banyumas: Gunung Gede Pangrango National Park, Java, Indonesia, 9 Nov
Rufous-tailed Fantail Rhipidura phoenicura: Gunung Gede Pangrango National Park, Java, Indonesia, 9 Nov
Pied Fantail Rhipidura javanica: Muara Angke, Java, Indonesia, 13 Apr
EYE-BROWED WREN-BABBLER Napothera epilepidota: Gunung Gede Pangrango National Park, Java, Indonesia, 9 Nov
PYGMY WREN-BABBLER Pnoepyga pusilla: Gunung Gede Pangrango National Park, Java, Indonesia, 9 Nov
Chestnut-winged Babbler Stachyris erythroptera: Tarjun, S Kalimantan, Indonesia, 11 – 15 Nov
Chestnut-rumped Babbler Stachyris maculata: Tarjun, S Kalimantan, Indonesia, 11 – 15 Nov
Black-capped Babbler Pellorneum capistratum: Cirebon, Java, Indonesia, 5-12 Apr
Horsfield's Babbler Malacocincla sepiarium: Gunung Gede Pangrango National Park, Java, Indonesia, 9 Nov
SHORT-TAILED BABBLER Malacocincla malaccensis: Tarjun, S Kalimantan, Indonesia, 11 – 15 Nov
WHITE-BIBBED BABBLER Stachyris thoracica: Gunung Gede Pangrango National Park, Java, Indonesia, 9 Nov
Crescent-chested Babbler Stachyris melanothorax: Gunung Gede Pangrango National Park, Java, Indonesia, 9 Nov
Striped Tit-babbler Macronous gularis: Cirebon, Java, Indonesia, 5-12 Apr
Bold-striped Tit-babbler Macronous bornensis: Tarjun, S Kalimantan, Indonesia, 11 – 15 Nov
Chestnut-capped Babbler Timalia pileata: Cirebon, Java, Indonesia, 5-12 Apr
Javan Fulvetta Alcippe pyrrhoptera: Gunung Gede Pangrango National Park, Java, Indonesia, 9 Nov
Spotted Crocias Crocias albonotatus: Gunung Gede Pangrango National Park, Java, Indonesia, 9 Nov
Chestnut-fronted Shrike-babbler Pteruthius aenobarbus: Gunung Gede Pangrango National Park, Java, Indonesia, 9 Nov
Sunda Blue Robin Cinclidium diana: Gunung Gede Pangrango National Park, Java, Indonesia, 9 Nov
Sunda Forktail Enicurus velatus: Gunung Gede Pangrango National Park, Java, Indonesia, 9 Nov
White-crowned Forktail Enicurus leschenaulti: Cibodas Botanical Garden, Java, Indonesia, 8 Nov
Javan Cochoa Cochoa azurea: Gunung Gede Pangrango National Park, Java, Indonesia, 9 Nov
Common Redstart Phoenicurus phoenicurus: Leimen, BW, Germany, 17 Apr
Black Redstart Phoenicurus ochruros: Camargue, Provence, France, 1 Jan
Blue Rock Thrush Monticola solitaria: Les Baux, Provence, France 31 Dec
Whinchat Saxicola rubetra: Wagbachniederung, BW, Germany, 19 Apr
European Stonechat Saxicola rubicola: Camargue, Provence, France, 3 Jan
Northern Wheatear Oenanthe oenanthe: Neupotz, RP, Germany, 25 Apr
Finsch's Wheatear Oenanthe finschii: Shetpe, Mangghystau Province, Kazakhstan, 07 – 10 Oct
Isabelline Wheatear Oenanthe isabellina: Shetpe, Mangghystau Province, Kazakhstan, 07 – 10 Oct
Oriental Magpie-robin Copsychus saularis: Tarjun, S Kalimantan, Indonesia, 11 – 15 Nov
Sunda Whistling-thrush Myiophoneus glaucinum: Gunung Gede Pangrango National Park, Java, Indonesia, 9 Nov
Common Blackbird Turdus merula: Camargue, Provence, France, 1 Jan
Ring Ouzel Turdus torquatus: Ruhestein, BW, Germany, 1 Jun
Song Thrush Turdus philomelos: Camargue, Provence, France, 4 Jan
Fieldfare Turdus pilaris: Heidelberg, BW, Germany, 13 Jan
Redwing Turdus iliacus: Leimen, BW, Germany, 17 Jan
Mistle Thrush Turdus viscivorus: Leimen, BW, Germany, 16 Jan
Javan Myna Acridotheres javanicus: Singapore airport, Singapore, 4 Apr
Common Myna Acridotheres tristis: Dubai airport, Dubai, UAE, 3 Nov
Common Hill-myna Gracula religiosa: Tarjun, S Kalimantan, Indonesia, 11 – 15 Nov
Asian Glossy Straling Aplonis panayensis: Jakarta, Java, Indonesia, 5 Apr
BLACK-WINGED STARLING Sturnus melanopterus: Muara Angke, Java, Indonesia, 13 Apr
PURPLE-BACKED STARLING Sturnus sturninus: Jakarta, Java, Indonesia, 4 Nov
Common Starling Sturnus vulgaris: Camargue, Provence, France, 1 Jan
Plain-throated Sunbird Anthreptes malacensis: Cirebon, Java, Indonesia, 5-12 Apr
Red-throated Sunbird Anthreptes rhodolaema: Tarjun, S Kalimantan, Indonesia, 11 – 15 Nov
Ruby-cheeked Sunbird Anthreptes singalensis: Cirebon, Java, Indonesia, 5-12 Apr
Copper-throated Sunbird Leptocoma calcostetha: Tarjun, S Kalimantan, Indonesia, 11 – 15 Nov
Crimson Sunbird Aethopyga siparaja: Tarjun, S Kalimantan, Indonesia, 11 – 15 Nov
White-flanked Sunbird Aethopyga eximia: Cibodas Botanical Garden, Java, Indonesia, 8 Nov
JAVAN SUNBIRD Aethopyga mystacalis: Gunung Gede Pangrango National Park, Java, Indonesia, 9 Nov
Purple-throated Sunbird Nectarinia sperata: Cirebon, Java, Indonesia, 5-12 Apr
Olive-backed Sunbird Nectarinia jugularis: Cirebon, Java, Indonesia, 5-12 Apr
PURPLE-NAPED SUNBIRD Hypogramma hypogrammicum: Tarjun, S Kalimantan, Indonesia, 11 – 15 Nov
Little Spiderhunter Arachnothera longirostra: Cirebon, Java, Indonesia, 5-12 Apr
LONG-BILLED SPIDERHUNTER Arachnothera robusta: Tarjun, S Kalimantan, Indonesia, 11 – 15 Nov
Yellow-eared Spiderhunter Arachnothera chrysogenys: Tarjun, S Kalimantan, Indonesia, 11 – 15 Nov
Crimson-breasted Flowerpecker Prionochilus percussus: Tarjun, S Kalimantan, Indonesia, 11 – 15 Nov
Orange-bellied Flowerpecker Dicaeum trigonostigma: Cirebon, Java, Indonesia, 5-12 Apr
Scarlet-headed Flowerpecker Dicaeum trochileum: Cirebon, Java, Indonesia, 5-12 Apr
Blood-breasted Flowerpecker Dicaeum sanguinolentum: Gunung Gede Pangrango National Park, Java, Indonesia, 9 Nov
Asian Fairy-bluebird Irena puella: Tarjun, S Kalimantan, Indonesia, 11 – 15 Nov
Oriental White-eye Zosterops palpebrosus: Muara Angke, Java, Indonesia, 13 Apr
MOUNTAIN WHITE-EYE Zosterops montanus: Cibodas Botanical Garden, Java, Indonesia, 8 Nov
Javan Grey-throated White-eye Lophozosterops javanicus: Gunung Gede Pangrango National Park, Java, Indonesia, 9 Nov
Hedge Accentor Prunella modularis: Leimen, BW, Germany, 9 Jan
Alpine Accentor Prunella collaris: Les Baux, Provence, France 31 Dec –

last addition to 2013 year list

White Wagtail Motacilla alba: Pont du Gard, Provence, 4 Jan
Pied Wagtail Motacilla yarrellii: Lezardrieux, Bretagne, France, 27 Aug
Grey Wagtail Motacilla cinerea: somewhere en route through France, 5 Jan
Blue-headed Wagtail Motacilla flava: Wagbachniederung, BW, Germany, 19 Apr
Grey-headed Wagtail Motacilla thunbergi: Karrendorfer Wiesen, MV, Germany, 17 Aug
Ashy-headed Wagtail Motacilla cinereocapilla: Dümmer, NI, Germany, 26 Apr – self-found vagrant!
British Yellow Wagtail Motacilla flavissima: Wagbachniederung, BW, Germany, 19 Apr – self-found vagrant!
Meadow Pipit Anthus pratensis: Camargue, Provence, France, 1 Jan
Water Pipit Anthus spinoletta: Wagbachniederung, BW, Germany, 19 Apr
Eurasian Rock Pipit Anthus petrosus: Cote du Granit Rose, Bretagne, France, 26 Aug
Tree Pipit Anthus trivialis: Schelklingen, BW, Germany, 3 May
Red-throated Pipit Anthus cervinus: Heidelberg, BW, Germany, 19 Sep
Paddyfield Pipit Anthus rufulus: Singapore airport, Singapore, 4 Apr
Tawny Pipit Anthus campestris: Berzdorfer See, SN, Germany, 30 May
Bohemian Waxwing Bombycilla garrulus: Bönninghardt, NW, Germany, 8 Jan – #100
Yellowhammer Emberiza citrinella: Camargue, Provence, France, 5 Jan
Cirl Bunting Emberiza cirlus: Rüdesheim, HE, Germany, 14 Jun
Ortolan Bunting Emberiza hortulana: Belziger Landschaftswiesen, BB, Germany, 9 May
Rock Bunting Emberiza cia: Rüdesheim, HE, Germany, 14 Jun
Common Reed Bunting Emberiza schoeniclus: Camargue, Provence, France, 1 Jan
Corn Bunting Emberiza calandra: Belziger Landschaftswiesen, BB, Germany, 9 May
Common Chaffinch Fringilla coelebs: Camargue, Provence, France, 1 Jan
Brambling Fringilla montifringilla: Leimen, BW, Germany, 10 Jan
Desert Finch Rhodospiza obsoleta: Shetpe, Mangghystau Province, Kazakhstan, 07 – 10 Oct
Scarlet Rosefinch Carpodacus erythrinus: Raciborovice Gòrne, Lower Silesia, Poland, 31 May
European Greenfinch Chloris chloris. Camargue, Provence, France, 1 Jan
Red Crossbill Loxia curvirostra: Schelklingen, BW, Germany, 3 May
Lesser Redpoll Acanthis cabaret: Heidelberg, BW, Germany, 23 Feb
Eurasian Siskin Spinus spinus: Dinslaken, NW, Germany, 8 Jan
European Goldfinch Carduelis carduelis: Camargue, Provence, France, 1 Jan
Twite Carduelis flavirostris: Heidelberg, BW, Germany, 21 Jan – very exceptional inland record
Common Linnet Carduelis cannabina: Camargue, Provence, France, 5 Jan
Citril Finch Serinus citrinella: Schliffkopf, BW, Germany, 1 Jun
European Serin Serinus serinus: Heidelberg, BW, Germany 4 Feb
MOUNTAIN SERIN Serinus estherae: Gunung Gede Pangrango National Park, Java, Indonesia, 9 Nov
Eurasian Bullfinch Pyrrhula pyrrhula: Leimen, BW, Germany, 7 Jan
Hawfinch Coccothraustes coccothraustes: Heidelberg, BW, Germany, 6 Jan
House Sparrow Passer domesticus: Camargue, Provence, France, 1 Jan
Spanish Sparrow Passer hispaniolensis: Shetpe, Mangghystau Province, Kazakhstan, 07 – 10 Oct
Eurasian Tree Sparrow Passer montanus: Camargue, Provence, France, 1 Jan
Rock Sparrow Petronia petronia: Pont du Gard, Provence, France, 4 Jan
Tawny-breasted Parrotfinch Erythrura hyperythra: Cibodas Botanical Garden, Java, Indonesia, 8 Nov
Java Sparrow Padda oryzivora: Cirebon, Java, Indonesia, 5-12 Apr
Java Munia Lonchura leucogastroides: Cirebon, Java, Indonesia, 5-12 Apr
Scaly-breasted Munia Lonchura punctulata: Cirebon, Java, Indonesia, 5-12 Apr
White-headed Munia Lonchura maja: Jakarta, Java, Indonesia, 5 Apr
Dusky Munia Lonchura fuscans: Tarjun, S Kalimantan, Indonesia, 11 – 15 Nov
WHITE-BELLIED MUNIA Lonchura leucogastra: Tarjun, S Kalimantan, Indonesia, 11 – 15 Nov
Chestnut Munia Lonchura atricapilla: Tarjun, S Kalimantan, Indonesia, 11 – 15 Nov