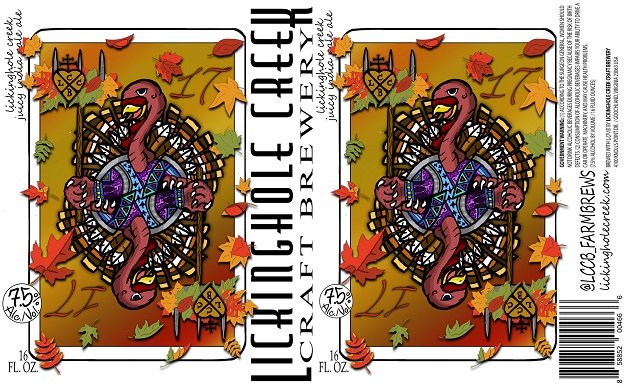 We're nothing if not unfailingly predictable here at Birds and Booze. So, it's always late November when we trot out the turkey-themed drinks to coincide with the American Thanksgiving holiday. And to be clear, that's the Wild Turkey (Meleagris gallopavo), a bird I always enjoy seeing no matter the time of year. But with everyone's sense of time these days being a bit askew, I hope you won't mind us winding back the calendar a few months to enjoy a beer – featuring a gobbler – that escaped our notice last autumn.
Lickinghole Creek Craft Brewery isn't currently producing Something Thankful, a New England-style IPA that was the seventeenth one-off entry in its monthly "Juicy IPA" series, each featuring a different recipe and hops. I assume the beer was released around November of last year for Thanksgiving, but I couldn't get my hands on a four-pack for a tasting until early in the new year. While New England IPAs are always at their best when young, it doesn't appear the few extra weeks of age did much to spoil the flavors of Something Thankful by early January. And even though hazy, fruity, and tropical New England IPA isn't the first beer style that comes to mind when I think of holiday meals in fall, Something Thankful is a beer well worth seeking out if the brewery does decide to bring it back for Thanksgiving this year – especially for the handsome label, which features the turkey as a double-headed face card figure from a playing deck, surrounded by falling leaves in suitably autumnal shades of red and orange.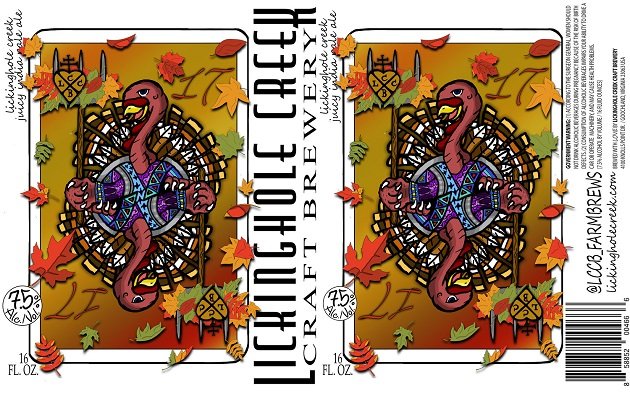 Something Thankful is brewed with Azacca, Moutere, and Samba hops, some relatively new varieties that provide all the fresh tropical fruit aromas one expects of a cloudy IPA in the New England style. There's enough candied citrus and zesty tangerine in this sunny bouquet to brighten the grayest November (or May) day, along with some fresh mango and a dose of pine resin. A silky soft mouthfeel and the barest suggestion of sweet malt provide just enough counterpoint to the tangy grapefruit and pineapple flavors that drive this beer to its smooth and hoppy finish.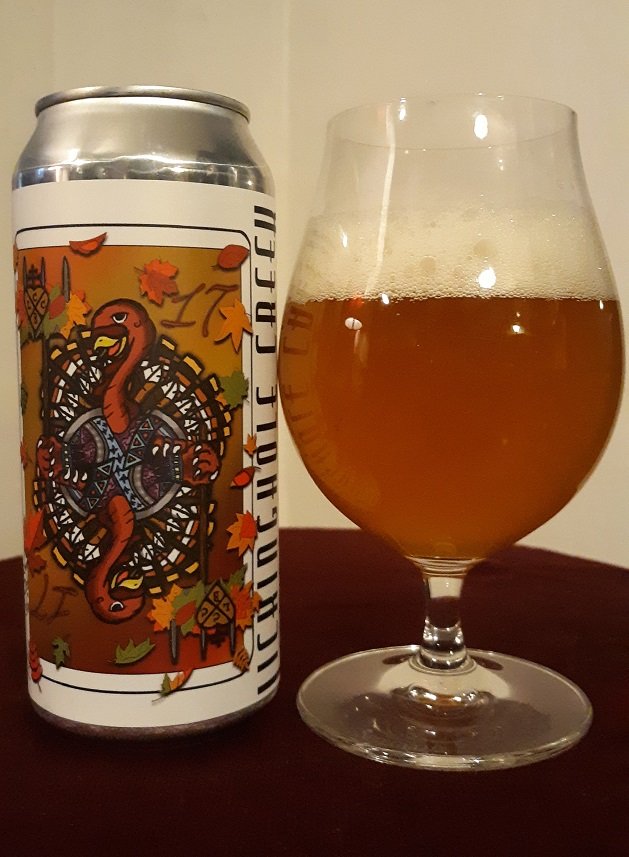 Good birding and happy drinking!
---
Lickinghole Creek Craft Brewery: Something Thankful Juicy India Pale Ale





Three out of five feathers (Good)