There are a handful of sites in North America that can justifiably be considered must visits for birders.  It's only a small surprise that a significant proportion of those sites are in Florida.  It's no small bit ironic that between the sprawling developments and golf courses and theme parks of the general public's perception of the southeast terminus of the continent lies some of the best birding in the world, particularly for anyone who likes their birds big, flashy, and approachable (i.e. everyone).  Florida's attributes to the birder are legion and once you get past the absolutely brutal traffic and the miles of strip malls and the boiling pavement you find the closest thing to an amusement park that anyone not interested in Mickey and Shamu could hope to find.
The jewel in Florida's bedazzled crown may be Merritt Island National Wildlife Refuge, on the Atlantic Coast in the shadow of Cape Canaveral.  The site is so well-known that it's the centerpiece of a major birding festival held during the peak winter season when waterfowl and waders join to create an spectacle unmatched by any site on the continent, but the birding is fine any time of year.
Or at least I hoped so, I realized I was pushing my luck.  I was there in mid-March, deep in the trough between the departing waterfowl and the arriving passerines. And worse, I was rolling up to the famous Blackwater Wildlife Drive around noon, having spent the morning at the equally fabulous and lesser known Orlando Wetlands Park.  My schedule was such that I needed to pack in as much birding as possible during the 24 hours that I had my rental car, and if that means hitting up Merritt Island during the hottest part of the day during what is arguably the slowest part of the day, so be it.  Beggars and choosers and whatnot.
As I slowly wound around the first few pull-offs I found little of note.  The ponds were dry as a bone, appealing only to the Killdeer that scrambled between muddy patches.  It wasn't until I got closer to the ocean that things started to get interesting, led off by a patchy Reddish Egret stumbling about in a mangrove-fringed pond.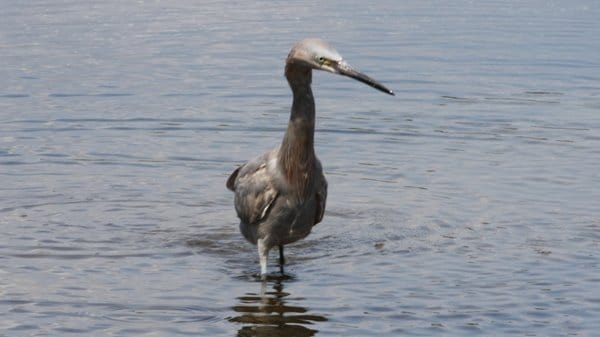 A Reddish Egret, I shouldn't hasten to add, that stopped stumbling around in that famously endearing way as soon as I stepped out of the car to take some photos.  So it goes, but the bird itself, in theory if not in actuality this time, is one of those great southeast species that draws people to the region.  A denizen of  the brackish shallows all along the Gulf and Atlantic coasts regularly found as far north as South Carolina.  I wasn't alone in appreciating this bird, a couple other cars pulled over too, blocking the entire gravel road in the frustrating way that you only find at Wildlife Refuges and National Parks.  I've witnessed the traffic jams charismatic megafauna can cause at Yellowstone.  This was nothing like that, of course, but don't tell that to the guy driving the Cadillac three cars back.  There were places along the 5 mile loop where he had to be.  Any Reddish Egret induced layover is not acceptable.  I mean come on, it's not like it's an Alligator or anything.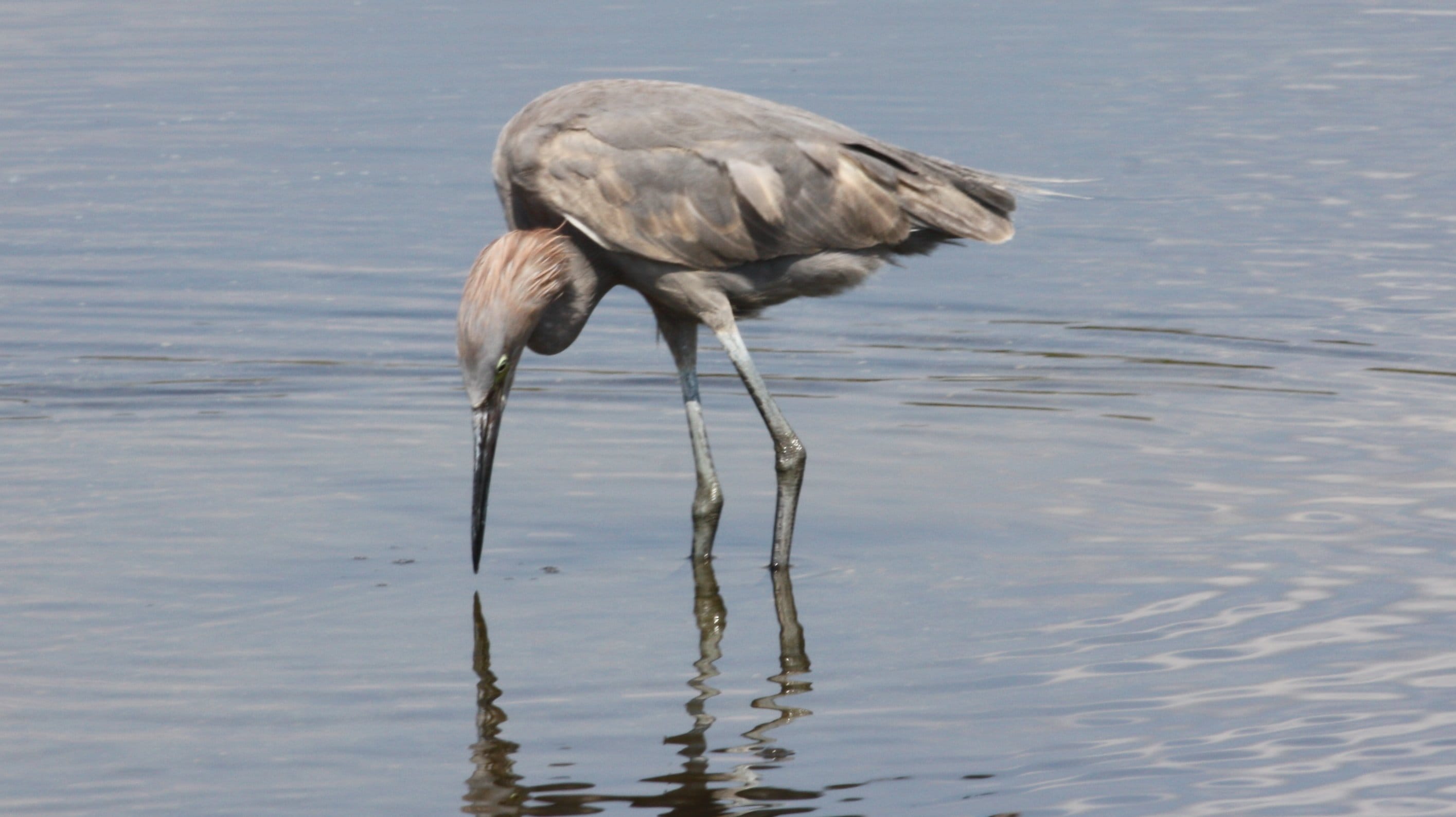 Small flocks of lingering shorebirds characterized the rest of the loop; Willets, Lesser Yellowlegs, Black-bellied Plovers and Dunlin mostly.  When I got to the terminus I turned left, towards the last of my Florida targets.
There's a trail along the beach at Merritt Island called the Scrub Trail.  At the trailhead there's a big wooden sign with a carved image of a sharp little bird with a long tail, a necklace of blue feathers offset by a gray brow.  It's not Florida's official state bird, but it should be as it's the only species on the whole of the state's impressive bird list that can only be found within its borders.  And more, it's a real looker with charisma to spare.  It is, of course, the Florida Scrub-Jay.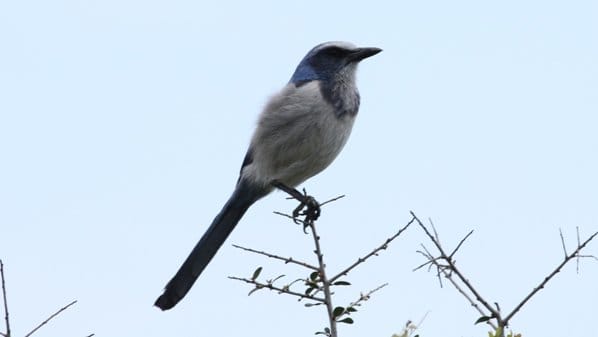 I found this individual, and an unbanded(!) one at that, at the very end of the trail's loop.  I had walked the entire length of the path, finding practically nothing but Eastern Towhees and a single Black Vulture, before returning to my car frustrated and prepared to make the drive back to the Orlando rental agency sans Scrub-Jay when I noticed this bird sitting atop some thorny scrub (appropriate!) and acting completely unimpressed not more than 20 meters from the parking lot.  It continued sitting while I walked within 10 feet of it, incredulously snapping photos and laughing at my good luck with this singularly Floridian species.   Sure, they weren't sitting on my head or eating out of my hand like other birders experience, but I'll take it.
Florida, and Merritt Island, wins again.