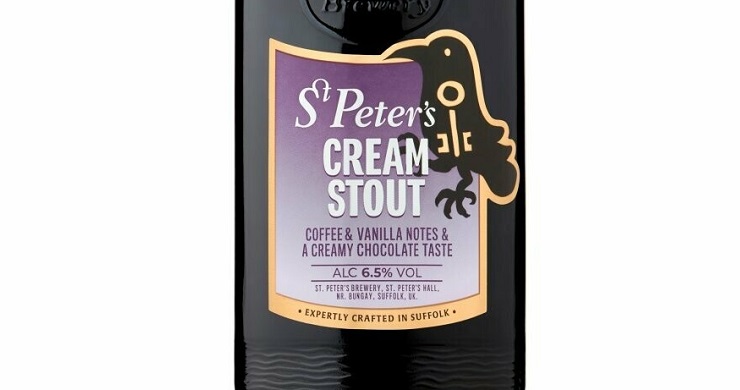 I know. I'm a day late and it's the wrong saint (forgive me, Father, for I have sinned). While I'd love to provide a beverage recommendation for Saint Patrick's Day each and every year here at Birds and Booze, the fact of the matter is that there's only so much bird-related Irish booze to be had out there. And after showcasing the famous (but rather obvious) Guinness toucans one year and getting a bit more obscure (and distinctly more pious) with an Irish whisky that features the Saint Kevin of Glendalough and the legendary blackbird that built a nest on him, we're bound to come up short on appropriate recommendations from the Emerald Isle in most years.
So, with that, this is the best I could do this year. A cream stout by St Peter's Brewery. Yes, it's English (shh!). And of course, Saint Peter is the patron saint not of Ireland, but of places as varied as Rome, Scranton, and Las Vegas. I admit this is all hardly in keeping with the spirit of yesterday's holiday, and regrettably, redemption will have to wait for next year, I'm afraid. But, hey, there is a bird on the bottle – a nice Common Raven (Corvus corax) – and that's what really counts here, right?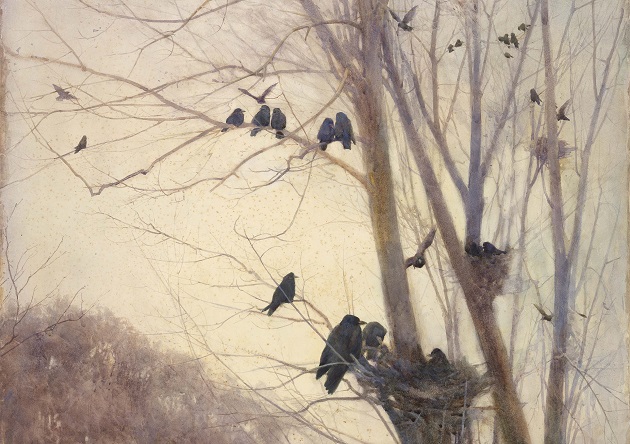 I've been an admirer of the St Peter's Brewery for quite some time now. Found in 1996 as one of England's original craft breweries (as opposed to the many long-established traditional breweries in that country), St Peter's is located in St Peter South Elmham, a small village in the Suffolk countryside just several miles inland from the North Sea coast. Next to the brewery lies St Peter's Hall, a historic building dating to around 1280 and surrounded by a moat thought to have been dug even before the present structure as a defense against the Vikings that raided East Anglia in the tenth and eleventh centuries. It was these heathen marauders from across the North Sea that inspired brewery's logo, a raven rendered in the style of an ancient Norse banner – though the key representing Saint Peter adds a redemptive heavenly touch to the bottle.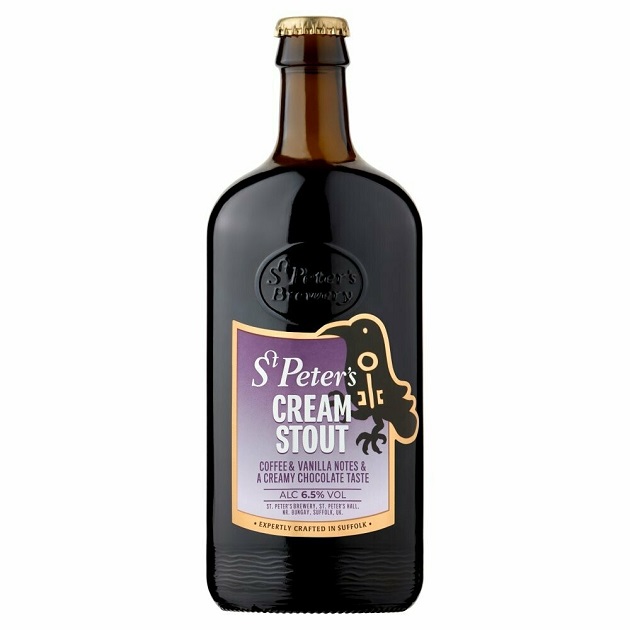 St Peter's Brewery is also noted for the unusual flask-shaped glass bottle in which it packages all its bottled beers (though the brewery also releases casks). The design is a reproduction of an eighteenth-century gin bottle found near Gibbstown, New Jersey, just across the Delaware River from Philadelphia. There's no actual connection between the modern English brewery and this old colonial American bottle pattern, but it's a lovely and iconic vessel for the brewery's offerings, especially in the distinctive oval-shaped version (the brewery also uses round bottles).
St Peter's Cream Stout is one of a dozen styles the brewery produces as part of its year-round bottled range (including one cider). I've had a few of these over the years, but the cream stout is definitely a favorite and makes a particularly wonderful beer for a cool, crisp day in March as winter reluctantly gives way to spring. The aromas are heavy on milk chocolate, malted milk balls, and mildly roasty mocha, with hints of dulce de leche, toasted almonds, pipe tobacco, and molasses. Coffee and caramel intertwine in a sweet, slightly smoky palate tinged with touches of dark fruit and licorice. The long, drying finish marries bittersweet cocoa flavors with an herbal hop bitterness that counterbalance the chocolaty sweetness of this cream stout.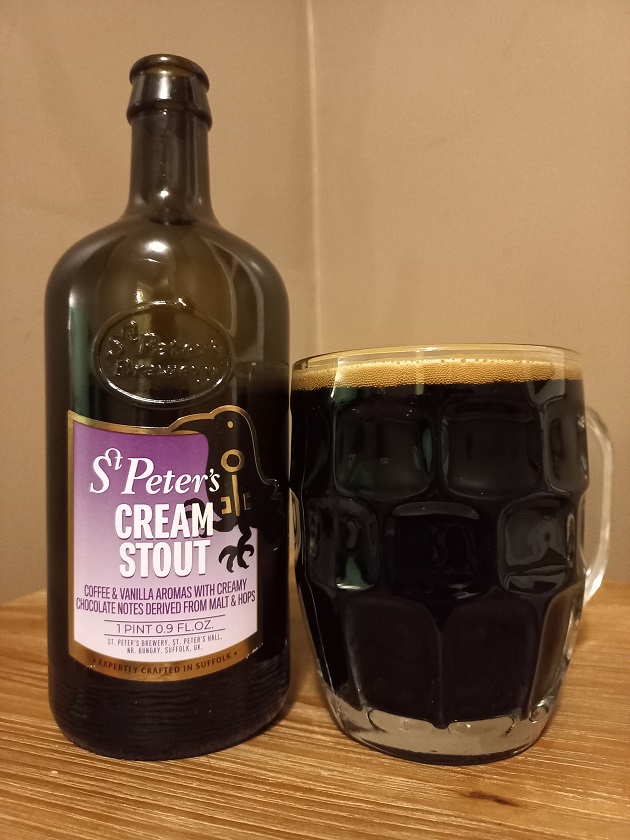 Good birding and happy drinking!
---
St Peter's Brewery – Cream Stout

Four out of five feathers (Excellent)