As the saying goes, one good year deserves another. So, in the interest of starting 2009 off right, at least from a birding perspective, Seth and I decided to scope out the waterfowl on frosty Lake Ontario. Along with our friend Dean, who was staying with me over the holiday, we struck east for Sodus Point. The point is a superb spit of land separating portions of Sodus Bay from the Great Lake it feeds into. In true western New York fashion, Sodus boasts a brief little beach from which the locals can sally forth into icy waters, and that's in summer! On the first day of January, this place is COLD!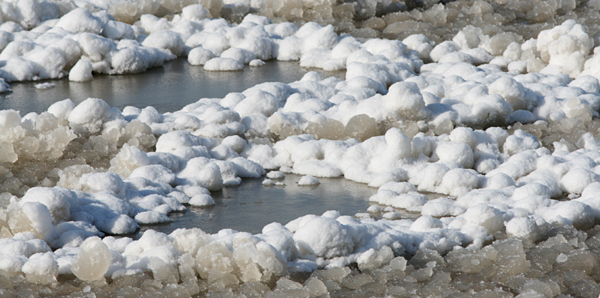 But I suppose that's how our target birds like it. After all, to the seaducks we sought, the northern border of the United States is south for the winter. This is how we came to be standing mere meters from rafts of Long-tailed Duck, Common Goldeneye, Bufflehead, Greater Scaup, American Coot, and wonderful White-winged Scoter. Scoters, a genus typically associated with winter seas, are usually spotted far from shore but a few velvet black birds brandishing bright speculums and arched white under-eye crescents floated amazingly close. Good thing too, since the nightmarish cold made scanning Sodus Bay an exercise in futility; it's hard to identify seaducks when the tears in your eyes are icing over! This may explain why recently-spotted rarities like King Eider and Barrow's Goldeneye escaped our notice.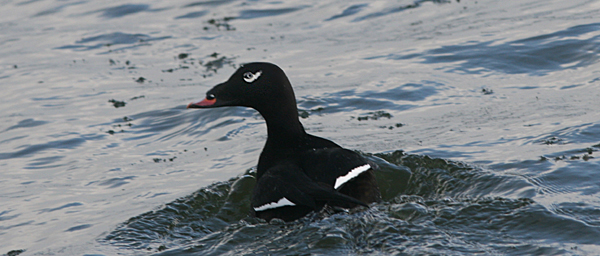 After Sodus Bay, we eased on over to that Rochester favorite, Irondequoit Bay, passing Wild Turkeys high in a tree like Howler Monkeys along the highway. The bay was mostly iced over, with distant open water harboring abundant Canada Geese, Mallards, and both Mute and Tundra Swans along with gobs of gulls, mostly Ring-billed. We combed the jetty on the lakeside for Purple Sandpiper without success. Actually, the entire effort was doomed to failure since, as we looked for birds on one side of the channel, just across the water duck hunters were blowing them away. The ubiquitious, unpleasant presence of hunters everywhere one birds in winter around here saps some of the fun out of the experience. Who wants to take a photo of a bird only to watch it get blasted to bits just moments later?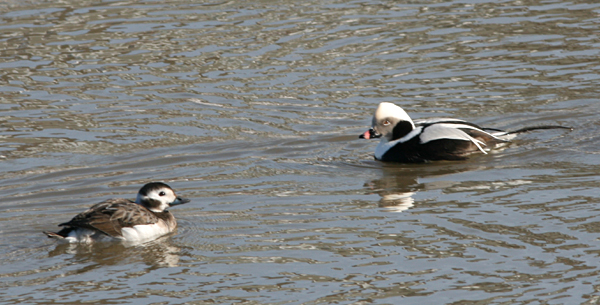 On the bright side, some Long-tailed Ducks offered peaceful passerby spectacular looks. Over on the bay side, an unexpected Belted Kingfisher flashed by. I also spent way too long trying to puzzle out one odd gull huddled with the rest around a patch of open water. After consulting with the invaluable Peterson Reference Guide to Gulls of the Americas , I'm fairly certain I was looking at a Herring x Black-backed Gull hybrid or at least a Herring Gull. The next few months may find me glassing a lot of gulls… it seems seaducks and larids are what we watch in winter in western New York!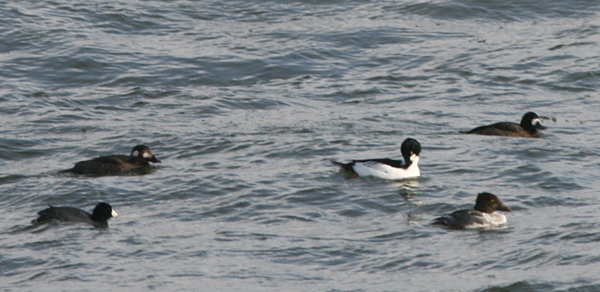 How many species can you spot in this photo?