It had been over a week since the bird was first seen and nearly a week since it was first identified.  What bird am I talking about?  The Swainson's Hawk in Greene County, New York, discovered by upstate birder and Greene County partisan, Rich Guthrie, and described by him here, here, and here.  Why does this matter?  Because in addition to Swainson's Hawks being intrinsically cool and beautiful it would be a new bird for me for the year and for the state.  In fact, it would be an altogether new bird for me; a lifer!  However, living in New York City, over two hours away from the site that the hawk was frequenting, and not owning a car seemed to preclude me from having any chance at checking out the bird and checking it off the various and sundry lists I keep.  But I figured if I had any chance at all of seeing such a bird I would just have to talk it up a whole big bunch to some nice birders who do have cars until they agreed to drive me upstate to see the bird.
So, at the Queens County Bird Club field trip to Kissena Park yesterday I did just that.  I was aided in my efforts by Eric Miller, who led the field trip, and took the cruel and usual step of showing me the pictures he got of the Swainson's Hawk several days earlier, which led me to complain about his violation of the no gripping clause of the Birders' Geneva Convention, which I am in the process of writing.  The only way for Eric to make amends for such a heinous act was by assisting me in any way to see the bird, so I had an ally with whom I could start twisting Jean's arm (you remember Jean, we've dipped a rarity together, seen a rarity together, did the CBC together, and she has even written a guest post here on 10,000 Birds).  Anyway, the arm-twisting began and did not let up until she promised to "think about" making a run upstate for the hawk on Monday, today.  This might lead the savvy reader to wonder how I could possibly have written a blog post about chasing the hawk already if I haven't even gone after it yet.
Well, to make a long story short, Jean was having her other arm twisted to go after the Swainson's Hawk on Tuesday, by Arie, who couldn't go today.  Jean already knew that I couldn't go on Tuesday, so, once she got home from the hugely successful field trip, she made the shocking and risky decision to tell us she would chase the hawk not on Monday or Tuesday but only that very afternoon!  Needless to say, both Arie and I were stunned, but he had no problem with it and once I sold what little is left of my soul to Daisy I had no problem either.  Within ten minutes of Jean's decision we were on the road and heading upstate!
Will, who had already seen the bird once before, was kind enough, once I called him and explained our insanity, to get to the hawk site to monitor the hawk's exact location and keep us posted, and about two-and-a-half hours and 125 miles later there was the hawk!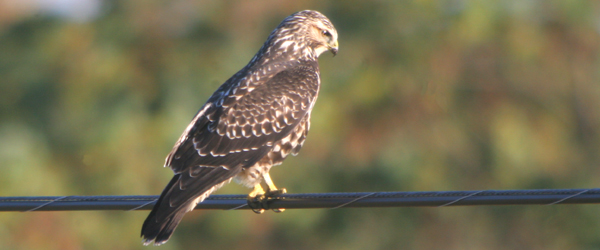 The juvenile Buteo swainsoni put on a show, flying from perch to perch, and, on one occasion, it flew directly over us.  We were happy to enjoy the hawk for nearly a full hour until we realized that if we wanted any light at all for our ride back we had better get going.  But what a bird!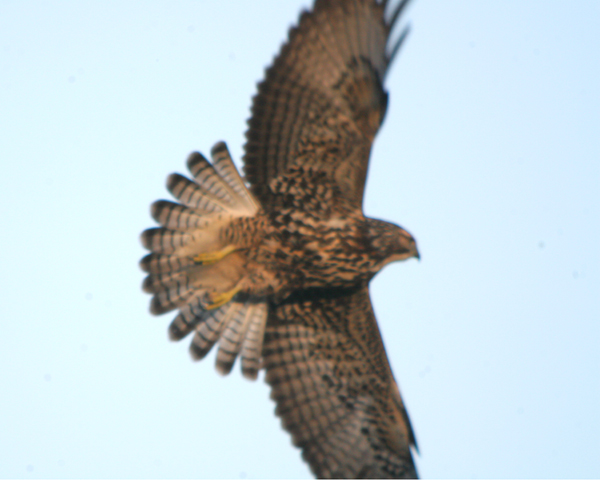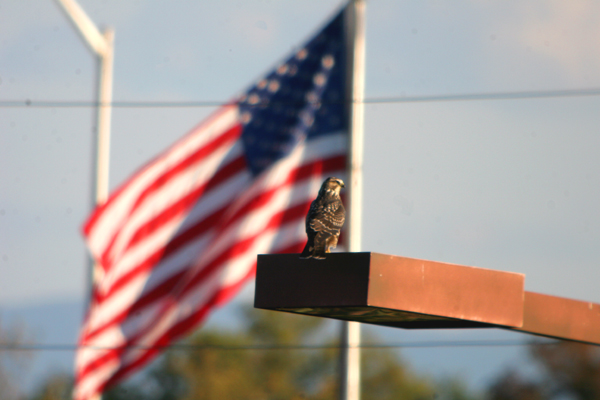 After a quick drive down the road to the Dunkin' Donuts for some refreshments before our long traffic-laden ride home, we spotted the bird one more time perched on the side of the entrance to the Thruway, so, of course, we had to pull over and get a couple more shots.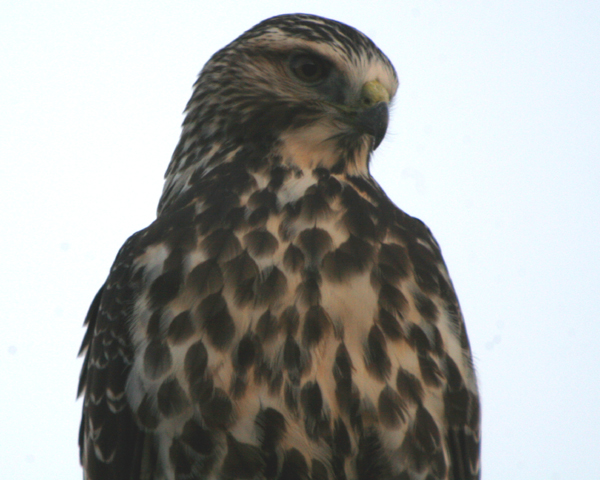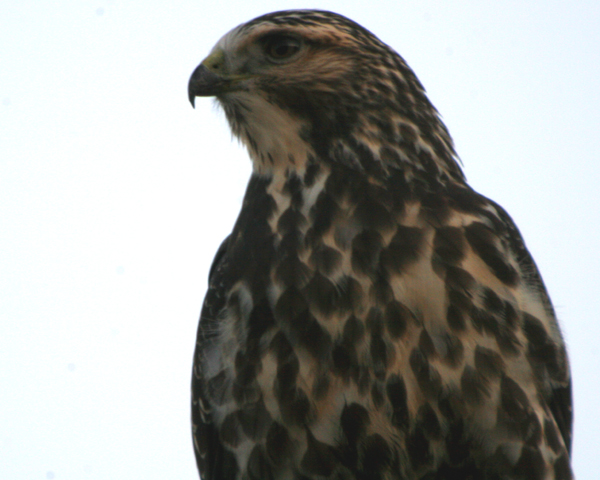 Many thanks to Rich for finding the bird, to Will for keeping us updated as to the bird's every move, and, of course, to Jean and Arie for providing transportation and great company for the long ride upstate and back!  Now if only another rare raptor would show up…