Suffolk County, Long Island, the easternmost county in New York State, still has some pretty darn good habitat for the birds. Whether one is looking on a mudflat, listening in the pine barrens, or searching in a salt marsh there are birds to be seen. Which, of course, means that 10,000 Birds couldn't let our readers down and not go birding there (sometimes writing on this blog is just so difficult). Anyway, Mike, his good friend from college, Frank, and I took a trip out to Suffolk County in search of some specialty birds that can be found if one knows where, exactly, to look.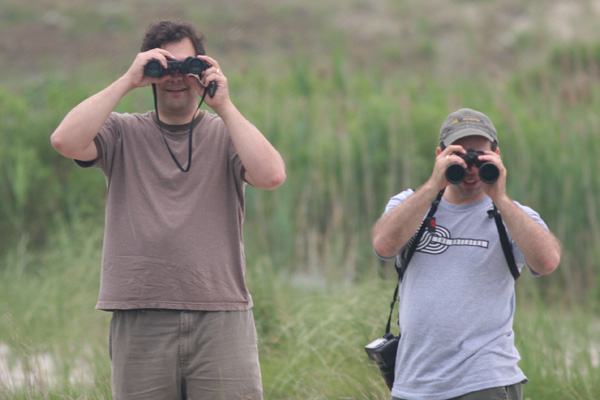 We got a late start out of New York City, with Mike and Frank picking me up in Queens shortly after 3 pm. Our first stop, an hour and a half to the east, was the DEC bike trail along route 51, where we hoped to hear and see the elusive little quail, Northern Bobwhite. The habitat there is fantastick! Spectickular! Ritickulous! In other words, there were a lot of ticks. Lone Star Ticks to be exact, in both adult and young forms. We literally saw more ticks than birds. It was quite, well, disturbing. When we weren't searching our legs for ticks we did see some good birds, like breeding Yellow-billed Cuckoos, Blue-winged Warblers, and Baltimore Orioles, but, really, we mostly focused on the ticks. And we neither heard nor saw a single Northern Bobwhite, which, while it was disappointing, wasn't the crushing blow that one might expect: we still had a couple of more spots to see even more great birds.
Our next stop, after a drive past many multi-million dollar homes in Westhampton, was Cupsogue, a county park on the south shore of Long Island where rare terns show up often, pelagic birds can be seen from shore, and salt marsh birds breed in abundance. Unfortunately, our arrival coincided with high tide, so we did not manage to see any of the rare terns that congregate on the mudflats, but we did see a ton of the more common, and aptly named, Common Terns.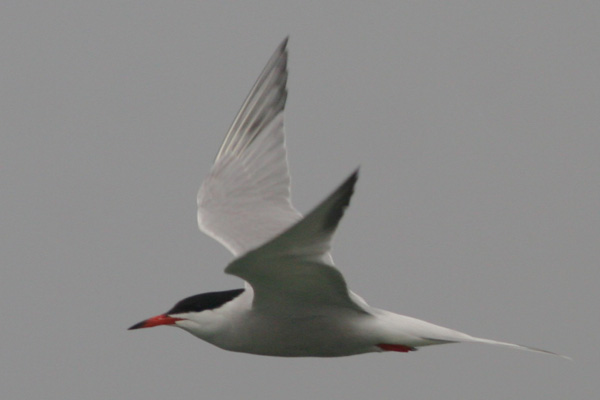 Because the mudflats were completely underwater we walked west along Dune Road until we came to a path to the north and to the salt marshes. We almost immediately came across several Seaside Sparrows, which sang, called, and flew around like they owned the place. Willets were present in numbers, as were Short-billed Dowitchers, American Oystercatchers, the usual gulls, Common Yellowthroats, and a bunch of other birds. There we stayed for quite some time, mostly keyed in on the Seaside Sparrows, but also enjoying the antics of the gulls and terns. We were also fortunate to get brief looks at a Saltmarsh Sparrow, but Seaside Sparrows definitely were the more common Ammodramus sparrow. They even cooperated for pictures!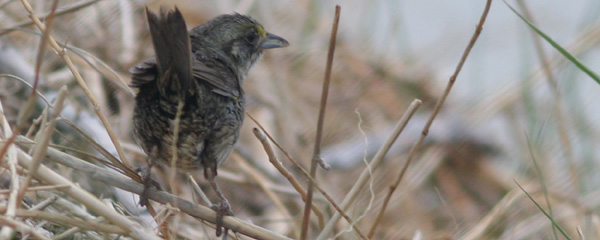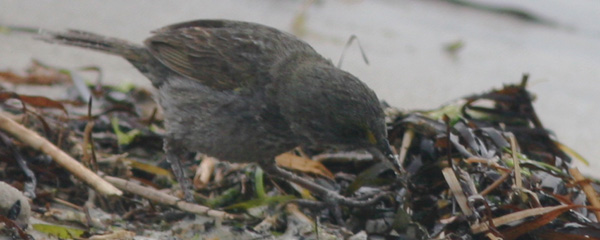 What do you think of that, Charlie?
After soaking up the sparrows for awhile we moved on to the beach where we came across some of New York State's top birders conducting a seawatch. They had managed to spot several each of Cory's Shearwater and Wilson's Storm-Petrel from shore and while we were there they spotted another Cory's which they were kind enough to let us take a look at through their scopes. We sat for some quick dinner at the beach's concession stand and when we were done eating scanned the sea a bit, and were amazed to see another Cory's Shearwater and a Wilson's Storm-Petrel, well within binocular range!
Though it was getting dark we weren't quite done yet. Our final stop of the day was to be the pine barrens, where, if one knows the correct location, one can track down two species of nightjar, Chuck-wills-widow and Whip-poor-will. As soon as we walked into the barrens we heard a whip, and it wasn't too long before we were also hearing a chuck. I'm glad I count heard birds because all we saw of them was the eyeshine of a single Chuck-wills-widow, which, nonetheless, was a lifer for Mike. I can think of no place I would rather end a day's birding than in the dark in a pine barren with two nightjar species calling from the trees.
All-in-all it was a successful trip to Suffolk County, and even the torrential rains we drove through on the way home (and the flooding in Queens which caused some major traffic jams) couldn't make our mood anything but good. Through ticks and thunderstorms we went, and got great looks at great birds: not a bad way to spend the day!