With the end of July drawing nigh, the time has come to shift your summer (or winter, depending on your relationship to the Equator) into overdrive. Make this weekend count! What are your plans this weekend and will you be birding? Please share your plans in the comments below.
I am lucky enough to be heading down for a week of family relaxation at Virginia Beach; if anyone has a line on easy Swainson's Warblers in the Back Bay-Great Dismal Swamp area, I'll be much obliged.  Corey  hopes to be out in a boat on Saturday looking for whales and seabirds, making up for last week's unfortunate flat-tire cancellation.  On Sunday, he might make my way out into the muck that is the north end of Jamaica Bay's East Pond, or he might sleep in. Charlie is off to The Bird Effect on Saturday and, assuming he survives the solo, one-day 500 mile round trip, he might be helping out with a Wiltshire Wildlife Fun Day at the local Conigre Mead reserve.
Whatever your plans this weekend, make time to enjoy SkyWatch Friday. Also be sure to come back Monday to share your best bird of the weekend!
The excellent response to last week's photo of the avian effigy from Chicken Inferno 2009 encouraged me to share a shot of this year's guest of honor…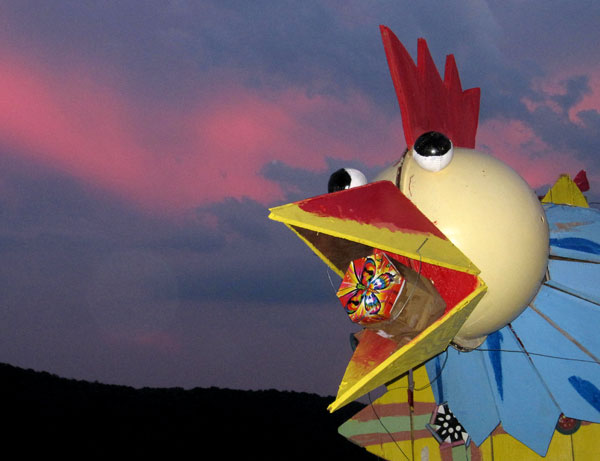 See how this bird was built and burned!