We're three weekends into the new decade and I'm wondering how many well-intentioned resolutions have already been cast by the wayside. How many of you have become the healthier, happier selves you imagined you could be? Are you at least sticking with your pledge to enjoy nature more? If you haven't yet, you should consider living your best life NOW! Where will you be this weekend and what birds will you be looking for or at? Share your plans in the comments below.
Since bitter cold and better football kept me indoors last weekend, I really need to get out for some quick photography practice this weekend if I want to be ready for my big trip next weekend. Corey will get plenty of practice taking photos in icy, unstable, chum-laced conditions as he embarks on a New York pelagic in search of alcids. Charlie will probably choose the better part of valor and wait the foul weather out!
Whatever your plans this weekend, make time to enjoy SkyWatch Friday. Also be sure to come back Monday to share your best bird of the weekend!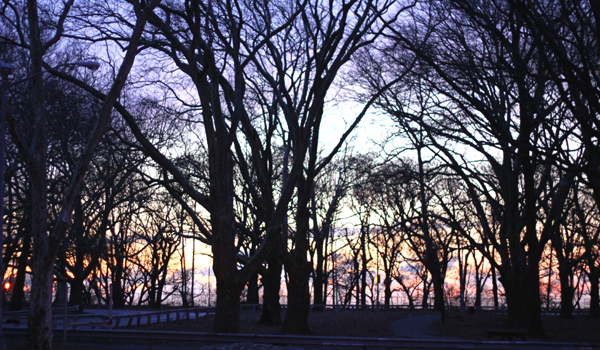 Dawn breaks over the Ridgewood Reservoir in Queens; the trees aren't out of focus… they're shivering!