This week's wine is a very easy-drinking white blend from the South African winery A.A. Badenhorst Family Wines. It's going to be a pretty easy post for us, too, as there's not a whole lot going on here bird-wise to discuss. (By now, Birds and Booze readers know that we'll gladly take any old bottle with a bird on it for a quick and dirty review for another busy week in this crazy world.) The wine is called The Curator, and on the attractive, vaguely Art Deco label we get a yellow cockatoo of indeterminate species in a cage. Cockatoos aren't even from Africa, of course, but we've got better things to do than ponder the provenance of a caged parrot – like open this bottle.
The Curator is an annual release from A.A. Badenhorst, a Swartland winery founded in 2008 by cousins Hein and Adi Badenhorst. The grapes used in the Curator come from mostly old-vine plantings dating to the 1950s and '60s, with the 2016 edition comprising a blend of three parts Chenin Blanc and one part each of Chardonnay and Viognier. According to the winery, the grapes are hand-picked, chilled, and pressed, with the must undergoing a slow, natural fermentation. The bottled result is a fabulous and very reasonably priced "patio pounder": an unfussy and inexpensive wine perfect for warm-weather drinking. The bouquet is patently fruity and tropical, with aromas of pineapple and lychee laid over the sweet, almondy scent of macaroons. The Curator offers flavors of nectarine, grapefruit, gooseberry, and kiwi laced with a zippy acidity that comes on strong even when this wine is slightly chilled for a hot and humid summer evening, which is precisely how you should serve it.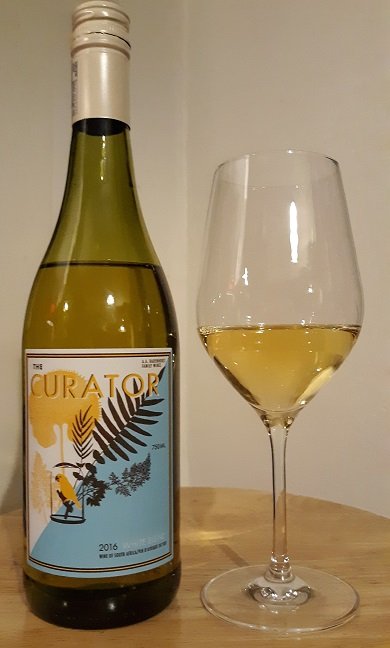 And just because this wine is called The Curator, here's the only painting we could find involving some wine and a rather corpulent cockatoo, executed by nineteenth-century British painter Thomas Frank Heaphy.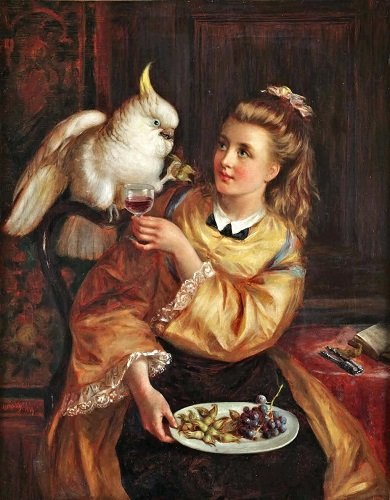 Woman with Cockatoo (1869) by Thomas Frank Heaphy (1813-1873).
Good birding and happy drinking!
---
A.A. Badenhorst – The Curator White Blend (2016)





Three out of five feathers (Good).