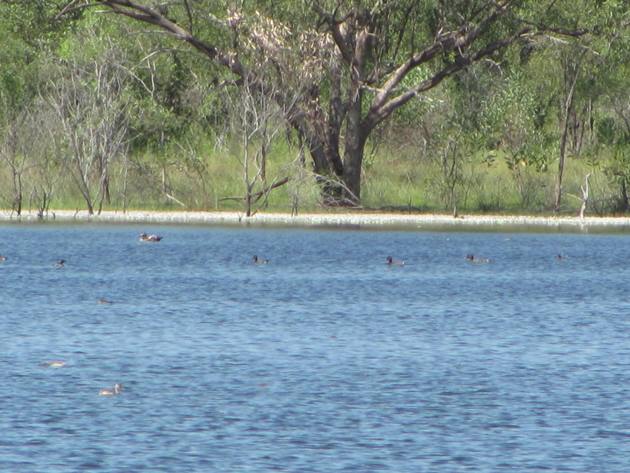 Early this year Broome received an exceptional amount of rain as a result of tropical cyclone activity and the highways going north and south remain flooded to the edge of the bitumen in places even though we have had no rain for a couple of months now. Access to the local ephemeral lakes remains closed to vehicles, which means the only access is on foot and as such we are discovering the bird life to be particularly good when we do good bush walking into these areas. On May 2nd we bush walked for several kilometres from the highway to an ephemeral lake approximately 55 kilometres/34 miles from Broome with my Mum, who also enjoys birds and walking, to find more ducks present than on our previous visit a couple of weeks ago. Even before we had reached the lake we had encountered forty bird species in forty minutes, so we knew we were going to have a good day! The native wildflowers were also beautiful as always and lined the tracks towards the lake and also the edge of the water. Looking across to the far side of the lake we noticed a very large duck and it was swimming close to the edge. All of the white in the above photo close to the edge is native flowers and the large duck was surrounded by Pink-eared Ducks, Hardheads, Australasian Grebes, Plumed Whistling-Ducks and Wandering Whistling-Ducks with Glossy Ibis, Straw-necked Ibis on the edge of the lake. There was a family of Comb-crested Jacana with two very small chicks running on the vegetation in the lake and several Green Pygmy-geese families too. The header photo shows the large Australian Shelduck swimming in the lake over three hundred metres from us on the far side.
We observed the Australian Shelduck for some time as it swam closer to the edge on the far side and then walked out of the water. We could identify it as a female bird due to the fact that it had the large white patch around its eyes and the white stripe across its bill. We agreed it made no sense trying to walk around the lake on this occasion to get closer to the Australian Shelduck due to the fact that we would easily lose sight of it as we wandered through the bush and it was not a good idea to disturb a bird that was outside of its "normal range". Australian Field Guides show Australian Shelduck over five hundred kilometres to the south of Broome and we have not even seen one that close previously. There is an old record of Australian Shelduck visiting the Broome Poo Ponds that we know of going back to December 1994, but they are far from being a common visitor to the area even on previous years when there have been unusually wet years during the tropical cyclone season.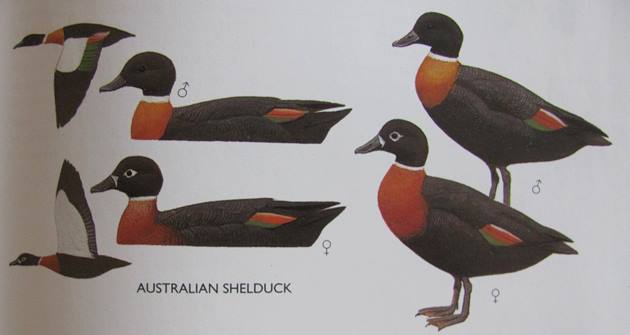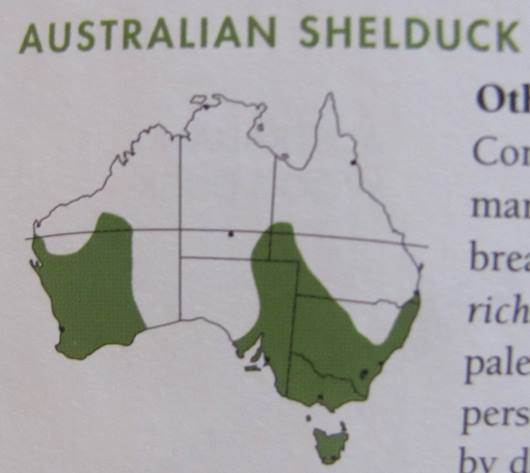 Australian Shelduck and their usual range in Australia
Using the telescope I was able to capture some closer images of the Australian Shelduck on the bank on the far side of the lake where it remained for the rest of our visit. It was very hard to try and capture the evidence and not have other birds or dragonflies in the way, but I got evidence!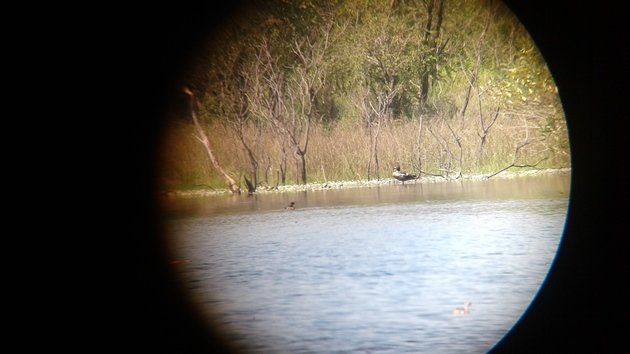 Australasian Grebes and Australian Shelduck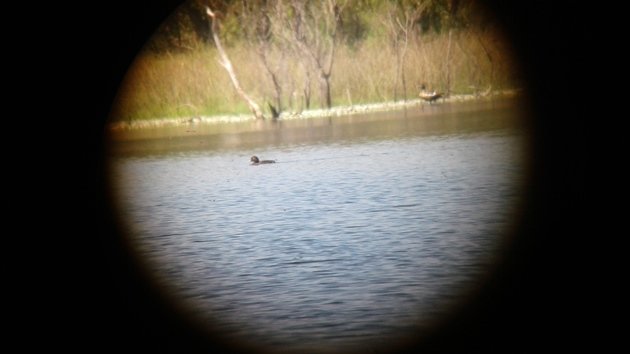 Hardhead and Australian Shelduck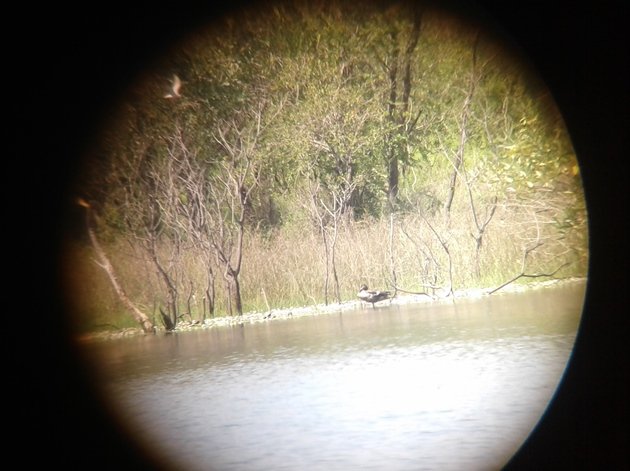 Whiskered Tern and Australian Shelduck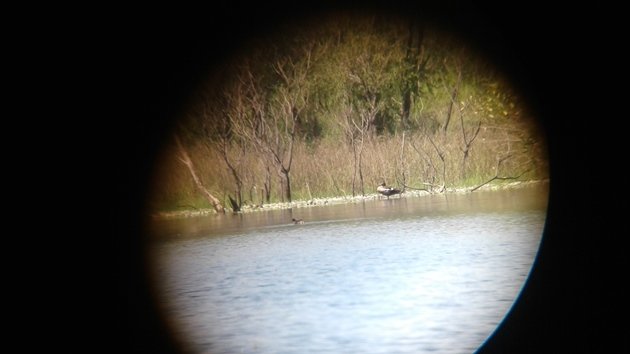 Female Australian Shelduck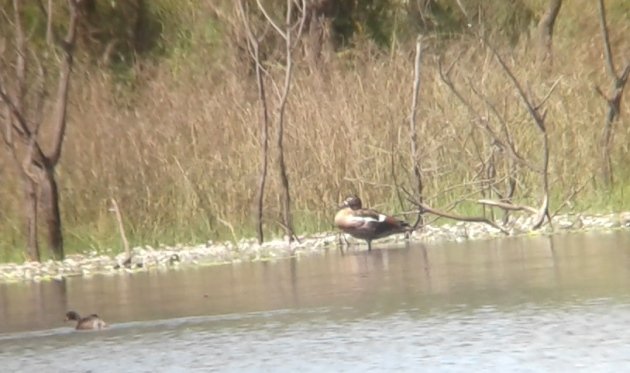 Female Australian Shelduck cropped from the above photo
Field guides are written by people for people and as such birds do not know where they are expected to be observed and it is always interesting to find birds outside of what is considered to be their normal range. A good example was the Temminck's Stint that we observed at another ephemeral lake near Broome a couple of years ago, which was a "first for Australia". In 2009 we had our first annual visit of a  Semipalmated Plover to Broome, which continued to visit each year until late last year when it failed to return from migration. A Hoopoe visited the Broome area in 2011, which Mum also has on her "Broome list"! So, there have been three witnesses so far to the Australian Shelduck near Broome this week and if there are other keen bush walkers out there they may well also observe it. We recorded sixty nine bird species during our walk that day and there is as always plenty of variety in an ever changing environment.
UPDATE:-The Australian Shelduck has moved closer to Broome and was observed on June 7th.