We three 10,000 Birds bloggers were spread out all over the world this past weekend just as the rest of the world's attention focused on one spot, South Africa, to watch the World Cup.  And while Mike and I might have been mildly mocking Charlie and England's goalkeeper we were also birding and seeing some sweet species.  Hopefully you did too; please share your best bird of the weekend with us here at 10,000 Birds!
Mike, in Panama for the first time, had a host of species from which to choose his best bird and decided on Black-capped Pygmy Tyrant as the best.  Charlie, suffering from England being tied by the United States in World Cup play, was too depressed to look for birds (or maybe he was too busy chasing his toddler, I can never keep track).  Me?  Well I took a quick trip not too far north of New York City and came up with a pretty good bird for New York State, a singing Dickcissel!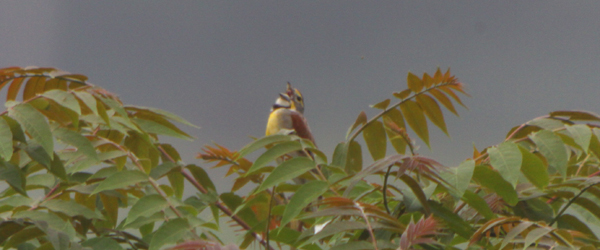 What was your best bird of the weekend? Tell us in the comments section about the rarest, loveliest, or most fascinating bird you observed.  If you've blogged about your weekend experience, you should include a link in your comment.