After leaving the still-foggy Jones Beach behind I followed Sam, a local birder, over to Cow Meadow Park and Preserve, a Nassau County Park with a huge marsh, some good brushy habitat, and a pond surrounded by vegetation. The goal was to see a Whimbrel, a quixotic quest that was totally unsuccessful, mostly because Whimbrels seem to have already left for points south. I guess seeing one just isn't in the cards for me this year, something I should have figured out after my last failed attempt.
Not that the trip was a total loss: there were lots of birds to see. Upon our arrival we watched a juvenile Cooper's Hawk try unsuccessfully to take a Gray Squirrel and then checked out the pond and saw many Mallards (some manky), Canada Geese, Northern Shovelers, and Black-crowned Night-Herons. Sam guided me down a brush-bordered path to the tower that overlooked the expansive marsh which was rather bereft of bird life as the tide was low and birds had plenty of other places to forage. We did spot some Killdeer, Great Egrets, and Great Blue Herons but not much else.
Sam headed home but I remained, hoping something would show, but got bored after about fifteen minutes and decided to walk a roundabout way back to the pond where I hoped to do some photography. Along the path Gray Catbirds mewed and Yellow-rumped Warblers chipped. Then what I presumed to be the same Cooper's Hawk gave me a start when it burst out of a tree not ten feet in front of me and went screaming off down the path after another squirrel and missed again.
At the pond I found a break in the vegetation and walked to the pond's edge, flushing the birds I mentioned before plus Greater and Lesser Yellowlegs, Short-billed Dowitchers, a Northern Pintail, Green-winged Teal, and everything else that was near that section of the pond. So I sat down on a dry spot to wait for everything to calm down and get used to my presence. Then the Cooper's Hawk flashed past again, apparently emulating a Peregrine Falcon by trying to catch a yellowlegs, and was easily outmaneuvered. It was fun to watch though.
The birds gradually got used to my presence and the waterfowl started coming closer. But by that point I had realized that rather than taking boring pictures of the birds floating on the pond I could take shots of them in flight. Basically, because the pond was surrounded by so much vegetation I was rather hidden to birds that had to lose altitude and decelerate rapidly in order to land. In fact, when shorebirds came in for a landing they would end up circling sections of the pond a couple of times in order to lose enough momentum before they came down to the muddy shore of the pond.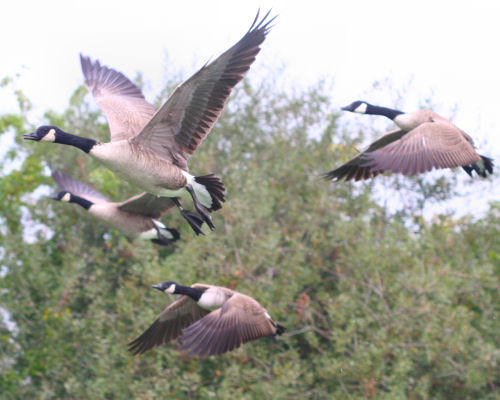 Canada Geese taking off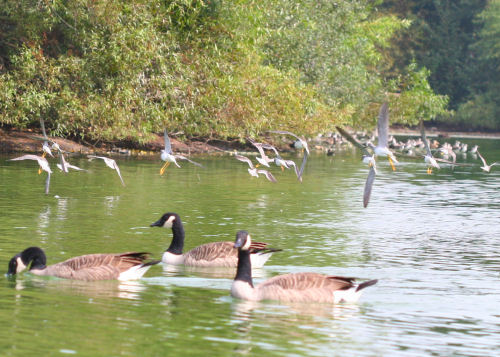 yellowlegs flying over Canada Geese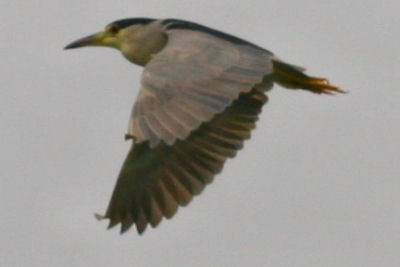 Black-crowned Night-Heron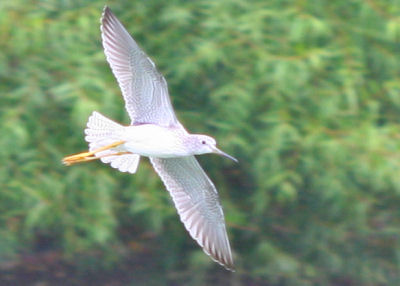 Lesser Yellowlegs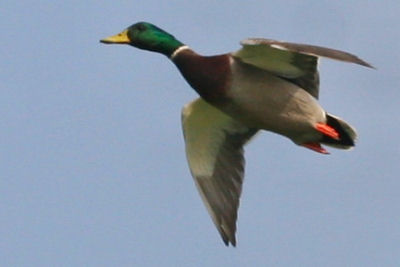 male Mallard landing
Canada Geese landing
While taking the shots above a bird started to chip from close behind me. I started turning my head oh-so-slowly until I could make out a waterthrush about two meters back. But which waterthrush? In the dim light it was in I couldn't really tell if its pale supercilium was yellowish or white. So I went for its throat, no, not to kill it and examine it in my hand, but to see if it had fine streaking on it or not. Streaking it had so a Northern Waterthrush it was, rather than a Louisiana. Waterthrush identification without using optics! Thanks Jochen (and Charlie)!
When I brought my camera up, the bird, of course, flew. So I watched it flip up leaves looking for food and took pretty lousy pictures of it at a distance.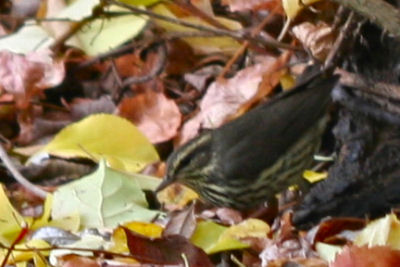 Northern Waterthrush at the pond at Cow Meadow
Then my phone rang and I had to leave, as an Orange-crowned Warbler had been reported at Alley Pond Park.