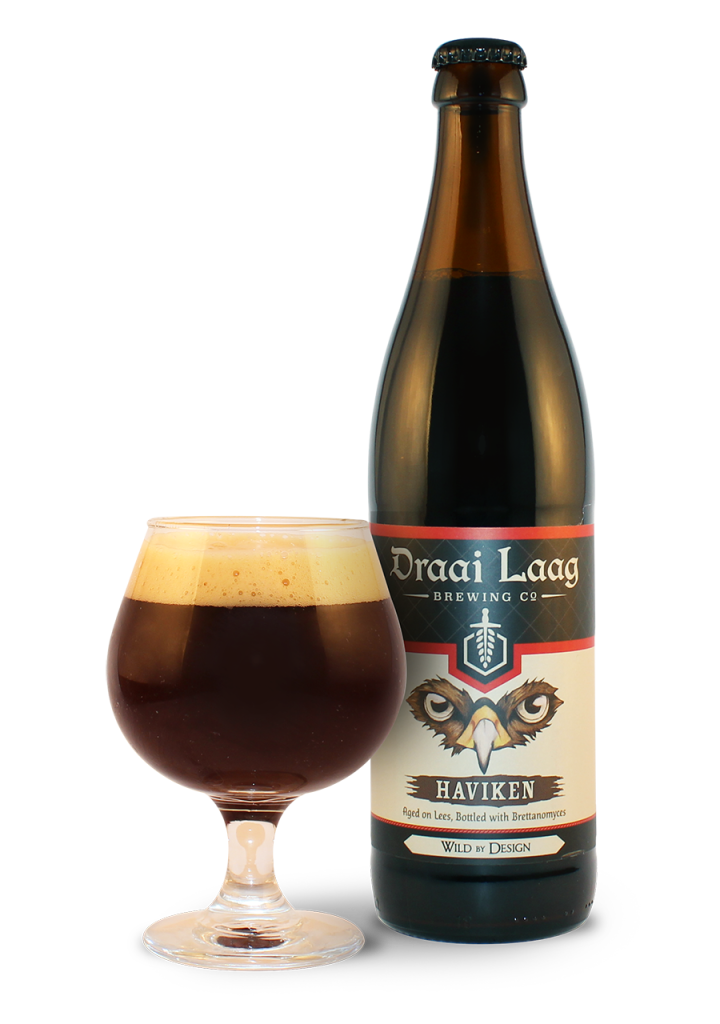 There's not always any rhyme or reason to the appearances birds make on beer labels, which makes finding the unexpected ones almost as exciting – for me, at least – as any birding tick. This week's beer – and its improbable avian mascot – is Haviken, a Belgian-inspired dark ale from Draai Laag Brewing Company of Pittsburgh. As far as I can tell from toggling back and forth between the English and Dutch language versions of Wikipedia's article on Accipiter gentilis, "havik" is the Dutch name for the Northern Goshawk, making "haviken" the plural, I believe. The brewery calls Haviken a dubbel, a popular Belgian beer style best known to drinkers through the iconic Trappist products by the monastic brewers of Westmalle and Chimay. However, with its wild yeast tang and aging, Haviken has a lot more in common with an even older Belgian style:  oud bruin. It's fairly easy to guess that oud bruin means "old brown" in Dutch – and with that I'm going to end the Dutch lessons because, while it was once spoken here in Albany, New York, it was supplanted by English a few centuries ago and I don't know a lick of it beyond a handful of beer terms. At any rate, dubbel and oud bruin have much in common: they're both fairly strong brown ales, with a subdued bitterness and an emphasis on dark, dried fruit flavors. However, the classic sour ales of Flanders are characterized by a sharp sourness altogether lacking in a malty but mild-tasting dubbel, and they're sometimes finished with fruit infusions and oak barrel-aging, resulting in an uncannily wine-like product. While Haviken foregoes these latter production methods, it does rely on the singular contributions of Brettanomyces lambicus, a member of a family of wild yeasts (colloquially known as "Brett") known for producing distinctly funky flavors in several traditional Belgian styles, and more recently, a new breed of American "wild" ales. Haviken also spends some time aging on its own dead yeast sediment, or lees, a technique more commonly encountered in wine-making (sur lie) that contributes bready or yeasty notes.
I should mention that when it came time to uncap this beer, Haviken went off with an alarming pop, and the bottle gushed a bit. It was a startling but forgivable experience, and not nearly as unsettling an attack by nesting goshawks (or so I've heard): it seems an encounter with Haviken involves a certain amount of risk in either case. I contacted Draai Laag about this and received a prompt and apologetic response, and I suspect my experience was the result of rough handling during shipment. Carbonation is a tricky business for sour and wild yeast beers to begin with, and brewers often aim for very lively levels of carbonation, requiring packaging in appropriately sturdy bottles. It also helps to handle them gently and, on occasion, be prepared to pour quickly. Even drinking the estimable Orval, a Trappist pale ale that undergoes bottle-conditioning with a Brett strain of its own, results in the odd gushing bottle.
Once this sudsy havoc subsided, Haviken expressed its wildness in other respects – albeit good, flavorful ones. The beer's dark and weighty bearing – a deep chestnut brown flashing garnet in the light, topped with a tight frothy head of taupe – belies the tart and fruity products of its wild yeast fermentation. An unmistakable scent of sour cherries – the characteristic aroma of Brettanomyces lambicus beers – emerges along with bright flourishes of raspberry, recalling pie filling and even fruit lozenges. I found the roasted, "porter-esque" qualities promised in the brewery's description somewhat muted but there was a discernible hint of cocoa. More prominent was the taste of dark, dried fruits like fig and raisins, accompanied by faint touches of toffee sweetness. More feral flavors – produced by Haviken's wild yeast and sur lie aging – skulk around the edges, evoking leather and even the iron-like tinge of blood. This isn't meant to be an unappetizing descriptor – and for a goshawk, I suspect it wouldn't be – but in fleeting amounts, this rusty tang can contribute depth to dark, sour beers such as this one. Haviken's tart, vinous flavors mingle well with a solid and persistent tonic bitterness, and its surprisingly full and smooth mouthfeel is cut by a dry, medicinal finish.
In Belgium, dark, sour ales are traditionally paired with rich braises and stews, particularly the famous carbonnades flamandes, a slow-cooked, sweet-and-sour beef and beer stew from Flanders that's worth cooking at home on a very cold winter day. Haviken's acidity also makes it a good pairing for shellfish and heartier, boldly dressed salads, and also allows it to partner with the strongest of cheese, particularly blue cheeses. On the sweet side, it would make a daring match for mince pies or any other holiday dessert featuring dark, dried fruits – perhaps even fig Newtons?
Without a doubt, Haviken's assertive and somewhat unfamiliar  flavors amount to a demanding but very rewarding beer that's worth investigating if you come across it. And its challenges aren't nearly as vexing as accipiter identification, I promise.
Good birding and happy drinking!
________________________________________________
Draai Laag Brewing Company: Haviken



Three out of five feathers (Good)
________________________________________________
Birds and Booze News:
As you may have read in Donna's post, the most exciting birding event in New York this week was the appearance of a now deceased Corncrake on Long Island. Before the bird passed on, I did a search for any Corncrake-inspired beers that could commemorate this rarity – and I was pleasantly surprised to find there is one! I haven't been able to track it down so far, but Corncrake Ale is brewed by The Orkney Brewery, located in the eponymous archipelago north of the Scottish mainland. As if the name and handsome label weren't reason enough to drink this beer, a donation from its sales supports Corncrake conservation efforts in Scotland by the Royal Society for the Protection of Birds.
For the sixth straight year, Revolution Brewing of Chicago released its Penguin Hops beer in collaboration with that city's Shedd Aquarium. Penguin Hops is brewed with hops grown around the aquarium grounds and its sales benefit Rockhopper Penguin conservation.