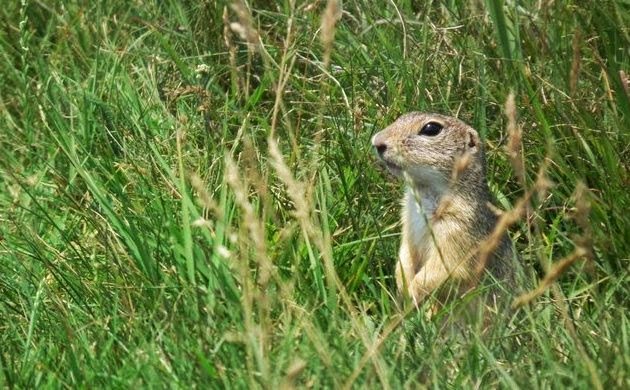 One brightly coloured male Common Redstart is patrolling a nearby hedge, while a pair of Common Ravens is circling the valley. Driving on a sunny May morning through meadows and vineyards takes me to the Mt. Fruska Gora national park. I pass the European Bee-eater colony, echoing with their bubbling voices and African-style colours. Fruska Gora is a low, forested massif – mostly oak, lime, beech, hornbeam and ash – situated in northern Serbia.
The narrow, winding road leads me through arable fields where Common Skylarks are chirruping and whistling while taking steep flights upward and then falling down, when the song stops: they sing only in mid-air. Skylarking (or singing in mid-air) is a local slang for having sex.
Bushes along the road are decorated with European Stonechats. Nearing the village, I reach a pastureland dotted with lovely Sousliks (or European ground squirrels), some of them busy eating, others playfully chasing each other, while third ones are standing on their hind legs and observing the sky – they know why.
And so do I – that is the reason I am here. This is where an Eastern Imperial Eagle comes for breakfast!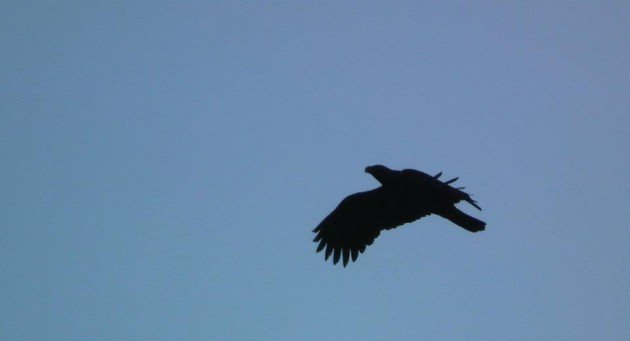 In the early 20th century, Imperial Eagles used to live not only in the northern lowlands of Serbia, but also in the southern highland plateaus. Curiously, some eagles were also observed by the Ada Ciganlija Island, within Belgrade – in the breeding season! The biggest number of these birds ever seen at once was nine, in the spring of 1910. But persecution, killing and poisoning in the late 20th century has led to their demise and at the beginning of the new millennium, Serbia had only two to three pairs of Imperial Eagles.
In other words, this globally threatened species barely made it in Serbia. In the same period, neighbouring Hungary had more than 60 pairs of them. Today, Serbia's population has risen to 4 to 5 pairs, while Hungary's went up to 130+ pairs! We must be doing something wrong?
These large birds need secluded spots to raise their young, and Serbia seems to be lacking such places. Poaching is still rampant – only last November, a young Imperial Eagle was shot in the Belgrade municipality of Surcin, later operated on, but it succumbed to injuries after the surgery (one of the reasons was lack of proper rehabilitation facility). Try to guess how many birds end up killed and stuffed to collect steam from cooking, dust and moths above the favourite armchair of a proud killer?
The fact that I know that one pair breeds nearby is by no means a guarantee of a sighting and every other time, I go home empty handed… or empty binoculared. I turn my eyes from Sousliks to the sky – and immediately see an eagle circling high above the pastures.
I am trying to get closer along the dirt tracks between the fields, but the bird disappears. A raptor chased by Hooded Crows… my eagle? No, just a Common Buzzard, beautiful bird itself – but not an eagle.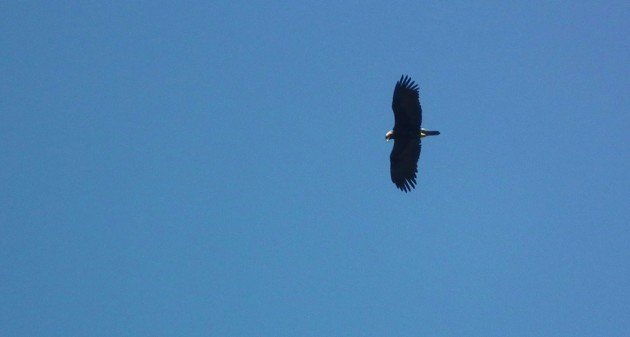 I am taking to high ground to keep an eye on a wider area and, soon, my Imperial Eagle reappears at the same spot I found it the first time. Once there, the eagle soars above my car till my neck hurts… he is ever higher – and then he is gone.